A common dish with a unique twist

Pancakes are not exclusively Vietnamese. Far from it. In France, you'll find plenty being prepared, sold and eaten on the streets of Paris, often oozing with melted chocolate or other sweet delights.
Must-try cuisines in Saigon
Hanoi's old quarter street food
Pho vit quay comes down to Hanoi
Seasonal seafood served in urban comfort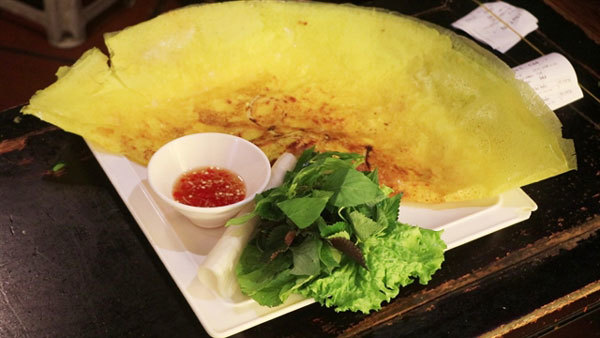 Banh xeo, or sizzling pancakes, are often cut and folded in to small pieces after fried, then served with colourful platter consisting of salad and herbs.— VNS Photo Hoang Ho
By comparison, the Dutch tend to favour more savoury toppings, like ham, cheese, spinach and bacon while in the UK, the batter-based dish even has its own special day that falls on the Tuesday before Easter when pancakes are drizzled with lemon and sugar.
Shrove Tuesday, or Pancake Tuesday as it is more commonly known, was in the past used as the time to finish off butter, eggs and fats, items traditionally given up for Lent.
So unlike many of the other dishes served up in Vietnam, pancakes is not one it can claim as its own, however what the country can shout out with pride, is this: Nobody does pancakes better.
You see pancakes are simply really. Mix up some flour, eggs, milk or water and chuck the liquid into a hot frying pan until ready. Voila, easy.
But when it comes to food, Vietnam really doesn't do plain and simple.
Bánh xèo means sizzling rice pancakes and forms a dish that is so much more than just a pancake. The texture has far more of a bite to it than its European cousins and at source, it is cooked with shrimp and beansprouts, before the real work begins.
It is cut and folded into small pieces, usually by the hands of an expert, and served with a colourful platter consisting of salad, herbs and chopped up fruits like mango and banana.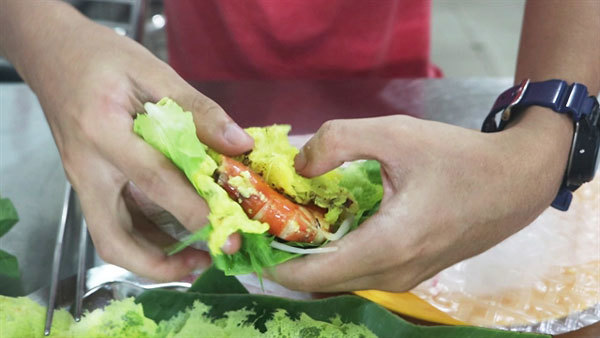 A customer folds bánh xèo in rice paper wraps with lettuce. — VNS Photo Dung Nguyen & Dang Nguyen
Rice paper is found alongside and each of the above items, including of course, the bánh xèo, is neatly arranged and rolled into a cylinder.
Bánh xèo virgins take note, at this point it is probably wise, and will carry no shame, to ask for assistance otherwise more ingredients may end up on the table than in your mouth.
A dipping sauce is providing to add the final touch.
The dish is more common in the south and central regions of Vietnam, but it has travelled well and can be found at many locations in the north.
It was during a trip to the central region 10 years ago that Vuong Tat Hung enjoyed bánh xèo and decided to bring it home to Hanoi.
His restaurant on Doi Can Street soon began to gain a good reputation for serving this southern dish, and he expanded into a larger premises.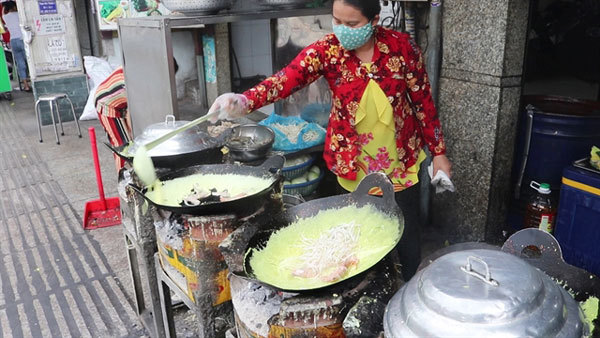 A chef makes banh xeo in HCM City. The dish is more common in the south and central regions of Vietnam but can be found at many locations in the north. — VNS Photo Dung Nguyen & Dang Nguyen
"During one of the trips I took about 10 years ago, I had a chance to try bánh xèo and was very impressed by it," said 40-year-old.
"It was something very Vietnamese and traditional. It tastes nice and people of all ages can enjoy it. So I started learning about it and selling it in Hanoi."
He is far from the only one. At Ngon Restaurant on Phan Boi Chau Street, chef Tran Thi Xuyen is somewhat of an expert at the dish, which is no surprise considering she makes up to 500 portions each day.
"Bánh xèo made at other restaurants is often small in size, but the ones made at our restaurant are often larger in size," she said.
"They are also crispy and have beautiful curves. Almost every customer that comes here, foreigner or Vietnamese, orders bánh xèo.
"The dish is very popular here. We make between four and five hundred each day."
Pancakes are a global dish, served in a myriad of ways and brimming with idiosyncrasies depending on where, and in Britain's case, when you are eating them.
Drowning in maple syrup at a truck stop on Route 66 just outside Albuquerque perhaps, or maybe walking along the banks of the River Seine arm in arm with the one you love, sharing a crepe on a particularly cold December evening careful not to drip strawberries and chocolate down the front of your winter coat.
But let's face facts.
If you want a pancake like no other, served in a way you've never tried before anywhere else in the world, then there is only one place you should go.
And it's not too far away. VNS
Bao Hoa & Hoang Ho