Vietnam is an attractive investment destination in the 4.0 era, but it has a weak point, limited automation capability.
At the seventh international exhibition on machine tools, precision mechanics and metal processing in the North held in mid-October in Hanoi, automation stalls accounted for 70 percent of total stalls. William Lim from Infoma Markets said foreign investment in precision mechanics has grown rapidly and is moving from the south to the north.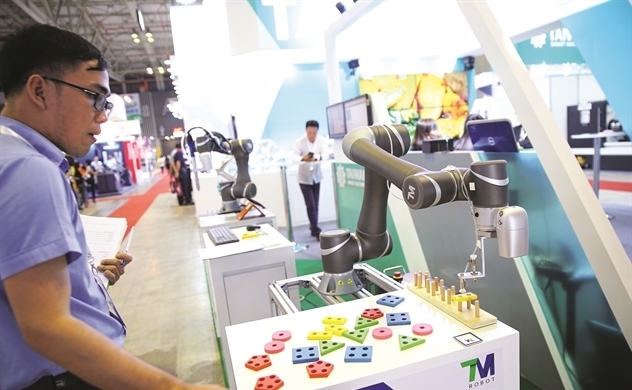 A series of new industrial robots including N2, VT6L and SCARA Robot T6 have been introduced by Epson Singapore in Hanoi in hopes to get benefits from the market worth $184.5 million by 2021 that Universal Robots (UR) predicted for Vietnam's automation.

With advantages in speed and precision, the manufacturer mostly targets small and medium enterprises which have demand for robots of under 20 kilograms for detailed apps. Epson targets the industries which need high precision level and want robots with limited weight, such as electricity and electronics, automobile and food processing.

Vietnam is an attractive investment destination in the 4.0 era, but it has a weak point, limited automation capability.
According to Ngee Khiang from Epson Singapore, there are two major business opportunities in Vietnam. First, Southeast Asia, including Vietnam, is becoming the new production base of the world with increasingly high demand for robots. Second, Vietnam has a young labor force which is capable of receiving Epson's solutions.

However, the opportunity to sell robots to Vietnamese clients is not high for all manufacturers.

Nguyen Thanh Hoa, Makino Vietnam's Country Director, said to date, the cheap labor force remains one of the advantages that domestic enterprises use. Makino is just observing and introducing new products in Vietnam. Only 13 percent of domestic enterprises are interested in putting automation systems into production.

"We still cannot assess the possibility of domestic investors accessing automation," he said.

In Vietnam, Makino has just introduced high-technology products over the last two years. Hoa doesn't think that the investment rate and the technology price are the reasons behind the limitations in investment in automation.

"Restrictions on the accessibility and use of domestic human resources are main barriers," he commented.

However, analysts said things are changing. Under the national digital transformation plan, 50 percent of Vietnam's small and medium enterprises would shift to the digital platform by 2025, and there would be at least 80,000 developed digital technology firms.

That is why more and more robot manufacturers from Europe, Japan and China have come to Vietnam. According toBrian Hull, CEO of ABB Vietnam, manufacturers and suppliers have to compete with each other to sell products in Vietnam.

ABB Vietnam now has two big Vietnamese clients, including VinFast, which needs 1,000 robots for its automobile production line, and a leading electronics company, with 3,000 robots.
Kim Chi 

Doctors from Binh Dan Hospital in Ho Chi Minh City have recently visited the Philippines to perform robot-assisted sleeve gastrectomy operations, showcasing the technique to their local peers.

Students at Le Ngoc Han and Luong The Vinh primary schools won the top prizes in the annual Robothon Contest 2019 for students at primary schools throughout HCM City held on October 20.