Many luxury hotels remain deserted with no foreign guests during Covid-19 and, as a result, hoteliers have slashed room rates to survive the difficult period.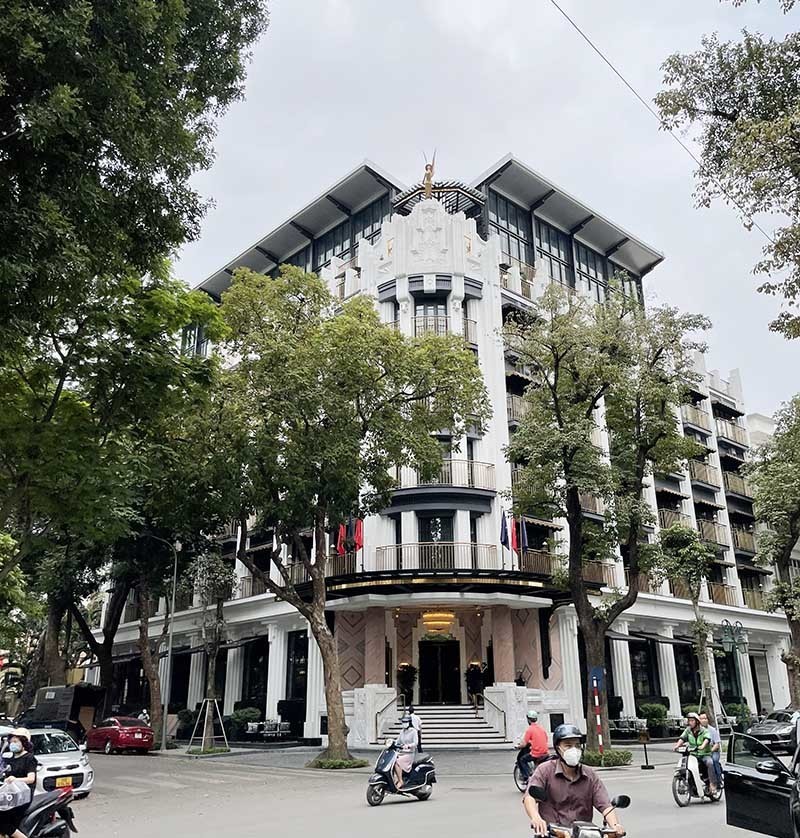 Located at the noisy Thai Ha – Tay Son Crossroads, a luxury hotel is deserted with only several security guards at the entrance door. The project has been facing bad luck since its opening. It initially was an office building but offices were in oversupply and the investor had to shift to another business model.
The building was then redesigned to turn it into a hotel. However, it once again met ill fortune when the Covid-19 pandemic broke out. Lockdowns and restricted travel policy have kept it deserted.
Even a gold-plated hotel is facing difficulties. With 360 rooms and many gold-plated items, the construction required investment capital of $100 million. The work was executed within 18 months and completed in March 2020, ready to serve the F1 tournament that was later postponed because of Covid-19. The hotel opening day was also delayed.
Other luxury hotels bearing international brands in Hanoi are in the same situation. Matthew Powell from Savills Hanoi said hotels in Hanoi had a difficult quarter because of the impact of another Covid-19 wave which decreased market capacity.
One 5-star hotel in Dong Da district was officially rated earlier this year, while two 4-star hotels in Ba Dinh and Tay Ho districts saw their star rating expire.
Meanwhile, Capella Hotel in Hoan Kiem was put into operation in Q1, but it has not been rated yet. Two 3-star hotels with 130 rooms had closed by the end of the last quarter.
Regarding supply, the entire market has 10,120 rooms in 17 5-star hotels, 17 4-star and 32 3-star hotels, up by one percent QoQ and 2 percent YoY.
The market capacity was 24 percent, down by 9 percent quarter on quarter and 20 percent year on year Meanwhile, the hotel room rate was $76 per night per room, down by 23 percent year on year.
The Covid-19 resurgence in January in Hanoi led to a reduction in hotel room occupancy rate in February and March to below 20 percent. Five-star hotels led the market in terms of revenue per available room in Q1 with $25/room/night.
Local hotels are now expecting more Vietnamese guests.
According to the Hanoi Tourism Department, after the Covid-19 outbreak was controlled, tourism points in Hanoi reopened in March. About 685,000 travelers came to Hanoi, a 180 percent month-on-month and 360 percent year on year increase.
An OAG (Official Aviation Guide) report showed that the Hanoi-HCM City air route continued to be the second busiest route in the world in March with 980,000 passengers. 
Duy Khanh

The travel trend among tourists has changed significantly, with a heightened level of travel safety and more sustainable travel offerings emerging as a top priority as well as evolving preferences over where and with whom people travel,

Five-star hotel brands are ready to receive travelers back to the country with the strong belief that the tourism industry is coming back to life.