Sixty per cent of households in urban centres like Hanoi, HCM City, Da Nang, and Can Tho will buy fast moving consumer goods online by 2025, according to Kantar Worldpanel, a global data, insights and consulting company.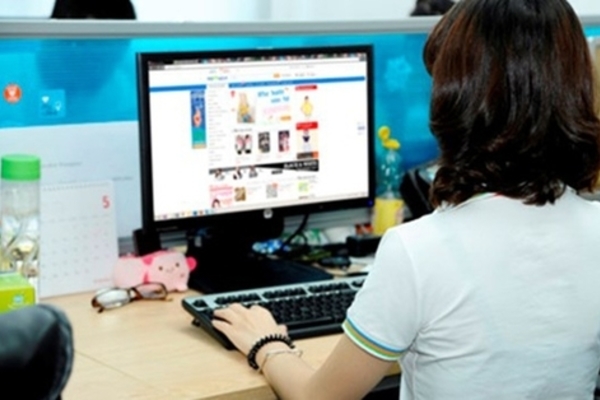 Shopping for fast moving consumer goods online is rising in major cities and by 2025 some 60 per cent of households are expected to buy online. — Photo phunuonline.com.vn
In a recent report titled Winning Omnichannel – How to Grow in Today's Retail Environment, it said shoppers spend more of their free time online and the future growth of e-commerce would be driven by the growing connectivity especially via mobile phones.
Some 95 per cent of urban households now own at least one smartphone.
In addition, the strong push from both pure players and third parties such as delivery apps with lots of promotions has been stimulating online spending.
Around 25 per cent of consumers in the country's four big cities shopped for FMCG online in the past year.
The frequency of online shopping is about four times per year, which is much lower than at shops, mini stores or supermarkets but the average spending was highest of all retail channels at VND356,000 (US$15.3) compared to VND195,000 ($8.4) at supermarkets and VND92,000 ($3.96) at shops.
But online will not completely replace physical stores in the next five or 10 years.
Consumers do not just move from channel to channel, but have a growing tendency to shop FMCG products in a wider variety of channels to serve various shopping missions.
Nearly half of urban households shop in at least seven different channels during a year.
To respond to today's new retail environment and to prepare for tomorrow's transformation, key retailers are taking the lead in establishing a variety of retail formats to meet shoppers wherever they are.
According to experts, the boom in digital technologies in recent years has speeded up the evolution of the retail industry and changed buying habits.
Consumers are increasingly demanding for convenience, point of differentiation, personalisation or customisation, rapid delivery, consciousness or meaningfulness, specialisation, and trust, they said.
This requires retailers to continue to innovate to better meet their diverse needs and provide them with better shopping experiences, they said.
Some applications to watch out in Viet Nam's retail could be cashierless stores, scan and go, click and collect with pick-up points, unmanned stores, mobile formats, and voice assistants, they said.
To stay in the race, an omnichannel strategy powered by new technology is vital, they said.
Omnichannel trends would evolve quickly with new retail developing, aided by the advancement of technology, and as a result shopping would become even more sophisticated and complex, they said.
Tech-based innovations are promising to bring shoppers greater convenience and seamless and personalised experiences, they added. — VNS