Around 76 percent of German companies confirmed that the coronavirus epidemic affected their activities in Vietnam, according to a flash survey conducted by GIZ/AHK Vietnam.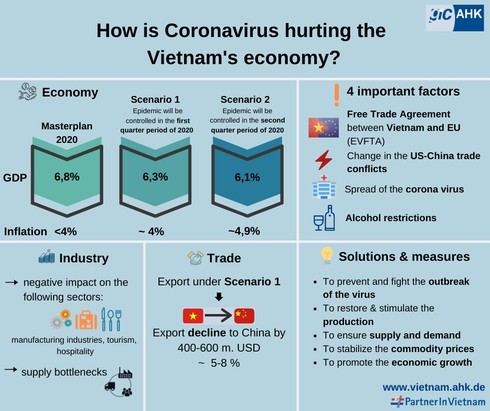 An infographic on how the coronavirus has effected the economy in Vietnam
Vietnam has drawn up scenarios for economic growth and business activities in Vietnam amid the impact of the coronavirus.
55 per cent of the companies have already put in place their own measures in preparation to the increasing risk of coronavirus.
47 per cent have banned staff from travelling to China, while 38 per cent have restricted the number of staff travelling on business to the country.
38 per cent of German companies have drafted bans regarding incoming visitors from China. 41 percent of them refuse to receive foreign visitors who travelled to China recently.
For other foreign visitors, German companies still keep their doors open (52 percent). 38 percent of German companies have restricted travel to other foreign countries affected by the virus.
About the effects of the measures taken by the Vietnamese government to restrict the spread of the virus in Vietnam, 44 per cent of German companies thought they are timely and represent their interests. 36 per cent of them confirmed that those measures supported them to some extent.
Moreover, German companies in Vietnam offered several comments, suggestions, and solutions to AHK Vietnam, GBA Vietnam, and the Vietnamese government.
They would like to receive updated information, facts, and figures on the effects of coronavirus on the Vietnamese economy. Many of them expressed their expectations that the epidemic is controlled promptly in Vietnam.
According to Vietnam's Ministry of Planning and Investment, up until last year, German financiers supported the country with nearly $2.1 billion of foreign direct investment in 349 projects.
Currently, German investment enjoys a great reputation in Vietnam and is welcomed by the government as well as local businesses.
In the first 11 months of 2019, there were 33 German-invested projects in several sectors, from trade and consulting services to chemical production.
Many long-term investors such as Bosch and Siemens expanded their investment capital in Vietnam and act as typical examples of successful German investment. VIR
Thanh Van

Hundreds of enterprises, both Vietnamese and foreign invested, are increasingly concerned about supply of components from China.

Local carriers had incurred total losses of over VND10 trillion as of February 10, Tuoi Tre reported, citing the head of the Civil Aviation Authority of Vietnam (CAAV) Dinh Viet Thang.