Spain-based ACCIONA, a world leading company in sustainable infrastructure solutions and renewable energy projects for nearly 100 years, has officially entered Vietnam by celebrating the "Country Launch Event of ACCIONA Vietnam" in HCM City.
Vietnam, a new home of ACCIONA 
With nearly 100 years of establishment and development, ACCIONA is known for investing in the planet by finding ways to create clean energies, reduce pollution, plastic consumption and ensure universal access to clean water.
The presence of ACCIONA is to expand foreign cooperation and investment in Vietnam and become a big step to call for other Spanish businesses to explore the country's potentials.
Luis Castilla, Infrastructure Division ACCIONA CEO, addressed how ACCIONA sees an extraordinary potential in the Vietnamese market. Its economic recovery, its history, current situation and future prospects show that the market in Vietnam is just one of the many things that make this country stand out.
 Spanish Ambassador to Vietnam , Maria Jesus Figa Lopez Palop spoke at the event
"What has really led us to take the decision to come to this country has been that we consider that ACCIONA's vision for the future is following the same vision of Vietnam," he said.
"I am talking about Vietnam's commitment to increase its installed renewable energy capacity; its goal to increase the long-term sustainability, durability and effectiveness of its water services; and of course, its clear intention to promote sustainable infrastructure in the country. All of these objectives have led us to see Vietnam as a long-term market, and that is why we feel so proud to be here today and look upon this country as a new home for ACCIONA".
According to Spanish Ambassador to Vietnam, Maria Jesus Figa Lopez Palop, bilateral relations between Vietnam and Spain have been deepening and growing since 2018 when the trade turnover amounted to more than US$3 billion.
The presence of ACCIONA, one of the biggest groups in Spain, is expected to contribute a crucial part to HCM City as well as Vietnam.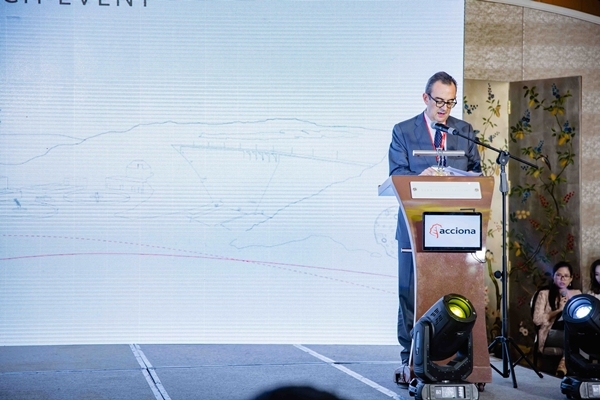 Luis Castilla, CEO of Infrastructure Division of ACCIONA
Generating electricity from waste
Upon his arrival in HCM City, Mr. Rubén Camba, Director of ACCIONA Infrastructure in Singapore & Southeast Asia, gave an exclusive interview to VietNamNet to discuss solutions to keep clean the environment clean and renew energy in Vietnam.
Rubén Camba told VietNamNet that ACCIONA began operating in Southeast Asia since three years ago, from Singapore to the Phillipines and now Vietnam.
"With nearly 100 years of experience in infrastructure development and management, ACCIONA invests in many projects such as such as bridges, ports, airports, metro system, hospitals, renewable energy treatment facilities as well as other water projects… We are confident in bringing and installing advanced European-standard machinery and technology to Vietnam," he said.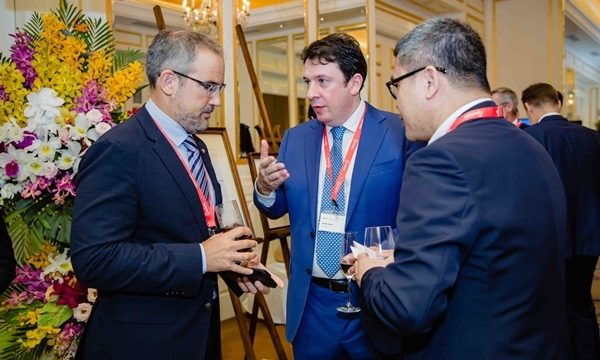 Rubén Camba spoke to distinguished guests at launch event.
Over the next 5 years, Asian countries such as China, Thailand, Vietnam, Pakistan, and India will witness a significant increase in the amount of waste. To completely solve this wicked problem, every country tends to consider the waste-to-energy technologies.
"This is absolutely the strength of ACCIONA. We have built waste-to-energy treatment plants in many areas around the world and create electrical energy for numerous households. For example, we are constructing a factory in Australia, which is able to help solve up to 400,000 tons of waste per year and generate 36 megawatts of renewable electricity to supply 50,000 households," Mr. Rubén said.
ACCIONA has completed many waste-to-energy treatment plants in Spain and is building one WtE Plant in the UK. 
Also, ACCIONA produces electricity from clean energy sources, such as solar and wind. In the United States, South America, Europe, the Middle East, and Australia, ACCIONA's plants have been generating 9,000 megawatts of electricity to supply approximately 12 million households.
During the interview with VietNamNet, Mr. Rubén also expressed his concern about other issues in Vietnam such as traffic jams, flooding, and environmental pollution.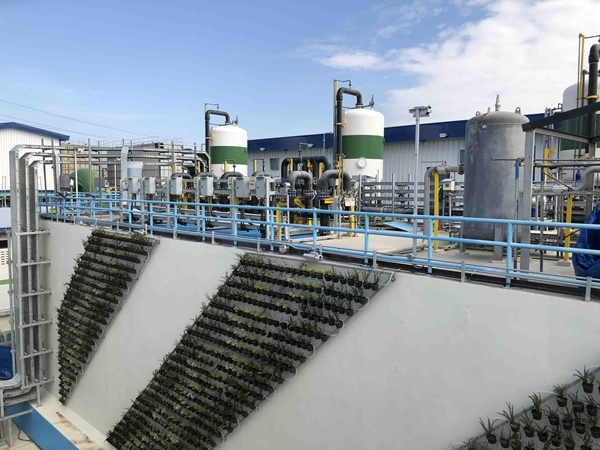 Putatan Water Treatment Plant (Philippines) was constructed and operated by ACCIONA.
Regarding the traffic jam issue, Mr. Rubén shared his thought that the most developed countries also have encountered this problem. The biggest and most effective solution is to build the metro system. Therefore, he was glad to know that HCM City and Hanoi are implementing the metro systems to reduce heavy congestions in these two major cities.
"Metro is an effective solution for both developed and developing countries like Vietnam. This model is experiencing a success in Europe and South America," said Rubén.
For flooding issues, not to mention climate change, urban flooding happens not only in Vietnam but also in many countries in the world. Therefore, rehabilitate the entire urban drainage system and infrastructure can be seen as the most effective solution.
According to Mr. Rubén, if the conditions are favorable, ACCIONA will work with local partners in Vietnam to participate in bidding for more projects to help prevent flooding, traffic congestion and close the infrastructure gap.
Thanh Van