Experts at the Asian Development Bank have suggested a number of short- and long-term measures to improve agricultural wholesale markets in Vietnam, and thus help develop more efficient production and marketing systems.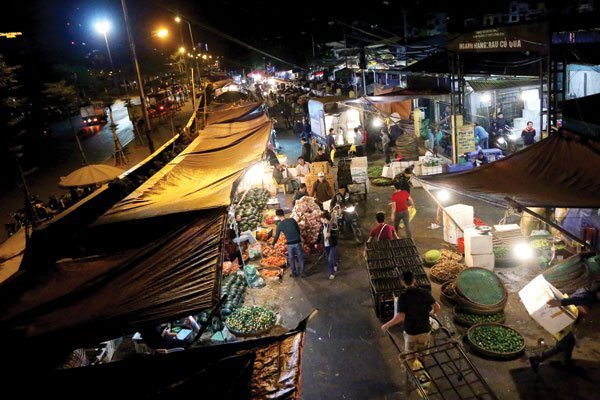 A bustling popular sight of Long Bien Wholesale Market in Hanoi
The ADB on Tuesday released a report providing an overview of the country's agriculture sector and horticulture value chain and of agricultural wholesale markets.
The report said that the major actors in the circulation and distribution of fresh vegetables in Vietnam are producers, collectors, wholesalers, retailers and exporters. Each marketing actor can take over one or more functions such as transportation and distribution.
Local consumers buy vegetables and fruits mostly from traditional wet markets and small stores where the quality of food is not ensured. However, the role of supermarkets in the chain is increasing, according to the report.
The experts said that wholesale markets in HCMC have served the city well for the last 10-15 years by supplying some 90% of the current demand for fresh products. Out of the city's three markets, two have no more room for further expansion. Therefore, measures to increase operational efficiency are recommended.
The situation in Hanoi is different. One of the main problems is the lack of shaded permanent stalls, which should be built as a priority, they stressed.
Some major markets suffer from a missing or poor waste management system. This not only leads to an unhygienic environment but also affects the operation of the markets.
Also, sales in open spaces and haphazard loading and unloading activities have to be regulated. Measures to prevent food contamination and promote food safety should be strengthened.
For HCMC, the current initiative of the city government to build a large wholesale market in the Lam Dong region, close to the city, should be carefully studied. In the case of Hanoi, building a new wholesale market on the outskirts of the city should be considered.
The new wholesale markets should offer services such as phytosanitary inspections, certifications, origin tracing, laboratory examinations, e-auctions, banking, catering and restaurants, accommodations and pricing information.
The rents and fees for these markets should be competitive to provide sufficient incentives for commissioned agents, wholesalers and other potential tenants to use the market facilities and for the investor to be able to recoup the costs incurred in building them.
Besides setting up modern wholesale markets, an effective production and marketing infrastructure has to be set up in the country in collaboration with farmers' cooperatives. In this regard, collection centers with cold chain and other agri-logistics have to be developed in the hinterlands around the production areas.
Depending on the need of the locality, some of these centers can function as terminal markets while others can specialize and serve the function of an assembly market. These centers will also require means of transport to carry goods from farms.
Site selection and space requirements for postharvest management and handling need to be carefully studied, according to the experts.
Vietnam's agricultural sector profile
The total agricultural land available in the country amounted to 12.2 million hectares in 2016. Some 80% of the cultivated land is irrigated, while the rest is rain-fed. The local horticulture sector is characterized by a diversified fruit and vegetable sector, according to the ADB.
On average, each household owns more than half a hectare of cultivated land. The scale of agricultural production is too small and fragmented as each household cultivates six to ten plots. Meanwhile, farmers' cooperatives are also growing.
The country produced 6.84 million tons of vegetables and 6.4 million tons of fruit in 2001, which had increased to 13.5 and 11.11 million tons, respectively, in 2016. However, overall production is dominated by cereal production.
In 2017, 58% of the total agricultural land was used for cereal; for fruits and vegetables, some 22%; and 20% for industrial crops. The share of vegetables and fruits in overall agricultural production has been rising in recent years in response to the growing demand.
Vietnam is predominantly an exporter of horticultural products. China is the largest destination market, which accounts for some 27% of all vegetable exports, followed by Japan with a 7% share. SGT
 

The Supreme People's Procuracy has arrested and commenced criminal proceedings against eight heads of the Thang Long multi-level marketing company for alleged fraudulent appropriation of assets.

They are spending big money on technology to manage business effectively and give clients the best experiences, and on marketing campaigns to lure more customers.