The year 2020 witnessed many ups and downs of the car market. In H1, demand dropped dramatically because of Covid-19, but in H2, cars sold well thanks to the preferential vehicle registration tax.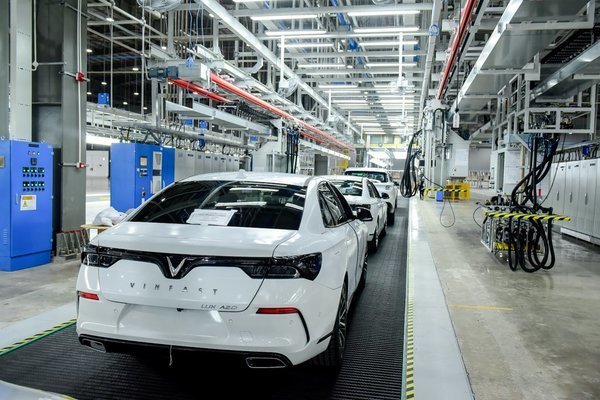 Domestically assembled cars dominate market
The Vietnam Automobile Manufacturers' Association (VAMA) reported that 141,625 products were sold in July-November 2020, which was higher than that of the same period of the year before (134,710). It included 90,790 domestically assembled cars, exceeding the 74,000 products in the same period of 2019.
The figures showed the strong rise of the domestic automobile industry. Most of the bestsellers in the top 10 in the first 11 months of 2020 were domestically assembled products, including Toyota Vios with 26,198 cars sold, Hyundai Accent with 17,522, Hyundai Grand i10 14,653, Kia Cerato 10,223, Mazda CX5 9,948 and Hyundai Santa Fe 9,462.
High attention was paid to VinFast Fadil, which had impressive sales growth in 2020. The model has been at the No 1 position in the A-class segment since September 2020, with the number of sold cars rising from 1,515 in September to 2,816 in November.
From July to November, 8,616 VinFast Fadils were sold, higher than the 8,239 Hyundai Grand i10s sold during the same time.
Analysts pointed out a noteworthy feature of the automobile market: Vietnamese brands have step by step asserted their positions against foreign invested enterprises. Truong Hai Automobile leads the market in sales, while TCMotor has surpassed Toyota Vietnam to gain the No 2 position.
Explaining the high growth rates of domestically assembled models, Nguyen Minh Dong, a respected automobile expert, attributed it to the 50 percent vehicle registration tax reduction applied to domestically assembled products and the government's imposing a zero percent tariff on imported car parts that still cannot be made domestically.
Meanwhile, manufacturers themselves slashed selling prices of many models, thus making cars more affordable.
The 50 percent vehicle registration tax cut allowed customers to save VND15-270 million when buying domestically assembled cars. And the zero percent tax rate on car part imports cut production costs by 2-3 percent.
Downtrend in 2021?
However, challenges are ahead for domestic manufacturers who have to compete fiercely with imports from ASEAN, now bearing a zero percent tariff. The high production cost in Vietnam, 15-20 percent higher than in Thailand and Indonesia, makes domestically assembled products less competitive than imports.
From early 2021, when the preferential registration tax rate will no longer be valid, domestically assembled products will be at a disadvantage in comparison with imports.
The automobile market is predicted to grow by 10 percent this year. 
Tran Thuy

A number of large manufacturers slashed car prices in early October, signaling a fierce race in the Vietnamese auto market.

From 2021, when the preferential registration tax policy is removed, domestically made cars will be at a disadvantage compared with imports.