2020 has been a tough year for the agricultural sector with various risks and challenges from COVID-19 pandemic and natural disasters and climate change impacts such as drought, saltwater intrusion and flooding, 
according to Associate Prof. Dr. Dao The Anh, Vice Director of the Vietnam Academy of Agricultural Sciences (VAAS).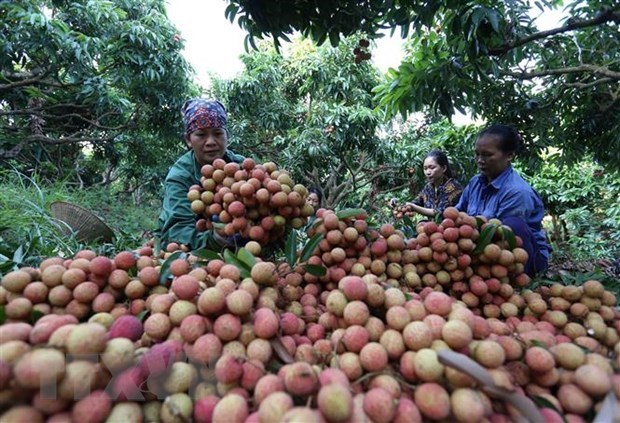 The agriculture sector shows strong performance in tough year - Illustrative image
The pandemic has affected the circulation of goods, especially products depending on exports and fresh products such as fruits and aquatic products, he said at an online discussion on December 24 to look back on the sector's performance in the year.
Processed products with long expire dates like rice have seen less impacts, he added.
Meanwhile, Nguyen Thanh Son, President of the Vietnam Poultry Association, said that under impacts of COVID-19 pandemic, domestic consumption of breeding products fell considerably. Meanwhile, animal feed materials rose 5-10 percent due to low supply, posing difficulties to farmers.
Son commented that the figure of 41.25 billion USD in Vietnam's export revenue of agro-forestry-fisheries products in 2020 is impressive.
Along with timely directions from the Government, ministries and sector, Vietnam has shown strong performance in dealing with difficulties in market, while enjoying export opportunities from free trade agreements including the Comprehensive and Progressive Agreement for Trans-Pacific Partnership, and the EU-Vietnam Free Trade Agreement (EVFTA), he said.
Hoang Van Tu, a representative of the UN Food and Agriculture Organisation (FAO) in Vietnam, said that Vietnam's agro-forestry-fisheries exports still expanded while many other countries suffered drops, even by 30 percent. He attributed the result to the country's success in controlling the pandemic and stabilise production. The country has managed to fill the market gap left by other countries, he added.
Associate Prof. Dr. Dao The Anh said that the major contributions of the agricultural sector include ensuring food security of the country, meeting domestic demands and export. The sector has also helped provide jobs for labourers from informal sectors in urban areas who lost their jobs due to COVID-19.
Son held that agriculture has shown its key role in the country's economy, while supporting other sectors.
In the future, Tu asserted that natural disasters will be more severe in the future, while market competitions will become fiercer, requesting Vietnam to design a strategy to develop sustainable agricultural sector with diverse products and markets by sustainable and responsible production.
He stressed the need for the sector to speed up technology transfer and conduct new agricultural models to ensure food security.
At the same time, the State should support the improvement of capacity for farmers and production facilities, enabling them to join the value chains.
Son pointed to three risk factors facing the sector – natural disasters, pandemic and market, highlighting the necessity to prepare responding scenarios.
The sector should also speed up administrative reforms, while considering the adjustment of land use policies to facilitate investment in agriculture, he added./.VNS

Cooperation between businesses and farmers plays a key role in the agriculture sector's sustainable development.

Vietnam needs support from international partners to cope with losses due to climate change and the COVID-19 pandemic, according to an official from the Ministry of Agriculture and Rural Development (MARD).