Local exporters of agro-forestry-fishery products can no longer ship their products to China through informal channels, stated Minister of Agriculture and Rural Development Nguyen Xuan Cuong.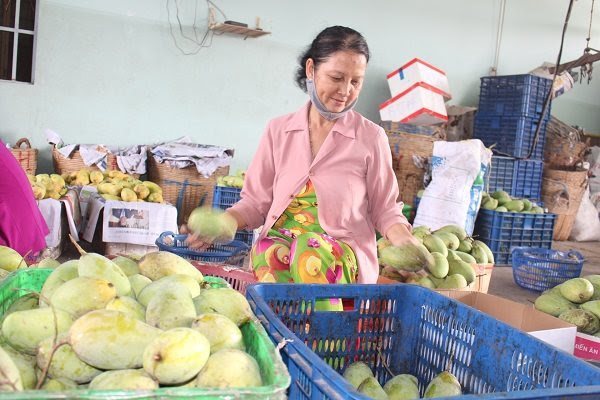 A woman classifies mangoes for export. All agro-forestry-fishery products must be exported to China through formal channels
At a question-and-answer session today, November 6, Cuong noted that China, with a population of 1.4 billion people, has high demand for agro-forestry-fishery products, annually importing some US$150 billion worth of these products.
Over the past few years, Vietnam has effectively exploited this market thanks to its advantages in geographical location and cultural similarities.
Last year, Vietnam exported US$8.7 billion worth of agro-forestry-fishery products to China and spent nearly US$3 billion importing these products, the minister added.
However, China has now tightened control over imports, asking that all products be transported to its market through formal channels.
The country recently boosted investment in the agriculture sector, resulting in a decline in the demand for imports. Vietnam has annually exported some three million tons of rice to China for the last few years but has shipped less than one million tons so far this year.
The ministries of Agriculture and Rural Development and of Industry and Trade and the border agents of various localities have worked with China's competent agencies six times this year, Cuong reported, adding that the two sides have agreed to enhance information exchanges to remove obstacles in administrative procedures.
In addition, the Ministry of Agriculture and Rural Development has worked out a plan to export nine new types of fruits to China, including durian and passion fruit.
Although the agro-forestry-fishery sector has faced other challenges, such as natural disasters, diseases and a global trade slowdown, local farmers and enterprises have still made use of opportunities to maintain their production and business activities.
For example, when the rice export volume to China dropped, the country boosted rice exports to the Philippines.
The agro-forestry-fishery export value is expected to reach US$41 billion this year thanks to improvements in the shrimp and tra fish sectors.
Minister Cuong also mentioned the risk of a pork shortage for the rest of the year, stating that as soon as the first African swine fever outbreaks were discovered, the ministry sought ways to respond to the disease and increase the supply of alternative meats, such as poultry and seafood.
The ministry has also encouraged localities untouched by the disease to scale up their pig herds.
In this way, meat supplies will be ensured, Cuong stressed. SGT
Trung Chanh

The Ministry of Agriculture and Rural Development has attributed the lowest rice price in 12 years to low demand from China, as many Vietnamese exporters continue to fail to meet this market's requirements.
Experts believe Vietnam needs a long-term strategy to increase the quality of its rice exports to create sustainable growth in the future.  

The government of Thailand has approved a budget of 21.5 billion baht to ensure a rice price at a reasonable level for Thai farmers. The policy is expected to have a negative impact on other export countries, including Vietnam.