Masan Group Corporation and a consortium, including Chinese e-commerce giant Alibaba Group and Baring Private Equity Asia, on May 18 announced the signing of definitive agreements 
for the acquisition of a 5.5 percent stake in The CrownX for a cash consideration of $400 million.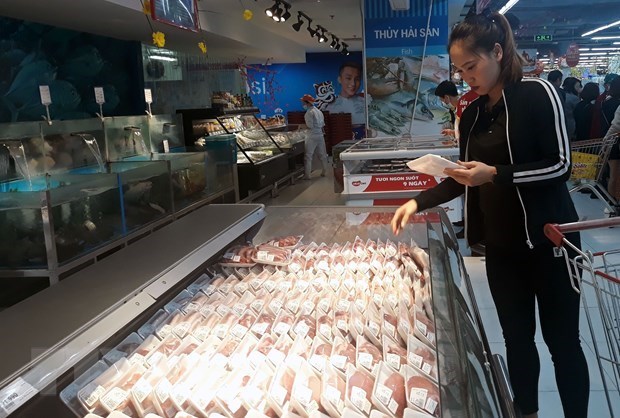 Consumers buy pork at a Vinmart supermarket (Photo: VNA)

The CrownX, founded in 2020, is valued at 6.9 billion USD, equivalent to 93.50 USD a share. Parent company Masan will hold 80.2 percent of the retail unit.
The company is Masan's integrated consumer retail arm that consolidates its interests in Masan Consumer Holdings (MCH) and VinCommerce (VCM).
Danny Le, Masan Group CEO, said: "This strategic partnership will accelerate our ability to achieve our goal of transforming The CrownX into a one-stop shop to serve consumers' everyday needs, whether offline or online".
"Our immediate priority is to modernise Vietnam's grocery market and develop an unparalleled consumer proposition from assortment to shopping experience," he added.
"As a long-term investor in the country, we think Vietnam has a long runway for growth supported by strong macroeconomic tailwinds and attractive demographics," stated Janice Leow, managing director at BPEA.
As a part of the transaction, VCM will enter a strategic cooperation agreement with Lazada, Alibaba's Southeast Asian e-commerce platform.
It will be the grocery retailer of choice on Lazada in Vietnam./. VNA

Foreign investors from China, Thailand, and Singapore are increasingly acquiring renewable energy projects located at strategic positions from domestic enterprises.

The first three months of the year have witnessed more local businesses beef up their mergers and acquisitions efforts in order to scale up operations.