It has been nearly a year since the first coronavirus-infected case was reported in China. There are now nearly 52.5 million infection cases worldwide and more than 1.29 million people have died of the disease.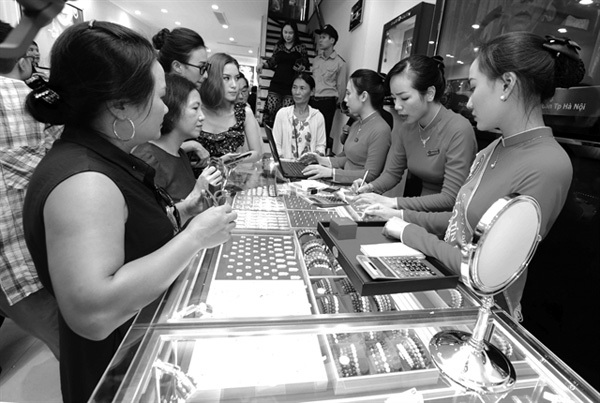 Gold shopping at one of Manh Hai Gold and Jewellery Company's stores in Hanoi. —VNA/VNS Photo Tran Viet
Obviously, the pandemic is one of the most important elements to drag the global economy backwards in 2020. But it also creates "a new normal" – in which people have to accept the virus and work to live with it.
In addition, the global markets have stalled due to large-scale caution as investors are waiting for the final result of the US presidential election, which is unpredictable.
Amid the troubles caused by the pandemic, individual investors around the world have found themselves with cash and investment opportunities in financial and equity assets.
But global uncertainties, caused by the pandemic and political changes, may make investors vulnerable to potential risks, even in traditional markets such as stocks and gold, Nguyen Tu Anh, head of the Central Economic Committee's Economic Department, told a conference on Thursday.
"People hold onto a large quantity of idle cash and they tend to try some luck with financial assets, such as stocks, gold and forex, to earn profits," Anh said.
"Such a strategy may result in low returns and high risks for investors," he said.
Can Van Luc, chief economist at the Joint Stock Commercial Bank for Investment and Development of Vietnam (BIDV), said that investors should improve their knowledge and understanding about how the market runs before jumping in.
Luc, also the director of BIDV's Research and Training Academy, added that investors should avoid using too much financial leverage and herd behaviour when joining the equity market.
In addition, they should forget about speculating in foreign currencies and unofficial lending applications while shaking up their investment portfolios to minimise the risks, he added.
"Stocks, gold, real estate, and investment in start-ups and joint-stock companies would work well for individual investors at the moment," Luc said.
According to lawyer Pham Duy Khuong, managing director of ASL Lawfirm, aside from stocks and gold, electronic equity trading has become more popular in recent years.
"The complexity of electronic trading platforms makes it difficult for the authorities to keep them closely monitored while the assets offered by those platforms have drawn attention from local investors," he said.
"The forex, or foreign currency exchange, is connected through a system of central banks, so the market is definitely transparent and it is difficult to manipulate the whole global forex market," he said.
"That makes the forex market more attractive nowadays," he said. "But there are still risks with forex trading."
Investors are required to have a deep understanding of economics and politics to compete with each other, Khuong said, adding they can borrow cash from the platform to bet on their predictions – which will make them profitable if the forecasts are correct, or make them lose.
In addition, investors should care about the creditability of the platform operator, which plays a key factor in managing their accounts, he said.
Another alternative option for investors is cryptocurrency, Khuong said. "Cryptocurrency may bring great profits but also has great risks."
"Cryptocurrency is hackable. When hacked, it's difficult to trace back the hackers because their skills are too good."
"The platform may collapse when hacked and investors could lose tonnes of money they have put in."
In addition, cryptocurrency is illegal in some countries and it is not guaranteed by any financial institutions in Vietnam, he said.
"Cryptocurrency is not a legal asset. The court cannot solve any disputes related to cryptocurrency trading if investors bring the case up."
Some cryptocurrency trading platforms may falsify all information, so investors are at risk of losing money, Khuong added.
The conference was organised by Đầu Tư (Investment) newspaper.  VNS

Vietnamese economy was forecast to expand from 1.6% to 2.8% in 2020, according to updated reports of international organizations.

The stock market still proves to be quite attractive in the context of redundant liquidity and other investment channels having not fully recovered.