Phu My Hung Development Corporation has mobilised VND800 billion ($34.78 million) for real estate projects from a "secret" foreign investor through bond sales.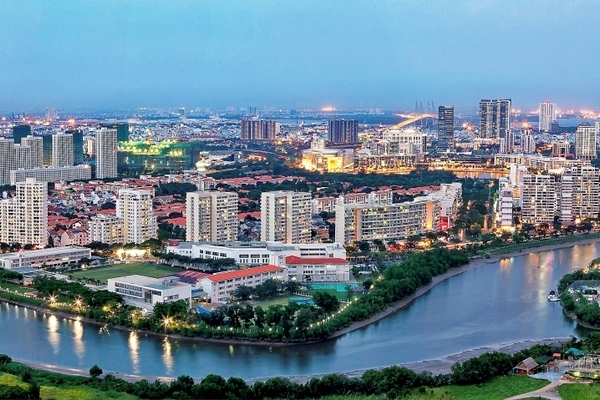 Phu My Hung urban area in HCM City.
Phu My Hung Development Corporation has just announced the results of a private bond issuance, under which on September 4, 2019, the corporation issued 800 bonds valued at VND1 billion ($43,478) and valid till June 15, 2026.
These bonds are non-convertible, not attached with warrants, but still guaranteed. Interest, which is fixed at 8.17 per cent per year, will be paid for investors every six months. The principal of these bonds will be paid on June 15, 2022, June 15, 2024, and June 15, 2026.
The collateral is a bank account of Phu My Hung, which is pledged to ensure the payment of the bonds' principal and interest.
At the first phase, Phu My Hung issued 800 bonds, accounting for 47 per cent of the company's plans of issuing VND1.7 trillion ($74 million) worth of bonds. A foreign investor, who wished to remain unnamed bought the entire batch.
In early August, the company also sold a package of seven-year bonds valued at VND300 billion ($13 million) to domestic investors.
Phu My Hung Development Corporation was established on May 19, 1993 by Tan Thuan Industrial Promotion Corporation (IPC) and Taiwan's Central Trading & Development Group (CT&D).
At present, Phu My Hung is operating and developing five urban areas on more than 600 hectares, including a university village, hi-tech centre, central area, as well as the 2,600ha Phu My Hung urban area along Nguyen Van Linh Boulevard in at District 7 in Ho Chi Minh City.
In recent years, Phu My Hung has been in the limelight for a series of M&A deals like the acquisition of the 212ha Sen Viet ecological residential and garden house project in Dong Nai province, the 405.7ha Sannam food technology and services project in Hoa Binh province (which has the ambitions to become a "Nothern Phu My Hung urban area"), the 198ha Hong Hac-Xuan Lam eco-urban area in Bac Ninh, which is in a strategic location in the Hanoi-Haiphong-Bac Ninh economic development triangle, next to key national and provincial highways. VIR
Nguyen Huong

After a hot development period, resort real estate is facing challenges because of an oversupply of villas and condotels.

A number of real estate projects with investment of more than VND1 trillion (US$43 million) in the centre of HCM City remain delayed even while the land area for new projects in the city has become increasingly limited.

The Ho Chi Minh City Department of Construction (DoC) has asked real estate companies, brokers and trading floors in the city to strengthen preventive measures against money laundering and terrorist financing.