The Anti-Smuggling and Investigation Department has called on the Ministry of Industry and Trade and the Vietnam Chamber of Commerce and Industry to strengthen management over the issuance of certificates of origin to curb fraud.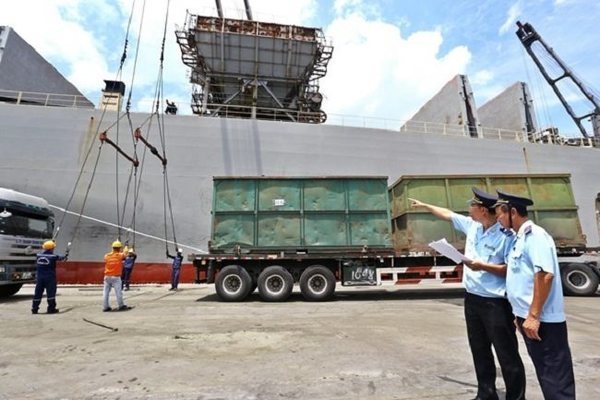 Customs officers monitor import and export activities at Hon La Port in the central province of Quang Binh. The anti-smuggling watchdog has called for agencies in charge of the issuance of certificates of origin to strengthen their scrutiny
The department, with the General Department of Vietnam Customs, said in a recent proposal that authorities should reject the issuance of origin certificates for cases that fail to comply with prevailing regulations.
The agency also pointed out several irregularities, such as lists of wood products without the signatures of forest owners, grassroots authorities and locals in material supply contracts.
Other irregularities include lists of goods for export that have already met criteria for converting commodity codes but have conflicting and overlapping figures in their invoices.
To reduce customs clearance timelines, the General Department of Vietnam Customs noted that it has taken steps to reform administrative procedures and has adopted electronic customs clearance to create favorable conditions for importers and exporters.
Aside from businesses in compliance with the law, a number of traders have exploited legal loopholes to change the origins of their goods, marking them as originating in Vietnam, and to make unauthorized transshipments through the country.
Therefore, customs authorities have taken drastic steps to detect illegal acts and penalize violators strictly.
Imported goods, especially those from China, have come under close scrutiny. These include shipments carrying key products or those suspected of carrying fake certificates of origin.
Authorities are also carrying out further investigations into producers who have recently exported significant volumes of goods to uncover acts of origin fraud as quickly as possible. SGT

Vietnam has worked to fight human trafficking and other transnational crimes in recent decades, a top politician has said.

The HCM City Steering Committee 389 under the instruction of National Steering Committee 389 will hold more inspections of fake or smuggled goods such as petrol, chemicals and solvents from now until Tết