Vietnamese electronics makers have until the end of this quarter to find alternative sources for their input materials as inventories run low and supply would likely remain disrupted due to outbreaks of coronavirus in China and S. Korea.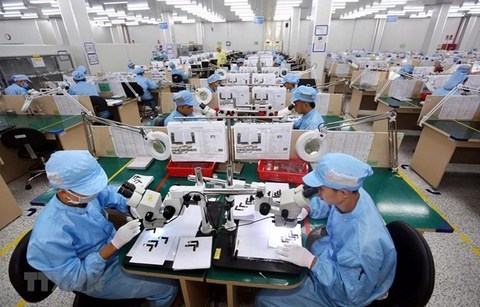 Workers at Young Poong Electronics VINA in northern Vinh Phuc Province.
Failing to do so, production of televisions and mobile phones, which makes up the largest part of the country's export turnover with said countries, would be severely hampered.
Firms have seen an immediate drop in supplies from China, with domestic firms bearing the blunt of the blow. International firms and the international supply chain as a whole are likely to follow suit as most rely heavily on China for input materials.
Viet Nam imported more than US$40 billion in electronic parts last year: $16.8 billion from S Korea and $13.8 billion from China.
The Department of Industry under the Ministry of Industry and Trade said on Wednesday a number of large Vietnamese electronics makers had already felt the effects of supplies running low. The situation looks likely to worsen as even more rigorous measures to monitor the flow of goods have been taken at the borders in attempts to stop the virus from spreading.
Among others, LG Viet Nam has reported the firm is experiencing a shortage of input materials. Meanwhile, Samsung Electronics Viet Nam said production of some of its strategic models this year may very well be thrown into disarray if its supply from China was hit.
Upon the firm's request, custom offices has sped up the process to move Samsung's orders across the border. However, the possibility that China may decide to close its border again remains open.
Samsung has considered moving its cargo by sea and air. It is, however, extremely difficult to ensure a steady supply while at the same time coping with significant costs. The firm said it had been caught between a rock and hard place as stopping production would incur massive losses caused by decreasing sales and increasing production costs.
In addition, a Samsung factory in S Korea was forced to close this week after a worker was confirmed to have been infected with the virus. Stronger measures by the Government are likely to follow as the virus has hit more cities in S Korea, which could impede the flow of goods.
Head of the department Truong Thanh Hoai said the central Government had ordered ministries, agencies and localities to increase information exchange with their Chinese counterparts to strengthen efforts to prevent the spread of the virus while maintaining an opened border between Viet Nam and China.
Meanwhile, Hoai said his department was committed to helping firms look for alternative sources of input materials as well as consumer markets.
For the time being, dialogue between Vietnamese firms and their Chinese partners is seeking ways to maintain a steady supply as the VEIA called on the two governments to provide support for businesses on both sides. — VNS

Some large electronics manufacturers in Vietnam are feeling the punch from the COVID-19 outbreak as material imports and finished product exports have been affected by tighter border control.

The Vietnam Manufacturing Purchasing Managers' Index (PMI) fell below the 50.0 no-change mark in February, signalling a deterioration in business conditions, a survey of IHS Markit and Nikkei released on Monday showed.