Electronic products from Asanzo Vietnam, known as an electronics manufacturer supplying high-quality Vietnamese products in the local market, have been discovered to be Chinese goods being sold as Vietnamese products.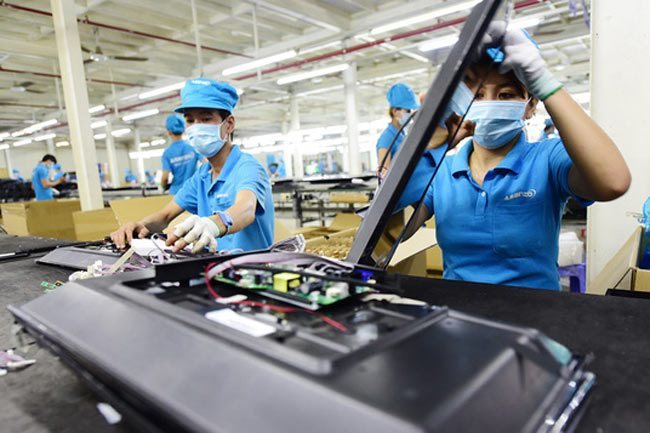 Employees assemble an electronic product at Asanzo's factory. Electronic products from Asanzo Vietnam have been discovered to be Chinese goods under the guise of Vietnamese products - PHOTO: TTO
In September last year, the HCMC customs department checked a container containing electronic oven parts imported from China at Phuoc Long Port in HCMC. Sa Huynh Company was the owner of the shipment of goods.
Sa Huynh declared that the goods inside the container were components for ovens, but when the customs department opened the container to check, the entire shipment included 1,300 ovens branded Asanzo. Additionally, these products were attached with made-in-Vietnam labels, with the slogan "Asanzo-the Advanced Japanese Technology," despite the declaration in certificates of origin that the products were manufactured in China.
In the past few years, many Vietnamese customers believed that Asanzo-branded products were Vietnamese goods. However, according to a probe by Tuoi Tre in August last year, a source said that the Asanzo plant only assembled televisions using components imported from China, whereas other home appliances sold by Asanzo were finished products purchased directly from China.
The probe also uncovered how, since 2014, some 19 firms, in addition to Sa Huynh Company, have imported Asanzo-branded products from China.
The first Asanzo goods shipment was imported to Vietnam on June 25, 2014 by Su Po Company, consisting of 1,330 LCD panels used in assembling TVs. The firm was also found to have purchased over 1,630 LCD panels from Hong Kong Konka in China in August and October 2014.
Also, Bao Ngoc Company imported hundreds of LCD panels from Hong Kong Konka in 2014. Meanwhile, since 2016, multiple firms, such as Tran Thoan, Nguyen Tuan, Khai Phong Saigon, Nam Tien and Viet Nhat, have imported not only LCD panels, but also electric rice cookers, electric blenders, ovens and electric water boilers. These firms have no real addresses.
Notably, three Asanzo Vietnam firms have also imported products, which had previously been labeled with the Asanzo brand, from China.
In December 2016, Asanzo Co. Ltd. purchased over 3,000 blenders from Winstar Electrical Enterprise based in China's Guangdong. One week later, the firm imported 2,050 electric hot pots from Guangdong Zhanjiang Household Electric. In late 2016 and early 2017, the firm imported over 8,000 electric rice cookers, electric kettles and other electric products supplied by Guangdong Mibao and Shenzhen Guangyulong in China.
Meanwhile, Asanzo Electric Refrigeration Company imported at least two shipments of 1,000 blenders and some 2,000 electric water boilers from Huizhou Kaini Industrial.
Asanzo Vietnam was awarded a certificate of high-quality Vietnamese goods, as voted by customers in 2017. SGT