A mechanism indicating fair, transparent and objective rules for ASEAN economies and their enterprises is needed to resolve trade issues when products are exported between markets.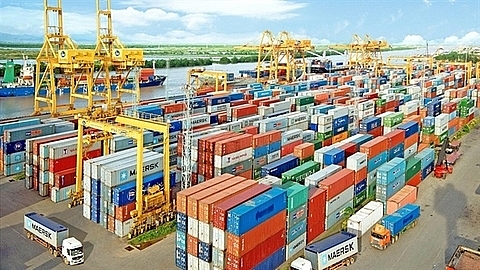 Containers loaded and pending for being exported. An ASEAN trade mechanism is required to help regional exporters deal with problems when trading products in overseas markets. - Photo thuongtruong.com.vn
Nguyen Vu Kien, VCCI deputy director of the international relations department, said on Monday that ASEAN is a huge market and all member economies have opened their markets for each other to enter.
The bloc should develop a system that supports and consults enterprises and resolve disputes when selling products to other regional markets, he said.
That would ensure regional trade is transparent and fair while businesses would not have problems with local authorities regarding overseas operations, he added.
This would improve the trade environment and promote a healthy, positive business climate in the region, he said.
Introducing an ASEAN Portal funded by the European Union through ARISE Plus, Paul Mandl, head of the project, said that the ASSIST portal (assist.asean.org) provides information on legal regulations, criteria and measures to make their goods and services exporting process to the ASEAN market easier.
It also helps exporters react directly with authorities of ASEAN member countries and ask for consultations.
Paoplo R. Vergano, an expert from the ARISE Plus, said that the ASSIST will help businesses deal with issues related to tariff and non-tariff measures as well as investment in some areas, but it does not involve in the handling of disputes between employees and employers or complaints related to discrimination or cases settled by countries, as well as matters that are not relevant to trade, service and investment in ASEAN.
According to Nguyen Tuong, deputy secretary general of the Vietnam Logistics Business Association, ASSIST will make ways for transporters to overcome difficulties when they deal with the administrative procedures at border gates and customs offices.
Trade challenges need to be governed by an objective, transparent and fair regime so that the whole region's trade activities are proper, efficient and smooth, Tuong said.
The conference was held as a part of the Project 25 on "Promoting bilateral trade and investment between Viet Nam and key strategic partners". The conference was co-organised by the Vietnam Chamber of Commerce and Industry (VCCI), the Vietnam International Arbitration Centre (VIAC), the EU ARISE Plus and the Vietnam Logistics Business Association (VLA).VNA