The positive results posted by Vietnamese manufacturers in support industries over the last 20 years have come mostly on the back of the development of the local motorcycle industry. 
Despite the government's policies to limit the number of vehicles on Vietnam's streets, there have been many opportunities in place for manufacturers to grow, according to Ms. Truong Thi Chi Binh, Vice Chairwoman and Secretary General of the Vietnam Association of Supporting Industries (VASI).
"They are willing to be involved further in automobile support industries once volumes in the industry are sufficiently large, along with government support in terms of policies," she said.

Bright side
The Export Mechanical Tool JSC (EMC), the Nhat Quang Steel Limited Company, and the Manh Quang Mechanics Co. - three of VASI's 224 members - have posted good results from the flourishing motorcycle market. Reaching 3.38 million local and imported vehicles in 2018, Vietnam stood behind only India, China, and Indonesia in terms of sales.

The members' average revenue in 2018 was nearly $10 million, according to Ms. Binh. "The figure is significant compared with the small scale of their business in a fledgling manufacturing industry," she said. "Our members continue to be trained to meet global standards for suppliers in the two key industries of automobile and motorcycle manufacturing."

The outlook for Vietnam's motorcycle market in 2019 is forecast to be positive and follow on from record sales in 2018, according to motorcylesdata.com, a global market source.

At the same time, Vietnam's automobile industry has grown rapidly over recent years, according to the Department of Industry under the Ministry of Industry and Trade (MoIT). The number of vehicles manufactured and assembled in the country rose by an average of 10 per cent annually in the 2015-2018 period, reaching 250,000 units in 2018.

The market is projected to reach production capacity of 1 million vehicles a year by 2030, from the current 300,000.

Given the potential of the automobile market, some local and foreign enterprises have invested in the industry over the last two years. In September, the first phase of the Maz Asia auto manufacturing and assembly plant was put into operation in Kim Dong district, northern Hung Yen province. Covering a total area of 4.5 ha, the VND362 billion ($15.6 million) project will manufacture 3,000 vehicles for domestic and foreign markets.

The plant is a joint venture between the Vietnam-based Au Viet Industry JSC, with a 70 per cent holding, and the Belarus-based Minsk Automobile Plant, whose contribution is in the form of technology and equipment. Mr. Valery Ivankovich, General Director of Maz, told the opening ceremony that the plant would master the production of new models of automobile equipment and post a localization rate of 40 per cent. In the initial period, Maz Asia will assemble certain models of completely-knocked-down (CKD) trucks from Belarus for the domestic market.

Meanwhile, Vietnam's Truong Hai Auto Corporation (Thaco) has upgraded and expanded its ThacoKia plant to a capacity of 50,000 autos a year. The group is also investing in building a new truck manufacturing plant with an estimated capacity of about 50,000 vehicles per year, which is expected to be put into operation at the end of this year.


Such scale offers sufficient potential for local suppliers to join the auto manufacturing industry, meaning they have more opportunities to compete with imported autos, according to the Department of Industry.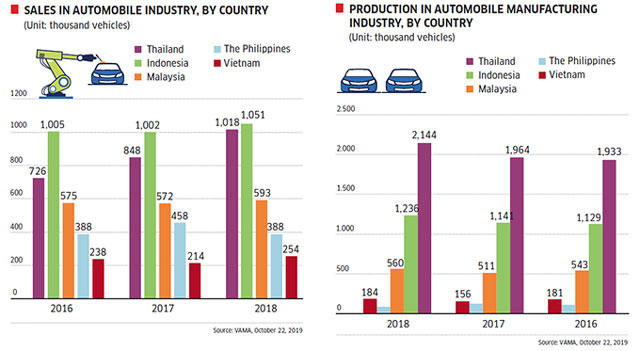 Less-brighter side

The domestic automobile industry is 20 years behind that of Thailand and Indonesia. Though enterprises have significantly contributed to improving localization rates in certain industries, the rate of 20 to 45 per cent in different vehicles is lower than in other ASEAN countries. The localization rate in Thailand is about 80 per cent. In 2018, its auto industry produced 2.1 million vehicles with the participation of 2.1 million suppliers. The figures in Indonesia were 1.2 million vehicles and 792 suppliers.

Vietnam has 1,800 enterprises operating in support industries but only 358 are automobile-related manufacturers, including 50 automobile assembly units, 45 producing chassis, bodies, and trunks, and 214 producing components and spare parts. They are able to meet demand in fields such as moldings, bicycle and motorcycle components, standard mechanical components, plastic components, and rubber components, among others.

Local enterprises taking part in the global value chain for motor car parts are mainly foreign-invested. "Vietnamese enterprises are only tier-four vendors - the lowest level in the global value chain - because their production scale and capacity are limited," Mr. Nguyen Trung Hieu, Head of the Policy Subcommittee at the Vietnam Automobile Manufacturers Association (VAMA), told VET.

Many sophisticated components such as electronic and plastic parts, car chassis, and engines, among others, are mostly imported and account for 85 per cent of all auto parts. "We will cooperate with domestic suppliers in the future but it is hard for them to compete with neighboring suppliers," said Mr. Duc Long from Maz Asia. Domestically-produced auto parts face even tougher competition from imports from ASEAN, which enjoy zero import tariffs under the ASEAN Trade in Goods Agreement from 2018.


"Factors including small market scale and low localization rates have made production costs for domestically-made vehicles in Vietnam 10-20 per cent higher than imports," Mr. Hieu said. "The auto parts manufacturing industry needs to reduce production costs to the equivalent of countries like Thailand."
Breakthroughs sought

MoIT recently proposed a VND100 trillion ($4.3 billion) preferential credit package be established, in which priority access is given to support industries. "Support industries have low profit margins but high risks," Ms. Binh from VASI explained. "They have therefore faced difficulties in accessing credit to improve their production capacity or been subject to even higher interest rates than foreign-invested enterprises."

Creating preferential policies are essential for the greater competitiveness of enterprises operating in support industries, according to Ms. Nguyen Thi Hai Binh, Director of the Financial Markets Development Department at the Ministry of Finance's National Institute for Finance. "Credit policy hasn't kept up with the current outlook for the automobile industry in general or support industries in particular," she added.

Ms. Binh also raised her concern about the instability of policies, which would impact investment decisions by local and foreign enterprises in support industries. The Ministry of Finance is currently reviewing a draft decree to replace Decree No. 125 on export duty and preferential import duty schedules and lists of commodities and their flat tax, compound tax, and outside tariff quota rates. The new decree aims to increase the localization rate and enhance the competitiveness of Vietnam's automobile industry.

Ms. Binh from VASI expects the draft will have a positive influence on enterprises. After a year of implementing Decree No. 125, a number of recommendations from local enterprises on export and import tariffs on certain items have been received. She also suggested that more credit incentives are needed to help domestic enterprises raise their competitiveness, like the fund for small and medium-sized enterprises that gives priority to manufacturing and support industry enterprises.

Issues relating to administrative procedures is yet another concern for local and foreign enterprises. "We recommend a key unit be established in charge of support industries and that policies be implemented effectively," she commented.

Mr. Hieu said the gap in production costs could be partially offset by efforts from enterprises, but it is government policy that plays a key role in ensuring higher localization rates in automobile manufacturing, through incentive and tax policies, and to retain stable growth rates in the domestic market over the long term. VN Economic Times

Vietnam's automobile industry is small compared to regional markets and local suppliers are asking for more support from the Government.

Vietnam Supporting Industries Forum 2019 held on November 28 in Hanoi.