More than 126,700 new enterprises were formed in the first 11 months of this year with total capital of VND1.574 quadrillion (US$65.6 billion), reported the General Statistics Office (GSO).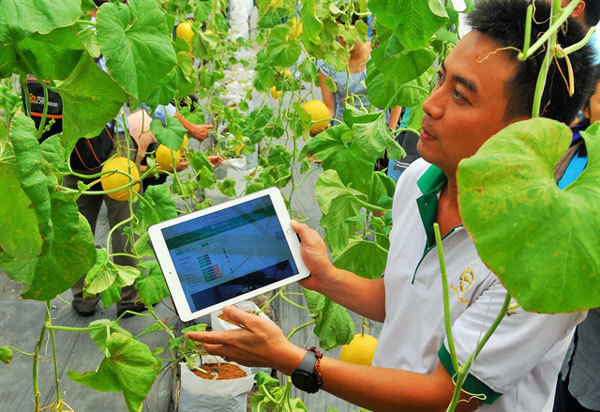 A farmer uses a tablet. In the first 11 months of 2019, the agriculture and forestry sector ranked third in the number of new firms registered.— Photo thoibaokinhdoanh

GSO said these figures marked a year-on-year surge of 4.5 per cent in the number of firms and 27.5 per cent in total capital. In the period, the average registered capital of a newly established enterprise reached VND12.4 billion, an increase of 22 per cent over the same period last year.
A representative of GSO told Việt Nam News: "The average registered capital in the first 11 months is of the highest level in the last few years."
The total registered capital for the domestic economy in the period was VND3.67 quadrillion, including VND2.1 quadrillion from newly established enterprises and VND1.57 quadrillion from enterprises in registering to increase capital for their production and business.
According to GSO, during the January-November period, the number of new enterprises in the service sector had the largest increase with 90,900 new firms. Following was industry and construction with an increase of 33,900 new firms and the agriculture and forest sector with 1,900 new firms.
Meanwhile, the wholesale, retail, automobile and motorbike maintenance, construction and manufacturing-processing, catering services and accommodation sector recorded lower growth rates in newly established firms.
In the same term, there were also 27,800 firms temporarily suspending their business, up 7.1 per cent and 38,100 firms completed dissolution procedures, up 39.8 per cent. — VNS

Vietnamese securities companies are looking to raise capital to supplement business activities and enhance operational efficiency.

The foreign capital inflow into Vietnam through M&As soared in the first nine months of the year, raising concerns about an economic crisis like the one that occurred 10 years ago.

The merger and acquisition market has witnessed the real estate segment in a strong leading position; however, there remains many pitfalls which partners must be careful of whenever they enter into a property deal.