Aviation service companies continue experiencing hardships due to the Covid-19 pandemic, but the business of Johnathan Hanh Nguyen still is making a profit.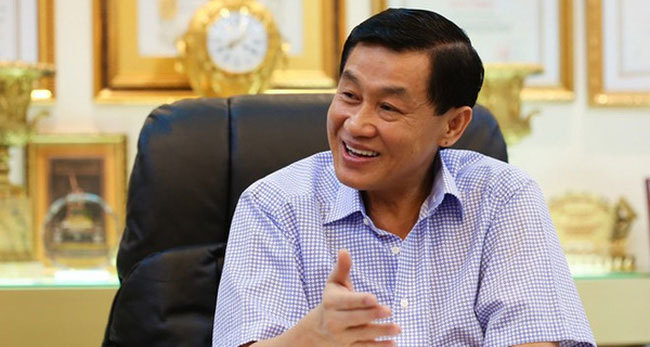 Johnathan Hanh Nguyen's Sasco is still making a profit
The Noi Bai Airport Services Company (Nasco), a subsidiary of Vietnam Airlines, has released its 2020 finance report, which shows a revenue decrease of 43 percent to VND339 billion and loss of VND319 million. Prior to that, in 2019, it made a profit of VND38.5 billion.
Meanwhile, Southern Airports Services JSC (Sasco), the company of Johnathan Hanh Nguyen, known in Vietnam as 'branded goods King' and investor in many business fields, including the aviation service sector, reported a profit of VND149.5 billion for 2020.
This is the first time in its history that Nasco has reported a loss, which is attributed to the Covid-19 pandemic. The revenue from duty free shops at International Passenger Terminal T2 was just equal to 15-20 percent of that of the previous year as it stopped operation on April 1, 2020.
In 2020, Nasco still sold goods and souvenirs at Domestic Passenger Terminal T1, but the revenue from the shops also dropped because of the lower number of passengers.
Reports show that Nasco's total business area accounts for 36 percent of the total premises area for non-aviation services, while restaurant and eatery services account for 36 percent of total business area at T1.
Vietnam Airlines' prospectus shows that the air carrier holds 51 percent of Nasco shares.
The business performance of the company heavily depends on the operation of the Noi Bai International Airport. But Vietnam's airlines have suffered heavily from the pandemic and are using 1-2 percent of their crew.
Vietjet, Bamboo and Vietnam Airlines in 2020 were dealt a strong blow by the two Covid-19 outbreaks. Vietnam Airlines incurred a loss of VND11 trillion, while Vietjet and Bamboo reported modest profits. The profits came from other business fields.
In 2020, Vietnam Airlines saw revenue drop by 59 percent to VND40.6 trillion.
Since the national flag air carrier provided services at below the cost price, its financial revenue decreased sharply and operation costs were high. It reported the post-tax loss of VND11.097 trillion.
Regarding capital, its accounts payable were VND56.826 trillion, while stockholder equity fell to one-third of the end of 2019 to VND6.14 trillion.

Vietnam's airlines continued to suffer from the third outbreak in early 2021.
Commenting about the aviation sector's prospects for 2021, SSI said the sector may begin recovering in the second half of the year once vaccines are approved and vaccination is implemented on a large scale. The domestic market will continue to be the major market for airlines in 2021. 
V. Ha

The overload technical issues of the Ho Chi Minh City Stock Exchange have been a subject of controversy over the past few weeks, with the blame being attributed to poor management and incompetence of an age-old technology. 

Apart from cutting costs and reducing salaries, many airlines have had to reduce their workforce in the difficult context of the COVID-19 pandemic.