The capitalization value of some banks has increased by one billion dollars within a short time.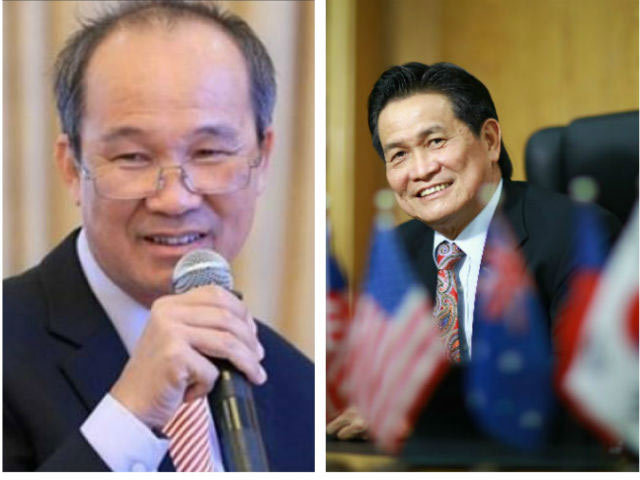 Duong Cong Minh (left)
Within the first 30 minutes of transaction on April 1, STB shares of Sacombank attracted 6 million units transferred, worth VND130 billion.
Meanwhile, 57 million STB were traded on March 31. In the previous trading session, the bank of owner Duong Cong Minh saw a record transaction with 100 million STB transferred within one session.
As such, the trading value of STB alone in one session reached VND1.8 trillion. Prior to that, there were put-through transactions with value of up to VND1 trillion.
The STB price has triplef over the last year, from VND7,000 per share to VND21,000.
Sai Gon – Ha Noi Bank (SHB) of Do Quang Hien, known as boss Hien, has also attracted cash flow. Tens of millions of SHB shares were transferred each session in the last weeks, including orders to buy up to 23 million SHB at ceiling prices.
With trading prices hitting ceiling price levels for four consecutive sessions, SHB price increased by 40 percent.
SHB transactions in the last four years have left a strong impression on investors. At one session last week, 80 million shares were transferred, worth VND1.5 trillion.
Meanwhile, SSB shares of SeABank saw an unprecedented record among bank shares listed on HOSE. It saw prices increasing to ceiling levels for six consecutive sessions after entering the bourse last week.
SSB prices soared by 67 percent from the reference price level of VND16,800 per share on March 24 to VND28,000.
LienVietPost Bank shares also saw prices increasing for the last three sessions with a sharp rise in trading volume, while Techcombank and HDBank saw the same for five consecutive sessions.

Analysts csay that the prices of most bank shares are increasing, serving as a driving force for the stock market. Many bank shares, including VietinBank, ACB and MBBank, still have attractive prices.
Bank shares became more attractive after banks reported big profits for 2020, despite Covid-19 and projected big profits in 2021.
However, some experts have advised investors to be cautious when pouring money into bank shares, saying that most banks have not recorded additional bad debts caused by Covid-19 and have not made provisions against risks. Thus, less than brilliant business performances have not been reflected yet in reports.
In the first three months of the year, OCB and SSB officially began listing shares on HOSE, while BAB shifted from UpCom to the Hanoi Stock Exchange. The prices of the three shares are now all higher than the starting prices. 
M. Ha

The overload technical issues of the Ho Chi Minh City Stock Exchange have been a subject of controversy over the past few weeks, with the blame being attributed to poor management and incompetence of an age-old technology. 

Commercial banks are facing challenges, including an increase in bad debts because of Covid-19 and pressure that has forced them to increase charter capital. But bank shares remain attractive to investors.