Banks are sprinting to transfer the listing of shares from Unlisted Public Company Market (UpCom) to official bourses before the Law on Securities takes effect from the beginning of 2021, 
which would require two-year listing on UpCom before a public company could go to official bourses.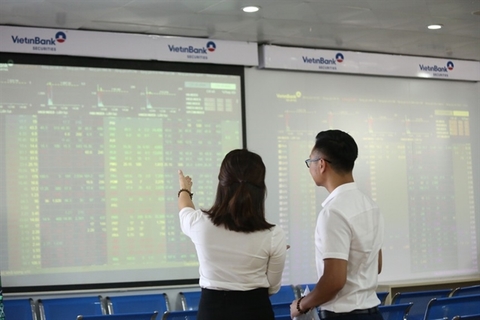 Banks are pushing up the listing of shares on official markets in the last month of this year to meet the Government's deadline. — Photo tinnhanhchungkhoan.vn
Ha Noi Stock Exchange (HNX) said on December 16 that Bac A Bank (BAB) registered to list more than 708.5 million shares on HNX. BAB was currently traded on UpCom with an estimated market capitalisation of VND12.7 trillion
HCM City Stock Exchange (HOSE) recently received an application for listing of 456.4 million shares of Nam A Bank (NAB), worth around VND4.56 trillion.
NAB was listed on UpCom from October 9 at the referece price of VND13,500 per share.
According to BIDV Securities Company, tranfering the listing of shares from UpCom to official bourses, especially HOSE, would help stocks have higher valuations thank to better transparency and liquidity, adding that the share valuation of Vietnamese banks was still at a low level compared to the region and banking stocks were promising to increase next year.
Asia Commercial Bank (ACB) completed the transfer of share listing from HNX to HOSE earlier this month.
Banks were also racing to speed up listing on offical markets when the deadline was approaching. Under the project of restructuring the securities and insurance market to 2020 with a vision to 2025 approved in February 2019, all commercial banks must be listed and registered for trading in official markets.
About 1.175 billion shares of Viet Nam Maritime Commercial Joint Stock Bank (MSB) were officialy traded on HOSE from Wednesday at the reference price of VND15,000 per share, equivalent to a market capitalisation of more than VND17.625 trillion. MSB was the first bank newly listed on HOSE this year.
After many years of delay, Orient Commercial Joint Stock Bank (OCB) decided to list its shares on HOSE. Trinh Van Tuan, OCB's chairman, said that the bank was expected to be listed on the southern bourse this month after receiving HOSE's approval.
The Viet Nam Securities Depository (VDS) has announced to grant code ABB for An Binh Commercial Joint Stock Bank. Accordingly, ABB registered to trade more than 571.3 million shares on UpCom with a total market capitalisation of VND5.73 trillion.
HNX approved the trading of 300 million shares of PG Bank on UpCom starting from Thursday at the reference price of VND15,500 per share.
Southeast Asia Bank (SeABank) also registered for the listing of nearly 1.2 billion shares on HOSE.
In November, LienVietPostBank and Viet Nam International Bank were officially listed on HOSE.
There was also a wave of transfering the listing of shares to HOSE recently.
HNX approved the delisting of 441.7 million shares of Vinaconex (VCG) from Tuesday and VCG would be transferred to HOSE.
First listed on HNX in mid-2018, Vinaconex's charter capital increased from VND1.5 trillion to more than VND4.4 trillion.
In October, Ben Tre Pharmaceutical Company (Bepharco) transferred the listing of shares to HOSE after more than 11 years on HNX.
HOSE also received the application of Ha Noi South Housing and Urban Development Corporation and Vicostone to transfer their listings from HNX.
HOSE is the largest bourse in Viet Nam, accounting for more than 75 per cent of the market capitalisation, equivalent to 63 per cent of GDP in 2019, statistics showed.
The southern bourse also had higher requirements than HNX, such as minimum charter capital of VND120 billion, compared to VND30 billion on the northern bourse. — VNS