Local investors are pushing for their solar farms to begin operation within weeks, as the number of applications for solar projects has skyrocketed thanks in part to recent government incentives on renewable energy.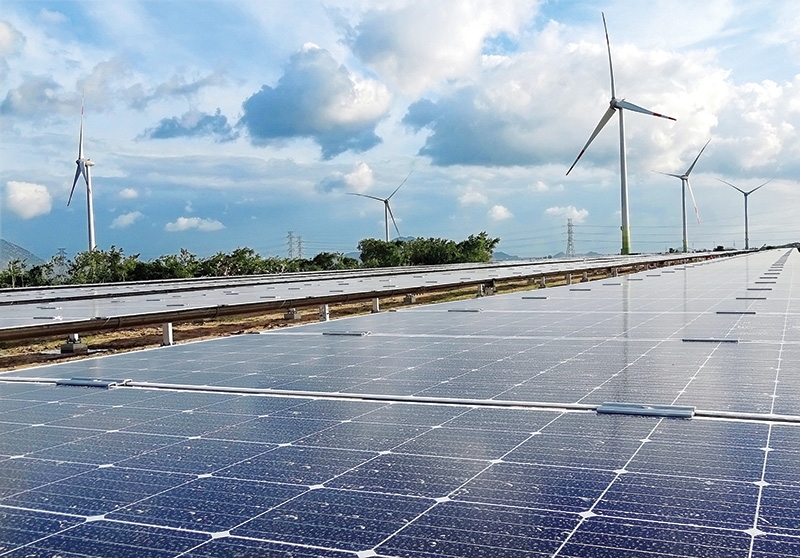 Solar projects are rushing to begin commercial operations before the June 30 deadline
Vietnam's BIM Group and Philippines-based AC Energy have energised three solar power plants with 330 megawatts of cumulative capacity in the central province of Ninh Thuan. The initiatives are located at the BIM solar power plant complex, making it the largest solar power plant in Southeast Asia.
The work took around nine months to complete, with a power purchase agreement (PPA) being signed with state-run Electricity of Vietnam (EVN) at the end of last year. The BIM solar power plant complex was connected to the grid earlier this month.
Doan Quoc Huy, vice chairman of BIM Group, said, "BIM Group aims to become the leading pioneer investor in renewable energy in Vietnam by 2022, and the total clean energy capacity supplied by BIM Energy will reach a total scale of 1,000MWp of solar and wind power."
"The inauguration of a cluster of our three plants with the largest capacity in a short period of time is testament to BIM Group's long-term commitment to clean energy," Huy added.
This is a positive movement from the local private companies in the context that applications for solar energy projects in Vietnam have risen dramatically over the past year, but few of them are yet to come online.
The Vietnamese government's Decision No.11/2017/QD-TTg on mechanism to encourage the ­development of solar power provides tariffs of 9.35 US cents per kWh to solar plants that reach their commercial operation dates (COD) before June 30, 2019 with application limited to a period of 20 years from COD.
Similarly, as an early bird in the wind power sector, local energy and real estate conglomerate Thanh Thanh Cong Group (TTC) said it plans to build as many as 20 solar parks with a total capacity of 1,000MW by next year. The group previously executed a number of clean energy projects using sugarcane waste before moving into the solar sector.
TTC also teamed up Thailand's Gulf to carry out three solar projects and one offshore initiative. They include two solar power schemes (TTCIZ-01 and TTCIZ-02) in the southern province of Tay Ninh, and a solar project and wind scheme in neighbouring Ben Tre province, with the total installed capacity of 460MW. TC Green Energy Investment JSC, an associate in which Gulf indirectly owns 49 per cent, operates the first of the two schemes, which commenced the sale of electricity to EVN in March, according to Gulf's latest report.
The TTCIZ-01 solar power project is located in Trang Bang district, with an installed power generation capacity of 68.8MW and the total ­investment capital of around $65 million. TTCIZ-02, ­meanwhile, in which Gulf ­indirectly holds 90 per cent, has installed power generation capacity of 50MW and will supply electricity to EVN under the same terms as the first project. To date, ­construction on the second ­initiative has proceeded as planned and is expected to commence commercial operation as scheduled this year.
Although both foreign and local investors remain concerned about the PPA model and the capacity of the nation's power grid, these movements are providing encouragement to others.
"Vietnam is witnessing a wave of investment in renewable energy. The sheer number of projects approved shows that the field is currently very attractive," said Cao Quoc Hung, Deputy Minister of Industry and Trade, at a recent forum on renewable energy in Hanoi.
Under the 2011-2020 ­National Power Development Plan, Vietnam plans to cut back coal-fired projects to 26,000MW by 2020, from the 36,000MW planned in 2011. Renewable energy would grow to 9.9 per cent of the country's total electricity production by 2020, to 12.5 per cent by 2025, and to 21 per cent by 2030.
According to John Rockhold, vice country director of Elumis Foundation, the ­government could consider PPAs, improving transparency, upgrading transmissions, and creating a mixed power master plan in order to create a market for renewables that is attractive enough to encourage developers to build new projects.
"As current PPAs come as a 'take it or leave it' option, it increases risks for developers. PPAs could become a key ­factor in opening the doors to capital investment and start the country down the path of ­developing a strong renewables industry," said Rockhold. VIR
Phuong Thu