The Ministry of Industry and Trade's Department of E-commerce and the Digital Economy has been cooperating with e-commerce platforms to remove barriers to the transportation of essential goods during the COVID-19 outbreak.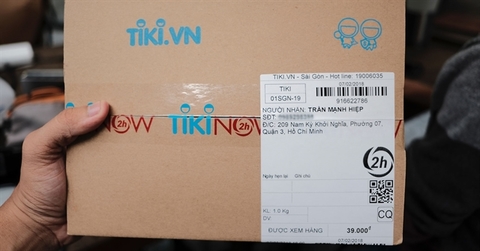 In HCM City, Tiki, one of the leading e-commerce platforms in Viet Nam, has increased the goods supply focusing on essential products. — Photo tinhte.vn
This will increase the supply of agricultural products and essential goods and also reduce pressure on local authorities, especially in cities and provinces applying social distancing such as HCM City and the southern provinces.
The Department of E-commerce and Digital Economy is cooperating closely with six major e-commerce platforms in Viet Nam to implement programmes that promote the sale of essential goods including vegetables and fruits.
In HCM City, Tiki, one of the leading e-commerce platforms in Viet Nam, has increased the goods supply focusing on essential products like rice, fresh food, masks, hand sanitizer and dry food such as cakes, candies and instant noodles.
Tiki has also joined the programme "Moving food to stabilise prices", an initiative of the HCM City Department of Industry and Trade on coming together to supply essential goods and food.
In 19 southern provinces applying distance, the Viettel Post Corporation (Viettel Post) has opened new mobile selling points in Dong Nai and Vung Tau and prepared essential goods for supply to other localities.
The e-commerce platform Voso.vn of Viettel Post has also worked with agricultural product suppliers in Lam Dong and Binh Thuan to open new stores supplying fresh products such as vegetables and eggs.
Voso.vn has also opened price stabilisation shops supplying more than 2,000 goods items with stable and cheap prices, and delivery in only 1-3 days for people in isolated and restricted areas.
The department said the Sendo e-commerce platform has also implemented a "Shop at home" programme, but it faces difficulty in trading goods because some warehouses are located in blocked areas and the sudden increase in demand for some goods has led to temporary supply shortages.
Sendo has solved these problems by working closely with many different suppliers to ensure their supply of goods.
A representative of the Voso.vn e-commerce platform said there is some difficulty delivering goods to the people with transport restricted in some areas. Therefore, there are some orders that are delivered later than usual.
In this cooperation with the ministry, the Viet Nam Post Corporation (VN Post) has also been building price stabilisation shops at post offices. The people in isolated areas can order by phone via apps like Zalo and then VN Post postal staff will deliver the goods.
By the end of July 22, 2021, VN Post had opened 1,915 selling points.
The department has also proposed that the Ministry of Industry and Trade help e-commerce platforms and delivery companies where possible.
For provinces and cities that are applying social distancing measures under the Government's Directive 16, the Department of E-commerce and Digital Economy has proposed industrial and trade departments to encourage consumers to order essential goods on reputable e-commerce sites.
In the past, the restriction of deliveries has interrupted supply chains. This has led to an increase in people attending supermarkets and wet markets, leading to a higher risk of COVID-19 infection. 
Source: VNS