Big C Vietnam has suspended local purchase of garments but insists it is only a temporary measure and will not pull out of the local apparel...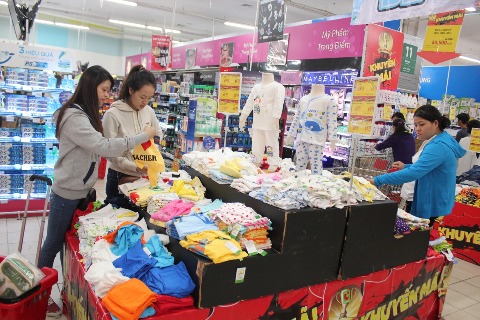 Customers shop for garments at a Big C supermarket in Ha Noi. Big C plans to stop buying garments from this month to restructure the business. Photo thoibaotaichinhvietnam.vn
At the meeting with suppliers on Wednesday, the company pledged to co-ordinate to come up with a solution within two weeks.
Central Group, the owner of the supermarket chain, sent a letter to Vietnamese vendors earlier this week, saying it plans to stop buying garments from this month "until further notice" to restructure the business.
"This temporary suspension of ordering is owing to a change in strategy of development of our soft-line concept in line with direction from Central Group in Thailand."
The next day, many garment and textile suppliers visited its office in HCM City to protest.
In a press release on Wednesday, Central Group said Big C Vietnam is developing new brands for its retail chain, including garment and textile departments, and has a specific plan to achieve this.
Finding supply sources in Viet Nam is a top priority, it claimed.
Big C Vietnam is also reviewing its product portfolio and the feasibility of vendors supplying Vietnamese products of the highest quality.
"Big C Vietnam has more than 4,000 suppliers and is in the process of working with more than 200 garment suppliers to develop products of the best quality to serve not only the domestic market but also exports," the company said.
"The suspension of purchases of Vietnamese garment and textile products is temporary and Big C Vietnam affirms it is not stopping its garment and textile business operations in Viet Nam."
Commitment
"Big C commits to receive products from 50 of the 200 Vietnamese textile and garment suppliers," Deputy Minister of Industry and Trade Do Thang Hai told reporters at a press conference yesterday.
The decision was made in a meeting on the same day between the Ministry of Industry and Trade, the Central Group Vietnam and the Ambassador of Thailand to Vietnam, he said.
Central Group Vietnam is planning for a new business strategy for the textile and garment division in Viet Nam and it needs a certain time to fulfill the plan, Hai said.
That was why Central Group stopped buying from local suppliers and the suspension will temporarily last 15 days, he added.
In the next two weeks, Big C will discuss the issue with all Vietnamese suppliers and import products from 100 additional suppliers, Hai added.
The remainders will have to wait for further discussion as they have not met requirements in the contracts with Big C, he said.
Yesterday, Big C and the Vietnam Textile and Apparel Association signed an agreement, under which the association will help the retailer deal with similar cases.
Central Group bought Big C from Frances Casino Group in 2016 at a cost of US$1.05 billion.
It also owns a large stake in electronics retail chain Nguyen Kim. — VNS