Vietnam and the United Kingdom are boosting their bilateral strategic partnership in all sectors, including trade and investment.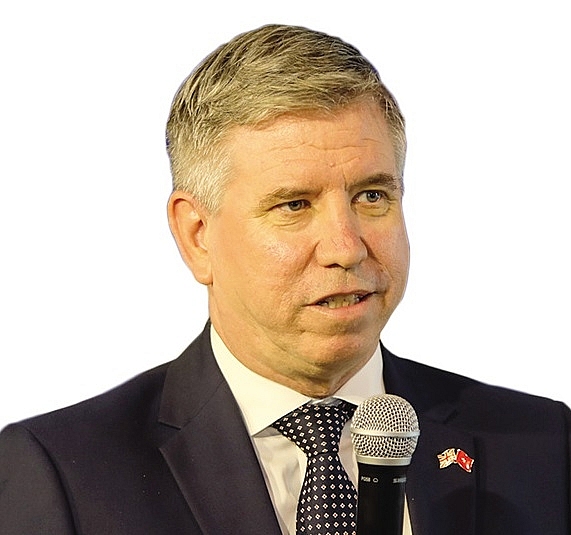 Ian Gibbons
On the threshold of a major financial and investment promotion forum in London this week, Ian Gibbons, British Consul General in Ho Chi Minh City and director of UK Trade & Investment in Vietnam, talked about the significance of the event, and the two nations' trade and investment co-operation outlook.
Vietnam will host its biggest ­investment promotion forum to date in London this week. What is your view on this?
I'm excited about the forum for several reasons. First, it will create further synergies for the UK and Vietnam to work together, enhancing our already close co-operation.
I hope that the forum will provide potential British investors with information about the opportunities in Vietnam and create a platform for policy dialogue for UK companies to share their thoughts.
Also, I'm delighted that the forum will be hosted in the city of London, which is the global hub for financial services. We are proud that the UK is the world leader for financial services and insurance exports. We have the expertise, we have the experience, and we have global talent in London.
The forum is co-hosted by Vietnam's Ministry of Finance, the UK's Department for International Trade, and the UK-ASEAN Business Council. I know how hard these organisations have worked to ensure the success of the forum.
What is your vision for future ­bilateral trade and investment ­between the UK and Vietnam?
The UK and Vietnam forged their strategic partnership in 2010. Since that time, bilateral trade between the two has ­increased 2.5 times with growth at 10 per cent on average.
The UK-Vietnam Joint Economic and Trade Committee dialogue takes place ­annually, where both the UK and Vietnam ­discuss areas for closer ­collaboration and, importantly, where barriers to trade remain.
The UK is keen to share best global practices with Vietnam. For example, the UK has recently gone a full week without coal power. We have pushed coal down from 40 per cent of our energy in the last decade to near zero, by innovating in offshore wind.
We are a world leader in ­technology, regulation, and ­financing in this area – the price of wind power has been cut in half over the last few years – and we are keen to share this experience with Vietnam.
You mentioned the UK's expertise in financial services. What are the areas where the UK and Vietnam are working together at the moment?
The UK government has been supporting Vietnam through capacity building and exchange programmes which help to develop policies on capital market, derivatives, and pension funds.
We look forward to rolling out a robust prosperity fund programme starting from this year to support Vietnam in areas such as fintech, green finance, and international accounting standards. These are priority areas that Vietnam needs for economic growth, but also where the UK has considerable expertise to offer.
In financial services, the UK has global brands that have been operating well in Vietnam for many years. Standard Chartered, Aviva, and Prudential have been present in the market for a very long time, and I am very pleased that these world-class institutions contribute hugely to growth, both economically and socially.
For example, Prudential has large-scale social responsibility programmes supporting Vietnam in education, healthcare, and community support. Prudential also sponsors many scholarships through the UK government's Chevening scheme, which provides future Vietnamese business or government leaders the opportunity to study in the best universities in the UK.
Looking forward, I see many areas where UK financial services companies can work with Vietnam. Fintech is an example. The UK has globally recognised firms whose expertise ranges from making fast payments to tackling cyber-security threats.
How do you see Vietnam as a potential investment destination for UK companies?
In my role, I regularly talk to British companies and encourage them to look at Vietnam as an investment destination and also as a great regional hub to trade.
Economic growth is impressive and sustainable. The demographics are hugely in Vietnam's favour. I have always been impressed by your focus on education. It is good to see Vietnamese students graduating from British universities and then returning to Vietnam to be part of the future there.
Recently, I met Linh Pham, CEO of Logivan, who is very well known in the startup community in Vietnam. Her company won the Duke of York's "Pitch at Palace" competition in Vietnam last year and also, impressively, won her category in the global event in London.
I hope that the Vietnamese government will continue to accelerate reforms to enhance the business environment. When scouting potential new markets, UK companies look for transparency, efficient administrative procedures, and consistency in policies and regulations.
How about Brexit? Do you think it will affect the relations between the two countries?
I would like to assure you that Brexit will not impact the bilateral relationship between our two countries. The UK and Vietnam are and will remain strategic partners. That will not change. The UK will also remain a global economic and financial centre, and our policies and regulations will help us maintain this position.
Last week the EU and Vietnam signed the EU-Vietnam Free Trade Agreement and the EU-Vietnam Investment Protection Agreement. The UK will continue to have an excellent bilateral relationship across all areas, even after we leave the EU.
The UK government has a wide range of bilateral programmes to help Vietnam pursue its economic development ambition, including the Prosperity Fund, Newton Fund, Fleming Fund, and the UK government's Chevening Scholarship. These are all multi-million pound programmes, covering many areas that Vietnam needs and the UK has a lot of expertise to share, from providing Master's scholarships in the most reputable UK universities to increasing transparency, addressing healthcare issues, enhancing the performance of the financial system, improving research and innovation capacity, and the digital transformation of the economy. VIR
Thanh Dat

Vietnam and the UK welcomed the sustained progress in their strategic partnership at their 7th strategic dialogue in London on July 2.  

UK and Vietnamese researchers from different universities are assessing the benefits of blue and green infrastructure (BGI) for flood resilience and urban development in Vietnam.