Vingroup's billionaire Pham Nhat Vuong is taking an unexpected step entering the world's largest electric car market.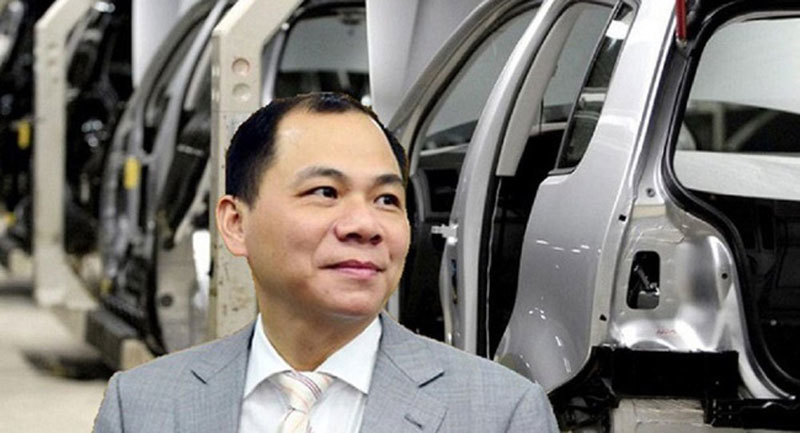 Vingroup's billionaire Pham Nhat Vuong
Bloomberg has cited a source as saying that Vingroup Group (VIC) of billionaire Pham Nhat Vuong is considering an initial public offering (IPO) in the US for its VinFast auto company, which is expected to mobilize about $2-3 billion.
VinFast expects a valuation of at least $50 billion or even up to $70-75 billion. With this valuation, the capitalization of VinFast will surpass the famous car maker Ferrari (capitalization at $52 billion), Honda ($51 billion), Ford ($49 billion), Kia ($30 billion) ... and only behind some famous brands such as Tesla, Toyota, Volkswagen, Mercedes Benz, GM, BMW and others.
This is an unexpected move, but it is in line with his aim of conquering the top market in the world.
The information was released when Vuong's VinFast company began receiving the first orders for electric cars in Vietnam last month and had models shown on CNN, paving its way into the US market.
VinFast has also registered two electric car models in the US and will sell a number of models in Vietnam, the US, Canada and Europe from late 2021.
In the trading session on April 12, Vingroup shares (VIC) - VinFast's parent company - increased by 5.7% to VND132,000/share, helping the group's capitalization reach more than $19 billion to be the largest capitalized enterprise in Vietnam's stock market.
During the morning session of April 13, Vingroup shares continued to rise by more than 4 percent, to nearly VND138,000 per share.
As the price for VIC shares soared, Vuong's assets rose to over $9 billion and he became the 262nd richest person in the world.
If the IPO is successful, VinFast will set a new record, surpassing the record of $1.4 billion in capital mobilization in 2018 of Vinhomes (Vingroup's real estate management company).
At that time, VinFast was also the first Vietnamese company listed in the US.
VinFast is Vingroup's company that manufactures motorbikes, and gasoline- and electric-powered cars. The business, only a few years old, began delivering gasoline fueled cars (using engines licensed by BMW) in 2019.
In the mobile phone segment, Vingroup has achieved many positive results, with the sale of Vsmart phones in the country increasing over the past year, even though the No. 1 private corporation in Vietnam just entered the smartphone market in 2018. Vingroup has become the 3rd largest smartphone manufacturer in Vietnam, behind only Samsung Electronics and Oppo.
On the website of the leading US carrier - AT&T – an image of the first Vingroup smartphones has appeared, a testament to the group's plan to enter the American smartphone market.
Pham Nhat Vuong has great ambition in the field of technology and industry, with Vsmart phones, Vinfast cars and electric cars.
In recent years, Vuong's Vingroup had to withdraw from many fields, selling the retail segment to billionaire Nguyen Dang Quang and recently presenting the Youth Football Training Center to Van Lang Education Group, even though it had many achievements in these fields.
V. Ha

Globally-renowned business magazine Forbes has just released its annual list of the world's billionaires, including six billionaires from Vietnam.

Only when fast-charging batteries along with a nationwide system of charging stations will electric cars become popular in Vietnam.

On March 24, Vinfast made headlines after releasing its statement about receiving orders for its first electric car model VF e34 for VND690 million (about $32,000), to be delivered in the third quarter of 2021.