The authorities of the central province of Binh Thuan on Sunday granted in-principle licences to 11 investment projects with total capital of VND23 trillion (US$990 million).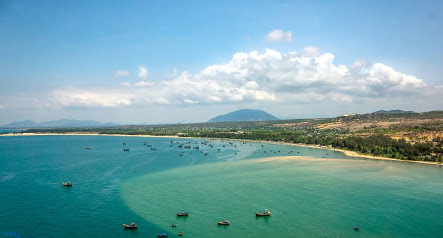 Mui Ne Beach in Binh Thuan Province attracts a lot of tourists to the area. — Photo dulichvietnam.com
The authorities of the central province of Binh Thuan on Sunday granted in-principle licences to 11 investment projects with total capital of VND23 trillion (US$990 million).
The provincial People's Committee also signed a Memorandum of Understanding for 14 projects to enter the province with total registered capital of $19 billion.
There was huge potential for Binh Thuan's sea economic development and local authorities must explore the resources efficiently and speed up the province's socio-economic development, Deputy Prime Minister Truong Hoa Binh said at the province's conference to call for investment in local tourism, the processing and manufacturing industry and high-tech agriculture.
The province had to keep opening the door to businesses and encourage them to do sustainable business operation, avoiding damaging the environment, Binh said.
To do that, the province's planning must be done well based on the three key sectors – clean energy, tourism and high-tech agriculture, he said, adding coastal urban area planning must be improved.
The administrative system must be pro-active, supportive and friendly to both people and business community, deal with corruption in a strict manner and make its policies transparent and interesting to investors, he urged.
Companies should have long-term interest and commitment with the province, protecting the environment and supporting local people, Binh said.
Binh Thuan Province is located in a very advantageous position connecting the Southeast, Central Highlands and South Central regions and many traffic infrastructure projects are being constructed and operated.
Those factors made the province a promising destination with good conditions for businesses to settle, Nguyen Ngoc Hai, Chairman of the Binh Thuan provincial People's Committee, said.
The Investment Promotion Conference 2019 attracted 400 delegates including Government officials, domestic and foreign enterprises and investors.
Phan Nguyen Hoang Tan, deputy director of the provincial Department of Planning and Investment said: "The conference will call on investment from strategic and reputable enterprises and investors to important projects in the province. We will focus on the investment in infrastructure of tourism services to make Binh Thuan a national tourist area."
Nguyen Lan Ngoc, deputy director of the Culture, Sports and Tourism Department, said Mui Ne was approved to be developed as a national tourism area last year, which helped the province attract big investors.
Ngoc said: "They will make Mui Ne one of the leading destinations in the Asia Pacific region."
Tan said: "We will choose strategic investors with strong financial and investment capacity and high technology in projects which positively impact people's lives and promote the socio-economy of the province."
In detail, Tan said of tourism investment, Binh Thuan called for luxury tourism projects with high-end entertainment and recreation areas, commercial projects and urban and residential areas, adding that the projects should develop both the tourism and the resident community, fostering the well-known tourism brand of "Ham Tien- Mui Ne."
In the field of processing industry, Binh Thuan called for investment in agro-forestry-aquatic-seafood processing, minerals processing, electronic equipment manufacturing and assembly, and clean energy.
Currently, the construction and processing industry contributes 31 per cent to local GDP, according to Tan. As Binh Thuan is designed as a national energy centre with a total capacity of over 12,000MW by 2020, it aims to complete the infrastructure system to catch the wave of businesses with international investment redirected to Viet Nam from the current US-China trade war. It will prioritise enterprises which use high tech and environmentally-friendly technology.
In the field of agriculture, Binh Thuan calls for smart agricultural projects with the application of modern technologies. At the same time, the province is building a value chain for cultivation and husbandry with international standards and climate change adaption.
According to provincial leaders, the same conference in 2017 played an important role in attracting investment for the period 2017-19, creating jobs and improving incomes and lives of local people. As the result, in the first half of 2019, the provincial economy increased by 8.5 per cent, budget revenue reached VND 4.7 trillion ($202.8 million) as much as the increase of 30.9 per cent over the same period in 2018. Last year, the province received 5.7 million tourists, 12 per cent higher than in 2017.
Based in the southern key economic region of Viet Nam, Binh Thuan has 192 km of coastline with high and stable hours of wind and heat radiation, which is suitable to the development of tourism, industry and energy.
By year end, construction on three expressways, Dau Giay-Phan Thiet, Phan Thiet-Vinh Hao and Vinh Hao-Cam Lam, will start in the province while an international airport will be built there in the near future. — VNS