With an expected economic growth rate of 2-3 per cent this year, the National Assembly has decided on a rise in budget deficit in order to ensure state budget spending, amid enterprise revenues being hit by the health crisis.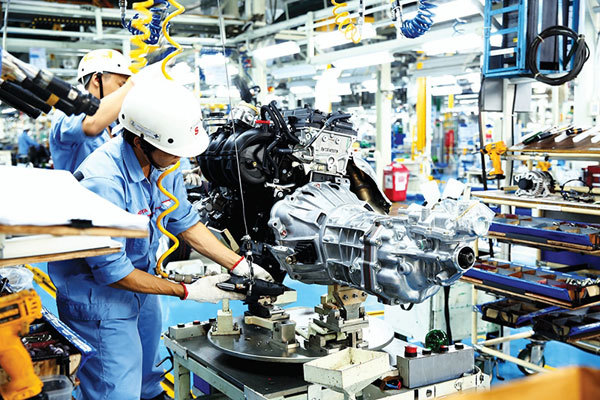 Vietnam's economy could achieve its 2021 growth target if spending plans and reviews are carried out thoroughly. Photo: VIR
For the first time in Vietnam, the National Assembly (NA) has had to increase the country's budget overspending significantly, at a staggering rate of 56.8 per cent as compared to the initial plan.
The legislature last week adopted a resolution on budget estimation for 2021, in which it increased the state budget deficit by an additional VND133.5 trillion ($5.8 billion) for 2020. Late last year the figure was fixed at VND234.8 trillion ($10.2 billion).
Thus, total budget deficit for this year will be VND368.3 trillion ($16 billion), accounting for about 5 per cent of GDP and far higher than last year's VND203 trillion ($8.82 billion).
The rise in budget overspend is aimed to "ensure spending for development investment", which needs the hands of the state in the context of a climb in expenditure for supporting enterprises and fighting against the pandemic.
The NA's bold move is expected to contribute to helping the country ensure positive economic growth, at about 2-3 per cent this year. If the economy grows 2-3 per cent, its GDP is estimated to be about VND6.3 quadrillion ($273.9 billion), up by VND263 trillion ($11.43 billion) as compared to last year, lower than the on-year rise of nearly VND500 trillion ($21.74 billion) last year.
Minister of Planning and Investment Nguyen Chi Dung stated, "Such a growth rate will still make Vietnam one of the world's few economies to attain positive growth amidst the pandemic and one of the region's fastest-growing economies." 
Large dents
The government also reported that this year the state budget will lose about VND190 trillion ($8.26 billion) as compared to initial estimations.
Total state budget revenues this year will likely be VND1.32 quadrillion ($57.5 billion), down 14.7 per cent on-year. Total state budget spending is forecast to be nearly VND1.69 quadrillion ($73.3 billion), down 3.54 per cent on-year.
This is due to the ongoing pandemic causing a decline in business performance, making it difficult for firms to contribute to state coffers and because of the government's application of policies on supporting healthcare, production, and social security. Policies on deferring tax payments and directly supporting both businesses and individuals have also mounted to tens of billions of US dollars.
State-run PetroVietnam reported that in the first 10 months, its total revenue is estimated to be VND404.9 trillion ($17.6 billion), down 27 per cent on-year – in October the figure was down 34 per cent on-year.
The group's 10-month gross output hit over VND220 trillion ($9.56 billion), down 27 per cent on-year. The output of some key products saw on-year drops, including crude oil (9.45 million tonnes, down 14 per cent), natural gas (7.73 cubic metres, down 10 per cent), and electricity (nearly 16 billion kWh, down 14 per cent).
PetroVietnam's total export turnover in the period is estimated to be $1.66 billion, down 39 per cent as compared to the same period last year.
State-owned Vinacomin also suffered from the same plight in the first 10 months of this year. Its total revenue is estimated to be nearly VND102 trillion ($4.43 billion), down 2 per cent on-year. In which, the revenue from coal and mineral production hit VND59.27 trillion ($2.57 billion) and VND12.17 trillion ($529.1 million), down 7 and 15 per cent on-year, respectively.
Meanwhile, state-run Electricity of Vietnam earned in the first eight months of the year an estimated sales revenue of over VND257.5 trillion ($11.2 billion), up only 1.7 per cent on-year, far lower than that in the same period last yearư.
Commenting on business performance for 2020, NA Chairman Phung Quoc Hien stated that the economy's revenue from domestic production and business activities, crude oil, and exports and imports will "not reach the initial estimates."
"As per our calculations, revenues from state-owned enterprises, foreign-invested enterprises, and non-state enterprises have and will in 2020 continue to drastically reduce as compared to 2019," Hien said, adding, "Unpaid debts remain at a very high level. As of September 30, the figure was VND106.5 trillion ($4.63 billion), up 23.3 per cent against the end of last year. The main cause is that the COVID-19 pandemic, natural calamities, and climate change have badly affected enterprises' production and business activities in all sectors." 
A way out
In order to secure the set overspending for this year of VND368.3 trillion ($16 billion), the NA has assigned the government to make great efforts to "increase revenues and radically reduce spending", and "seek more loans in order to offset state budget overspending in a manner suitable to the speed of central revenue collection and budget disbursement in 2020."
To reduce spending, the legislature has also decided not to increase the roadmap-based minimum salary for state-run agencies and organisations, pensions, social insurance allowances, and monthly allowances for those supported by the state.
"All resources are to be used for fighting against the pandemic, overcoming the aftermath of natural disasters, implementing social security policies already enacted, and ensuring national defence and security, as well as diplomatic activities," the resolution read.
It is estimated that the government has spent almost $1 billion on directly fighting the pandemic. This figure, however, remains far lower than the tens of billions of US dollars that each regional nation has spent on average over recent months to battle against COVID-19.
The government asked ministries, agencies, and localities to have plans on reviewing state funding, in order to gather the money for economic recovery and development.
"Money for organising conferences and business trips must be saved radically. No money is provided for unnecessary activities," stated Prime Minister Nguyen Xuan Phuc. "It is necessary to further strengthen the financial and state budget discipline, with radical thrift in recurrent spending."
According to the World Bank, the negative fiscal impact associated with the COVID-19 crisis should increase in the next few months in Vietnam due to several trends. For example, on the revenue side, the decline in tax collection was generalised to almost all taxes and accelerated in the second quarter, when the government collected only 76 per cent of the amount recorded during the same period a year ago.
Such a decline was explained by the slowdown in economic activity and the implementation of tax deferral measures that are expected to continue to the end of the year.
"In its effort to alleviate the financial burden on the private sector, the government has further reduced the corporate income tax for small- and medium-sized enterprises, which may cost the budget an additional $1 billion in the remainder of 2020," said a recent report on Vietnam's economy by the World Bank.
Under the resolution on budget estimation for 2021 adopted by the NA last week, total state budget revenue for 2021 will be over VND1.34 quadrillion ($58.4 billion), and total state budget spending will be nearly 1.69 quadrillion ($73.34 billion).
Total state budget deficit will be VND343.67 trillion ($14.94 billion), lower than the newly-set VND368.3 trillion ($16 billion) for this year, and accounting for 4 per cent GDP.
In which, for next year, the central state budget overspending will be almost VND318.9 trillion ($13.86 billion), equivalent to 3.7 per cent of GDP. The local state budget deficit will be VND24.8 trillion ($1.08 billion), tantamount to 0.3 per cent of GDP.
If the economy grows 6 per cent next year as set by the NA, total GDP is estimated to be around VND6.68 quadrillion ($290.3 billion) based on the current calculation methods. If a new calculation method is applied for 2021, the GDP size is expected to be 25 per cent higher than the existing figure.
Also in 2021, the total loans for the state budget is estimated to be nearly VND608.57 trillion ($26.46 billion). "To ensure sufficient state budget revenue, the government will continue enacting new schemes on tax management, fighting against transfer pricing, while continuing limiting spending, especially recurrent spending, meetings, and overseas trips," PM Phuc stressed.  VIR
Thanh Thu 

As the holder of the keys of the national treasury, Finance Minister Dinh Tien Dung is facing great pressure.

The National Assembly's Finance and Budget Committee has agreed not to adjust the minimum wage in 2021 and has warned about the pressure on public debt payment.