While awaiting creation of a comprehensive legal framework, build-operate-transfer transport initiatives across the country continue to seek new funding from cautious lenders.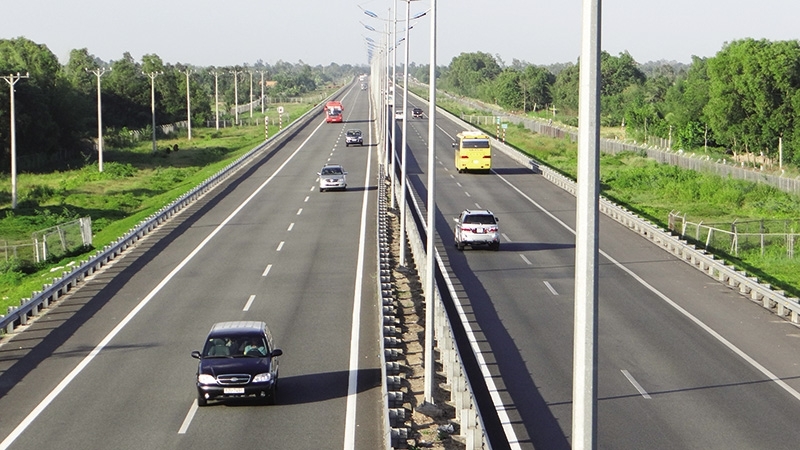 The Law on PPP could be the catalyst to an upturn in fortunes forprivate sector infrastructure financing
After a decade of delays, Trung Luong-My Thuan Expressway, a key national transport project connecting the southwestern ­region with Ho Chi Minh City and the southern economic region, was thought to be back in the game in 2017 after an ­increase of investment capital to VND9.67 trillion ($420.4 million) and a completion schedule extension to 2020.
However, the build-operate-transfer (BOT) venture could fail to meet the deadline due to a block in capital inflow.
At a recent meeting with the Ministry of Transport (MoT), BOT Trung Luong-My Thuan JSC, the investor of the project, said that the loan for the project was signed a year ago but has not been disbursed so far.
The lenders, namely VietinBank, BIDV, VPBank, and Agribank, asked for stricter conditions that the investor is finding difficult to meet. They include the requirement to have equity of VND3 trillion ($130.43 million), making up 30 per cent of the total investment, significantly higher than the normal rate of 12-15 per cent required for other BOT transport projects.
The caution among the banks for Trung Luong-My Thuan Expressway is mainly blamed for revenue losses reported recently at a number of BOT transport projects.
It has caused investors to ­abandon their financial plans, leading to non-performing debts (NPLs).
The reasons for falling project revenue revolve around low actual traffic volume due to the need to divide vehicle traffic into parallel routes, and reduction in the toll of road use services for vehicles in the vicinity of toll booths.
According to reports from commercial banks, currently 32 per cent of BOT projects being exploited have not achieved revenue as planned.
With a total outstanding loan of about VND43 trillion ($1.87 billion), this situation can lead to risks of restructuring debts, transferring debt groups, and generating NPLs for banks.
Meanwhile, loans for BOT initiatives are often huge and long term (often 15-20 years), while the banks' source of capital is mainly short term.
The main problem is that BOT projects often require commercial banks to accept demand risks, requiring strong appraisal of project needs and users' ability to pay targeted users.
Meanwhile, domestic banks have a tradition of lending based on corporate guarantees and have no experience in conducting technical risk assessments for infrastructure projects to provide loans.
Therefore, banks are unable to assess, appraise or monitor infrastructure projects on a commercial basis.
Due to this fear of risks, the banking system has reduced credits for BOT and build-transfer (BT) transport ­ventures.
According to statistics from the State Bank of ­Vietnam, as of April 29, 2019, credits for both types fell 3.43 per cent from the same period last year to make up 1.39 per cent of the total outstanding loans of the economy to VND103.57 ­trillion ($4.5 billion).
Some banks even said that they have no plans to offer loans to BOT and BT projects this year.
A suitable framework
Along with domestic banks, international lenders may also be cautious about this kind of investment model, with the Asian Development Bank (ADB), and the Japan International Cooperation Agency (JICA) among them.
They are waiting for a better framework for public-private partnership (PPP) development.
"Vietnam is working on the Law on PPP, and we are engaged in supporting the government to develop a better system," said ADB country director for Vietnam, Eric Sidgwick.
"We are seeing chances to develop PPP projects. So we are ­supporting the central city of Danang on a waste-to-energy project, and supporting Ho Chi Minh City in the Ring Road 3 project. Investors will not come in without institution for co-financing and ­­co-providing, for example viability gap funding or viability payment. Our concern is to make sure that Vietnam can have a PPP framework that helps attract private sector financing."
"We are happy to discuss other pipeline potential projects," Sidgwick added.
"We are interested in the four northern sections of the North-South Expressway project to be developed under the PPP model, while I think the World Bank is interested in the southern sections."
A representative of the JICA said that the Vietnamese ­government is now trying to settle the new regulation on PPP.
"We are waiting for the actual result of the new regulation, otherwise Japanese investors may hesitate to invest because of the problems related to guarantees, or other factors in the system."
According to lawyers, banks could sustain lending to BOT projects if the state improves the capacity of banks to overcome aforementioned weaknesses. The state should also complete the legal framework for PPP to protect and encourage project stakeholders, including investors and banks.
Before losses came to BOT transport schemes as at present, they have proved their ­efficiency in improving transport infrastructure networks, thus contributing to the national socio-economic development.
The MoT has mobilised VND209.73 trillion ($9.11 ­billion) for 68 PPP transport projects, of which 62 are of the BOT model at VND189.45 trillion ($8.23 billion).
Under the Global Competitiveness Report 2015-2016 of the World Economic Forum, Vietnam's Global Competitiveness Index ranking stood at 56 out of 140, rising 12 places.
Particularly, the index of transport infrastructure climbed nine places to 67, and it has continued to improve in recent years.
Evidently, BOT transport projects have attracted strong interest among private investors who made great success. Tasco JSC (HUT) was among them. HUT was once attractive to stock brokers thanks to business potential in transport ­infrastructure development, especially BT and BOT projects.
Toll collection has brought about giant profit for HUT at the BOT My Loc, Tan De, National Highway No.1, and National Highway No.10.
However, while these projects are of only moderate ­success, considerable controversies persist due to excessive imposition of maintenance fees and unreasonable positioning of toll booths, amongst other things.
One thing these projects all have in common is that existing roads were renovated and some bypass routes erected, but there were relatively few new routes.
Some experts maintained that BOT investment in traffic infrastructure should prioritise new road construction projects.
According to the MoT, there are around 88 toll booths nationwide, of which the ministry manages 73 and the rest are managed by cities and provinces.
Inconsistency issues
Controversy flamed in 2017 when people gathered at the BOT Cai Lay project to raise their objections against toll collection. The case then signalled a series of others later, including the BOT Ben Thuy 1 Bridge, Cau Rac BOT station, BOT Tan De, and the BOT Cai Lay hotspot, among others.
Thus far, 39 projects have had tolls reduced, and 14 others upgrading existing roads have come to a halt. The problems have brought about revenue losses to BOT operators, with some even facing risk of bankruptcy.
According to statistics from the Vietnam Road Administration, among the 57 BOT projects that it manages, 27 report revenue increases, while 26 others face revenue decrease compared to estimations in the contracts, and the four remaining ones have been put into operation.
For HUT, it suffered losses and its shares fell from VND12,000 ($0.52) to over VND3,000 ($0.13) per share. Similarly, Thai Nguyen-Cho Moi and the upgrading of National Highway No.3 have seen revenues down 88 per cent, Hac Tri Bridge saw revenue down 57 per cent, and the bypass of Vinh Yen city on National Highway No.2 is down 48 per cent in revenue.
Even others with an increase in the volume of traffic still face revenue decline, including Hanoi-Haiphong (down 10 per cent), the bypass of Bien Hoa city on National Highway No.1 (down 23 per cent); and the Ho Chi Minh City Road on National Highway No.2 (down 27 per cent).
Experts agreed that the main reason is the inconsistency and overlapping of a related legal framework for the investment model. Therefore, it is urgent to issue the Law on PPP to encourage private investors in the coming time.
In a move to curb the fall, the MoT has proposed two schemes for increasing tolls at BOT projects. In the first, 49 projects will be allowed to raise tolls under the roadmap by 2021, and the MoT will discuss the increase with investors and banks with a focus on toll rise for the projects suffering big revenue losses.
In the second scheme, tolls at the 49 projects will be only increased under contracts from 2022. As estimated, about nine projects face collapse of financial plans and the state might have to allocate about VND3 trillion ($130.43 million) to support them to ensure their plan feasibility.
The proposal has, however, yet to gain much support. Nguyen Van Quyen, president of the Vietnam Automobile Transportation Association said, "The MoT should work with investors to solve all the existing problems, apply non-stop automatic toll collection, and effectively control them before allowing them to increase tolls. Increase should be allowed for BOT projects that develop new roads."
In the interim wait for the Law on PPP, Minister of Transport Nguyen Van The said that by the end of the year when a non-stop automatic toll collection system is installed at BOT booths, the MoT will make public all parameters of each venture.
More importantly, for future projects, the MoT will organise tenders instead of contractor appointment as it did in the past to prevent any local concerns. VIR
Bich Thuy

The Ministry of Transport is seeking opinions from ministries, agencies and localities nationwide for the fee increase of 12-18% for 37 build, operate and transfer (BOT) operated toll road or bridge projects.  

The Ministry of Transport is to take responsibility for assisting build-transfer-operate (BOT) road investors facing revenue shortages in order to help them secure investment efficiently as well as avoid non-performing loans.  

The State Audit of Vietnam (SAV) has uncovered several violations in the execution of build-transfer (BT) and build-operate-transfer (BOT) projects as well as at local banks.