Unable to transport passengers due to the COVID-19 pandemic, some bus operators in HCM City have now begun to use their vehicles for selling vegetables and other essential goods.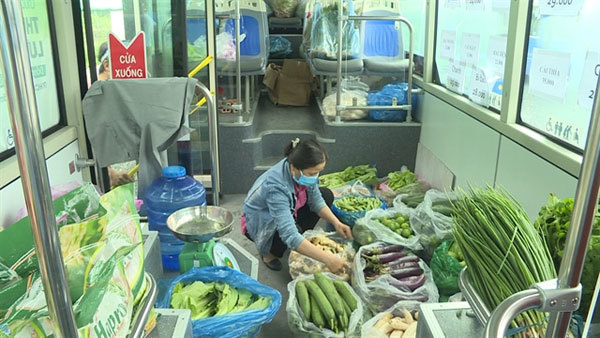 egetables being loaded into a bus belonging to Bao Yen Construction Services Tourism Co., Ltd. in HCM City last week. Five such buses are being used to distribute vegetables around the city. – VNA/VNS Photo
Bao Yen Construction Services Tourism Co's five buses now travel around the city selling vegetables and other items, helping increase supply amid the closure of scores of traditional markets.
Vu Duy Anh, deputy director of the company's southern region, said he had difficulties shopping and once had to visit two supermarkets and wait in line for an hour to buy just a small quantity of vegetables. It was then he thought of using his company's buses to supply vegetables, and it was approved by the Departments of Transportation and Industry and Trade.
He told Vnews television channel: "This initiative accomplishes two goals: First, it supplies fresh produce to local households. Secondly, it provides work for our unemployed staff amid the pandemic."
The Department of Industry and Trade helps the company link up with farm produce suppliers, and the latter sells them at fixed prices.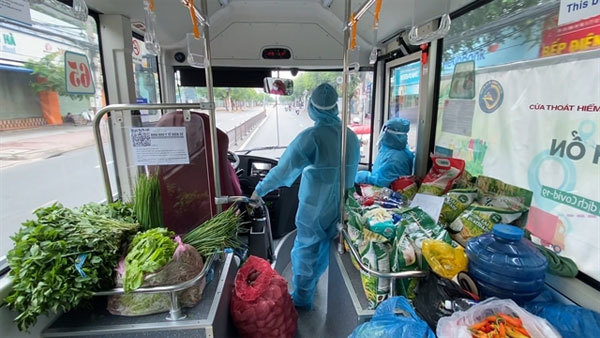 A bus en route to a selling location. The staff strictly follow COVID-19 regulations including wearing protective suits. – VNA/VNS Photo
​The company arranges its bus schedules based on demand in various places, and they can be found on the public transportation app BusMap.
An official from the Department of Industry and Trade told Việt Nam News there are a total of 10 trips daily.
"There are five trips in the morning and five in the afternoon. We are looking into increasing the number of buses and trips since demand for them is rising."
To ensure everyone's safety, the bus staff scrupulously follow COVID prevention measures such as wearing protective suits and ensuring that shoppers maintain the prescribed distance from each other.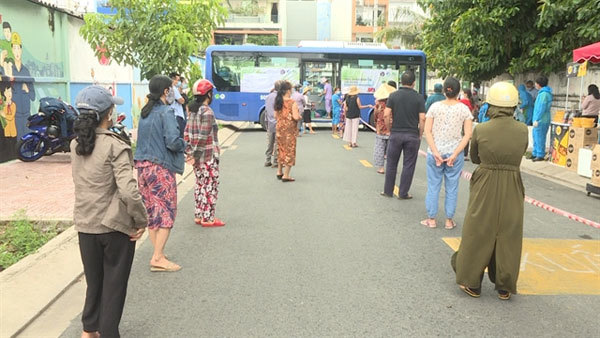 Shoppers wait in line to buy from one of the buses, which together make 10 trips a day. – VNA/VNS Photo
Only one can enter a bus at a time, and the staff quickly help them pick out and pack vegetables.
Ly Phu Qui, a bus coordinator for the company, finds himself doing jobs he has no experience in, but said he is still eager to do them.
"This is completely different compared to my usual work. I did not have any experience in selling goods or how to stock up like a trader. It is really challenging, but being able to make a contribution to society makes me happy."
Thai Tin Hoa, a bus driver who had to stop working for around two months due to the pandemic, was also very happy to be able to transport and supply fresh vegetables to consumers.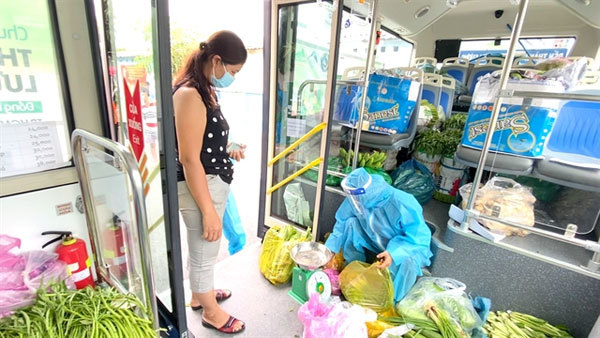 A shopper buys vegetables inside a bus. Only one person can enter at a time. – VNA/VNS Photo
​HCM City is the COVID epicentre of the country with more than 74,000 cases since the fourth outbreak began in late April. Social distancing began on May 31, and more and more stringent preventive measures have been implemented as the number of cases keeps rising.
Many traditional markets have been closed due to the pandemic, affecting the supply of vegetables, and people often find themselves waiting in long lines or even unable to buy vegetables.
HCM City has taken numerous measures to increase the supply of vegetables and reduce the burden on supermarkets, such as partially reopening traditional markets, setting up transshipment stations at wholesale markets and even using high-speed passenger boats to quickly transport essential goods.
Creative solutions such as using public buses as mobile sales points are also helping more and more people cope with the pandemic.
Source: Vietnam News

Vegetables and eggs are in short supply in HCM City due to disruptions in supply chains caused by COVID-19.

The HCMC Department of Transport has proposed using high-speed boats to transport vegetables from the Mekong Delta to increase the vegetable supply in the city which is struggling with vegetable shortages due to the stay-at-home order.