A number of industry trade groups have called on the Government and HCM City to issue travel permits to employees of their member companies to enable them to carry out some urgent tasks amid the city's social distancing.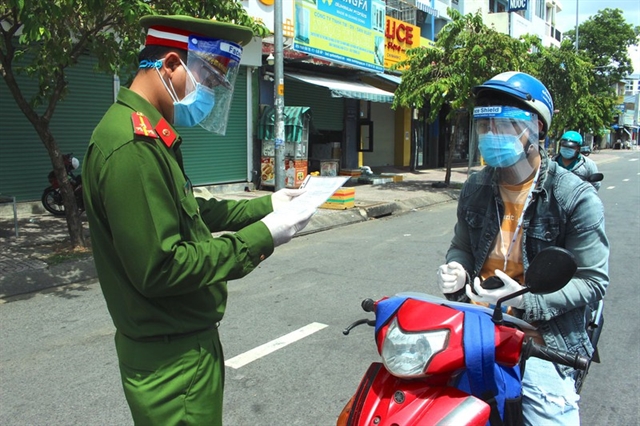 A police checks a man's travel permit at a checkpoint in HCM City's Bình Thạnh District. — Photo plo.vn
They include the Vietnam Rubber Association, Vietnam Pepper Association, Vietnam Fruit and Vegetable Association, Vietnam Cashew Association, Vietnam Coffee and Cocoa Association, Vietnam Cotton and Spinning Association, and the Handicraft and Wood Industry Association of HCM City.
A Vietnam Rubber Association spokesperson said since the beginning of July HCM City and some provinces in the south-east and the Mekong Delta have been mandating social distancing under Directive No. 16, badly affecting production, trading and import-export by businesses in all industries.
The Department of Industry and Trade has said it will only issue travel permits to employees of businesses providing import-export services, and Thu Duc City and districts need to issue them to manufacturing enterprises both supplying to the domestic market and involved in foreign trade.
But the city People's Committee has said the department will decide on a case-by-case basis and issue the permits to employees working in import-export.
Firms are confused and said they do not know where to apply for the permits.
Besides, enterprises still have to complete certain paperwork related to exports and related services on their own rather than on logistics companies, making things even more complicated.
Many are facing a risk of not being able to complete procedures to ensure export on schedule.
The business groups said they will make a list of members requiring travel permits and send it to the department and relevant agencies in provinces. 
Source: VNS

Minister of Transport Nguyen Van The has asked cities and provinces to create favorable conditions for the transport of goods amid social distancing regulations in many localities.