Online transaction floor expected to give strong boost to Vietnam's shrimp industry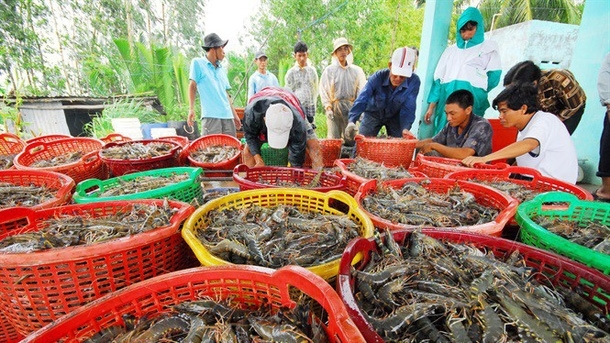 Shrimp harvesting in the Mekong Delta region.
Vietnam's first online shrimp transaction floor has been launched recently, at http://cnsv.vn, involving the participation of shrimp farmers, sellers, processing businesses and providers of juvenile shrimp and food. The inception of the floor aims to limit and move towards eliminating the intermediary stage and directly connect farmers and purchasers of material shrimp.
Accordingly, farmers will provide information on the batch of material shrimp that they want to sell to be "listed" on the floor. When there are buyers with similar needs to the sale information, the floor administrators will connect the two sides to negotiate the harvesting and transportation process, and even adjust prices based on the actual size of the material shrimp. The final prices will be reported to the trading floor and announced publicly, so that it can be used as a reference for other buyers and sellers.
In recent years, the shrimp industry has always contributed a great share of the export revenues of Vietnam's seafood sector. Shrimp farming has also helped many households to escape poverty and rise to make money sustainably. However, the shrimp industry is also facing many challenges, especially market volatility and uncertain prices, forcing shrimp farmers into hardship and even bankruptcy. There are many moments when processing and exporting enterprises have fallen into a shortage of production materials, failing to meet the contracts signed with importers. Not to mention, the quality of farmed shrimp has also become a hot issue recently, particularly the problems related to impurities and antibiotic residues in material shrimp.
In that context, the introduction of the online shrimp transaction floor is expected to create new transformations for shrimp production and consumption. Specifically, the disclosure of parameters on shrimp farming areas and shrimp quality will help farmers become more aware right from the stage of selecting breeds and feeds, and strictly comply with the production process. When selling their products, shrimp farmers will be able to find "reference" prices through the floor in order to avoid disadvantageous prices as proposed by traders as previously. As for buyers, they will be informed about the product quality and prices to quickly select the most suitable batches.
In the long term, through the activities on the trading floor, state management agencies will have a practical basis on which to orientate and direct localities to produce shrimp in line with the market demand, towards signing contracts between buyers and sellers on the transaction floor, thus helping farmers feel secure to invest in shrimp production and lead a stable life with shrimp farming.
Q1: FDI sector in Vietnam exports over US$ 41 bln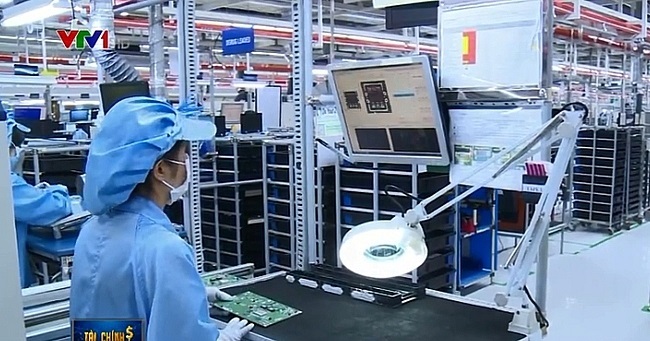 In Q1, FDI enterprises made an estimated export turnover of US$ 58.51 billion, representing a year-on-year rise of 4.7 pc, the Ministry of Industry and Trade (MoIT) reported.
Including crude oil, the FDI sector earned US$41.46 billion of export turnover, occupying 70.9pc of total export volume.
Overseas shipment of the processing and manufacturing industry grew 6.1pc in Q1, contributing 83.8pc of total export turnover.
Nine commodities earned over US$ 1 billion of export turnover of which seven gained over US$ 2 billion of export turnover.
The MoIT reported that in Q1, FDI enterprises engaged in 18 sectors especially the processing and manufacturing industry which absorbed US$ 8.4 billion, accounting for 77.7pc of total registered capital.
On the other hand, in Q1, the FDI sector imported US$ 33.89 billion of goods, up 6pc against the same period last year.
Hence, in the first three months, the sector ran a trade surplus of US$ 7.57 billion.
Dong Nai invites investors for 12 infrastructure projects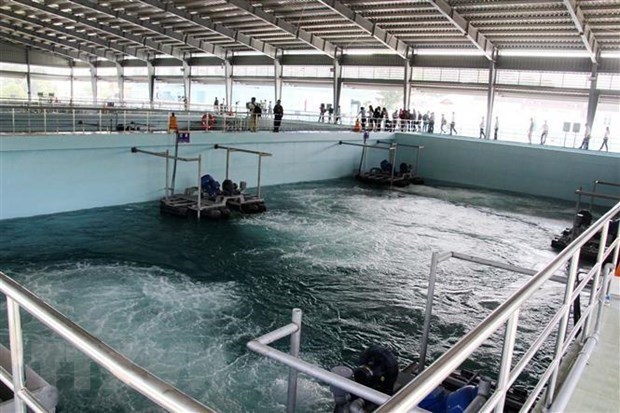 A wastewater treatment system
The People's Committee of the southern province of Dong Nai has announced a list of 12 infrastructure projects calling for investment worth more than 1.2 billion USD in total.
Both domestic and foreign investors are invited to invest in the projects.
Six of the 12 projects are in the transport sector, with the biggest one being a 15-km road in Nhon Trach district worth 235 million USD.
The remaining six projects are in the waste water treatment and drainage sector, including two schemes in Bien Hoa city worth a combined 357 million USD, and four in other localities.
The provincial authorities said the projects are designed to help promote local socio-economic development and environmental protection.
Dong Nai has attracted more than 373 million USD in 38 foreign direct investment (FDI) projects as of the end of March, of which 152.6 million USD was registered in 18 new FDI projects and 220.5 million USD was added to 20 existing ones.
According to the provincial Department of Planning and Investment, most of the projects are in supporting industry that is high-tech and environmentally friendly.
The province has been home to 1,901 FDI projects with a total registered capital of 34.1 billion USD. Of them, 1,400 projects worth 28.9 billion USD are operational.
Vietnamese products introduced at Seoul Int'l Seafood Show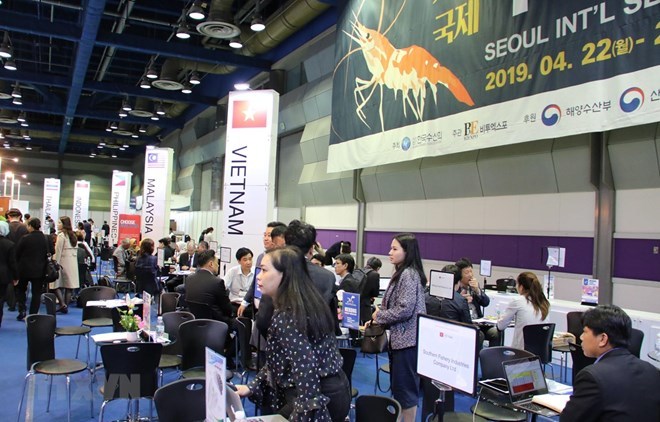 Several of Vietnam's specialty aquatic products are being showcased at the Seoul International Seafood Show 2019, which opened in the capital city of the Republic of Korea (RoK) on April 22.
The three-day show, held at the COEX Convention and Exhibition Centre, designates an area for ASEAN countries, including Thailand, Malaysia, the Philippines, and Indonesia. There are 10 Vietnamese firms among the 34 ASEAN businesses participating in the event.
They said this show is a good chance to popularise Vietnam's strong aquatic products and seek partners, especially Korean importers, towards gaining a bigger market share in this potential market. It is also an occasion for them to access the most advanced technologies in aquaculture and seafood processing.
Director of the Thanh Ha company, Nguyen Thi Nguyet Ha, said her firm will develop many more high-quality products in the time ahead to introduce Vietnamese cuisine to the world. She added that some of their products are already distributed in the RoK through the supermarket chain E-mart.
Meanwhile, Director of the Thong Thuan Co., Ltd., Truong Huu Thong said his company is participating in this show with a view to expanding its market to the RoK.
With its strengths in aquaculture and seafood processing, Vietnam has many high-quality products meeting strict standards of the RoK, he noted.
Workshop seeks to promote Vietnam-RoK trade ties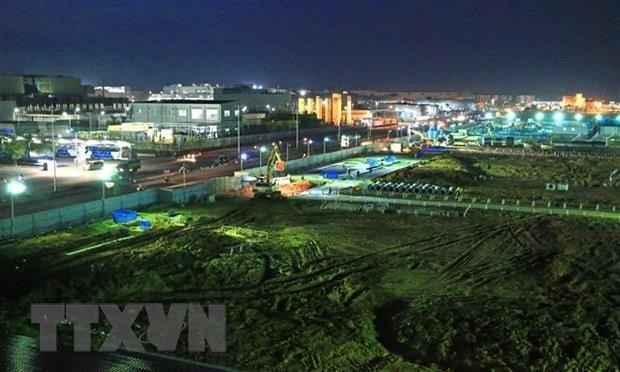 A view of Samsung Electronics factory in Thai Nguyen
A seminar on promoting trade and investment links between Vietnam and the Republic of Korea (RoK) was held in Hanoi on April 22.
Jointly organised by the Vietnam Trade Promotion Agency (VIETRADE) under the Ministry of Industry and Trade, the Korea Federation of Small- and Medium-sized Enterprises (KBIZ), and the Taejon Broadcasting Corporation (TJB), the event opened up opportunities for the two countries' enterprises to seek and set up partnerships, as well as support Vietnamese localities in calling for more investment from the RoK.
Speaking at the event, VIETRADE Director Vu Ba Phu highlighted the fruitful development of Vietnam-RoK relations, especially in trade, culture-sports, and tourism.
Over the last five years, the RoK has been one of Vietnam's leading partners, ranking first in the amount of foreign direct investment (FDI). It has been also the second biggest provider of official development assistance (ODA) capital for Vietnam.
By February 2019, the RoK had poured 63.7 billion USD into Vietnam, accounting for 18.5 percent of the total registered FDI in Vietnam. Last year, the RoK had 1,043 projects worth 7.2 billion USD, accounting for 20.3 percent of the total FDI in the Southeast Asian country.
Phu said there are about 7,000 Korean enterprises investing in Vietnam, using some 700,000 local labourers and contributing roughly 30 percent to Vietnam's total export value. Korean investors are mainly operating in industry, agriculture, tourism, and services.
In the industrial sector, the operation of Korean conglomerates, such as Samsung, LG, Kumho, Doosan, Hyundai, GS, and Posco, has made an important impact on promoting support industries in Vietnam, especially in the fields of mechanics, metallurgy, chemicals, electricity-electronics, and plastics.
Phu said that VIETRADE will coordinate closely with management agencies at all levels, as well as trade and investment promotion organisations in and outside the country to support foreign investors in general, and in particular those from the RoK, in seeking investment opportunities in Vietnam.
Lee Gwang Chuk, Director of TJB, said the workshop aims to bring benefits to both Vietnamese and Korean businesses.
He expressed his hope that Korean firms will gain a greater understanding of the Vietnamese market, thus further strengthening cooperation between enterprises of the two nations.
Korean enterprises are interested in investing in IT, bio-technology, food processing, support industry, and entertainment and culture, Lee said.
According to Ju Young Seob, former Koerean Minister of Small- and Medium-sized Enterprises and Startups, said the Vietnam-RoK Free Trade Agreement – which came into effect on December 20, 2015 – has created a new driving force to contribute to implementing the goal to raise the bilateral trade turnover to 100 billion USD by 2020.
He expressed his belief that with the determination of the two governments, economic cooperation between Vietnam and the RoK will grow strongly in the time ahead.
Former CEO of AhaMove Nguyen Xuan Truong officially enter e-wallet MoMo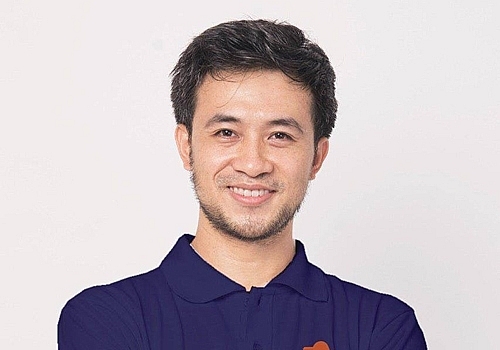 Local e-wallet MoMo will be the next destination of Nguyen Xuan Truong, former CEO of local delivery company AhaMove.
The information was shared by Truong himself at the seminar titled "From Zero to Hero then back again – Story of Former AhaMove CEO" organised by UP Co-working Space Vietnam and Startup Grind Vietnam on April 21.
"I want to challenge myself by entering a fresh field like financial technology (fintech) and joining MoMo would be a great challenge," said Truong.
A representative of MoMo stated that Truong will be the company's director of the money transfer department from April 22.
Right after the announcement of leaving AhaMove, there were rumours that Truong departed because the company was not able to compete with Grab and Go-Viet. Answering the issue, Tran Duc Huy, AhaMove's former marketing manager, who also stopped working at the firm since the middle of April, posted on Facebook, "I left AhaMove because I no longer suit the company's development strategies. I and Truong did not stop working at AhaMove because of Grab's pressure."
In addition to publishing a new work plan at the event, Truong also shared his experiences with young people who desire to establish their own startups but lack the knowledge and experience to join the tough field. Truong's appearance lured dozens of young people to the event.
Sharing with VIR, Catie Hang Le, charter director of Startup Grind Hanoi, said, "We will try to organise similar seminars every month to create a forum where young people can learn and exchange experience about startups."
Startup Grind is the largest independent startup community, actively educating, inspiring, and connecting more than 1,500,000 entrepreneurs in over 500 chapters. The community nurtures startup ecosystems in 125 countries through events, media, and partnerships with organisations like Google for Startups. Founded in Silicon Valley, Startup Grind has helped millions of entrepreneurs build their businesses, connect with strategic partners, and secure funding.
Hoa Sen Group exports 15,000 tonnes of steel sheets to Mexico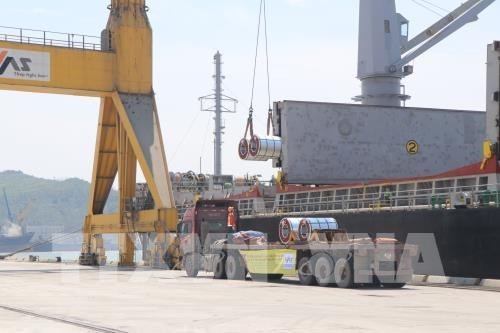 Hoa Sen Group shipped 15,000 tonnes of steel sheets worth 12 million USD to Mexico from Nghi Son port in the central province of Nghe An on April 22.
This is the largest batch of plated steel destined for the American country after the Comprehensive and Progressive Agreement for Trans-Pacific (CPTPP) came into effect.
The group said that in the context of unpredictable price fluctuations of hot rolled steel exerting immense pressure on the steel industry in recent times, Hoa Sen has adopted various measures to develop both domestic and foreign markets.
In the 2017-2018 fiscal year, Hoa Sen raked in 538 million USD from exports, up 27 percent from the previous fiscal year. Its products have been present in more than 75 countries and territories so far. Additionally, the corporation is targeting exports to several markets with high standards, like the Americas, Europe, and Africa.
Some 60,000 tonnes of Hoa Sen-branded products are sent overseas each month, most of them to CPTPP member states, particularly Australia, Mexico, Canada, and Malaysia.
The same day, the Hoa Sen Nghe An plant signed a 200 billion VND credit contract with the Ho Chi Minh City Development Joint Stock Commercial Bank (HD Bank) to promote the development of the facility.
Largest bio-organic fertiliser plant in northern region opens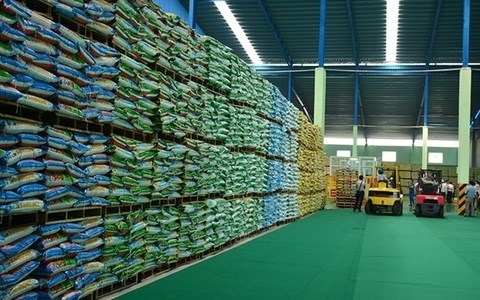 The plant - the largest of its kind in the north - provides 250,000 tonnes of organic fertiliser each year. (Photo: nhandan.com.vn)
Ho Chi Minh City-based Que Lam Group has inaugurated its bio-organic fertiliser plant, built at a cost of 500 billion VND (21.54 million USD), in the northern province of Vinh Phuc.
Covering 4 hectares, the plant - the largest of its kind in the northern region – has an annual production capacity of 250,000 tonnes of fertiliser.
The Que Lam Group's General Director Nguyen Thanh Vinh said the plant is developed to meet the rising demand for quality organic fertiliser products in 25 northern provinces and cities. It is also the second plant of his company in Binh Xuyen district.
Minister of Agriculture and Rural Development Nguyen Xuan Cuong described the launch of the plant as good news for the country's farming industry which is under a restructuring process towards a 'green, clean, safe and sustainable' sector.
He called on the Que Lam Group and other firms to accompany the State to overcome current challenges and improve the value of their farm produce in global supply chains.
The Que Lam Group is among the leading firms producing and trading organic fertiliser. It is now operating eight organic fertiliser plants across Vietnam, providing 500,000 tonnes of products each year.
The company aims to produce 1.5 million tonnes of organic fertiliser by 2020, two million tonnes by 2025 and 3.5 million tonnes by 2035.
Vietnam's agricultural sector uses 11 million tonnes of fertilisers, only 8 percent of which is organic, according to the Ministry of Agriculture and Rural Development.
The ministry said fertiliser plays a key role in farming. Vietnam has 10 million hectares of farmland. Organic production covers only 43,000ha of land which means organic fertiliser has not been widely used.
If each hectare of farmland needs 10 tonnes of organic fertiliser, it is estimated Vietnam needs 100 million tonnes of organic fertiliser to have safe products, recover soil and protect the environment.
Vinh Phuc's efforts in international integration pay off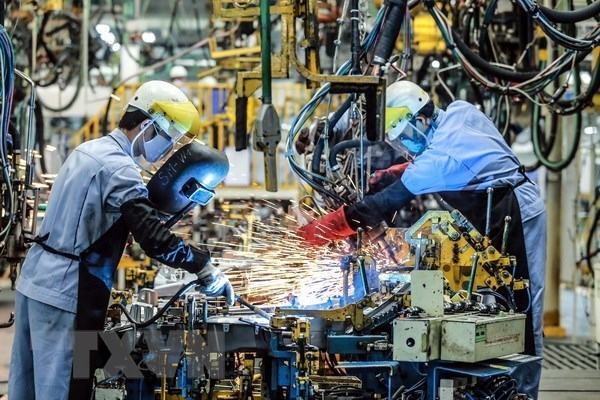 The northern province of Vinh Phuc has exerted various efforts towards international integration, attracting many foreign investors with high technology and helping to boost its socio-economic development.
Each year, Vinh Phuc has held exchange activities with ministries and sectors of other countries, including China, Germany, the US, Italy, and the Republic of Korea, to foster investment cooperation.
The province has been actively taking advantage of multilateral and bilateral forums, while increasing economic, trade, investment, and tourism promotion, as well as building a smooth investment environment to lure more investors.
It has sent delegations to other countries to learn from their experience and introduced the province's advantages and potential to investors abroad.
So far, Vinh Phuc has attracted a number of big enterprises, such as Toyota, Honda, Daewoo Bus, Piaggio, and Sumitomo. As of March 2019, the province has hosted 1,070 projects, including 344 FDI projects from 16 countries and territories, with a total investment of 4.65 billion USD, much higher than the mere eight projects it housed a decade ago.
In addition, the province has attracted 726 domestically-funded projects, worth a total of 76.7 trillion VND (3.3 billion USD).
According to Nguyen Duc Tai, Vice Director of the provincial Department of Planning and Investment, FDI projects have contributed to increasing budget collection and jobs in the province.
The province paid 30.6 trillion VND (1.32 billion USD) to the state budget last year and over 31 trillion VND (1.33 billion USD) in 2016, much higher than the 10 trillion VND (431 million USD) it contributed in 2009, he noted.
So far, the province's industrial parks have created jobs for about 85,000 labourers, he added.
Tai said that Vinh Phuc is working to speed up administrative reform; improve the investment-business environment; enhance its provincial competitiveness index; and prioritise environmentally-friendly, high-tech projects with great potential to link up with local firms to join global value chains.
The province will continue to remove difficulties and obstacles facing investment projects in industrial parks, while focusing on luring more investors from Japan, the Republic of Korea, and China. It also hopes to seek new markets with ASEAN member countries and those joining the Comprehensive and Progressive Agreement for Trans-Pacific Partnership (CPTPP).
Omani businesses seek cooperation partners in Vietnam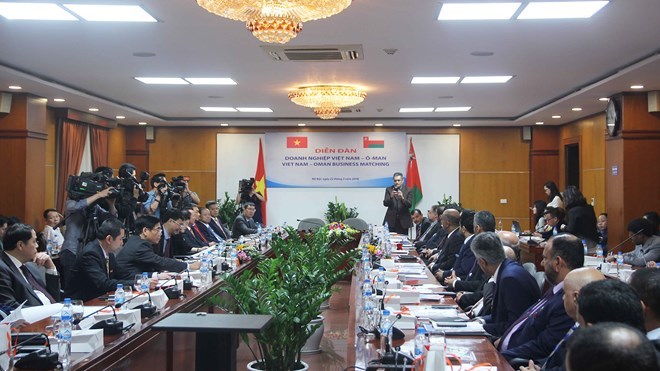 Scene at the event (Photo: tapchicongthuong.vn)
Representatives of Vietnamese and Omani enterprises met in Hanoi on April 22 to discuss ways to further promote business and trade ties between the two countries.
Co-hosted by the Vietnam Chamber of Commerce and Industry (VCCI) and the Omani Embassy in Vietnam, the get-together formed part of a series of activities held from April 21-25 as representatives of the Oman Chamber of Commerce and Industry (OCCI) and 12 Omani companies are paying a working visit to Vietnam.
The Omani firms are seeking local cooperation and business partners in a range of fields, including construction, trade, interior decoration, aquaculture, organic fertilizer, construction materials, foodstuff, tourism, oil and gas services and electric equipment.
VCCI Vice Chairman Doan Duy Khuong said over the past years, diplomatic, economic and commercial relations between the two nations have been improved. With a population of almost 100 million, Vietnam has advantages in exporting garment-textiles, footwear, mobile phones, iron and steel, wood and agricultural products.
Meanwhile, the Middle East country has imported up to 60 percent of its food demand and the figure is forecast to increase in the coming time, making itself a potential market for Vietnamese agricultural products, he said.
Khuong cited statistics from the General Department of Vietnam Customs as saying that two-way trade remained modest, reaching only 120.8 million USD in 2018, up 3.4 percent from the previous year. Of the figure, Vietnam exported products worth 50.8 million USD to Oman, a year-on-year rise of 19.3 percent.
Hamad bin Said al Rubkhi, member of the OCCI Board of Directors and Head of the OCCI Branch in the Governorate of Al Dakhiliyah, said that apart from such potential sectors as oil and gas, tourism, fishing and aquaculture, Oman also has strengths in fine handicraft and hotel services.
Oman is a gateway for products to enter Arabian markets with many seaports, hence, it is necessary to further boost investment and trade ties between Oman and Vietnam, he said.
Vietnamese firms to introduce products at South African supermarkets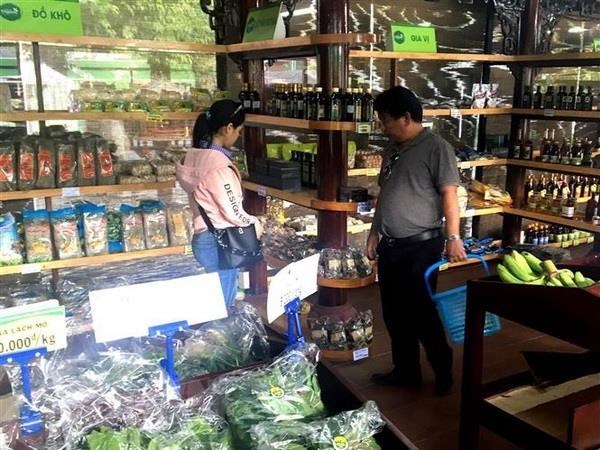 A store selling Vietnamese farm produce
The Department of Asian-African Markets under the Ministry of Industry and Trade plans to organise a business delegation to South Africa from May 8-16 where they will introduce Vietnamese agricultural products at local supermarkets.
Vietnam's farm produce, including rice, coffee, tea, processed food, beverage, apparel, stationery, aquatic products, home appliances and leather footwear will be promoted at supermarkets Advance Cash & Carry and Shoprite.
In addition, the delegation will study the local market, meet with partners and importers and hold workshops in Cape Town and Johannesburg cities.
Experts said the activity is an opportunity for Vietnamese firms to showcase their goods and directly meet up for possible partnerships with their South African partners.
South Africa is the biggest trade partner of Vietnam in Africa, with bilateral trade exceeding 1 billion USD in 2018.
Last year, Vietnam exported to South Africa about 724 million USD worth of products, which included mobile phones and components, machines, peppercorn, coffee, apparel, and footwear.
Meanwhile, the country imported 386 million USD worth of goods from South Africa such as plastic materials, metal, fruits, garment-textile materials, and chemical products, among others.
Da Nang prioritises high technology projects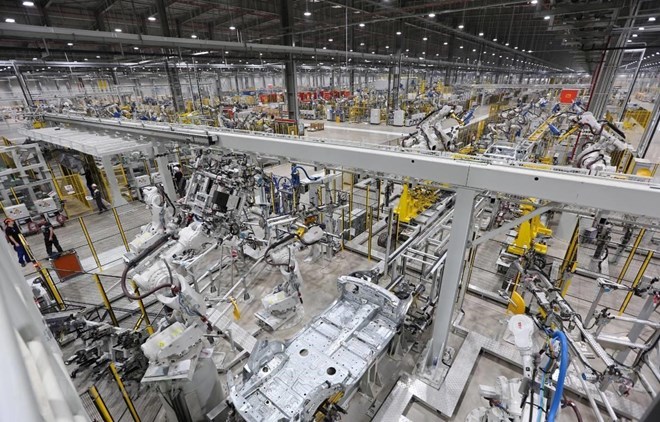 The central city of Da Nang will continue to prioritise investment projects with advanced technologies and high added value in the future, said Huynh Lien Phuong, Director of the municipal Investment Promotion and Support Board.
Phuong said that the city will associate investment attraction with startup activities, innovation, application of high technologies and development of an digital economy, while strengthening connectivity between domestic and foreign investors, and optimising regional linkages.
She noted that by the end of March 2019, Da Nang has hosted 715 valid FDI projects with total investment of over 3.35 billion USD, including seven projects in the Hi-Tech Park with combined capital of 228.96 million USD.
The processing-manufacturing industry has been the most attractive sector of the city, luring about 1.44 billion USD, accounting for 43.13 percent of the total investment, followed by real estate-tourism with about 1.23 billion USD, and education-training with about 174 million USD.
Leading investors in the city include Japan with 868.29 million USD, Singapore with 650.7 million USD, the US with 764.3 million USD, and the Republic of Korea with 310.4 million USD.
In the first quarter of this year, Da Nang licenced 32 new projects worth 355.8 million USD, along with 114.2 million USD added to existing projects, said Phuong.
Phuong attributed the results to the city's endeavours to choose suitable projects in prioritized sectors, thus enhancing the quality of FDI flow.
Meanwhile, Da Nang has worked hard on administrative reform. The city led the country in provincial competitiveness index (PCI) in four consecutive years from 2013 to 2016, and ranked second in 2017.
Da Nang topped the country in public administrative reform index from 2012 to 2016, and came fourth in 2017, while maintaining its top position in ICT development index in 10 consecutive years.
Bamboo Airways to open three international flight routes in April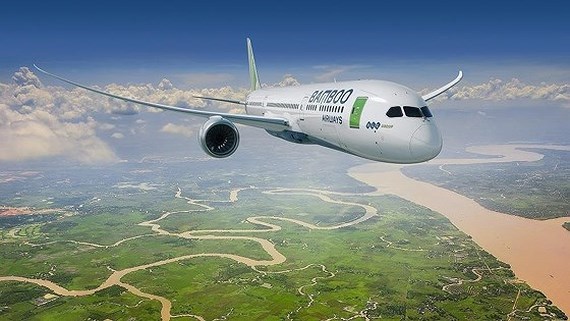 To meet traveling demand on long holidays on occasion of Reunification Days April 30, Bamboo Airways will open three international flight routes to South Korea, Taiwan (China) and Japan in April.
Bamboo Airways to open three international flight routes in April
The airline will open Hanoi – Incheon on April 26 while the Da Nang – Taipei, Hanoi – Tainan on April 27 and Hanoi – Irabaki, HCMC – Irabaki on April 28.
Lately, on April 17, Bamboo Airways and Praha International Airport signed a memorandum about the direct flight Vietnam - Prague, capital of the Czech Republic under the witness of Vietnamese Prime Minister Nguyen Xuan Phuc and Czech Prime Minister Andrej Babiš.
Prospects of wood processing industry in Southeast provinces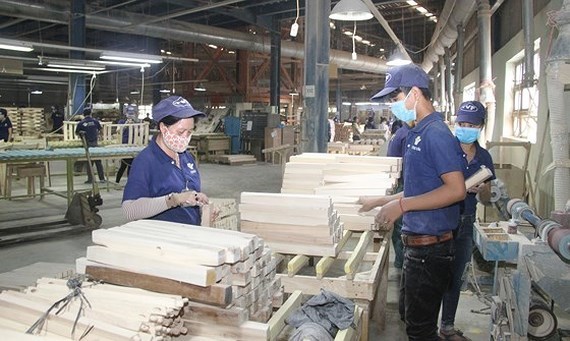 Workers process wood products for export at Tuong Van Company in Bac Tan Uyen District in Binh Duong Province. 
The robust growth of wood processing industry for export not only helps boost foreign currency revenues for the country but also encourages afforestation and creates more jobs for local laborers.
Most of the country's largest wood producers locate in Binh Duong and Dong Nai provinces, contributing more than 50 percent to the country's production and export value of wood products.
According to the Department of Industry and Trade of Binh Duong Province, there are around 1,215 wood producers in the province, of which there are 905 local firms with total registered capital of nearly VND10.84 trillion (US$467.38 million) and 310 foreign firms with total registered capital of $2.3 billion. There are above 250,000 laborers working in this field, of which seasonal unskilled workers accounts for around 40-45 percent.
Last year, export turnover of wood and forestry products hit $9.3 billion, making up more than 25 percent of total agricultural exports with trade surplus above $7.1 billion, of which, trade surplus of Binh Duong Province was $1.8 billion. In the first quarter of this year, wood processing industry was also the industry with highest trade surplus of the province.
According to Mr. Phan Van Binh, chairman of the Dong Nai Wood and Handicrafts Association (DOOWOHA), the provincial wood exports in the first months of this year grew more than 10 percent compared to the same period last year. It is forecast that the growth of export of wood products will be at 12-15 percent this year, in comparison with the previous year. Wood producers have received lots of orders and are speeding up to complete their contracts. Some wood producers even have signed contracts for the third quarter or the entire year. Last year, total wood exports of Dong Nai Province were nearly $1.4 billion.
With a long tradition in wood processing and skilled workers from the long-standing Bien Hoa craft village who have much experience in production development and management, Dong Nai's wood producers are totally confident of fairly competing with foreign counterparts, especially, foreign-direct-investment wood producers in the province.
Mr. Dien Quang Hiep, chairman of the Binh Duong Furniture Association, said that the Comprehensive and Progressive Agreement for Trans-Pacific Partnership (CPTPP) which became effective as of December 30 last year has opened several big opportunities for the country's wood processing industry. As import tariffs are cut to near zero percent at 11 member countries of the CPTPP, Vietnamese wood producers will have chances to expand market to countries, such as Japan, Canada, Mexico, Indonesia and Malaysia, and reduce their dependence on some countries including the US and European countries.
For instance, Vietnam is currently the second largest wood product exporter into Japan. According to the agreement, the effective CPTPP will lift 86 percent of total import tariffs of Japan. This will urge Vietnamese wood manufacturers to improve their products so as to increase margins.
As for Canadian market, CPTPP has brought opportunities for wood products, including floorboard and wood plank as an import tariff of 3.5 percent will be removed. Plywood, medium density fiberboard, picture frame, door frame and especially furniture will have the chance to enter Canadian market when import tariffs will be lowered to zero percent from 6-9.5 percent.
Although the door to global market is wide opened for Vietnamese wood producers, it is up to them whether they are able to take advantage of the opportunity or not. Years ago, wood producers in Binh Duong Province were small-sized firms with low investment capital and low productivity. Most of them used out-dated technology and their competitiveness and ability to approach customers were weak so not every firm was able to make use of the opportunity to participate in global market.
Currently, the most difficult problem for wood producers in Binh Duong and Dong Nai provinces is production capacity and personnel management. For example, a wood producer has a capacity to produce 100 products per day but when there is an order requiring it to double production or more, it is unable to accomplish the order though its productivity is at extremely low level.
Therefore, it is essential to focus on training workers to improve productivity as well as product quality before considering increasing production in order to maintain their prestige and long-term trade relations with their partners.
In addition, the source of raw materials, mainly rubber wood and Melaleuca wood, needs to be more plentiful and of higher quality so they can be used in processing products for export or exported as raw wood to countries which have demand for raw materials.
As for trade promotion, there are certain difficulties as the country does not have large trade centers to display wood products. The area of the largest trade center in Vietnam - Crescent Mall - is just 28,500 square meters while the area of trade center in Singapore is 120,000 square meters and that of trade center in Guangdong, China is more than 400,000 square meters.
Low GDP growth in Q1 predicted to linger to year-end: SSI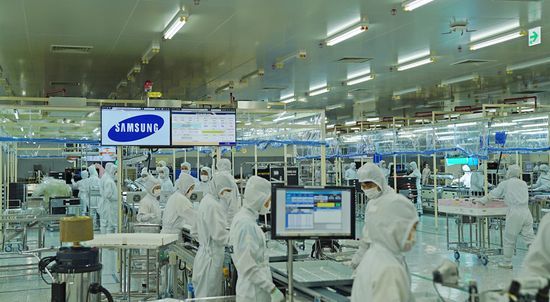 Lower-than-expected economic growth witnessed in the first quarter of 2019 could linger to the end of 2019, according to SSI Securities Corporation, Vietnam's largest brokerage house.
In the January – March period, Vietnam's GDP growth expanded at 6.79%, the lowest growth rate over the last six quarters. Of the key economic sectors, agriculture grew 1.84%, the lowest over the last eight quarters and manufacturing 12.35%, the lowest of seven quarters.
SSI attributed the low growth rate in the first quarter to China's slowdown in import growth and Samsung cutting smart phone production.
A decrease in Chinese's imports was partly due to the ongoing US – China trade friction, in turn directly impacting Vietnam's agricultural exports and tourism. Meanwhile, Samsung's decision may come from changes in its production strategy and the world's smartphone market becoming saturated.
Looking at the upcoming quarters, SSI predicted modest growth of agriculture and tourism a likely scenario due to difficulties in searching for Chinese market's replacement. Moreover, phones could be one of the reasons holding back growth unless there are breakthroughs in products or new projects coming in.
According to the SSI, driving forces for growth would come from automobile industry, textile & garment, footwear and furniture.
With such high level of openness, the slowdown of Vietnam's economy due to its high exposure to unfavorable global economic condition does not come as surprise, stated SSI.
To solve this problem, SSI recommended turning to internal strengths, while grasping a handful of opportunities for new export market expansion.
Specifically, the key for greater internal strength would be the efficient management of the monetary and fiscal policies, which are normally considered reason for economic uncertainties over the last ten years.
SSI expected a consistency over the monetary policy, coupled with modest growth rate of credit at 12 – 14% for smooth liquidity and low interest rate.
Meanwhile, the government should place a strong focus on investment for development, aiming to stimulate the economy in short-term and laying the foundation for growth in the future.
SSI maintained the private sector and consumption demand pivotal for economic growth and part of the country's internal strengths. To spur the growth of the private sector, it is advisable for the government to support a group of 30 largest enterprises reaching regional level by 2030.
With a large market of 94 million people, SSI said Vietnam should have certain advantages in trade negotiations, especially with the growing trend of protectionism alongside free trade movements.
Under this context, Vietnam should revise all free trade agreements that the country is a part of to maximize benefits from trade.
SSI also stated Vietnam must grasp opportunities from FDI manufacturers relocating productions facilities from China to Vietnam. To attract large scale FDI projects, the brokers said a similar approach to Samsung is needed for Vietnam to become a production hub of multinationals, creating a positive spillover effect to the economy.
SSI concluded slower economic growth in the first quarter could present opportunities for Vietnam to reform and look back its growth policies. With this regard, the year of 2019 could be seen as a stepping stone for Vietnam's economy to accelerate in subsequent years.
HCM City's industrial production index hits five-year high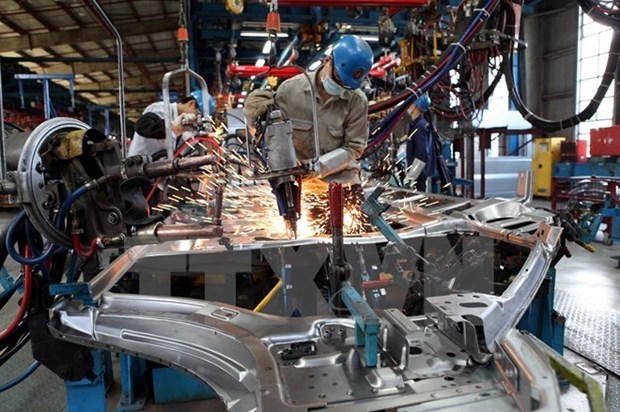 HCM City's industrial production index hits five-year high of 6.24 percent in Quarter 1.
Ho Chi Minh City witnessed expansion of industrial activities in the first quarter of this year, recording a 6.24 percent rise in the Index of Industrial Production (IIP), the highest level in the past five years.
According to the municipal Department of Industry and Trade, the industrial processing and manufacturing inched up 6.1 percent, and four key industries (mechanics; food processing; chemicals, plastics and rubber; and electronics and information technology) grew 6.82 percent.
Meanwhile, revenue from retail sales and services surpassed 286.3 trillion VND (12.32 billion USD), up 12.87 percent from the same time last year.
During the period, the city generated 9 billion USD from exports, surging 5.7 percent year on year, while its imports increased 1.3 percent to 10.84 billion USD.
Deputy Director of the Department of Industry and Trade Nguyen Phuong Dong gave a bright outlook for the domestic retail sales in the second quarter as local firms have received many new orders.
Dong said domestic retailers are in fierce competition with foreign giants to gain market share while free trade deals put pressure on local manufacturers as they have to fight to maintain their competitive edge over foreign rivals who will penetrate the market once the agreements take effect.
To that end, the department pledged to step up administrative reform, work with local firms to remove their bottlenecks and measure citizens and businesses' satisfaction with local public services.
In addition, it has worked to develop e-commerce, carry out market stabilisation programmes and hold conferences to connect suppliers and buyers in the industrial and trade sectors.
The department also plans to work with competent authorities to branch out key and potential industrial products, and outline policies to help investors expand their businesses.
Asian countries cooperate to assess potential of shale oil and gas resources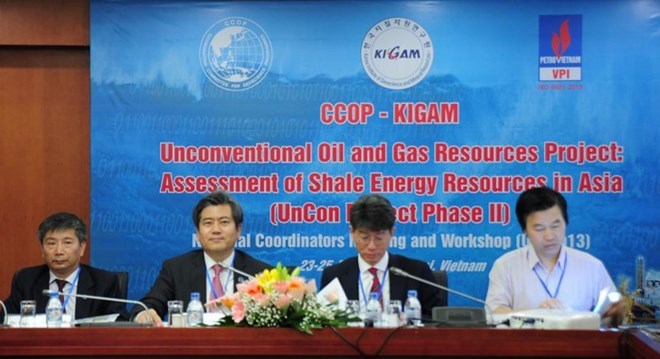 Delegates at the workshop 
An international workshop on the assessment of shale energy in Asia, under the second phase of the unconventional oil and gas resources project, took place in Hanoi on April 23.
The event was jointly held by the Coordinating Committee for Geoscience Programmes in East & Southeast Asia (CCOP), the Korea Institute of Geoscience and Mineral Resources (KIGAM), and the Vietnam Petroleum Institute (VPI).
Dr. Byeong-Kook Son, head of KIGAM's oil and gas research group, introduced the results of the assessment in 13 sedimentary basins and 21 shale formations in Asia.
He cited the latest update of the shale oil and gas reserves in Asian countries as follows: Malaysia 8.19 trillion cubic feet (TCF) (equivalent to 232 billion cu.m); the Philippines 149.8 TCF (4,242 billion cu.m), Vietnam 77 TCF (2,180 billion cu.m), Indonesia 58.12 TCF (1,646 billion cu.m), the Republic of Korea 72.5 TCF (2,053 billion cu.m), and Laos 51 TCF (1,444 billion cu.m).
Prof. Dr. Azara N.Tucuncu, from the US-based Unconventional Natural Gas and Oil Institute (UNGI)'s petroleum engineering department, said the research and exploitation of non-traditional resources like shale oil and gas require huge costs.
He suggested that the Vietnamese Government put forth specific policies to support oil and gas companies, such as the Vietnam Oil and Gas Group (PetroVietnam or PVN).
PVN could also collaborate with foreign partners in the field, he recommended.
According to Dr. Trinh Xuan Cuong, deputy director of the VPI, his institute is cooperating with domestic and foreign partners to carry out long-term research programmes on unconventional oil and gas.
The VPI is conducting research on the characteristics and prospects of gas hydrates in the East Sea, shale oil and gas in sedimentary basins on the continental shelf of Vietnam, and coal-bed methane in Hanoi, Thanh Hoa-Nghe An, and Tuy Hoa.
Workshop seeks to connect Vietnamese firms to AEON supply chain
Japan's large import demand is a good opportunity for Vietnamese businesses to expand their market shares in the country, as well as access other potential markets through the global distribution network of the Japanese group AEON, experts said at a workshop held in Ho Chi Minh City on April 23.
Yuichiro Shiotani, General Director of AEON Topvalu Vietnam, said Japan is the world's third biggest economy with a high import demand, especially in food, garment-textiles, footwear, seafood, farm produce, plastic products, and wood.
These are products that Vietnam has advantages in, he said, adding that AEON, as a leading retail group in Japan, has prioritised the import of more made-in-Vietnam goods, particularly apparel products, food, household, and heathcare products, for distribution to its stores and supermarkets across the globe.
In order to help Vietnamese businesses to join the AEON supply chain and become a supplier for the over 1,000 AEON supermarkets around the globe, the group has built a plan including a number of activities to increase the presence of made-in-Vietnam goods, he said.
He added that AEON has also provided technical support to improve the production capability of Vietnamese suppliers and help them access Japanese customers, as well as boost the purchase of Vietnamese goods to sell at its stores in Japan and other countries.
Nguyen Thao Hien from the Ministry of Industry and Trade, said Japan is one of the biggest trade partners of Vietnam, which makes up a large proportion of Vietnam's export turnover of some key products such as garment-textiles and aquaculture.
She noted that the ministry and the Japanese group had signed a memorandum of understanding on supporting the export of Vietnamese products to the market through the distribution system of AEON. Under the MoU, AEON committed to raising Vietnam's export turnover through the group's system to 500 million USD in 2020 and one billion USD in 2025.
Hien warned that although the import demand in Japan is large, the country has strict requirements on quality. Therefore, Vietnamese businesses need to improve their production capacity and create highly competitive products.
More efforts required to remove EC's "yellow card" warning 
Localities need to take stronger actions to counter the European Commission's illegal, unreported, and unregulated fishing (IUU) yellow card warning, said Deputy Minister of Agriculture and Rural Development Phung Duc Tien.
Speaking at a conference held by the Ministry of Agriculture and Rural Development (MARD) in Hanoi on April 24, Tien said that as per results of inspections, localities nationwide had not yet implemented drastic enough measures to deal with the yellow card.
Storm shelter infrastructure for ships has not met requirements, while the upgrading of fishing ports and fishery logistics has not received adequate attention, human resources for fisheries management are not sufficient, and the rate of ships keeping fishing records as required reached only 21.2 percent, he said.
This resulted in the traceability of caught seafood falling short of EC requirements, he noted.
Deputy Director of the Directorate of Fisheries Nguyen Quang Hung underlined the necessity to raise awareness of fisheries management agencies at all levels and fishing communities towards combating IUU.
EC recommendations have been integrated into the Law on Fisheries 2017 and documents guiding the law of the Government and the MARD, Hung said.
The violation of fishing vessels on the waters of Pacific Island countries has almost ceased, while the inspection and control of fishing vessels operating on the sea has made progress, he said.
However, he noted that violations have not been handled strictly according to the direction of the Government and the Prime Minister, with law enforcement to prevent Vietnamese fishing vessels from exploit illegally seafood in foreign waters proving to be ineffective.
In addition, fishing vessels violating rules in foreign waters is still a complicated issue, fishing vessel monitoring systems have not yet met requirements, control over fishing vessels entering and leaving ports is weak, and the certification of aquatic products remains limited with many mistakes, he added.
Hung informed that around the end of May to early June 2019, an inspection delegation from the EC's Directorate General for Maritime Affairs and Fisheries (DG MARE) will begin a fact-finding trip to Vietnam to inspect the implementation of recommendations related to the fight against IUU fishing.
He urged relevant ministries and sectors nationwide, and authorities of 28 coastal localities to make more efforts and mobilise resources to effectively implement the work.
On October 23, 2017, the EC issued a "yellow card" warning to Vietnam, after the country failed to demonstrate sufficient progress in the fight against IUU fishing.
Countries that fail to meet EC standards are given a "yellow card", followed by a "green card" if the problems are resolved, or a "red card" if they are not. A red card can lead to a trade ban on fishery products.
According to EC requirements, the Vietnamese seafood sector had to implement nine recommendations, included revisions of the legal framework to ensure compliance with international and regional rules, applicable to the conservation and management of fisheries resources; ensuring the effective implementation and enforcement of the country's revised laws; and strengthening the effective implementation of international rules and management measures.
The EC also wanted Vietnam to issue sanctions and increase the level of sanctions against IUU fishing, which should be written in the revised Law on Fisheries, and give concrete evidence proving Vietnam's efforts in the fight against IUU fishing.
Vietnamese, RoK firms set up strategic partnership
Hoa Binh Construction Group (Hoa Binh) and the Republic of Korea (RoK)'s Hyundai Elevator Co., Ltd have agreed to become strategic partners.
The agreement was reached at a ceremony in Ho Chi Minh City on April 23, under which the two sides will cooperate for mutual benefit.
Hyundai Elevator committed to providing products at competitive prices for Hoa Binh and assist the group in bidding for big contracts.
The Korean business will chip in 25 million shares, worth 575 billion VND (24.7 million USD), for Hoa Binh.
The Vietnamese group's shareholders general meeting has approved the issuance of these shares. Proceedings collected from the issuance of the shares will be used to supplement capital for production and business activities of Hoa Binh.
A representative of Hoa Binh said the strategic partnership will contribute to boosting the group's growth in various areas and improving its strength and prestige both at home and abroad.
Hoa Binh is the only construction company in Vietnam that has received the Vietnam Value award an impressive six times.
Hyundai Elevator is taking the lead in the RoK's elevator industry, making up 44 percent of the market share. It has run its operations in 65 countries worldwide.
2019 Food & Hotel Vietnam underway in HCM City
The 2019 Food & Hotel Vietnam, the country's leading international food and hospitality trade exhibition, opened at the Saigon Exhibition and Convention Centre in Ho Chi Minh City on April 24.
The 10th edition of the event, which lasts until April 26, attracts 466 exhibitors from 36 countries and territories, which are showcasing a wide range of food and beverage products, along with equipment and services serving the food and hospitality industry.
In addition to the latest products and services in the food and hotel sectors, the expo also includes the 2019 Vietnam Culinary Challenge, a short-term barista training workshop, and a barista and coffee
experience programme.
BT Tee, general manager of UBM VES – the event's organiser, said participating exhibitors are facilitated to connect with Vietnamese suppliers and producers via a host of sideline activities. One of these is the Vietnam Hospitality Managing Director Forum – CEO Talks, titled "Riding the wellness wave", which aims at discussing new investment trends.
Kieran Fitzgerald, a representative from the Ireland national pavilion, said this is the first time Irish companies attend the Vietnamese expo, adding that they have brought agricultural products such as pork, beef and dairy products.
Meanwhile, Victoria state of Australia is introducing its specialties including meat, milk, honey and fruit.
According to experts, Vietnam's strong economic growth, large population and rising incomes make the food and beverage sectors appealing to investors.
With the tourism industry in robust health, the number of foreign visitors keeps rising, increasing demand for hospitality and food equipment and services, they said.
Hanoi int'l plastic, rubber, packing industry exhibition 2019 opens
The 2019 Hanoi International Plastic, Rubber, Printing, Packing Industry Exhibition opened in Hanoi on April 24, attracting 180 exhibitors from 10 countries and territories worldwide.
The four-day event was co-organised by the Ministry of Industry and Trade (MoIT)'s Vietnam National Trade Fair & Advertising Company (Vinexad), Yorkers Trade and Marketing Services Co., and Vietnam Plastics Association.
Speaking at the opening ceremony, deputy head of the MoIT's Trade Promotion Agency Le Hoang Tai said the event has become a prestigious destination for domestic and foreign firms with the display of the latest machinery and equipment.
Vinexad Deputy General Director Pham Dang Khanh said the exhibition displays products on a total area of 8,500 sq.m, luring exhibitors from India, Taiwan (China), the Netherlands, the Republic of Korea (RoK), Hong Kong (China), Malaysia, Japan, Singapore, China and Vietnam, most notably from Taiwan and the RoK.
The number of exhibitors rose by half thanks to strong growth of the northern market. The event is expected to draw more than 8,000 professional purchasers.
According to the Mordor Intelligence Research, Vietnam's plastics market is forecast to grow by 6.63 percent annually during the 2018-2023 period which the packaging, automobiles, electronics and other industrial product sectors are expected to lead the domestic market
The Vietnamese market holds huge potential when leading brands such as Foxconn and Samsung and other famous ones in automobiles have built factories in the country.
A seminar themed "Vietnamese plastics sector – Packaging Industry: great opportunities from the fourth industrial revolution" was also held on the same day.