Habeco expects lower profits in 2019
The Hanoi Beer Alcohol Beverage Corp. (Habeco), Vietnam's largest brewer, plans to introduce two new products to the market in the second quarter of this year, Chairman Tran Dinh Thanh told its recent annual general meeting (AGM).
Financial profits will be greatly reduced this year. The company will invest in marketing activities to maintain its market share, which will offer support in the years to come. This focus could lead to higher costs and declining profits. Competitors such as Sabeco, Heineken, and Thaibev have also invested significant amounts.
The AGM presented the 2019 business plan to investors, with a consumption target of 438.1 million liters, in which beer will total 434.5 million liters and UniAqua bottled water 3.6 million liters. Total revenue is to exceed VND8.27 trillion ($356.7 million), with after-tax profit of VND310 billion ($13.37 million); the lowest since 2009.
Habeco did not reach all of its 2018 business targets. Total sales were VND429.4 billion, representing 85.9 per cent of the plan, with beer consumption at 426.1 million liters, or 85.9 per cent of the plan, and bottled drinking water 3.3 million liters, or 88.3 per cent. Sales of main products reached VND7.5 trillion ($323.1 million), equal to 85 per cent of the plan. Pre-tax profit was VND626.4 billion ($27 million), or 62.5 per cent of the plan. It expects a dividend payment of 10 per cent this year.
The company has also prepared to implement an investment project to improve capacity at its Hanoi - Me Linh brewery this year, investing in pouring lines and supporting equipment.
Growth in Vietnam's beer market slowed in 2018, to about 5 per cent. Main markets for Habeco products - northern and central Vietnam - were down 3 per cent compared to 2017 but remain fiercely competitive. Sabeco saw growth of 32 per cent and Heineken Vietnam 71 per cent.
Kido reports bleak business in cooking oil segment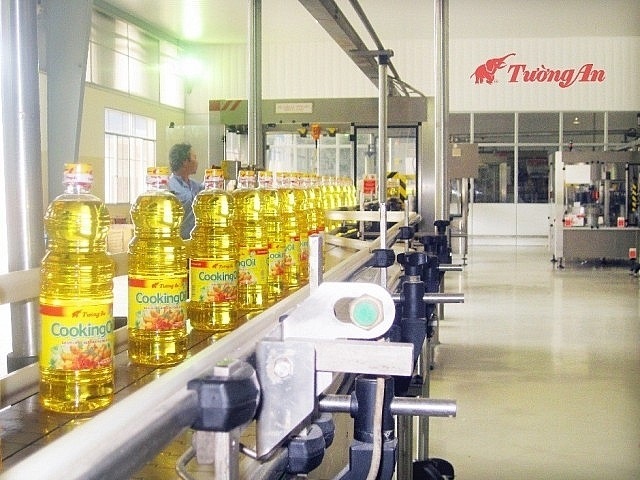 Despite cooking oil being considered "the goose that laid the golden eggs" for Kido Corporation (Kido), however, the decrease in revenue in this segment brought down the net revenue of the corporation in the first quarter of this year.
Kido's freshly released financial statement reported a first quarter net revenue of VND1.55 trillion ($67.39 million), down 7 per cent on-year, due to the decreasing business results in the cooking oil segment.
Notably, Golden Hope Nha Be Edible Oils Co., contributed VND7 billion (304,347) to Kido's consolidated revenue, while the remaining member companies, namely Vocarimex and Tuong An Vegetable Oil JSC, reported net revenue of VND626 billion ($27.2 million) and VND840 billion ($36.5 million), decreasing 43 per cent and 22 per cent on-year, respectively.
Tuong An said that it is focusing on developing the high-end cooking oil segment, while simultaneously decreasing the market share in the mid-segment which bring low profit. Meanwhile, Vocarimex reported that the fierce competition between manufacturers and the decrease in selling prices made decreased the company's net revenue.
Cooking oil is still seen as a promising market by both international and local manufacturer. According to Euromonitor, Vietnamese people consume less than 10 kilogrammes of cooking oil per annum, less than the World Health Organization's (WHO) recommended level of 13.5kg. However, the figure is expected to rise to 16.2-17.4kg by 2020 and to 18.6-19.9kg by 2025.
Nielsen estimated the value of the Vietnamese cooking oil market at VND30 trillion ($1.3 billion), making it quite an attracting segment.
However, cooking oil is not a sector with easy profit to be made by just anybody. After five years spending $130 million to build a soybean oil processing facility (2011), Bunge Limited, an American agribusiness and food company, failed to turn profit and decided to sell 45 per cent of its stakes to Wilmar in July 2016.
Since then, a three-party joint venture has been created with Bunge and Wilmar as equal, 45 per cent shareholders, and soybean meal distributor Quang Dung (a majority owner of feed miller Green Feed) retaining its 10 per cent stake in the operations. Wilmar is also a major shareholder of Calofic.
Meanwhile, Acecook Vietnam (wholly owned by two Japanese firms) exited the segment with the disappearance of the De Nhat cooking oil brand, proving unable to weather competitive pressure and accompanying marketing and promotion expenses.
Kido's massive investments to increase its market share through M&A deals may just repeat the unfortunate past.
Viglacera sees profit rise 51 per cent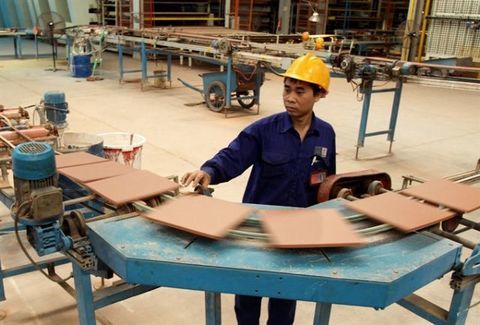 A worker is checking the quality of Cotto floor tiles at Viglacera Halong JSC in the northern province of Quang Ninh. 
State-owned glass and construction ceramic producer Viglacera reported profits of VND180 billion (US$7.7 million) in the first quarter of 2019, up 51 per cent compared to the same period last year.
The company, traded on the Ha Noi Stock Exchange under the code VGC, achieved net revenue of VND2.3 trillion during the period, up 24 per cent year-on-year.
Viglacera's total assets at the end of the first quarter reached VND17.1 trillion, up more than VND600 billion compared to the beginning of the year. Liabilities increased by VND394 billion to some VND10 trillion.
Meanwhile, the company's cost of goods sold (COGS) only climbed by 22 per cent, slower than revenue growth, helping gross profit in the first quarter reach VND489 billion, up 31 per cent.
Financial revenue in the period fell by nearly half to VND12 billion, mainly due to a reduction in interest on deposits and loans. Financial expenses decreased by VND3 billion to VND 53.9 billion.
Total selling expenses and corporate management costs were VND223 billion, up slightly by 7 per cent compared to the same period last year.
Recently, Viglacera postponed listing on the Ho Chi Minh Stock Exchange to complete State capital divestment. Currently, the Ministry of Construction owns nearly 54 per cent of Viglacera.
Viglacera sees profit rise 51 per cent

State-owned glass and construction ceramic producer Viglacera reported profits of VND180 billion (US$7.7 million) in the first quarter of 2019, up 51 per cent compared to the same period last year.
The company, traded on the Ha Noi Stock Exchange under the code VGC, achieved net revenue of VND2.3 trillion during the period, up 24 per cent year-on-year.
Viglacera's total assets at the end of the first quarter reached VND17.1 trillion, up more than VND600 billion compared to the beginning of the year. Liabilities increased by VND394 billion to some VND10 trillion.
Meanwhile, the company's cost of goods sold (COGS) only climbed by 22 per cent, slower than revenue growth, helping gross profit in the first quarter reach VND489 billion, up 31 per cent.
Financial revenue in the period fell by nearly half to VND12 billion, mainly due to a reduction in interest on deposits and loans. Financial expenses decreased by VND3 billion to VND 53.9 billion.
Total selling expenses and corporate management costs were VND223 billion, up slightly by 7 per cent compared to the same period last year.
Recently, Viglacera postponed listing on the Ho Chi Minh Stock Exchange to complete State capital divestment. Currently, the Ministry of Construction owns nearly 54 per cent of Viglacera.
Vingroup officially launches Vinhomes Smart City

Vinhomes Joint Stock Company, a member of property developer Vingroup, launched the Vinhomes Smart City project in Ha Noi on Tuesday.
The project is located on a 280ha area on Thang Long Avenue, Ha Noi.
The firm decided to upgrade Vincity Sportia project to Vinhomes Smart City – a dynamic smart urban area. After upgrading, the project will possess advantages in scale, utilities and smart ecosystems.
The project will follow the models of successful smart urban areas such as Singapore, Songdo of the Republic of Korea and Fujisawa of Japan.
The development's security system will include facial recognition cameras equipped with artificial intelligence (AI) also monitor licence plates and provide alerts about strange objects in urban areas.
It will also have an intelligent elevator system, intelligent fire protection, air quality monitoring and environmental pollution warnings.
Vinhomes Smart City will be operated intelligently a 24/7 operations centre using AI and Internet of Things (IoT) to monitor the area.
The project also aims to build a smart community with smart administration application that provides full service and utility information in urban areas, regularly updating air quality and temperature as well as humidity.
Vinhomes Smart City will be one of the leading sports parks in Southeast Asia with hundreds of gyms, children's playgrounds and sports stadiums, a roller park, picnic park and a bike park, to name a few.
The project will feature three product lines, namely Vinhomes Sapphire, Vinhomes Ruby and Vinhomes Diamond to bring diverse choices to customers.
Novaland targets VND18 trillion revenue this year

Giant property developer Novaland Group (NVL) has released its financial report for 2018 ahead of the upcoming annual shareholders meeting.
It indicates current land bank of nearly 2,700ha and a target of achieving revenues of VND18 trillion in 2019. It also targets after-tax profit of VND3.3 trillion, meaning they will be respectively up 17.7 per cent and 0.7 per from 2018.
In 2018 the company earned revenues of nearly VND15.3 trillion, a 31 per cent increase from the previous year.
Profit after tax surged 58 per cent to VND3.3 trillion.
Last year NVL handed over 4,589 condos to buyers, a 28 per cent rise from 2017, in giant projects such as The Sun Avenue, Sunrise Riverside, Richstar, and Wilton Tower.
In 2018 it issued US$240 million worth of convertible bonds in Singapore and $150 million worth of top-up shares.
Credit Suisse Limited said NVL was a among successful capital raising in the region.
With its success in raising capital and acquiring lands in prime locations, Novaland is set for strong growth in future, Credit Suisse said.
Novaland said at the annual shareholders meeting it would also get approval from shareholders to add new segments like tourism services and entertainment to the companys business list.
The Vietnamese tourism sector is forecast to grow at 30-40 per cent annually to become the worlds fastest growing market.
This year 18 million foreign visitors are expected to come to the country.
Seeing the potential, Novalands management decided to adopt a new business strategy under which, besides developing housing projects and urban areas, it will focus strongly on the hospitality sector.
The company said it would use 75 per cent of its current land holding of 2,700ha to develop hospitality projects.
It plans to develop three main hospitality trademarks: NovaHills, NovaBeach and NovaWorld.
This year it will launch 2,000 products including shophouses, second-homes and villas which are the latest investment trends in the market.
In recent times the NovaWorld brand name has become famous. Its projects range in size from 100ha and include theme parks, golf courses, amusement areas and safaris.
Each NovaWorld project will have its own theme and create a specific symbol for the local tourism sector.
NovaWorld plans to develop three projects: NovaWorld Phan Thiet in Binh Thuan, NovaWorld Ho Tram in Ba Ria-Vung Tau and NovaWorld Mekong in the Mekong Delta.
NovaWorld Phan Thiet is the first NovaWorld Brand of the lot at 1,000ha in size and with 1,000 amenities. It will include two of 18-hole golf courses including a PGA Standard Tournament Ocean course, 220ha sports training centre, a 16ha ocean park, shopping mall, conference centre, and hotels.
In the housing segment, the group will continue to focus on HCM city and its surrounding areas.
This year it will start selling some 4,500 housing units comprising condos, houses and villas and hand over 5,900 others.
Sacombank achieves impressive growth in first quarter

With its continued focus on improving labour productivity and market share, Sacombank achieved outstanding results in the first quarter of the year.
Its consolidated pre-tax profit was VND1.061 trillion (US$45.7 million), an increase of 110.7 per cent year-on-year.
Its assets were worth more than VND425 trillion ($18.3 billion), up 4.7 per cent since the beginning of the year, with the proportion of profitable assets being increased.
Deposits were up 7.8 per cent to over VND385 trillion and outstanding loans rose by 5.6 per cent to over VND271 trillion.
Net venue grew 51.1 per cent year-on-year to VND3.54 trillion, with net interest income accounting for VND2.458 trillion, an increase of 47 per cent.
Other business activities also saw impressive growth, with earnings from services and foreign exchange trading rising 18 per cent and 108.6 per cent to VND642 billion and VND113 billion.
The bad debt ratio reduced from 2.11 per cent from the end of last year to 2.08 per cent as of March 31.
Sacombank, besides restructuring, also focused on customer care and marketing through renovating products and improving service quality. As a result, the number of customers increased by 4 per cent to more than five million.
The result of the first quarter showed that the bank's revenues from services continued to increase thanks to its diversified financial and banking services, while its dependence on traditional lending products diminished.
The bank's outstanding achievements were also the result of the successful introduction of products and services as well as promotions in the past, the introduction of digital banking applications using advanced technologies, the upgrade of its e-banking system to the latest version in the case of both internet banking and mobile banking.
With its motto of "customer centricity, employees are the core of the bank", this year Sacombank will continue down its pioneering path to becoming a leading, modern retail bank in Viet Nam and the region.
In 2019, Sacombank aims to achieve pre-tax profit of VND2.65 trillion ($114.14 million).
Automaker Thaco to develop into diversified group
Local automobile manufacturer Truong Hai Auto Corporation (Thaco) plans to grow into a diversified group, with the retail industry first on its agenda.
At its annual general meeting of shareholders on Wednesday, Thaco outlined its goal to earn a consolidated net profit of more than VND6.2 trillion (US$268 million) in 2019 on revenue of over VND79.7 trillion (US$641 million).
In the first quarter of this year, the corporation made over VND14.8 trillion in revenue and VND964 billion in profit.
Thaco's shareholders approved its development strategy for the 2019-2021 period, where Thaco will transform into Thaco Group, operating in a wide range of sectors, including mechanical and automobile; agriculture and forestry; investment in transport infrastructure, industrial parks and urban areas; and commerce and logistics.
Thaco's chairman, Tran Ba Duong, said that the firm's commercial business activities are based on its system of trade centers combined with car showrooms, under the model "One stop, numerous services."
For example, Thaco is expected to launch its first commercial center, called Socar Sala, in District 2, HCMC. The center will accommodate supermarkets, food courts, convention centers, entertainment facilities and cinemas.
According to the chairman, Thaco will boost its commercial business at three trade centers in the central coastal city of Danang and in the Mekong Delta provinces of Long An and Kien Giang.
In the agriculture sector, Thaco and Hoang Anh Gia Lai (HAGL) Group announced their strategic partnership last August.
Later, Thaco set up THADI Indochina Agriculture Processing and Distribution JSC with charter capital of VND2.1 trillion, in which Thaco owns a 70% stake to invest in fruit trees, cereal, forestry, agricultural material and animal husbandry.
In March this year, THADI struck a strategic cooperation agreement with Hoang Anh Gia Lai Agricultural Company, a subsidiary of HAGL, to grow fruit trees in Vietnam, Laos and Cambodia; export fruit to high-income markets; and offer import-export and logistics services.
Thaco also intends to carry out transport infrastructure projects under public-private partnerships, invest in industrial parks and further invest in new urban areas in major cities.
China's top feed producer New Hope builds pig farms in Vietnam

China's top feed producer, New Hope Group, said it is building three pig farms in neighboring Vietnam, even as an incurable pig disease spreads through the Southeast Asian country, Reuters reported.
The farms, located in Thanh Hoa, Binh Phuoc and Binh Dinh provinces, will produce 930,000 pigs in total every year, with construction to be completed by 2021, according to New Hope Group.
The new investment expands New Hope's footprint in Southeast Asia on top of its existing eight feed firms in Vietnam, which sold more than 700,000 tons of feed in 2018.
The major pig and feed producer has invested more than US$163.51 million into the pig farms, eyeing an opportunity from an upgrade of the hog farming industry in Vietnam, the company said, as it signs an agreement with Vietnamese authorities at China's Belt and Road Forum on Thursday.
The move also came as a deadly African swine fever disease spread to at least 17 provinces in northern Vietnam with 239 outbreaks confirmed since February.
China, the world's top pig producer, is fighting its own battle against the deadly virus, which has now been found in every province and region on the mainland, including Hainan island, since it was first detected in August 2018.
New Hope sold 2.55 million pigs and 17.04 million tonnes of feed in 2018, according to the annual report of its agribusiness subsidiary New Hope Liuhe.
​It aims to be among the top three pig producers in China and slaughter 25 million pigs annually by 2022, the report said.
Hanoi's budget revenue increases 18.7% YTD
In the first four months of 2019, total state budget revenue in Hanoi reached VND90.42 trillion (US$3.87 billion), equivalent to 34.4% of the year's plan and up 18.7% year-on-year, according to Tran Ngoc Nam, vice director of the municipal Department of Planning and Investment.
Meanwhile, the city's budget spending stood at VND17.18 trillion (US$735.78 million) or 17% of the estimate, resulting in a budget surplus of VND73.24 trillion (US$3.14 billion), Nam said at a meeting on April 25.
During the January – April period, Hanoi attracted the largest chunk of FDI nationwide at US$4.47 billion, up 6-fold year-on-year and accounting for 30.6% of total investment in the country in the period, indicating strong efforts from the local authority for greater investment environment, Nam added.
The city's exports amounted to US$4.56 billion in the four-month period, representing an increase of 12.9% year-on-year, while imports reached US$10.1 billion, up 4.9%.
Notably, the city's consumer price index (CPI) during the period saw an increase of 4.06% year-on-year. Some commodity groups, which are components of the basket for CPI calculation, witnessed year-on-year hikes in prices.
Among them, education posted the highest increase of 12.65%; culture, entertainment, and tourism 5.13%; food and catering services 5.67%; housing, water and electricity supply, and construction materials 4.3%.
Hanoi's Index of Industrial production (IIP) in April increased 2.1% month-on-month and 7.5% year-on-year, leading to an increase of 6.8% year-on-year in the first four months.
Additionally, total retail sales of consumer goods and services grew by 1.4% month-on-month and 11.6% year-on-year in April to VND216.9 trillion (US$9.28 billion).
Foreign tourists coming to Hanoi in the January – April period reached 1.67 million, up 5.8% year-on-year, while revenue collected from tourism stood at VND24 trillion (US$1.02 billion), up 8.9%.
In a previous meeting, Nguyen Manh Quyen, director of the department, said Hanoi would continue to simplify administrative procedures in a bid to improve the business environment and enhance the city's competitiveness in this second quarter.
In the time ahead, Hanoi is expected to hold a conference on improving business environment and its provincial competitiveness index (PCI) in 2019 and subsequent years, Quyen added.
Additionally, the city gives priority to startups and supporting the development of the private sector, he continued.
Hanoi targets GRDP growth rate of 7.5% in 2019 and 2020, leading to an expansion of 7.33% - 7.41% in the 2016 – 2020 period, which is in line with the city's five-year socio-economic development plan.
Kien Giang bans swallow nest farms in crowded areas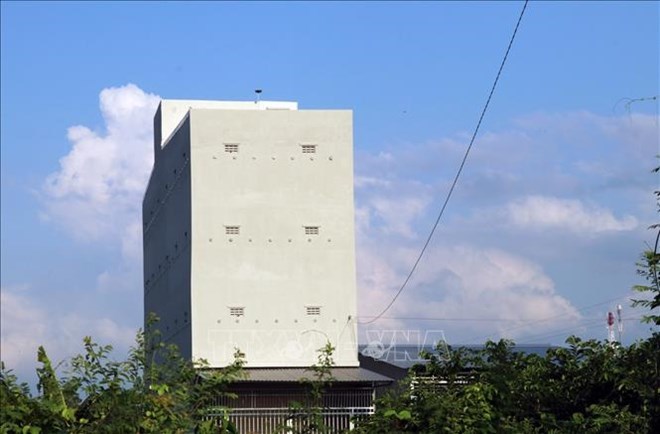 A swallow nest farm in Kien Giang province
The People's Committee of the Mekong Delta province of Kien Giang has planned to restrict swallow nest farms in crowded areas to prevent environmental issues and ensure the sustainable development of the sector.
The farms will not be developed in areas around markets, administrative office areas, residential areas, tourism sites or in border gate areas.
Those who want to open swallow nest farms must apply for permission and submit environmental impact assessment reports.
Without permission, people are not allowed to renovate offices, health care centres, schools or houses to raise swallows.
The province also has regulations on sounds used to lure swallows, hygiene and nest processing conditions.
Nearly 2,200 households in the province operate nest farms, mainly in the inner city and residential areas of Rach Gia city, districts of Hon Dat, Chau Thanh and Kien Luong, as well as Ha Tien township.
Most of the households renovated their houses to serve as farms and used loudspeakers to lure birds, which disturbed neighbours. Nest farming also led to unhygienic conditions.
For every 100sq.m of floor space, swallow farmers can get one to two kilogrammes of nests per month. A kilo of nests sells for about 35-50 million VND.
According to the provincial Agriculture and Rural Development Department, since the beginning of this year, the province's farms have produced more than 3.1 tonnes nests.
Supplier Day in Hanoi connects local exporters with US partners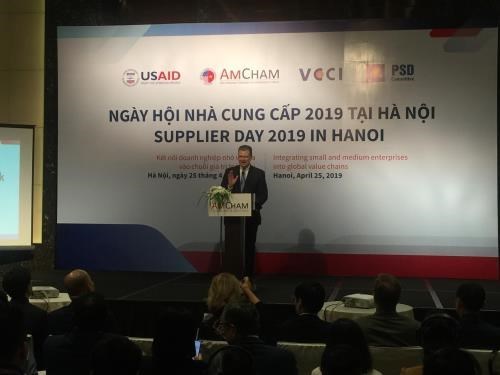 The Supplier Day 2019 was held in Hanoi on April 25, serving as a chance to connect Vietnamese exporters and suppliers with potential US partners.
The event was co-organised by the US Agency for International Development (USAID), the American Chamber of Commerce (Amcham) in Hanoi, and the Vietnam Chamber of Commerce and Industry (VCCI).
More than 60 enterprises displayed products and services in the fields of electronics, metalware production, garment-textile, leather and footwear, interior decoration, wood processing, agribusiness, food & beverage, health care and tourism, among others.
The organisers said over 300 businessmen joined the business networking event to seek partnerships with US companies like GE, Hanesbrands, Coca Cola, Polaris, 3M, and Gentherm.
US Ambassador to Vietnam Daniel J. Kritenbrink said the event was a good opportunity for networking among enterprises of different sizes. It helped boost supply-demand between Vietnamese firms and foreign partners, thereby enabling domestic small- and medium-sized enterprises (SMEs) to engage deeper in the global supply chain, he added.
Lauding the positive growth of trade between Vietnam and the US in recent years, Kritenbrink said after Hanoi, similar events will be held in the central city of Da Nang and the southern largest economic hub of Ho Chi Minh City.
Vu Ba Phu, Director of the Vietnam Trade Promotion Agency under the Ministry of Industry and Trade (MoIT), said over the past years, the US has been Vietnam's biggest export market and bilateral trade has kept increasing.
Vietnam has become a hub of international relations and commercial economy in the global trade system, he said, adding that the country has signed and carried out 11 free trade agreements (FTA) – the largest number in the region.
According to the official, Vietnam has also emerged as a leading attractive destination for foreign investors in the world. However, the country's private sector still has shortcomings and weaknesses when taking part in the global value and supply chains.
Phu said the MoIT always pays attention to promoting trade with the US and assisting Vietnamese companies and business associations in studying the market and enhancing their own capacity and competitiveness.
He hoped that the AmCham and USAID would support such activities to enhance the effectiveness of the project Linked SMEs, thus helping local businesses to join the global value chain.
Hanoi FDI up six times in January-April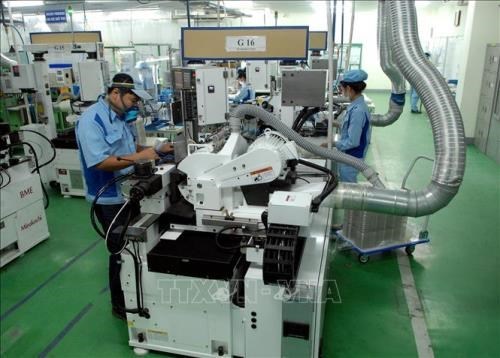 Hanoi attracted 4.47 billion USD in FDI in January-April 2019, up six times compared to the same period last year. Illustrative image

The capital city of Hanoi attracted 4.47 billion USD in foreign direct investment (FDI) in the first four months of 2019, up six times compared to the same period last year.
The figures were reported at a meeting of the municipal People's Committee on April 25.
As many as 8,783 businesses were established in January-April with total registered capital of 83.23 trillion VND (3.9 billion USD), representing year-on-year rises of 12 percent and 5 percent, respectively.
In the reviewed period, the city collected over 90.4 trillion VND for the State budget, up 18.7 percent. The local budget expenditure was estimated at 17.18 trillion VND, reaching 17 percent of the estimate.
The export turnover increased 12.9 percent to 4.56 billion USD, while the import turnover rose 4.9 percent to 10.1 billion USD, according to the municipal Department of Planning and Investment.
The consumer price index (CPI) in the four-month period increased 4.06 percent with price hikes recorded in education (up 12.65 percent), cultural services, entertainment and tourism (up 5.13 percent), food and catering services (up 5.67 percent), housing and building material (up 4.3 percent).
More than 1.67 million foreign tourists came to the city in the reviewed time, up 5.8 percent year on year. Tourism revenue is estimated to hit 24 trillion VND, rising 8.9 percent.
Chairman of the Hanoi People's Committee Nguyen Duc Chung said the outcomes were attributed to the strong reform of policies and administrative procedures as well as the creation of a favourable business environment.
Phu Bai airport expansion project to start in Q2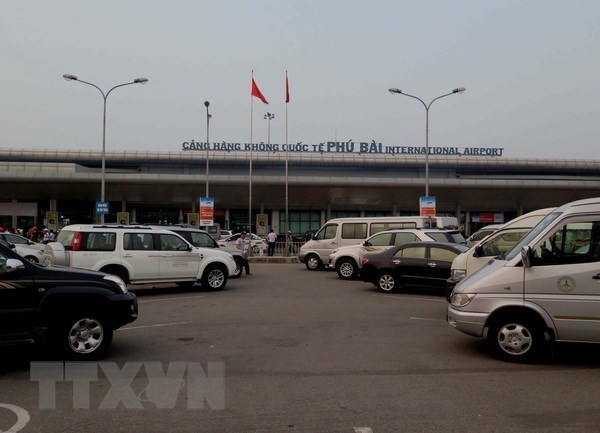 A view of Phu Bai International Airport
The Middle Airports Authority (MAA) has pledged to launch a project to upgrade and expand the Phu Bai International Airport in the central province of Thua Thien-Hue in the second quarter of 2019, after having handed over nearly 46 hectares of cleared land to the project.
According to the MAA - the project's investor, the last household in the project site has committed to move out before April 30.
The project has a total investment of 2.2 trillion VND (946 million USD), raising its serving capacity to about 5 million passengers per year.
Another terminal will be built with an area of 16,500 square metres, along with eight new aprons.
Currently, the airport has a capacity of serving 1.5 million passengers per year, but in 2018 it had to serve nearly 2 million, with an average growth of 15 percent per year.
Under the airport's planning to 2020 with a vision to 2030, the second terminal was supposed to be constructed in 2015 and the third in 2018 to serve 5 million passengers per year and 2,000 passengers per hour in peak time. In 2020, the current terminal will be used to handle cargos.
Third solar power plant in Dak Lak inaugurated
The BMT solar power farm in Krong Pak district, Dak Lak province, was inaugurated on April 25, becoming the third solar power plant in the Central Highlands province to generate electricity for the national grid.
According to BMT Energy Renewable JSC, the investor of the farm, the facility, built at a cost of 617 billion VND (around 26.44 million USD) has a capacity of 30 MWp. It is expected to supply more than 44 MWh of electricity to the national grid each year.
The farm, which is at the foot of Krong Buk Ha dam, also serves as a tourist destination.
The company said it is conducting surveys for a wind power farm in Cu M'gar district, with an estimated investment of more than 200 million USD.
Pham Thai, Director of the provincial Department of Industry and Trade, said investors have proposed a total of 32 solar power projects in Dak Lak.
Besides the BMT farm in Krong Pak, several other solar power plants with total capacity of nearly 700 MWp will be put into operation at between 50 to 100 percent of capacity this year.
In March this year, the Srepok 1 – Quang Minh solar power complex with a combined capacity of 100 MWp was commissioned in Buon Don district. The complex had total investment of 2.2 trillion VND (94.27 million USD).
Parkson renews shopping experience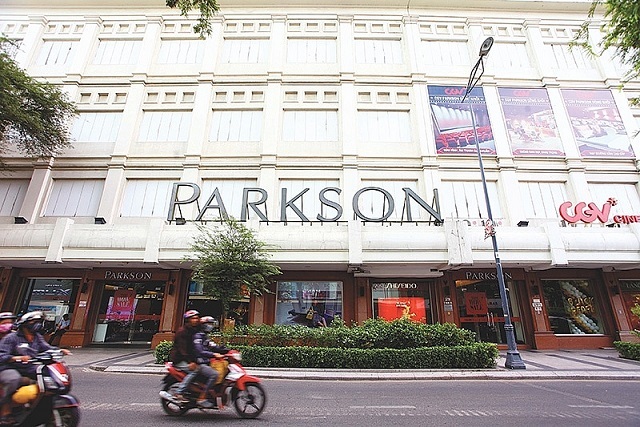 The Parkson store on Le Thanh Ton street in District 1 of Ho Chi Minh City is now in poor performance
Malaysian retailer Parkson has begun a revamp at the site of its first Vietnamese store, located at the Saigon Tourist Plaza in Ho Chi Minh City's District 1.
The store, which opened in 2005, began repairs in April 2019, and plans to restructure each of its designated departments spanning multiple floors.
Parkson explained, "After the renovation, Parkson Saigon Tourist Plaza will present its new look and introduce to customers a new shopping experience, all facilitated with modern amenities and high-standard services."
The Management Board of the company, which has over 120 department stores throughout Asia, confirmed that its business partners had agreed on an appropriate arrangement for the reconstruction. The department store is set to remain partially open for business throughout the regenerative process.
Parkson hopes that by restructuring its Ho Chi Minh City store, it will provide a more streamlined shopping experience and new products that reflect the company's adaption to current trends.
The new store has plans to "Showcase a series of well-known brands in fashion, beauty and lifestyle categories, including highly prestigious products making their debut in Vietnam," the company claimed.
The store's renovation was considered an important target in its development strategy in Vietnam, 14 years on from its first operation in the country.
"Parkson Saigon Tourist Plaza will be the first store to be renovated, other stores will follow after this," said the retailer.
At the peak of its operations in Vietnam, 10 Parkson department stores could be found across the country. Due to financial difficulties, however, only five remain.
The company had large ambitions in Vietnam, which has been one of the most promising retail markets in Asia in recent years. At the launch of its first store in 2005, Parkson Saigon Tourist Plaza reached 90 per cent occupancy within its doors.
However, within a decade, Parkson had fallen out of favour with the Vietnamese population and in 2015, the retailer was forced to close one of its stores. Keangnam Hanoi Landmark Tower was the first to cut its losses and signalled the start of many store closures for the company. The following year Parkson Paragon in District 7 of Ho Chi Minh City closed its doors, trailed months later by Parkson Viet Tower in Hanoi in December 2016.
Parkson Flemington in District 11 followed suit in March 2018 and, in October of the same year, Parkson was hit with its most ­recent forced closure at ­Parkson Cantavil in District 2.
Two existing stores, Parkson CT Plaza and Parkson Hung Vuong, are now showing signs of degradation, dilapidated construction, and failing facilities. Parkson TD Plaza Haiphong and Parkson Vinh Trung Plaza Danang, opened in 2007 and 2015 respectively, are receiving fewer visitors.
The fall of Parkson can be attributed in part to the rise of lifestyle centres in Vietnam, which offer diverse commercial development through an amalgamation of traditional retail functions and leisure amenities. These include combined restaurant, cinemas, and fashion spaces that cater to the demands of every customer.
Parkson Retail Asia, the parent company of Parkson in Vietnam, has also been ­reporting losses. The retailer recorded a negative sales ­performance for the fourth quarter and the full year ­ending June 30, 2018.
Aviva Vietnam among fastest-growing insurers
Aviva Vietnam was honored to receive a Golden Dragon Award from Vietnam Economic Times on April 6 in recognition of it being one of the fastest-growing insurance companies in the country.
Aviva continues to promote its brand name among the leading and most trustworthy foreign-invested enterprises (FIEs) in Vietnam with this award.
Aviva Vietnam recorded a consistent growth rate at 56 per cent last year and became one of the fastest-growing companies in Vietnam's insurance market. Under its effective business strategies and agency expansion plans, it has significantly invested in the agency channel with a view to providing the best financial solutions to customers.
Its exclusive partnership with VietinBank has also resulted in bancassurance becoming a dominant model in the local market.
Aviva has proudly provided premium insurance services suitable and accessible to millions of Vietnamese customers. With highly-effective health protection and investment plans, Aviva Vietnam's universal life insurance product Yeu Thuong Tron Ven has garnered a great deal of support and interest from customers around the country.
Apart from insurance benefits, Aviva's commitment to Vietnam is also clear in its major investment in upgrading its technology, in particular the implementation of AI platforms in supporting distribution channels and the launch of the 15-minute Quick Claim process.
After six years in Vietnam, Aviva has paid claims to over 3,500 families and invested more than VND3.5 trillion ($150 million) back into the Vietnamese economy.
Mr. Paul George Nguyen, CEO of Aviva Vietnam, said the Golden Dragon Award is extraordinary recognition of the contribution of all staff and distribution channels on the company's journey of providing customers with the best insurance services possible. "We are determined to provide the most effective solutions to simplify insurance products and make them more adaptable to Vietnamese people," he added. "Simultaneously, we will continue to invest in modern technology, increase the diversity of our product portfolio, and improve our customer service quality."
With a sustainable business strategy together with the huge efforts of its staff and distribution channels, Aviva is expected to create many more significant breakthroughs and satisfy customer expectations in Vietnam.
Aviva specializes in life, non-life, healthcare, and property insurance. It currently serves over 33 million customers around the world and boasts 323 years of experience in Europe, Asia, and North America.
The Golden Dragon Awards have been held by Vietnam Economics Times since 2000 and are the leading annual event dedicated to FIEs in Vietnam. The awards acknowledge the achievements of outstanding FIEs and their contribution to creating a fair business environment, approaching modern technology, providing customers with high-quality products, and actively joining in community activities.
Masan reveals plans to enter home personal care, retail sectors

Shareholders of Masan Group Corporation approved a number of targets for 2019 and profit distribution plans at its annual general meeting held in HCM City on Wednesday.
Chairman Nguyen Dang Quang said this year the company expects to achieve net revenues of VND45-50 trillion (US$1.9-$2.15 billion), an increase of 18-31 per cent.
Its after-tax profit after post-minority interest (NPAT Post - MI) is expected to be VND5-5.5 trillion, up 44-58 per cent.
In the first quarter of this year, MSN reported an increase of 6 per cent in NPAT Post-MI year-on-year to VND865 billion ($37.26 million).
Though net revenue was down by 1.4 per cent to VND8.16 trillion, the board is confident of achieving this year's revenue plans.
By 2022, Masan Group aims to achieve revenues of $5 billion, growing at twice the pace of the country's consumer expenditure growth of 10.2 per cent, and achieve a net profit margin of 12-15 per cent.
Masan Consumer Corp (MCH) is aimed to become the number one consumer innovator in the market and deliver 50 per cent of consolidated revenue from new products.
Masan Nutri-Science (MNS) expects to own 10 per cent market share of Viet Nam's over $10 billion pork market. Its other important targets are to build the number one nationwide meat distribution network and to obtain $2 billion in revenue with 50 per cent coming from branded meats, and net profit margin of 10-12 per cent.
Masan Resources (MSR) will consolidate the ammonium para tungstate market share from 36 per cent currently to over 50 per cent, by increasing Masan Tungsten Co.'s capacity and build strategic partnerships to become a hi-tech global materials player.
Techcombank's strategy of building a consumer eco-system and executing on a "Low Risk-High Return" model is expected to ensure growth driven by fee income, industry leading return on average equity of over 20 per cent and a retail consumer base of over 15 million.
Quang said: "I have never been more confident about our strategic direction and bottom-up execution. Meat, without doubt, is a game changer. We have solidified our meat foundation in the first quarter of 2019 and will scale-up aggressively in the upcoming quarters.
"Masan Consumer's 2019 growth will be driven by innovations across categories.
"I also believe this will be the year that [Techcombank] truly evolves into a financial life platform and Masan Resources transforms into a high-tech materials player.
"As long as we stick to our core 'keep going long' principles and purpose, we will make our 2022 game plan a reality."
Danny Le, Masan Group's strategy and development director, said seasoning and noodles still have huge medium-term growth potential.
In the beverages sector, Masan would enhance the development of energy drinks to expand its market share from 7 per cent now to 25-30 per cent in the medium term, he said.
It also plans to enter the speciality and nutrition drinks segment this year, he said.
He revealed that Masan is next set to enter the home personal care and retail sectors.
Masan shareholders also approved other important proposals like an employee stock ownership plan.
The money raised from the issuance will be used to increase the company's charter capital and supplement its working capital.
The meeting approved a plan not to pay 2018 dividends in cash.
National industry promotion programme must be renovated
The national industry promotion programme is set to focus more on creating breakthroughs for rural industries in enhancing productivity, quality and competitiveness of industrial and handicraft products, according to an official.
Luu Duy Dan, chairman of the Viet Nam Association of Craft Village, made the statement at a conference on Wednesday to review the results of a national industry promotion programme in 2014-18 that it was necessary to boost large-scale production and build value chains for rural industries.
In addition, the production of raw materials must be linked to processing and distribution on the basis of bringing into full play regional advantages to meet market demand, Dan said.
He added that support needed to be provided to production expansion and competitiveness enhancement in domestic and foreign markets.
A representative from Ha Tinh Province Centre for Industry and Trade Promotion said most firms in the central provinces were small with limited capacity and needed support to expand production and markets.
According to the Ministry of Industry and Trade, the national industry promotion programme will continue to support technology transfer and bring advanced machinery for rural industrial production facilities.
Focus would also be placed on enhancing consultancy capacity to develop rural industries nationwide.
Minister of Industry and Trade Tran Tuan Anh said the national industry promotion programme contributed significantly to boosting rural industries in the past five years, which accelerated the transition of the country's economic restructure towards industrialisation and modernisation.
Notably, job training helped reduce poverty, create jobs and increase industrial production in rural areas, Tuan Anh said.
Still, Tuan Anh pointed out problems in the national industrial promotion programme. The limited budget for the programme, estimated at some VND130 billion per year for 63 provinces and cities affected the efficiency of the programme while many localities did not pay adequate attention to the programme and could not attract capital from other sources.
Tuan Anh said the programme must be renovated to boost efficiency, quality and competitiveness amid rapid international integration.
The funds from the programme should be used efficiently to create a momentum for raising other sources of investments in developing rural industries, the ministry said.
According to Ngo Quang Trung, director of the ministry's Agency for Regional Industry and Trade, the programme provided job training to more than 18,000 labourers in rural areas, more than 90 per cent of them had stable jobs after receiving the training.
The agency is developing the national industry promotion programme for 2021-30.