Work starts on bridge connecting Hai Phong to Thai Binh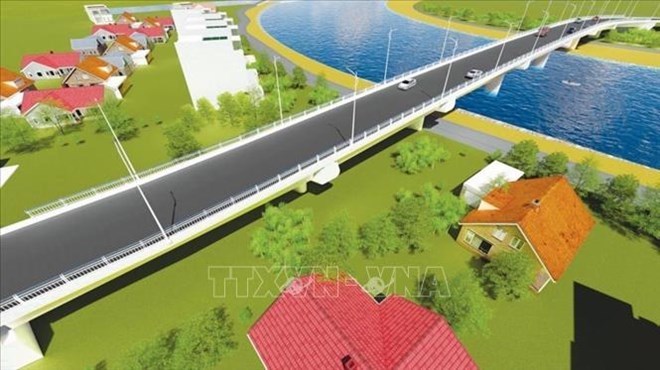 The design of the bride
The construction of a bridge spanning Hoa River and linking the northern port city of Hai Phong to neighbouring Thai Binh province began on May 9.
The 254.1m-long and 12m-wide bridge will be built at a cost of over 185 billion VND (7.9 million USD), of which 182 billion VND are sourced from Hai Phong's budget and the remaining from Thai Binh's.
The project is expected to be put into use in late 2019, shortening the distance between Hai Phong and Thai Binh's coastal area by more than 30km and easing traffic pressure on national highway 10.
In the first year of operation, it is forecast to serve 300 vehicles per day. The number of vehicles is likely increase to over 1,000, thanks largely to the opening of a Lavifood vegetable and fruit processing plant in Tien Lang district, Hai Phong, in 2020.
The plant will turn the area into a farm produce processing hub of the northern coastal region, consisting of Quang Ninh, Hai Phong, Thai Binh, Nam Dinh, and Ninh Binh.
Design contest aims to promote Hanoi handicraft products
The Hanoi handicraft product design contest, launched in mid-April, aims to encourage individuals and organisations in the capital city to promote creative ideas in the field, heard a press conference held by the municipal Department of Industry and Trade on May 9.
The contestants' designs are expected to help create new handicraft products with high economic, technical, and artistic values to compete with rivals in the Asian region such as China, India, and the Philippines, said the organising board.
According to Vuong Dinh Thanh, Deputy Director of the Hanoi Industrial Promotion and Development Consultancy Center, the contest will increase the number of prizes from 40 in 2018 to 75 this year for five groups of products. Each group will have one first prize, three second prizes, four third prizes, and seven consolation prizes.
The event is expected to draw new designs of 250-300 handicraft products.
According to Vuong Dang Hoa, Deputy Director of the Hanoi Industrial Promotion and Development Consultancy Center, Hanoi is leading the country in handicraft products. In 2018, the export turnover of this group reached 192 million USD. The industry generated jobs for nearly 1 million workers with the average annual income of about 55 million VND (2,365 USD) each.
Competing entries should be submitted to the centre at No.176 Quang Trung, Ha Dong, from April 15 to July 15, with the competing products to be sent from July 15 to August 15.
Dinh Vu polyester fibre plant opens two more lines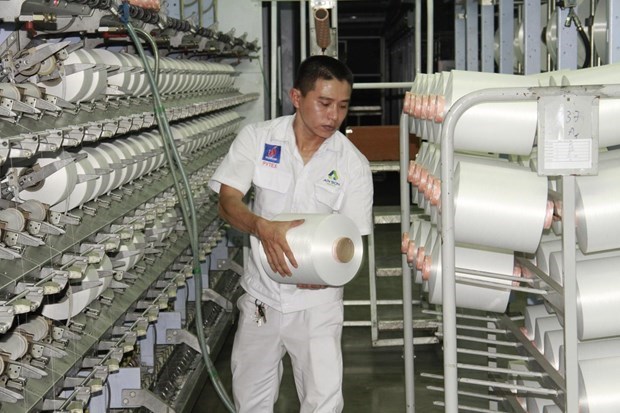 The Dinh Vu polyester fibre plant in the northern port city of Hai Phong has put into operation two additional DTY fibre production lines, raising the total capacity to nearly 900 tonnes per month, up 20 percent.
As of the first quarter this year, the plant ran 10 DTY fibre production lines, providing about 2,000 tonnes of DTY fibre for the domestic market and partners from the Republic of Korea and Japan.
Earlier in March 2018, the plant's operator PetroVietnam Petrochemical and Textile Fiber JSC (PVTEX) partnered with a joint-venture between An Phat Holdings JSC, India's Reliance Industry Company, and Singapore's Fortrec Chemicals Company to resume the plant.
In November 2018, the plant was removed from the list of 12 loss-making projects in the industry and trade sector, and started stable operations.
PVTEX is devising a financial plan to maintain the plant's operations. Its experts and foreign partners are considering the signing of a contract to fully operate the plant in the near future.
Vietnam, China look to increase rice trade cooperation
A conference to seek methods towards boosting rice trade cooperation between Vietnam and China was held in the Mekong Delta province of An Giang on May 9.
China is one of the biggest rice producers and rice import markets in the world, according to Phan Loi, Deputy Director of the provincial Department of Industry and Trade.
An Giang exports over 400,000 tonnes of rice annually, he said, adding that the province is leading the country in building large-scale paddy fields and material areas.
It is able to meet the import criteria of countries, including China, he said.
With the assistance of the Ministry of Industry and Trade, the opportunity for An Giang rice to penetrate into the Chinese market is absolutely feasible.
The locality has big ambitions to export more rice to China and aims to ship more products besides rice to the market.
Liu Ying, Vice Chairman of Shanxi province's food association and head of the Chinese business delegation, expressed high regard for the quality and price of rice in the Mekong Delta.
He advised Vietnamese exporters to obey China's regulations on quarantines and design, and participate more in brand promotion as China has limited imports through unofficial channels while imposing stricter requirements for imports.
China's modern population is increasingly busy, with little time to travel to markets to buy rice. Vietnamese businesses should pay attention to the production of suitably weighted rice bags for sale online to serve this segment, he recommended.
Tran Quoc Toan, deputy head of the Department of Foreign Trade under the Ministry of Industry and Trade, said businesses participating in the conference are potential customers from the Shanxi food association.
These firms have been allowed by the Chinese Government to import 180,000 tonnes of rice, accounting for about 10 percent of Vietnam's total rice exports to China.
The event also creates an opportunity for Chinese rice importers to study Vietnam's rice production development plans and orientations to seek cooperation contracts with Vietnamese partners.
On this occasion, the An Giang Department of Industry and Trade and the Shanxi food association signed a memorandum of understanding (MoU) on bilateral trade cooperation.
Two local businesses inked five MoUs on trade cooperation with Chinese firms.
Banking Forum 2019: Transformation needed for banks' sustainable growth
Experts at the recent "Banking Forum 2019" in Hanoi has reached a consensus in urging banks to focus on transformations to boost internal strength and achieve sustainable growth.
The 2019 Banking Forum, held by the Saigon Times Group in cooperation with the State Bank of Vietnam (SBV), attracted various bank leaders, representatives of the SBV and governmental agencies, banking experts, as well as delegates from international financial institutions looking to invest in Vietnam's banking sector.
The forum gave an overview of the SBV's monetary policies in 2018 and directions for the future, while taking into account the external factors affecting the macro-economy.
A major part of the programme was dedicated to discussing solutions to help the banking system improve its internal strength for future growth. Key topics included bank restructuring, non-performing loans, technology investments, human resource development, and green credit.
According to experts at the event, the restructuring of the banking sector saw positive results in 2018, as evident in gradually reduced bad debts.
Some small banks started reporting profits again, while several large banks achieved their profit targets. Faced with fluctuations in the global market in 2019, the SBV is adjusting its monetary policies in order to support the development of the banking sector in the coming time.
Many experts shared the expectation that domestic banks will improve their capital mobilisation capacity, technologies and human resources to keep pace with their Asian peers. However, they also agreed that banks will need to prioritise the enhancement of internal capabilities to overcome challenges in their growth journey.
Sharing experience gained from advising banks on both strategies and operations, Vo Tan Long, technology consulting partner at PwC Consulting Vietnam said that local banks should focus on two key tasks, including improving management capabilities and raising operational efficiency. These can be achieved by means of transformations, including digital transformation and workforce transformation.
Long emphasised that digital transformation is not just about technology, as it can drive a fundamental change in existing processes and procedures in banks.
"Banks can expect positive changes, such as higher productivity and accuracy, better management of operational and credit risks, and lower cost-to-income ratio, among others," said Long, added that banks can also improve their customer service quality, and create new products and services with digital transformation.
Speaking with reporters on the sidelines of the 2019 Banking Forum, Long noted that digital transformation is tightly linked with workforce transformation. The latter is a major concern not only for local banks but also their global peers. In fact, PwC's latest global CEO Survey revealed that nearly 80 per cent of CEOs in the banking and capital markets sector are worried about a lack of skills, particularly those needed to innovate effectively and provide a winning customer experience.
PwC's approach is to put people at the heart of banks' transformations. That means that banks should train or recruit talent to employ technology in a way that caters to customers' needs and facilitates the human interactions between banks and their customers.
Bank leaders should start early conversations with their staff about where their organisations is heading to, so that they can understand how automation and artificial intelligence will affect their jobs. Most importantly, business models will need to be redefined to fit the new reality of the talent and technology in banks.
Russian garment firms eye Vietnam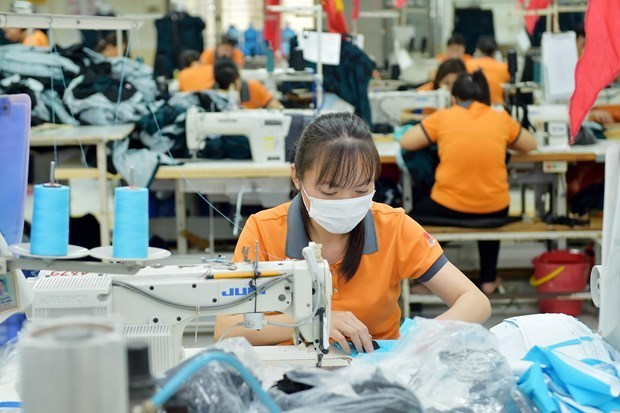 Many Russian garment and textile firms want to switch from China, said Dmitry Makarov from the Office of Trade Representation of the Russian Federation in Vietnam in HCM City.
The Ministry of Industry and Trade held Vietnam-Eastern Europe Trade Forum in HCM City on May 8 to bolster Vietnam's exports of farm produce, garments and textiles, and footwear to Eastern Europe in the time to come.
At the event, Makarov said that the co-operation between Russian and Vietnamese businesses have been strengthened.
In 2017, just 2,200 Vietnamese importers and exporters co-operated with Russian partners. The figure increased to 3,500 in 2018. Last year, Vietnam stood the 23rd among Russia's trade partners, an increase on previous years.
According to Makarov, Vietnamese products have good competitiveness in Russia and favoured by local consumers.
"Many Russian garment and textile companies want to shift their plants from China into Vietnam. This is also a good chance for Vietnam to boost the sale of apparel products into Russia," he noted.
Deputy Minister of Industry and Trade Hoang Quoc Vuong said that Eastern Europe had been an important export market for Vietnam. The two sides have established institutions and solid legal frameworks to foster bilateral co-operation over time, including 14 inter-governmental committees, the Poland-Vietnam Economic Co-operation Consultation Mechanism, and the Eurasian Economic Union-Vietnam Free Trade Agreement.
In addition, the eight Eastern European nations which are members of the European Union (EU) have greatly contributed to Vietnam's EU-related revenues.
However, trade revenues between Vietnam and East European countries remain modest, the official said. The figure stood at USD10.1 billion in 2018, accounting for only 2.65% of Vietnam's total export values.
In the coming time, FTAs with the EU and EEU will remove trade barriers to bolster co-operation in trade, industry, and investment between Vietnam and European countries, and particularly those in the east.
Vietnamese businesses need to improve product quality and diversify their markets as well as export items, which will raise the competitiveness of domestic firms and labour productivity, he added.
Positive signals from BAT's Empowering women campaign

Empowering Women, a social programme funded by BAT Vietnam has helped more than 160 poor households in An Giang and Dong Thap in its first year. They are underprivileged women in rural areas who has no stable occupation, limited access to social aid programme. Part of them have been unexpected over-the border transporters for smuggled cigarettes.
Nguyen Thi Moi, living in Dong Hung hamlet, Nhon Hung Commune, last year got a loan of VND5 million from the programme to invest a part in her grocery store and the remaining in her husband's vehicle repair shop. "Previously we only earned an average of VND40,000/day, now we earn VND100,000," Moi said. The repayment of the interest-free loan is also less difficult.
Meanwhile, the case of Nguyen Thi Hien (Thuong Phuoc 1 Commune , Hong Ngu District, Dong Thap Province) is special.
She used to be offered to transport smuggle cigarettes across the border to earn a few tens of thousands of dong. But danger was always high because and it's illegal
Hien said: "I was given an interest-free loan of VND5 million, Following advice by the local Women's Union, I quit this job and invest the loan to my family farming job. My first tomatoes project was successful. I reinvest the earned profit (about VND 20 mio) to cultivate the beans. I am hoping for another success"
"From that day on, our life is more stable with legal money. At meetings, I have also advised other women to give up tobacco smuggling."
Moi and Hien are two of 160 households in An Giang and Dong Thap participating in "Empowering women", a programme which gives interest-free loans from funds worth VND1 billion provided by BAT Vietnam to disadvantaged women.
In the first year 166 households in 24 communes, wards and towns in six border districts of An Giang and Dong Thap provinces received loans for raising animals (eels, frogs, crickets, chickens, cows...), trading (groceries, catering services, sewing materials, basket weaving ...), growing clean vegetables, mushrooms, cassava, or chili and making dry fish and fish sauce.
Particularly, in Thuong Phuoc 1 Commune, all 21 households participating in the programme, including Hien, quit the previous job of smuggling tobacco.
Huynh Thi Huynh Nhu, Chairwman of the Women's Union of Thuong Phuoc 1 Commune (Dong Thap) said before being chosen to access the interest-free loans of the Empowering Women programme, the 21 poor women suffered an instable life. Moreover, they always felt anxiety when earning a living by transporting illegal smuggled cigarettes across the border. ""After joining the programme, all of them have had good jobs such as retailing, opening grocery stores at home and farming. They have completely quit transporting illegally smuggled tobacco," she said, wishing that BAT Vietnam and the Women's Union would continue to fund the poor women in this area."
Nguyen Thi Ngoc Yen, Head of the Southern Committee of the Vietnam Women's Union, said: We checked and found that some households growing chilli and tapioca earn VND3-5 million. Traders get a monthly profit of VND3-3.5 million."
Yen added that the Women's Union of An Giang and Dong Thap provinces have promoted the programme among locals and organised talks on start-ups and "Women's Start-up Day" where the women can introduce their products.
Women's Union units in communes have co-ordinated with the local police and the border guard to prevent illegal border crossings and smuggling of cigarettes and goods and train the beneficiaries in managing the loans.
From 2018, the Women's Union has implemented this programme in An Giang and Dong Thap funded by BAT Vietnam. Via the programme, underprivileged women, who had no stable occupation or used to participate in tobacco trade fraud across the border, have the opportunity to get a proper loan to change the way of earning a living for better life.
Truong Van Toan, Head of BAT's Legal and External Affairs, said: "We are happy to see the positive changes in the lives of women who participated in the loan programme.
"The loans, given with the support of the Vietnam Women's Union and local authorities, have helped them secure their family's livelihoods and increase their incomes.
"In future BAT intends to join the Vietnam Women's Union to take this fund to disadvantaged women in other localities."
Thanks to the "Empowering Women" programme, disadvantaged women have the opportunity to get a suitable loan to expand their family business or invest in livestock and farming.
In particular, women who do not have a steady livelihood can get a loan to invest in a suitable business, helping improve their income.
Experts say no concern for US dollar appreciation
The US dollar has continued to appreciate against the Vietnamese dong in recent days, but experts are not concerned about the rise, saying the central bank will take effective measures to get the foreign exchange market under control.
The State Bank of Viet Nam (SBV) on Thursday set the daily reference exchange rate at VND23,051, up VND5 from the day earlier.
With the current trading band of +/- 3 per cent, the ceiling rate applied by commercial banks for the day is VND23,742 and the floor rate is VND22,359.
Commercial banks also adjusted their rates up by some VND20-40 per dollar on Thursday after increasing the rates significantly in the first three days of this week. Compared with last Friday, the dollar listed at commercial banks on Thursday appreciated by some VND120 against the dong.
Vietcombank and BIDV posted the buying rate at VND23,340 and the selling rate at VND23,460, up VND30 from the same time the day earlier.
Techcombank posted VND23,315 per dollar for buying and VND23,450 for selling, up by VND30 from the day ago.
However, economists said that there was nothing to worry about the depreciation of the dong.
Pham Hong Hai, CEO of the Hongkong and Shanghai Banking Corporation (HSBC), said the increase would not have a big impact on the market, explaining as the picture of the US-China trade war becomes clearer, the market would stabilise.
According to Hai, with the current high foreign exchange reserves (at some US$69 billion), the SBV will be able to ensure market liquidity to help ensure market stability.
Sharing this view, chief economist at the Bank for Investment and Development of Vietnam Can Van Luc said there was nothing to worry about the increase in exchange rates, as the central bank has much experience in dealing with this matter, and the dollar is only one among the eight currency baskets managed by the bank every day.
SBV Deputy Governor Nguyen Thi Hong on Wednesday also affirmed the central bank would intervene to stabilise the foreign exchange market if necessary.
Cà Mau eyes expansion of efficient farming, forestry models
The Cửu Long (Mekong) Delta province of Cà Mau is expanding all its efficient agriculture, fishery and forestry models.
On the People's Committee's instructions, the expansion focuses on the province's key produce, especially shrimp.
Cà Mau, the country's largest producer of the crustacean, also counts rice and acacia among its key products.
Models like intensive and super-intensive shrimp farming and shrimp – rice farming have fetched farmers high incomes in recent years.
The super-intensive model offers average yields of 40-50 tonnes per hectare per crop and incomes of up to VNĐ80-100 million (US$3,400-4,300).
The country's southernmost province has around 300,000ha of aquaculture farms, mostly shrimp, and these impact the lives of around 600,000 people, or more than 50 per cent of the province's population, according to its Department of Agriculture and Rural Development.
The province breeds mostly black-tiger shrimp and white-legged shrimp.
The model of rotating shrimp and rice in a field offers steady incomes for farmers since it is not affected by climate change and is environment-friendly.
Under the model, farmers breed shrimp in the dry season and grow rice in the rainy season.
Besides, a large number of farmers in Thới Bình District also breed giant river prawns and grow rice simultaneously in their fields, and this model fetched them large incomes last year.
Lư Hải Đăng of the district's Tân Bằng Commune said he harvested nearly 1.2 tonnes of the prawns from his 3ha of rice field last year, earning VNĐ200 million ($8,560) after raising them for six months.
Thới Bình had 16,200ha of farms with giant river prawns last year, up nearly 7,000ha from the previous year.
Shrimp and rice produced under the model are clean since farmers do not use chemicals or pesticides.
The province's Department of Agriculture and Rural Development has encouraged farmers to tie up with companies and grow rice to good agricultural practices (GAP) standards in recent years.
The province had more than 100ha of rice and vegetables grown to VietGAP standards at the end of last year, according to its Plant Cultivation and Protection Sub-department.
Cà Mau is also expanding the farming of acacia trees for wood, which is also lucrative.
Farmers can earn more than VNĐ100 million ($4,270) from one hectare after four to five years.
The province plans to increase the area under acacia from the current 8,500ha to 12,000ha by 2020.
The province will strengthen dissemination of information about efficient farming models that can adapt to climate change and protect the environment, according to its People's Committee.
Lê Văn Sử, deputy chairman of the People's Committee, said localities should manage agriculture based on the province's zoning plans.
The province produced 115,000 tonnes of shrimp and other aquatic species in the first four months of the year, marginally higher than in the same period last year, according to the department.
Its annual shrimp exports are worth more than $1 billion.
International workshop discusses sustainable smart cities in Vietnam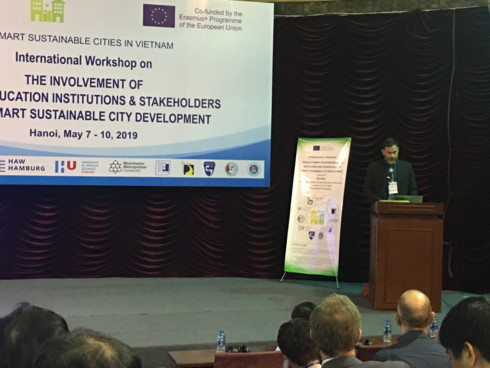 Tom Corrie, Deputy Head of Cooperation Section - European Union Delegation to Vietnam
The involvement of higher education institutions and stakeholders in the development of sustainable smart cities in Vietnam took centre stage during an international workshop held in Hanoi on May 8.
The event was co-hosted by the Sustainability Alliance of Urban Networks in Asian Cities (SAUNAC) consortium and the VNU University of Science. Attending the event were representatives from various embassies, relevant ministries, and key stakeholders.
Upon addressing the workshop, Tom Corrie, Deputy Head of Cooperation Section - European Union Delegation to Vietnam, emphasised that higher education is a priority for both Europe and the Vietnamese government. He added that higher education is a responsibility of all 28 member states and the role of the EU is to promote Europe as a centre of excellence for higher education.
Mr Corrie underscored the signficance of Erasmus+ Capacity Building in Higher Education (CBHE) projects. All of which are aimed at modernising and reforming higher education institutions, developing new curricula, improving governance, and developing relationships between higher education institutions and enterprises.
Around 27 per cent of the annual global budget for CBHE projects has been earmarked for Asian countries. Vietnam has so far particpated in 51 projects, all of which have been jointly implemented by both European and Vietnamese universities.
Mr Corrie noted that the projects have covered a range of fields including sustainable agriculture, food safety, energy, cloud computing, and sustainable cities.
Project Manager Henna Knuutila brought participants up to speed about the achievements of Erasmus+ SAUNAC, adding that SAUNAC is a EU-Erasmus+ funded capacity building project, aimed at giving universities in Vietnam and their stakeholders the tools to enable a transition in Vietnam through a range of activities.
The project is made up of five University partners from European nations including Finland, Germany, Netherlands, Spain, and the UK, as well as six Vietnamese Universities from Hanoi, Hai Phong, Hue, Da Nang, and Ho Chi Minh City.
Ms. Knuutila pointed out that the fresh co-operation between universities, enterprises and public bodies have provided valuable learning opportunities for students who can design solutions for environmental challenges in major cities as part of their studies.
In the long term, participants will form sustainable alliances together. This trend will not only take place between universities in Vietnam, but between universities and enterprises at a regional, national, and international level, Ms. Knuutila noted.
During a panel discussion and in subsequent sessions, representatives from both relevant ministries and key stakeholders elaborated on how higher education institutions and stakeholders are working together to develop sustainable smart cities in Vietnam. In addition, they worked to devise future solutions and activities in this field, especially to step up co-operation between businesses and academia.

The highlight of the activities was the signing of a Letter of Intent between the Smart City Netherlands consortium and the Urban Development Agency of the Ministry of Construction by Dutch partners and the Center of Expertise for Smart Sustainable Cities in the University of Applied Science in Utrecht.
Foreign experts urge updated investment attraction strategy
Vietnam must take further strides to tackle existing inadequacies in legal regulations and administrative procedures while making reasonable adjustments to foreign investment policies in order to lure additional capital inflows, experts have suggested.
According to Nobufumi Miura, Chairman of the Japan Business Association in Vietnam, the robust growth of the Vietnamese economy has acted as a catalyst for Japanese firms to intensify their production and business activities in the Southeast Asian country. Indeed, many have mapped out new investment schemes and capital injections for the future.
Despite this, a number of investors have made complaints about the difficulties they met from their operations in Vietnam. During the Vietnam Private Sector Economic Forum 2019 which took place in Hanoi this week, Miura raised his concerns regarding the low predictability of the nation's policies and legal regulations. In fact, many businesses have been unable to react promptly to the rapid changes in such policies and some have even been forced to stagnate their production and business on occasions.
"We hope that the Vietnamese Government will set forth adequate solutions to help enterprises avoid damage when it executes new policies and legal regulations."
He claimed that cumbersome administrative procedures have hindered enterprises from increasing their investment. He added that he hopes the Government would implement a proper solution aimed to quicken the decision-making process of authorities through further decentralizing power and clarifying the responsibilities of competent agencies.
Hong Sun, Vice Chairman of the Korean Chamber of Commerce (KorCham) in Vietnam, said many companies from the Republic of Korea have pumped additional capital into the country's high-tech sector. However, in order to further absorb investment inflows into high-tech production, Vietnam must make vital adjustments to existing laws and institutions.
The KorCham vice chairman stressed that now is the right time for the Government to offer new, daring, yet preferential policies to firms, thus giving a boost to promising industries such as electric vehicle production and solar power.
Virginia Footer, Vice Chairwoman of the American Chamber of Commerce in Vietnam (Amcham), said Amcham can see great opportunities in Vietnam, for both domestic and foreign enterprises.
She elaborated that ongoing US-China trade tensions serve to escalate the probability of production facilities gathering together within a country, and to activate the restructuring of supply chains.
There has been a partly shift of production facilities from China, then Vietnam is well placed to take advantages of this opportunity, she asserted.
However, she noted that tax rates and policy-related issues are considered major barriers for foreign firms operating in Vietnam, while calling for greater attempts into addressing the growing shortage of power nationwide, particularly in the southern region.
Kyle Kelhofer, International Finance Corporation's Country Manager for Cambodia, Laos, and Vietnam, proposed the Vietnamese Government work on updating its foreign direct investment (FDI) attraction blueprint in which focus should be placed on providing more incentives for businesses and investors as well as developing firms based on their long-term competitive advantages.
Forum discusses how to enhance management of digital economy taxation
Experts gathered at a forum in Hanoi on May 8, discussing measures to enhance tax management as e-commerce is enjoying strong growth amid the Fourth Industrial Revolution.
The event was held by the General Department of Taxation and the World Bank in Vietnam.
According to Luu Duc Huy, Director of general department's policy department, the tax sector has worked with authorities to manage tax collection in e-commerce businesses.
However, Huy pointed out that tax agencies have encountered various difficulties in collection.
The issuance of business licenses for e-commerce firms remains bewildering as some e-commerce activities are not included in the tax list, so it is hard for tax authorities to determine appropriate collection forms.
Besides, tax collection is constrained by paper invoices which are used in 90 percent companies in Vietnam, while there is no law stipulating those using e-invoices have to share their invoice data with tax agencies. Therefore, tax authorities are unable to determine these firms' revenue.
Huy said that tax collection from internet-based commercial activities via Google, Facebook and YouTube also creates difficulties for agencies.
To that end, Huy called for scrupulous preparation and detailed instructions to facilitate tax payment, and prevent negative impact of e-commerce.
A representative from the World Bank said the tax system should be developed to ensure budget collection and create favourable conditions for both e-commerce and traditional businesses.
To enhance tax management, the Vietnamese Government is amending its tax management law and adding many regulations on e-commerce businesses like e-tax declaration and e-invoices.
Vietnam's seafood promoted in Brussels expo
Vietnamese enterprises are showcasing their products at the Brussels Seafood Expo 2019 in Belgium, aiming to give Vietnamese seafood a firmer foothold in the European market.
On display at the expo are Vietnamese aquatic products, including shrimp, tra fish, tuna and octopus. The pavilion of Vietnam attracted a large number of visitors.
On the sidelines of the event, a forum on Vietnamese seafood and cooperation prospects took place. Speaking at the forum, Deputy Minister of Agriculture and Rural Development Phung Duc Tien said the Vietnamese fisheries sector focuses on developing its products towards applying modern technology, increasing product quality and values, diversifying products, and ensuring food security, safety and hygiene.
The signing and ratification of the EU-Vietnam Free Trade Agreement in the time ahead is also expected to raise the Southeast Asian nation's export turnover thanks to tariff cuts.
Vietnam soy beverage startup raises another $2.4 million
Startup Soya Garden has raised another $2.4 million as it seeks to expand further in the healthy beverages market.

Vietnamese education firm Egroup confirmed this recently, and it comes on top of the VND45 billion ($1.9 million) it had invested earlier this year.
Soya Garden, which claims to be Vietnam's first organic soya chain, offers soy-based beverages mixed with coffee or tea.
Since its establishment in April 2016 it has increased the number of its stores from two to 33 and now claims to serve 500,000 customers a month in five cities and provinces.
Founder and CEO Hoang Anh Tuan said all the stores broke even within a few months. "However, Soya Garden and Egroup believe that we are still in the investment and expansion period, therefore we are focusing more on fine-tuning our business model than on profits."
Tuan, 30, came up with the idea during a trip to Singapore. "Vietnam's food and beverage market is crowded, but not many are focusing on building a healthy lifestyle for their customers. We see an opportunity to create a new trend with soy beans."
It first secured a deal from Egroup on Shark Tank Vietnam in 2017.

It plans to have 100 stores in the country this year and 300 by 2021, and also eyes South Korea, Thailand and Japan as the next markets.
Soya Garden is also studying the possibility of making fast foods with healthy ingredients, and entering the fast moving consumer goods industry with soy-based products.
Vietnam is seeing a wave of startups in various areas as the government promotes privatization and entrepreneurship.
Last year startups attracted 92 major investment deals worth almost $900 million, three times the 2017 value, according to Hanoi-based startup accelerator Topica Founder Institute.
Sustainable tourism development promoted via global geopark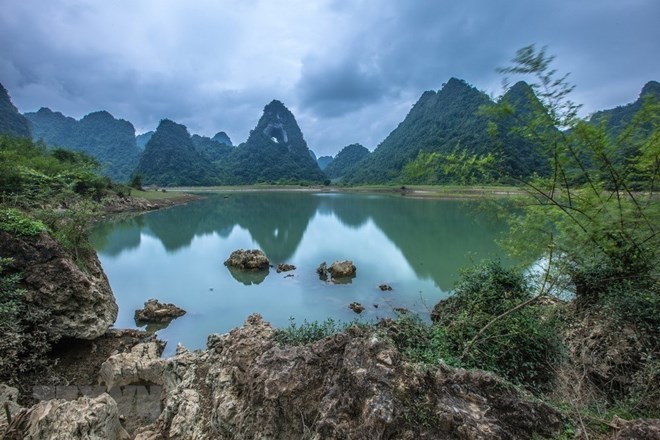 Non Nuoc Cao Bang geopark is home to fossils, ocean sediment, volcanic rocks, minerals and especially karst landscapes.
Measures to promote sustainable tourism development in the northern mountainous province of Cao Bang through UNESCO global geopark model were discussed by domestic and foreign scientists at an international conference held in the locality on May 8.
According to Vice Director of the Vietnam National Administration of Tourism's Travel Management Department Pham Le Thao, the UNESCO recognition of Vietnam's Non Nuoc Cao Bang Geopark as a global park is significant to tourism development in the country.
Cao Bang province should fully take advantage of both domestic and international cooperation to turn itself into an attractive destination based on the geopark's outstanding characteristics, she suggested.
Meanwhile, Dr Jutta Weber from the Germany's Bergstrasse-Odenwald Geopark and Vice President and Coordinator at the Global Geoparks Network in the Asia-Pacific Prof. Ibrahim Komoo, shared the same viewpoint as they laid stress on the significance to raise public awareness of geological protection while developing new tourism products.
They said that local residents should know how to develop tourism without influencing the environment.
Participants at the event shared initiatives to promote local staples and gender equality, as well as experience in sustainable tourism development in global geoparks in Tanzania, Thailand, Iran and Dong Van Karst Plateau, and protecting values of geological heritages and caves.
Vice Chairman of the provincial People's Committee Nguyen Trung Thao said that the province hopes to receive further support from competent ministries and sectors, Vietnam National Commission for UNESCO, UNESCO Global Geoparks Network and domestic and foreign experts to develop Non Nuoc Cao Bang global geopark.
Non Nuoc Cao Bang is about 300 kilometres from Hanoi. Covering over 3,000 sq.km, the geopark is home to fossils, ocean sediment, volcanic rocks, minerals and karst landscapes, which can give researchers insight into the 500 million years of the earth's history.
The park is well known for its rich biodiversity and many indigenous species of fauna and flora.
The site includes famous destinations such as Thang Hen Lake, Phia Oac ecological site and Nguom Ngao Cave.
The geopark was first established in 2015. In November 2016, the province People's Committee submitted a dossier to UNESCO to seek the global geopark classification. A UNESCO survey team came to the province in July 2017 to assess the park's values and conservation work.
"Non Nuoc Cao Bang UNESCO Global Geopark offers numerous outstanding historical and archaeological sites and a rich cultural heritage of national and international significance, lending the area prominence in Vietnam and providing a strong basis for the tourism industry as it attracts large numbers of domestic and international visitors," read the UNESCO statement. "In addition, numerous international and national geosites such as fossil sites, geological boundaries, mineral deposits and intrusive, volcanic and sedimentary rocks are well preserved."
This is the second UNESCO-recognised global geopark in Vietnam after Dong Van Karst Plateau in the northern province of Ha Giang, which received the honour in 2010.
HCMC suspends live pig imports from Dong Nai
HCMC has stopped importing live pigs from four communes in Dong Nai Province since May 2 due to outbreaks of African swine fever (ASF).
Speaking at a meeting to work out a plan to prevent ASF from spreading to the city today, May 9, Huynh Tan Phat, deputy head of the HCMC Department of Animal Health, said that apart from the suspension, HCMC and Dong Nai Province have decided to use only National Highways 1A and 1K to transport pigs to the city for easier supervision, Nguoi Lao Dong newspaper reported.
The authorities of Trang Bom District and Nhon Trach District on May 2 announced the ASF outbreaks in Binh Minh and Doi 61 communes in Trang Bom District and Phuoc Thien and Hiep Thanh communes in Nhon Trach District.
Phat also voiced concern over the shipments of live pigs from the northern provinces to the Mekong Delta region, passing through HCMC, as the risk of spreading the disease in the city this way is high.
In addition, he pointed out that the city is home to 3,900 pig farming households, with a total of 274,000 live pigs. However, 247 households are using leftovers from restaurants to feed their pigs, raising the risk of ASF infections.
At the meeting held by the city's government, HCMC Vice Chairman Le Thanh Liem asked districts and the relevant agencies to strictly comply with the plan, including taking urgent steps and actions ordered by the municipal government in January to cope with ASF.
Also, Liem ordered the competent authorities to urge the households to switch to feeding their pigs clean food and discourage them from expanding their pig herds to minimize the appearance and spread of the disease.
Besides this, Liem tasked the HCMC Department of Agriculture and Rural Development with training employees to handle outbreaks in worst-case scenarios by supporting the HCMC Department of Animal Health.
Earlier, the ASF outbreak had been detected at a farming household with 268 pigs in Doi 61 Commune in Trang Bom District. After the discovery, veterinary workers inspected the neighboring commune, Binh Minh, where 468 live pigs owned by a household also tested positive for ASF.
Nhon Trach District faced the same fate, with two small households, one with 26 pigs and the other raising three pigs, being hit by ASF due to the use of leftovers to feed their pigs.
Annual Thai trade fair opens in HCM City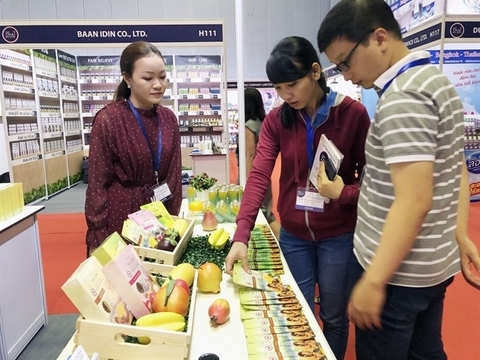 Visitors at Top Thai Brands, the biggest Thai trade fair in Viet Nam, that opened yesterday in HCM City.
More than 200 Thai firms are showcasing a wide range of branded products and services at Top Thai Brands, the biggest Thai trade fair in Viet Nam, which opened on Thursday in HCM City.
On display are apparel and fashion accessories, automobile and motorcycle parts, baby products, beauty and healthcare products, food and beverages, home appliances and household products, and airlines, tourism, education, and restaurant offerings.
Suparporn Sookmark, director of the Thai Trade Center in HCM City, said: "Top Thai Brands aims to strengthen our co-operative relations, promote trade and investment between the two countries, and create a business platform for Thai and Vietnamese enterprises to expand their networks and develop strategic partnerships."
The center, run by the Thai Ministry of Commerce, organised the "Thailand Week" trade fair in HCM City for over 10 years.
In 2016 the annual event was renamed as "Top Thai Brands" to highlight quality Thai products and internationally recognised brands, Sookmark said.
Nguyen Van Nga, deputy director of the Ministry of Industry and Trade's Agency for Southern Affairs, said in the first two months of this year trade between the two countries increased by 13.7 per cent year-on-year to US$2.8 billion.
Thailand is Viet Nam's largest trade partner in Southeast Asia and Viet Nam is Thailand's second largest partner, she added.
The first two days of Top Thai Brands is exclusively for business networking between enterprises from the two countries.
The remaining two days are open to the public.
The event is being held at the Saigon Exhibition and Convention Centre in District 7.
30 countries and territories join Vietnam Medi-Pharm 2019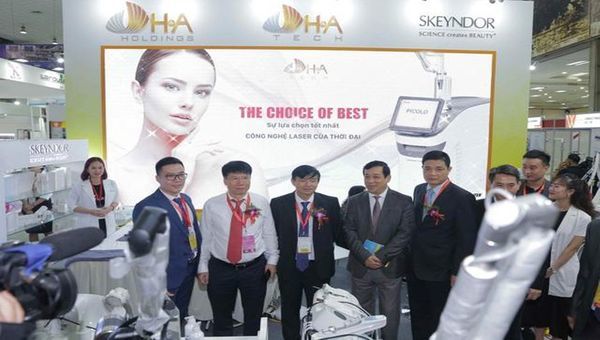 With more than 550 booths of 450 local and international firms, Vietnam Medi-Pharm has proven its prestige.
The Vietnam International Medical and Pharmaceutical Exhibition (Vietnam Medi-Pharm) started its 26th edition in Hanoi on May 8, with the participation of over 30 countries and territories.
The expo is annually organized by Vietnam Medical Import-Export Joint Stock Company (Vimedimex VN) and Vietnam Exhibition and Advertising Joint Stock Company (Vietfair) in May.

In his opening remarks, Deputy Minister of Health Truong Quoc Cuong said that with more than 550 booths of 450 local and international firms from Belgium, China, the Czech Republic, Germany, India, Japan, Poland, South Korea, the US, Thailand, and host Vietnam, among others, Vietnam Medi-Pharm has proven its prestige, as well as expectations of manufacturers and businesses in the healthcare industry, of those in the pharmaceutical market and medical equipment manufacturers in Vietnam.
Through the exhibition, Vietnam's Ministry of Health expects to create a fair, healthy, stable and competitive business environment, based on the view of considering enterprises as a driving force for economic development, Cuong stressed.
He added that the Vietnamese health ministry recommended local and international manufacturers of pharmaceutical and medical equipment actively explore markets and partners to contribute to further trade exchanges and bilateral and multilateral cooperation in pharmaceutical and medical equipment.

The four-day exhibition offers an opportunity for participants to introduce their products, promote experience exchange, expand market and boost connection and technology transfer. Pharmaceutical products, food supplements, pharmaceutical processing, manufacturing and packaging equipment, lab equipment and healthcare services are also on display.
Besides, Vietnam Medi-Pharm 2019 is focusing on high-quality healthcare services. The highlight is the display area of ​​the Ministry of Health with the theme of "Vietnam Health", introducing Vietnam's guidelines, policies and laws on healthcare.
Various activities will be held within the framework of the expo, including a national scientific conference on preventive medicine, a workshop on immunotherapy and stem cells for cancer and diabetes treatment, a program to respond to world hypertension day, along with other sideline events.