Vietnam, China have room to grow trade ties: experts
Vietnamese and Chinese enterprises are encouraged to tap into the great bilateral trade potential driven by the two countries' open trade policies, experts have said.
Vietnam values and gives priority to strengthening economic and trade cooperation with China, and hopes to receive greater investment from China and the overseas Chinese community, said Nguyen Noi, Deputy Director of the Foreign Investment Agency under the Ministry of Planning and Investment.
"I'm pleased to see that many leading Chinese corporations are expanding their investments in the fields of electronics, renewable energy and IT, applying modern technology and bringing more value in line with Vietnam's foreign investment orientation," Noi told a conference on Vietnam-China trade and investment last week.
China continued to be Vietnam's largest trading partner in 2018 with total export-import turnover reaching 106 billion USD, up 14 percent year on year. Vietnam has also surpassed Malaysia to become China's biggest trading partner in the ASEAN region.
China is the seventh biggest investor in Vietnam with total registered capital of 15 billion USD. However, the flow of Chinese investment into the country has increased rapidly in recent years.
In the first four months of 2019, China registered 1.3 billion USD of investment in Vietnam, becoming the biggest foreign investor by newly registered capital.
Noi highlighted Vietnam's new foreign investment policy which prioritises projects with high added value, advanced technology, modern management, minimal environmental impact and spillover effects that support the country's sustainable development.
He called on Chinese companies to increase investment in Vietnam's mechanics, electronics, new materials, pharmaceuticals, support industry, robotics, IT, infrastructure and clean energy.
According to Fu Long Cheng, Vice President of the Chinese Business Association, Vietnam-China co-operation through the "Belt and Road" and "Two corridors, one economic belt" initiatives has created favourable conditions for businesses of the two countries to grow their trade ties.
It is important for businesses to identify priority areas, increase connectivity and expand co-operation on a broader, more practical and multi-channel framework, Cheng said.
He also said China has organised many seminars on Vietnam-China trade and investment cooperation to introduce Vietnam's high quality projects to Chinese enterprises.
Evaluating investment potential in Vietnam, Huang Rong, CEO of law firm Yingke Vietnam, said Vietnam is now an attractive investment destination for China's businesses. Many Chinese firms value Vietnam's good infrastructure and quality labour force, as well as the reasonable cost of doing business in the country.
Yingke Vietnam has supported many Chinese enterprises in analysing financial factors, human resources and management before deciding to invest in Vietnam.
At the conference, enterprises of the two countries were provided with updated information on investment opportunities, with a focus on preferential treatment under free trade agreements of which Vietnam is a member.
Seafood exporters advised to boost links with Chinese restaurants, hotels
To gain a larger market share in China, aquatic product exporters of Vietnam have been urged to target restaurants and hotels.
In 2018, Vietnam exported 2.25 billion USD worth of tra and basa fish and 3.5 billion USD worth of shrimp products.
China has licensed 686 Vietnamese businesses to ship aquatic products to this country, according to the Agro Processing and Market Development Department (Agrotrade) under the Ministry of Agriculture and Rural Development.
To Tuong Lan, Deputy Secretary-General of the Vietnam Association of Seafood Exporters and Producers (VASEP), noted since 2017, with import turnover of more than 1 billion USD, China has been one of the four biggest markets of Vietnamese aquatic products.
Vietnam has advantages in the shipment of aquatic products to this market, including preferential tariffs and China's plan to reduce its own aquatic farming. However, the fact that China is tightening control over product quality will pose many challenges to Vietnamese firms, not to mention competition with rivals like India, Thailand and Indonesia, according to VASEP.
Meanwhile, Deputy Director of Agrotrade Tran Van Cong said Vietnam's aquatic products have neither a widespread presence in northeastern and western areas of China, or ties with major companies and distribution networks in the nation.
Bui Anh Dung, Deputy Director General of the Minh Phu Group – a major shrimp exporter, said the Chinese economy has developed strongly over the past years and is the biggest consumer market in the world. Therefore, Vietnamese companies should make stronger efforts to build their brands and foster partnerships with Chinese firms.
At a recent forum in Ho Chi Minh City, the China Tourist Hotel Association advised Vietnamese firms to target certain segments to expand.
It noted China has many restaurants and hotels that need high-quality aquatic products, some of them have developed their own supply chains, creating a chance for Vietnamese companies to form partnerships.
Cong said to help exporters to compete in foreign markets, State agencies are improving the business climate. In particular, Agrotrade is stepping up standard and brand building and granting codes for production regions.
Market forecasts, warnings of trade remedies against Vietnamese exports and measures to fight origin fraud will be enhanced, the official noted, adding that his agency will also keep close watch on changes in the international situation, especially US-China trade tension, to have appropriate responses.-VNA
Vietnam Pepper Association not hopeful of global price recovery
With supply remaining higher than demand in the global market, pepper prices are unlikely to recover this year, according to the Vietnam Pepper Association.
Speaking at a seminar on Vietnam Pepper Crop 2018 – Orientation and Action Plan in 2019 held in Ho Chi Minh City on May 10, Nguyen Nam Hai, chairman of the association, said Vietnam exported over 235,800 tonnes of the spice worth nearly 775 million USD last year, a year-on-year increase of 9.7 percent in volume but a fall of 30.8 percent in value.
According to the International Pepper Community, global output topped 556,000 tonnes last year, up 7 percent from 2017. Vietnam remained the world's biggest producer with 230,000 tonnes.
Global demand is estimated to increase by 2 percent annually, while supply is growing by 8-10 percent, according to the IPC.
With this imbalance, the fall in prices in recent years was inevitable, it said.
Hai said Vietnam would continue to lead the world in production and export this year, with output expected to reach 250,000 tonnes and exports, 235,000 tonnes.
"In the global market, supply will remain higher than demand, and thus it will be hard for prices to increase in 2019."
Do Ha Nam, General Director of the Intimex Group Joint Stock Company, said: "Although the pepper industry is facing many difficulties in terms of market, Vietnam's pepper exports still grew well. Besides, pepper prices on the farm are 43,000-45,000 VND per kilogramme, and this is the price farmers accept."
If the sector wants prices to increase, the pepper-growing area must decrease globally, he said.
"The important issue now is to reduce the cultivation areas in places that do not have suitable soil or weather for the spice and to focus on improving quality," he said.
According to the association, Vietnam's pepper quality has improved significantly in the past few years, with more farmers complying with hygiene and safety standards to meet global criteria or switching to organic farming.
But more efforts are needed and should start at the farm level, it said.
"To further improve pepper quality, there is no other way than creating linkages between businesses and farmers."
Hai said the Government should have stringent regulations to ensure the success of this linkage model. The model is now prevalent only in 2-3 percent of the pepper farming area, he said.
Nguyen Ngoc Luan, Director of the Lam San Farmers Cooperative, said the association and other relevant agencies should provide farmers with more market information to help them make better production plans.
Delegates said growers must always avoid the abuse of pesticides and chemical fertilisers.
At a time when supply is higher than demand, firms should apply modern processing technologies to make high-value products and diversify their products to meet customers' demands, they said.
Hai suggested that Vietnamese exporters be more actively studying free trade agreements the country has signed to take advantage of their benefits to boost exports.
The spice is among the country's key agricultural exports, with shipments going to more than 100 countries and territories, he said, adding Asia is the largest market, accounting for more than half, followed by the Americas, the EU and Africa.
Trade office warns of frauds by West African firms
The Vietnam Trade Office in Nigeria recently has warned Vietnamese import-export companies doing business with some countries in the West Africa region of current fraudulent practices.
Accordingly, the office has received some petitions from Vietnamese export firms, asking the office to settle frauds carried out by firms in Nigeria, Cameroon and Togo.
There are four common cases of frauds that Vietnamese export companies have encountered, including tender fraud, fraud in importing goods from Vietnam, fraud in exporting (wood and iron scrap) and fictional commodities fraud, of which scammers trick Vietnamese firms into signing several contracts then they will fulfill a few first contracts on time but for following contracts Vietnamese firms will never receive their commodities after the payment is made.
In order to reduce risks and lawsuits, the office warned that Vietnamese firms should not transfer money in any way when their partners request (brokerage fee, fee for import license code and lawyer fee).
In order to prevent risks when signing import and export contracts Vietnamese firms should use irrevocable letter of credit, at sight and should not use payment methods, including telegraphic transfer (T/T), telegraphic transfer (T/T) in advance, documents against payment (D/P) and documents against acceptance (D/A).
Some Vietnamese firms have lost their money when applying payment method of paying 30 percent in advance and 70 percent after delivery as for exporting or 30-50 percent of deposit as for importing.
Work starts on Japanese-invested apartment buildings in Hai Phong
The People's Committee of Hai Phong and Japanese Minato Vietnam held a groundbreaking ceremony for a complex of two apartment and commercial buildings along the Lach Tray River, Le Chan district, in Hai Phong city, on May 11.
The 26-storey buildings have a total investment of over VND2 .2trillion (US$105 million) and are one of the key projects in Hai Phong to mark the 64th anniversary of Hai Phong liberation.
The project, covering a total area of 1.26ha,will provide as many as 924 high-end apartments, while meeting the demand for shopping and entertainment of the HaiPhong residents and foreign workers.
Chairman of Hai Phong People's Committee Nguyen Van Tung said that the Minato Residence project, along with other facilities including Japanese five-star hotel Chuo, AEON Mall commercial centre, Vingroup's Cau Rao 2 urban area, and Vinmec International Hospital, will make the south of Le Chan district become a worthy living destination for Hai Phong residents.
The project is scheduled to be completed in 2021.
Week on identifying Vietnamese goods launched in HCM City
An annual programme entitled "Vietnamese Goods Identification - Proud of Vietnamese Goods" was launched by the Ministry of Industry and Trade in Ho Chi Minh City on May 11 in a bid to boost the consumption of Vietnamese goods.
The programme was also held to mark the 10-year implementation of the campaign "Vietnamese people prioritise using Vietnamese goods".
Deputy Minister of Industry and Trade Do Thang Hai said that, after 10 years, the campaign has seen positive changes in the consumption behavior of customers as consumers now have better awareness of the business and production capacity of Vietnamese enterprises, while enterprises have made actions to renew themselves and improve their products and brands.
Reports from the Departments of Industry and Trade said that Vietnamese goods still account for a high proportion in the domestic market at 80-90% at modern distribution channels and over 60% at traditional retail channels.
Minister Hai noted that, in the near future, the ministry will continue to build research and training programmes to assist enterprises in doing business and building their brands.
In addition, the ministry will create favourable conditions for enterprises to promote their products to all localities nationwide including rural and remote areas.
More than $500 million poured into Danang in the first quarter this year
Since the onset of 2019, Danang has attracted more than $507 million of foreign and VND1.82 trillion ($79 million) of domestic investment capital.
Specifically, the city wooed 32 new projects with the total registered capital surpassing $355 million, whereas in the same period last year the city lured in 15 projects with the total registered capital touching $1.352 billion.
Five projects have registered capital expansion with the total capital sum of $114.2 million, while 51 foreign investors either bought shares or contributed capital to local business entities with a total capital of $43.286 million.
Of foreign investment projects, one project in Danang High-Tech Park comes from US-based UAC Group which will be investing in the construction of a SunShine aerospace components factory with $170 million in total investment capital. Three other projects would be based in industrial parks with a combined registered capital of $83 million and 28 other projects will be outside industrial parks and hi-tech parks with the total capital exceeding $102 million.
Total investment and development capital in the city in the first quarter of 2019 was estimated at VND7.454 trillion ($324 million), equal 17.9 per cent of the full-year plan, up 1.1 per cent compared to the same period of 2018.
To date, the city has attracted 323 domestic investment projects with the total investment of around VND97.700 trillion ($4.247 billion) and 716 foreign investment projects with a total investment capital of $3.352 billion.
Total investment and development capital in the city in the first quarter of 2019 was estimated at VND7.454 trillion ($324 million), equal to 17.9 per cent of the full-year target, up 1.1 per cent compared to the same period of 2018.
This included VND1.429 trillion ($62 million) coming from the public sector (down 2 per cent), VND5.376 trillion ($233 million) from the non-state sector (up 1.6 per cent), and VND648.7 billion ($28 million) from foreign entities (up 3.9 per cent).
According to the Danang City People's Committee, in the first quarter of this year, 97 international delegations visited and had working sessions in the city, of which the city leaders received 23 international delegations.
Diverse investment promotion programmes with Japanese partners were successfully hosted, for instance, the networking programme between Danang city and Yamanashi prefecture or the discussions between city leaders and enterprises from the Okayama International Trade Association.
Currently, the city is home to four projects using official development assistance (ODA) capital managed by the city with a total investment capital of about $420.3 million, $328.6 million of which is ODA capital, accounting for 78.2 per cent of the total, while counter-funding capital reached $76.67 million, accounting for 21.8 per cent.
In addition, the city is home to two centrally-governed World Bank-funded projects, including WB5 Disaster Management Project in Danang and the Hospital Waste Treatment Support Project.
Mekong farmers make organic switch to improve business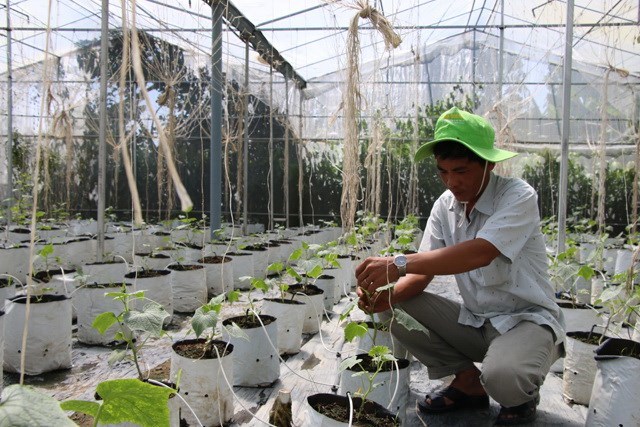 More and more farmers and entrepreneurs in the Mekong Delta are realising that new organic farming models help increase their income.
Since the 2017–18 winter-spring crop, the My Dong Agricultural Coop No2 (in Dong Thap province's Thap Muoi district) has been collaborating with Rynan Smart Fertilisers in Tra Vinh city to introduce the smart rice cultivation model on 7.6ha of land.
Farmers use smart fertilisers just once (for the crop), together with other harmless biological products. Rynan also used water level measuring equipment (using solar energy) to help farmers monitor the water level required for the rice plants at each stage of growth.
According to Nguyen Van Khi, a member of the co-operative, the new organic farming models require lower volumes of rice seeds of around eight kilogrammes per hectare.
In the first crop farmers could harvest some seven tonnes of undried paddy per hectare, but earned more as production costs were down to nearly half and they could sell their paddy to Rynan at 30-40 percent higher than normal prices, he said.
After a few bumper harvests, members have expanded the area under the new farming models to over 50ha.
Recognising the effectiveness of the organic farming models, the Dong Thap province People's Committee has made plans to expand the members' farming area to 170ha.
Besides, members of other agricultural co-operatives in Thap Muoi district have embraced the low-cost organic rice cultivation models.
Ngo Phuoc Dung, chairman of the My Dong Farming Service Coop No2, said the new models enable their produce to meet the demands of the market.
Besides rice, other crops are also grown using technologies by companies and farmers in the Mekong Delta.
Truong Dinh Dut quit teaching to become a vegetable grower and director of Kha Quynh Agricultural Production Company Ltd. in Gao Giong commune in Dong Thap province's Cao Lanh district.
He studied organic farming models around the delta and in early 2018 began to develop a farm to grow clean and organic vegetables and other safe produce.
No pesticide has ever been used in his farm and only organic fertilisers and other biological products are used.
Dut said he spent some 2.5 billion VND (about 110,000 USD) on a greenhouse, an irrigation system and other facilities.
He never uses manufactured products on his farm, he said.
He grows tomato, cucumber, waxy pumpkin, China squash, bottle gourds, and loopah.
Kha Quynh Agricultural Production Company supplies clean vegetables to shops and agents around Dong Thap province.
The farm, which produces over 300 tonnes of agricultural produce annually, earns revenue of 3 billion VND.
HCMC urges quicker execution of projects
The HCMC government has asked the relevant departments and agencies to expedite work on some real estate, environment protection, ecommerce and logistics projects in the city, which are moving at a snail's pace, officials said.
At a meeting today, May 10, on the city's socioeconomic performance in the first four months of the year, HCMC Chairman Nguyen Thanh Phong pointed out that projects such as the Lotte smart complex and Saigon Sports City in District 2, waste-to-energy plants, Ring Road No. 2 and the September 23 Park upgrade have lagged behind schedule.
Besides projects under construction, Phong urged the completion of plans to develop a logistics center, an exhibition center, ecommerce and a smart city.
He asked leaders of the relevant departments and agencies to quickly remove obstacles hindering the execution of these projects, including those under the management of State agencies.
Explaining the slow execution of waste-to-energy projects, Nguyen Toan Thang, director of the municipal Department of Natural Resources and Environment, said that the department has held two tenders to choose consultants for these projects, but no firms showed interest due to the low value of the contracts.
Thang proposed setting specific standards for the consultants of these projects, and tenders will be held after a certain number of enterprises meet these standards.
In addition, solutions to cope with African swine fever were also discussed.
A representative of the HCMC Department of Agriculture and Rural Development said that after the neighboring provinces of Dong Nai and Binh Phuoc reported African swine fever outbreaks, the department plans to set up more stations at the city's gateways and along roads leading to the city to check vehicles transporting pigs and pork to the city. Dong Nai currently supplies 45%-50% of the city's pork demand.
The department will also tighten control over slaughterhouses and stand ready to respond to the epidemic if it spreads to the city.
Meanwhile, the Department of Industry and Trade is working with the city's pork suppliers, remarked Pham Thanh Kien, director of the department.
HCMC Vice Chairman Le Thanh Liem stated that the chairpeople of districts must assume responsibility before the city government if their districts are home to illegal slaughterhouses.
Schaeffler inaugurates new plant in Dong Nai
Schaeffler, a global automotive and industrial supplier, on May 9 put into operation its new Greenfield plant in the southern province of Dong Nai, marking a further step in investment in Vietnam where it started its first production 10 years ago.
Schaeffler invested some 45 million euros to build the modern manufacturing facility at the Amata Industrial Zone in Bien Hoa City, about 50 kilometers from HCMC.
The plant will produce industrial bearings and components for a wide range of applications, creating some 300 additional jobs in the Dong Nai province.
Georg F.W. Schaeffler, shareholder and chairman of Schaeffler Group, was speaking at the inauguration event that Vietnam was the very first location in South East Asia where Schaeffler invested to build local manufacturing capacity.
"There are many reasons for our continued commitment to Vietnam. It is strategic location in Asia, a well-diversified, stable and fast-growing economy with a talented, well-educated, ambitious population are just few among them," Schaeffler said.
Schaeffler first made an investment in Vietnam over 10 years ago when the company began local production of Tapered Roller Bearings (TRB), Radial Insert Ball Bearings (RIBB) and Steering Column Bearings (SCB) in Southeast Asia.
With the new investment, Schaeffler will increase the production capacity of the existing product ranges and add new product lines for the extended range of RIBB as well as the flagship product of Schaeffler Group – Needle Roller Bearings (NRB).
Martin Schreiber, president industrial at Schaeffler Asia Pacific, said the expansion of local manufacturing capacity demonstrates the company's confidence in Vietnam as an ideal production hub in the Asia Pacific region to serve regional and global customers with bearing products and systems.
Products manufactured in Vietnam will be supplied to customers across a wide range of industry sectors including agriculture, construction and mining, power transmission, food processing, textile, paper, steel, cement and two-wheelers (motorcycles).
High time to safeguard the Vietnam-made label
With the annual import-export value amounting to over US$480 billion last year, or double Vietnam's gross domestic product, foreign trade is of paramount importance to the country as it is the key driver for economic growth. The uptrend is continuing more vigorously, now that many free trade agreements (FTAs), including the pact between Vietnam and the EU and the Comprehensive and Progressive Agreement for Trans-Pacific Partnership, are being ushered in. A vital element for implementing such trade deals, needless to say, is the certification of origin required by importing countries.
However, the certificate of origin, or the Made-in-Vietnam label attached to products, seems not to have been properly attended to. Local media has warned of numerous cases where local traders place orders with Chinese partners to manufacture products carrying the Vietnamese-language tag – the case of Khaisilk is just a typical example – and then transporting such products to Vietnam via border trade for domestic consumption or for re-export. There are also cases of semi-finished products being shipped to Vietnam from another country for final packaging and labeling, and then exporting to a third country. Such trade fraud has been detected, and sanctions have been taken by importing countries.
In those illicit trade practices, certain local and foreign traders are reaping profits, but the local business community and the entire economy are suffering due to punitive sanctions including trade defense measures taken by other countries against Vietnam's products. Enterprises engaged in this kind of trade fraud are normally charged with smuggling, or producing and trading in fake products, while there are no legally binding standards or regulations guiding the recognition of Made-in-Vietnam items. The only legal document in this regard is the Government's Decree 43/2017/ND-CP issued two years ago specifying ways to attach labels for local products and imported products in circulation in the country.
Early this year, the Ministry of Industry and Trade worked with the Ministry of Science and Technology, the Vietnam Chamber of Commerce and Industry, and some other agencies and associations to garner inputs for a legal document on compulsory standards for products that bear the Vietnam-made label. However, such a new document has not been issued.
Currently, enterprises wanting to attach the Vietnam-made label to their products can do so at their own will and declare it at their own discretion, though they are required to prove their products meet the standards upon request from a competent agency. Such a practice contains many loopholes that can be abused by ill-intentioned traders, and therefore, it is urgent for ministries to adopt regulations in this respect.
The urgency for protecting the Made-in-Vietnam tag is becoming all the more striking now in the face of the U.S.-China trade war. As Chinese-made products face higher U.S. tariffs, it is highly likely that many types of Chinese goods will find ways to enter Vietnam, where they will be relabeled as Vietnam-made products before they are shipped on to the U.S. market. The stakes for Vietnam's trade ties with the U.S. will be high, and consequences will be grave if no effective measures are taken now.
Mekong Capital invests in Pizza 4P
Mekong Capital has announced that the Mekong Enterprise Fund III (MEF III) has completed an investment in the Pizza 4P's Corporation, purchasing a combination of primary and secondary shares.
"We are incredibly excited to partner with Pizza 4P's," said Mr. Chris Freund, Partner of Mekong Capital. "Not only because we are huge fans of their product and see the potential for the brand to grow considerably, but also because we are inspired by the vision of the founders, Masuko and Sanae. Pizza 4P's is about more than delicious pizza, customer happiness, and families having fun together."
"I believe this partnership with Mekong Capital will enable us to commit to people's happiness and realize our 2023 vision: 10 million smiles," said Mr. Yosuke Masuko, Co-Founder and CEO of Pizza 4P's. "Mekong Capital has a strong track record of investing in established companies by applying its value creation framework Vision Driven Investing. The team also supports our company with strategic consultancy on human resources, restructuring, management practices, and corporate finance. These are the pillars that will contribute to Pizza 4P's sustainable growth in this dynamic and emerging market as well as in expanding our chain internationally."
"Pizza 4P's exists to inspire and create opportunities for hundreds of millions of people to experience inner peace," Mr. Freund added. "We are inspired about this vision and excited to work together with the Pizza 4P's team."
Famous for their homemade cheese, creative use of local ingredients, high quality standards, and excellent customer experience, Pizza 4P's is the most popular restaurant chain in Vietnam in terms of customer satisfaction, creating 1.9 million smiles for peace. Its restaurants serve more than 4,700 customers each day across a chain covering Ho Chi Minh City, Hanoi and Da Nang. Pizza 4P's popularity is so high that reservations normally need to be made up to one week in advance.
The name Pizza 4P's is short for "Pizzas for Peace".
Its original location was on Le Thanh Ton Street in Ho Chi Minh City and it has subsequently expanded to Hanoi and Da Nang. They produce their own fresh, high-quality cheese in Da Lat.
Pizza 4P's is the ninth investee company announced by MEF III.
Established in 2001, Mekong Capital is a Vietnam-focused private equity firm that has the most extensive private equity track record in Vietnam. Its investee companies are typically among the fastest growing and market leading companies in Vietnam's consumer-driven sectors such as retail, restaurants, and consumer products.
Mekong Capital commits substantial time and resources to adding value to the companies in which its funds invest and has played an important role in the success of many of its past investments.
Launched in May 2015, MEF III is a private equity fund and currently has $112.5 million in committed capital. It has announced eight other investments: ABA Cooltrans, Red Wok (formerly Wrap & Roll), F88, Ben Thanh Jewelry (Precita), Nhat Tin, Yola Education, Pharmacity, and Vua Nem.
Vietnam seeking greater Chinese investment
Vietnam hopes to secure more Chinese investment projects as there are few from the northern neighbor at present, H.E. Nguyen Van Tho, Ambassador of Vietnam in China, former Deputy Minister of Foreign Affairs, and Vice President of the Vietnam-China Friendship Association, told the Vietnam-China Trade Investment Promotion Conference on May 10 in Hanoi.
Mr. Nguyen Noi, Deputy Head of the Foreign Investment Agency at the Ministry of Planning and Investment, said Vietnam always hopes to receive more fresh investment from China, in particular projects with high technology, with priority given to the fields such as machinery, electronics, pharmaceuticals, support industries, robotics, information technology, infrastructure, and clean energy.
According to Deputy Chairman of the Chinese Enterprises Association, Mr. Fu Long Cheng, China has held many seminars on Vietnam-China trade and investment cooperation, introducing high-quality projects and encouraging Chinese enterprises to invest in Vietnam.
Vietnam is now a very attractive investment destination for Chinese companies. Many have chosen the country because of its sound infrastructure, good quality workforce, and reasonable costs, said Mr. Huang Rong, CEO of the Yingke Vietnam Co. The company has helped Chinese enterprises take steps to analyze financial, accounting, human resources, and management before deciding to invest in Vietnam.
This was the fourth holding of the conference, attended by leaders and enterprises from both countries. Enterprises were provided with information, assessments, and forecasts from analysts on the challenges and investment opportunities in 2019 and encouraged to take advantage of trade and investment incentives under Vietnamese law and preferential treatment under free trade agreements. Investors and traders have also created more business links, providing attractive investment and trade opportunities.
On the sidelines of the conference, Yingke Vietnam was officially launched in Vietnam after a year of preparations. "Vietnam is an important destination for Yingke Global in Southeast Asia, and Southeast Asia is a starting point for the global targets in Yingke Global's development strategy," said Mr. Ye Xiao Pei, Co-founder and CEO of Yingke Global. "In 2019, we plan to establish one branch each month and will quickly open more offices in Southeast Asia and South Asia."
NA committees discuss Industry 4.0 collaborative programs
Hitachi Sunway Information Systems, a joint venture between Japan's Hitachi Systems and the Malaysia-based Sunway Technology Sdn Bhd, recently met with the National Assembly (NA)'s Economic Committee and the Committee for Science, Technology, and Environment to discuss cooperative programs leveraging Industry 4.0 to benefit Vietnam's socioeconomic development.
Vietnam has good policies in place for investors and the government encourages technology investments leveraging Industry 4.0 that will help the country continue its economic growth rate, according to Dr. Phan Xuan Dung, Chairman of the Committee for Science, Technology, and Environment.
"Vietnam will continue to look into institutional and structural reforms, improve IT infrastructure, and increase talent quality to attract more foreign investors, as these are key to achieving its vision to 2045, especially as it becomes more integrated into the global economy," he said.
Hitachi Sunway intends to replicate their success stories in State-owned enterprises (SOEs) and private companies, especially in the area of Industry 4.0, with the objectives of increasing speed to market, improving management of operational complexity, building local talent, and boosting productivity. Ultimately, these are vital drivers for Vietnam's future success.
"Addressing these complex areas requires strong leadership and clarity of vision from both the public and private sectors," said Dr. Nguyen Hoang Hiep, Country Manager of Hitachi Systems Vietnam, Laos and Cambodia. "It is important for organizations like Hitachi Sunway to create awareness in new areas such as Industry 4.0, manufacturing digitalization, big data, artificial intelligence, and others."
Vietnam's requirements fit well with Hitachi Sunway's expertise, according to the Committee for Science, Technology, and Environment, and the company should work with SOEs and the private sector to leverage new solutions relating to Industry 4.0.
Attending the discussions were members from the Committees and the NA, Group CEO of the Hitachi Sunway Group and Chairman of Hitachi Systems Vietnam Cheah Kok Hoong, IndoChina Managing Director of Hitachi Sunway Tay Cho Hup, Country Manager of Hitachi Systems Vietnam Nguyen Hoang Hiep, and Senior Vice President of Hitachi Sunway Muzahid Shah.
Hitachi Sunway appointed Dr. Nguyen Hoang Hiep, CEO of Hitachi Sunway Systems, to take charge of Vietnam, Laos and Cambodia markets in January.
With a vision to become the leading one-stop IT solutions provider in Southeast Asia, Hitachi Sunway is an ICT services integrator specializing in implementing, supporting, and providing consultancy for Enterprise Resource Planning (ERP) and Product Lifecycle Management (PLM) solutions, and managing and supporting IT infrastructure and cloud-enabling IT platforms, including cyber security elements, in fully compliant and secure data centers.
Grab introduces hotel bookings
Grab, Southeast Asia's leading O2O mobile platform, officially launched hotel bookings with GrabHotels on May 9 for customers in Vietnam.
Grab customers can now book hotels and other accommodation on Agoda and soon on Booking.com directly via the Grab app and with a special preferential rate. Comparing prices of millions of accommodation providers, from luxury hotels to affordable guesthouses and from short-term rental apartments to resort villas, is now much easier as well.
"Tourists are our key customers," said Mr. Jerald Singh, Group Head of Product and Design at Grab. "With more and more people in Southeast Asia traveling, the launch of GrabHotels continues to demonstrate our commitment to bringing essential services to customers as a leading super app in Southeast Asia."
"The service also extends the list of services and incentives we offer to travelers, including airline miles redemptions and customer loyalty programs that are more diverse than any other O2O platforms, discounts on lounge services and dining outlets at major Southeast Asian airports, and pick-up points exclusively for Grab at airports in Indonesia and the Philippines."
More utilities and incentives will continue to be integrated into GrabHotels' service from now until the end of the year. Customers will receive a free personal accident insurance package when traveling with each booking and insurance for delayed flights, and can also enjoy the benefits when travelling with Grab. They will also be able to use Moca e-wallet, accumulate GrabRewards bonus points, and use coupons from GrabRewards for Hotel services on the Grab platform in the future.
"The hotel booking service is ideal for young people, 'shifting' and exploring travelers, and families looking for deals when booking accommodation," Mr. Singh said. "Collaboration between Agoda, Booking.com, and Grab allows customers to easily find suitable and affordable accommodation anywhere in the world."
"Agoda is excited about creating travel trends, using technology to help customers, wherever they are and wherever they want to go, and offering diverse options at a reasonable price," said Mr. Damien Pfirsch, Vice Chairman, Strategic Partnership & Programs, at Agoda. "Working with Grab, we have the same goal to bring more convenience and new opportunities to customers and make travel easier for Southeast Asian citizens."
Vietnam Airlines eyes low-cost segment
Vietnam Airlines aims to take advantage of the low-cost segment's potential and purchase 50 narrow-body aircraft during the 2021-2025 period, according to a plan approved at its annual general meeting (AGM) held on May 10 in Hanoi.
The national flag carrier has identified the low-cost segment as the future of the airline industry as growth has been very high in recent times. It will therefore adopt key strategies to promote the segment.
The purchase of a large number of aircraft will give it a host of advantages in negotiating prices and incentives.
It also plans to liquidate five A321ceo aircraft produced in 2004-2005 for between $3 million and $9 million each. The sale is considered feasible as there are many other carriers interested in buying the aircraft.
Mr. Pham Ngoc Minh, Chairman of the Board of Directors, said that despite the aviation market continuing to face many challenges there is an opportunity for Vietnam Airlines to affirm its position in the aviation sector in particular and in the business community in general. "We will focus on implementing the tasks assigned at the AGM, in particular ensuring absolute safety, continuing the program of fleet upgrades, and improving corporate governance towards sustainable growth," he added.
Under the 2019 business plan approved at the AGM, the carrier will strive to reach a target of more than 24.9 million passengers. Consolidated revenue is to be over VND111.7 trillion ($4.8 billion), of which the parent company will record VND82.5 trillion ($3.5 billion). Consolidated pre-tax profit is targeted at VND3.4 trillion ($146 million), of which the parent company will record nearly VND2.7 trillion ($116 million).
Consolidated revenue reached a record in 2018, at approximately VND100 trillion ($4.2 billion), or 1.9 per cent higher than planned. Consolidated pre-tax profit was VND3.312 trillion ($142.1 million), exceeding the plan by 36.8 per cent. The parent company contributed VND73.227 trillion ($3.1 billion) to revenue and VND2.418 trillion ($103.7 million) to pre-tax profit, exceeding the target set at the 2018 AGM by 23.4 per cent.
Vietnam Airlines' shares (HVN) officially listed on the Ho Chi Minh Stock Exchange (HSX) on May 7, with a reference price on the first trading day of VND40,600 ($1.74).
It successfully conducted over 141,300 flights last year, carrying nearly 22 million passengers.