Smarter tax policies needed for the development of Vietnamese tech companies
At the recent national forum on developing Vietnamese technology firms, some experts suggested regulators apply more proper tax policies and create more incentives for the development of domestic tech companies.
According to Nguyen Xuan Thanh, an expert in public policy from Fulbright University Vietnam, technology enterprises are the core group than can help boost Vietnam's economy rapidly as it grows 2.5 times faster than GDP.

In addition to the idea of developing a cluster of innovative enterprises as well as improving the workforce's qualifications, infrastructure and promoting the participation of venture capital funds, Thanh put the spotlight on the financial factor.
He stressed that it is not advisable that the government constantly pour money into start-up companies, but it should rather offer assistance through tax incentives.
For instance, the government should reduce the personal income tax for IT engineers or to offer tax incentives for human resources of research and development (R&D) companies.
However, for a domestic company to prove itself eligible for tax incentives it is an arduous task.
"On the contrary, the procedures for foreigners or FDI firm workers are faster and better. Therefore, we should consider regulating smarter tax policies for domestic enterprises," Thanh said.
Sharing the same idea, VCCorp General Director Nguyen The Tan said that the tax policy for Vietnamese creative technology companies is less favorable compared to outsourcing companies or cross-border technology companies.
He cited China and the US where the creative technology firms are entitled to generous tax incentives.
"Meanwhile in Vietnam, the tax rates applied for domestic technology firms are ranging from 15% to 20% of the revenue instead of 15% to 20% of the profits like other countries," Tan said.
He expressed his concern when Vietnamese social networks cannot hire content producers due to state regulations concerning private press, while Facebook and YouTube can post contents made in Vietnam without restrictions.
According to Tan, many Vietnamese enterprises aware of the problems but cannot solve them with their available technologies due to the policy barriers.
He suggested the regulators categorize technology enterprises in different groups, aiming to give priority to the group of businesses that create more value and setting tax policies based on priority level.
He elaborated that tax policies should be used as protective tools for the development of enterprises.
ADB receives US$20 million from We-Fi to support Vietnam's women-led SMEs
In Vietnam, the gender financing gap is estimated by the International Finance Corporation to be at US$1.19 billion.
The Asian Development Bank (ADB) has received US$20.2 million from the Women Entrepreneurs Finance Initiative (We-Fi) to support women-led small and medium-sized enterprises (WSMEs) to access critical financing and training in Vietnam and the Pacific.
The grant - the second that ADB has received from We-Fi - will finance the Women Accelerating Vibrant Enterprises in Southeast Asia and the Pacific (WAVES) program, which aims to promote inclusive and sustainable growth and development through women's businesses and entrepreneurship. Approximately 5000 women-led SMEs from Vietnam and the Pacific will benefit from the 5-year program.
"Women's businesses have a crucial role to play in the Asia and Pacific region's efforts to achieve inclusive and sustainable development, but social and economic barriers will have to be addressed for
women to realize this potential," said ADB Social Development Specialist (Gender and Development) Keiko Nowacka. "For ADB, We-Fi is an opportunity to help accelerate progress on gender equality and
challenge the entrenched status quo that prevents WSMEs from flourishing."
Women-led businesses comprise about 60% of all micro, small, and medium-sized enterprises in Asia and the Pacific. However, these enterprises face capital constraints, which hamper their growth and
development, while the women heading these businesses have limited access to business training and to targeted government support. The WAVES program will address these constraints by focusing on
the three areas of WSMEs' development—access to finance, capacity development, and enabling environment.
The program will improve WSMEs' access to finance through innovative financial approaches including performance-based pricing in Vietnam and the first gender bond in the Pacific. This is important given
that Asia and the Pacific has one of the largest global SME financing gaps, with 59% of the gap attributed to credit constraints faced by WSMEs. In Vietnam, the gender financing gap is estimated by the International Finance Corporation to be at US$1.19 billion.
National partners including government agencies, civil society organizations, and women's business associations, meanwhile, will be mobilized to support the design and implementation of gender-
responsive regulations, policies, and action plans to foster a more conducive environment for women-led businesses to thrive and expand.
The WAVES program will focus on capacity development of women through financial literacy and business acceleration programs, mentorship, and networking opportunities, with a view of equipping them with the necessary skills to run and expand their enterprises. Last, WAVES will contribute to strengthening evidence and data on WSMEs in order to better inform policies and interventions moving forward.
In April 2018, ADB received a US$12.6 million grant from We-Fi to promote women entrepreneurs in Sri Lanka. ADB has been investing in women's entrepreneurship in the Asia and Pacific region, as part of
its commitment to advancing women's economic empowerment, which is one of the operational priorities of its newly adopted Strategy 2030. By 2030, it is expected that 75% of all ADB projects will promote gender equality.
We-Fi is governed by 14 founding contributing countries and is managed by the World Bank. It aims to mobilize more than US$1 billion in commercial and international financial institution finance to afford
women entrepreneurs access to debt, equity, venture capital, insurance products, and other opportunities to link with domestic and global markets. The aim is to improve the business environment for women-owned or led SMEs.
Meeting urges substantive reduction of specialised customs inspections
While specialised customs inspections have been reduced in recent times, the streamlining process has yet to make substantial progress and businesses are still largely unsatisfied with the results so far, heard a meeting in Hanoi on May 13.
Since 2015, the standing board of the Vietnam Fatherland Front (VFF) Central Committee and relevant organisations have coordinated to monitor the tax and customs sectors' implementation of solutions to improve the business climate and national competitiveness.
President of the VFF Central Committee Tran Thanh Man said one of the bottlenecks that needs to be removed is unnecessary specialised inspection procedures in customs clearance.
Improvements have been recorded in specialised inspections, he said, noting that 126 customs procedures joined the National Single Window (NSW) and the ASEAN Single Window (ASW) in 2018 – the most outstanding move in customs procedure reforms so far.
Over the last four years, 97 percent of procedures have been connected with the single window mechanism. Ministries and sectors are expected to raise this rate to 100 percent by the end of this year.
Meanwhile, the rate of goods undergoing specialised inspections has been slashed from 35 percent of the total export and import volume to 19.1 percent within three years.
However, up to 70,087 commodities were still subject to specialised inspections as of March 2019. Some ministries had even increased the number of such items, Man added.
Deputy Prime Minister Vuong Dinh Hue who also chairs the national committee for the NSW, ASW, and trade facilitation, pointed out that the reduction of specialised procedures has yet to be substantive, while the policy implementation attitude remains weak. The satisfaction rate amongst businesses remains low and the number of firms joining the NSW and ASW is still modest.
He said several imports and exports are still subject to overlapping inspections conducted by many units of a ministry or even by different ministries. The involvement of the private sector in specialised inspections remains limited. Additionally, ASW connections are jammed during peak times, affecting businesses' activities.
Vietnam is one of the countries most dedicated to implementing the NSW and ASW in the region. When it takes on its role as ASEAN Chair in 2020, the Government will promote this work as a focal task to connect and develop trading in the region.
Hue noted if the reduction of specialised customs procedures is carried out in a mechanical manner, it is likely to be taken advantage of by certain interest groups. Therefore, this issue needs thorough consideration.
The Deputy PM asked the standing board of the VFF Central Committee to monitor the performance of not only state agencies and public employees, but also businesses. He also told the Ministry of Finance, the General Department of Vietnam Customs, and relevant agencies to boost the private sector's investment in equipment for specialised inspections so as to cut down costs for both the State and enterprises.
HCM City to stabilise market prices
Ho Chi Minh City's Department of Industry and Trade has pledged to help businesses stabilise market prices following hikes in gasoline and electricity prices.
The price of consumer goods in the city in April rose slightly compared to the previous month, with food prices rising by 0.1 percent and rice products increasing by 0.6 percent compared to the previous month.
The month saw a drop in consumption of major commodity products such as pork (fall of 3.36 percent); fresh poultry (0.66 percent); fresh seafood (1.79 percent); vegetables (1.91 percent); and fruits of all kinds (0.06 percent) over the previous month.
However, consumption of other commodity products rose, including beef (by 0.17 percent); confectionary (0.35 percent); and cocoa, coffee and tea (0.52 percent) over the previous month, according to the department.
Food prices have remained stable due to the plentiful supply of fresh food and vegetables since the beginning of the year, partly because of the city's price stabilisation programme.
The gasoline price went up twice in April, which affected transport fees, including trains (up by 2.67 percent) and passenger coaches (by 0.56 percent), according to the department.
Nguyen Anh Duc, permanent deputy general director of Saigon Co.op, said the company has been working with suppliers to ensure price stability after the electricity and gasoline price increases.
Sai Gon Co.op, Co.opmart, Co.opXtra, Co.opfood are running promotions on essential goods to stimulate purchases. Saigon Co.op is also asking suppliers not to increase prices unless it is necessary.
"The suppliers must prove that increases in input costs directly affect the cost of producing the products," Duc said.
Other retailers in the city said the increase in the price of products and services must be based on the market's purchasing power.
With the current weak purchasing power, distributors and suppliers must work together to support market price stability.
At traditional markets, despite recent hikes in petrol and power prices, the prices of some essential goods such as fresh food and frozen processed food rose only slightly.
A resident in District 9 said that in the past few weeks, the prices of some vegetables and fruits had increased slightly.
Sellers at traditional markets said they had no choice but to increase the price of products to compensate for losses caused by higher gasoline and power prices.
The industrial production index for the food processing as well as food and beverage industries increased by 1.4 percent in the first four months of the year.
In April, petrol retail prices rose twice for a total of 3,000 VND per litre. In addition, the 8.36 percent hike in electricity price that began on March 20 will affect the commodity market.
The Government has asked the Ministry of Industry and Trade to work with the General Statistics Office to review the impact of the power price hike.
In 2002, the city began its price stabilisation programme for essential food and foodstuff during festival seasons such as Tet (Lunar New Year) when demand rises dramatically.
Beginning in 2010, the programme was implemented throughout the year and was expanded to stabilise the prices of four commodity groups: food and foodstuffs, dairy products, essential drugs and school supplies.
HCM City is only able to meet 20-30 percent of demand of daily food consumption, with the rest transported from other provinces as well as imported from other countries.
Retail sales of consumer goods and services in HCM City in April totalled 94.91 trillion VND (4.07 billion USD), up 2.3 percent over March and 14.4 percent over the same period last year, according to the department.
The city's services and trade activities increased in April due to the national holidays Hung Kings Commemoration Day, Reunification Day and May Day.
Auto sales down 35 percent in April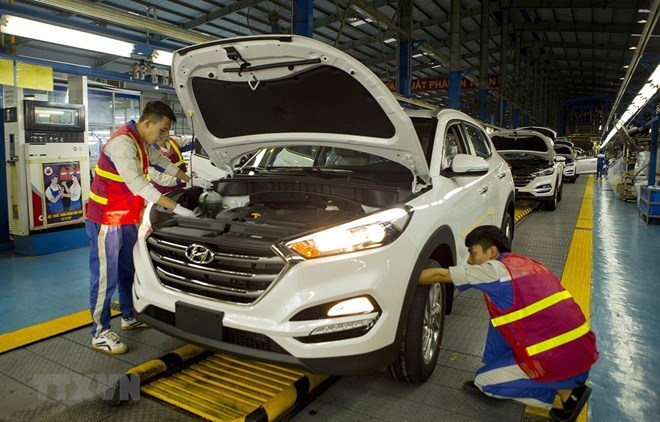 The Vietnam Automobile Manufacturer Association (VAMA) reported on May 13 that its members sold 21,021 vehicles in April, a decrease of 35 percent against the previous month.
Sales of tourist, commercial, and specialised cars dropped 36 percent, 32 percent, and 33 percent, respectively.
Domestically-assembled car sales in the month faced a drop of 29 percent and imported vehicles registered a reduction of 44 percent.
In the first four months of this year, total number of vehicles sold by VAMA members went up 23 percent year-on-year to 99,273 units. Sales of tourism vehicles increased 38 percent, while commercial and specialised cars experienced drops of 1 percent and 40 percent.
The total number of vehicles sold between January and April excluded 22,968 units from Hyundai Thanh Cong, which is not a member of VAMA.
During the reviewed period, Toyota led the market with 23,155 vehicles. It was followed by Hyundai Thanh Cong with 22,968 units, Mazda with 12,105 cars, and Honda with 10,443 cars.
Can Tho calls for Canadian investment in high-tech agriculture
The Mekong Delta city of Can Tho wishes to receive Canadian investments in high-tech agriculture so that local staples can meet stringent requirements in some foreign markets.
During a working session with Canadian General Consul in Ho Chi Minh City Kyle Nunas in the city on May 13, Vice Chairman of the city People's Committee Truong Quang Hoai Nam said that the Mekong Delta region and Can Tho city in particular hold enormous potential on agricultural products; however, limitation in technologies in post-harvest, processing and packaging has made local goods fail to enter many choosy markets.
As Canada is a strong supplier of modern machines for production and processing of agro-fishery products, Can Tho hopes to receive the General Consul's support to lure Canadian investments in the field.
In addition, Can Tho city welcomes Canadian infrastructure projects, especially warehouses, roads and bridges, to serve local agricultural economic development, he stressed.
Currently, Can Tho is calling for foreign investments in a high-tech agricultural station in Vinh Thanh district's Thanh Tien commune, a high-tech agricultural and ecotourism site in Vinh Thanh district's Thanh Tien commune, infrastructure at Thot Not Industrial park's second phase, and infrastructure at O Mon industrial park, among others.
Kyle Nunas, for his part, said that Vietnamese fresh fruits have good opportunities for exports if advanced technologies are applied into growing-harvesting-processing-packaging process.
According to the local Department of External Affairs, Can Tho exported 7.7 million USD worth of goods to Canada, with such key staples as of rice, seafood and garment. Meanwhile, it spent 1.9 million USD purchasing materials and machines from the North American country.
Dong Thap bolsters community-based tourism
The Mekong Delta province of Dong Thap is currently home to 73 community-based tourist attractions in Lai Vung and Thap Muoi districts and Cao Lanh city.
A Dong Thap tourism development project from 2015-2020 aims to turn tourism into the province's spearhead sector, boost the growth of community-based tourism and devise tourism products, thereby creating more jobs and contributing to the labour transition process.
Many farms in the province have also worked to develop agrotourism with farm produce such as Chau Thanh longan, Lai Vung pink tangerine, Cao Lanh mango, Sa Dec ornamental flowers and Thap Muoi lotus, among others.
Deputy Director of the provincial Department of Culture, Sports and Tourism Ngo Quang Tuyen said travel companies have paid heed to the attractiveness of the homestay facilities.
He added that each tourism destination in the province has identified distinctive products and launched new seasonal tours to lure more visitors.
For example, tourists in the Dong Sen Thap Muoi area can enjoy various dishes made from lotus, ride boats and catch fish in the lotus pond. The tourist area is among the top attractions of tourists from other Mekong Delta localities and Ho Chi Minh City, the official noted.
VN firm helps Laos build livestock information system for epidemic control
Vietnam's TE-FOOD company on May 13 signed a memorandum of understanding on cooperation with the Lao Ministry of Agriculture and Forestry's Department of Livestock and Fisheries to build a herd management and information system for urgent epidemic prevention through smart phones, amidst the spreading African swine fever in the region.
The system helps breeding farmers to provide information of the scale of the herd and the epidemic situation to the management agency at any time.
The data will help the management agency to deploy measures to prevent the spreading of the virus in a timely and accurate manner. The system also supports the development of production plans.
The project will be implemented in five years at a cost of 200,000 USD. In the first year, the project will cover pig farms and expand to other livestock farms across Laos in the second year.
Addressing the signing ceremony, TE-FOOD CEO Dao Ha Trung said the system will allow Laos to better control diseases, while helping improve the food supply chain's efficiency and transparency, assisting producers to meet regulations of importing countries, supporting the building and promotion of trademarks, and minimizing effects of epidemics, unsafe food, thus enhancing the confidence of consumers.
According to Trung, TE-FOOD has partnered with the UN Food and Agriculture Organisation, the Ministry of Agriculture and Rural Development of Vietnam, and many Vietnamese localities to apply blockchain technology in managing farms, diseases and the origin of farm produce.
Currently, the company has marked its presence in 14 countries, including the US, Canada, the UK, France, Italy, Hungary and Laos. It is among world top 20 blockchain technology providers.
Deputy PM instructs construction of Sa Pa airport
Deputy Prime Minister Trinh Dinh Dung has given instruction to the construction of Sa Pa airport in the northwestern mountainous province of Lao Cai.
Accordingly, the Ministry of Transport is responsible for working to approve the detailed planning for the airport, laying a basis for the project to be implemented.
The local People's Committee should coordinate with the transport ministry and competent agencies to construct the airport in line with current regulations.
Last year, Lao Cai province proposed the transport ministry build an airport in Sa Pa with a total investment of nearly 5.8 trillion VND (249 million USD).
Under the plan, Sapa Airport, located in Cam Con Commune, Bao Yen District, Lao Cai province will use 371 ha of land and be used for both commercial and military purposes.
The construction of Sapa Airport will be divided into two phases.
In the first, expected to begin before 2020, the airport targets a capacity of 560,000 passengers and 600 tonnes of cargo per year. Aircraft, including A320, A321 and equivalent, will be able to land in two locations. Total investment for the first phase is estimated at about 4.7 trillion VND (including site clearance cost of the whole project).
In the second phase, the airfield will receive 1.5 million passengers and 2,880 tonnes of cargo per year by 2030. Aircraft would be able to land in five locations. Total investment is set at about 1 trillion VND.
The provincial People's Committee proposed calling for private investments to fund the project.
Specifically, Lao Cai will call for investment of 160 billion VND from Vietnam Air Traffic Management Corporation (VATM) and 1.724 trillion VND from Vietnam Aviation Corporation.
Lao Cai is located on the economic corridor of Kunming - Lao Cai - Hanoi - Hai Phong and an economic belt based on trade development among provinces in Southwest China.
Currently, the province's transportation system incorporates only roads and railways. Therefore, an airport is considered important in improving the transportation network, contributing to the diversification of modes of transport and creating new motivation for the development of Lao Cai Province in particular and the northwest mountainous provinces in general.-VNA
Work to start on Eastern North-South Expy in July
The Ben Luc-Long Thanh section, part of the North-South Expressway project, is under construction
The Ministry of Transport is set to start work on the Cam Lo-La Son section of the Eastern North-South Expressway in July this year, according to Minister of Transport Nguyen Van The.
The Cam Lo-La Son section is one of the three subprojects using State funding assigned to the North-South Expressway project. The two remaining sections are Cao Bo-Mai Son and My Thuan 2 Bridge.
Construction of the Cao Bo-Mai Son section is scheduled for August, while a road leading to My Thuan 2 Bridge must be built in October. The bridge, due to its complicated technical requirements, will be constructed in early 2020, Minister The said.
As for the other eight subprojects being managed under a public-private partnership (PPP) format, subproject management units have already finished issuing the bidding papers. In addition, technical assistance consulting units have been chosen for these subprojects.
Also, the ministry's Department of PPP Management and the relevant agencies have been asked to organize an investment promotion conference, slated for May 17, to call for investment in the subprojects.
Tenders to select appropriate investors for the subprojects are expected to begin in October this year and end in March 2020. Qualified investors will then negotiate and sign contracts one month later.
For site clearance, the handover of boundary poles to localities is 80% complete and will be finished on May 20.
Further, Minister The required technology to be applied in tracking the process and progress of the subprojects to ensure they are executed as scheduled, as well as to manage time and costs.
HCMC to hold Vietnamese Furniture Style Exhibition
According to the Handicraft and Wood Industry Association of Ho Chi Minh City (HAWA), Vietnamese Furniture Style Exhibition – VIFA GU 2019 is expected to take place for the first time at the Saigon Exhibition and Convention Center (SECC), District 7, Ho Chi Minh City from May 16-19.
The fair gathers nearly 100 enterprises of wood processing, handicraft, architecture, real estate, fashion, cuisine, etc to bring visitors to the newest interior decoration trends and the architectures.
This is also an exhibition introducing lifestyle and full package solutions for interior space, meeting the needs for improving life value and bringing lifestyle experiences for Vietnamese people.
Dragon fruit price breaks record due to prolonged hot weather
The prolonged hot weather has impacted to the production and export of dragon fruit in Binh Thuan province in recent time, causing record- breaking price.
Mr. Vo Huy Hoang, Chairman of Binh Thuan Dragon Fruit Association, yesterday said that the price of dragon fruits in the locality has increased high from VND 17,000 to VND 23,000 per kilogram. This is considered a record high price compared to the same period in 2018.
According to local people, the price of dragon fruit has been increased from 4 to 5 times compared to the same period last year when the fruit was sold at only VND 5,000 to VND 6,000 per kilogram. Currently, the price is reported to double compared to last month price of VND 16,000 to VND 17,000 per kilogram.
According to the Chairman of Binh Thuan Dragon Fruit Association, the prolonged hot weather caused the unexpected dragon fruit export rate.
In addition, according to the long-time dragon fruit farmers in Binh Thuan province, this is the last unseasonal dragon fruit crop in the year and heading to the upcoming seasonal crop so many local people are fear that the price will be reduced causing the limitation of the production.
Mr. Tran Vinh Kha, a resident of Ham Thuan Nam district, Binh Thuan province said that dragon fruit gardens with a rate of 80 percent of big sized fruit meeting export standards are sold for up to VND 23,000 - VND 24,000 per kilogram but local people do not have enough fruits to sell. The prolonged severe weather makes dragon fruit not reach the export rate and the people worry about the price drop as the same period in 2018 has caused the sudden rising price of this fruit.
Construction of $105 million project begins in Hai Phong
Construction of an apartment and trade centre complex worth more than 2.2 trillion VND (105 million USD) began in the northern port city of Hai Phong on May 11.
Covering 1.26 ha in the city's Le Chan district, the Minato Residence project is funded by the Japan-invested Minato Vietnam Ltd Co. It will include two buildings with 926 apartments and a trade centre.
Once operational, the project is expected to meet the rising demand for housing and shopping of local people and foreigners working in the city, the investor said.
Hai Phong is home to many large domestic and international investors, said Chairman of the municipal People's Committee Nguyen Van Tung at the groundbreaking ceremony.
In the recent three years, the city has recorded a number of achievements in socio-economic development. Under the Politburo's Resolutions No.45 dated January 24, 2019, the city is expected to become a leading locality in modernisation and industrialisation and a driving force for socio-economic growth of the northern region and the whole country.
By 2025, the city will basically complete the modernisation and industrialization process, and become a smart city by 2030.
Hai Phong has attracted 642 projects worth more than 17 billion USD from 38 countries and territories, Tung said.
Gov't approval sought for resumption of toll collection at Cai Lay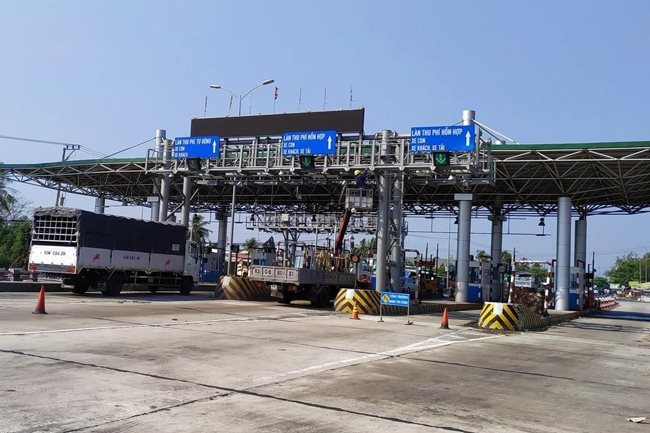 Cai Lay Tollgate undergoes renovation after roughly two years of toll suspension 
The Ministry of Transport has asked the Government for approval to resume toll collection at the long-suspended build-operate-transfer (BOT) Cai Lay tollgate in the Mekong Delta province of Tien Giang.
In a report to Deputy Prime Minister Truong Hoa Binh, the ministry said that after nearly two years of toll suspension, the project's investor, National Highway No.1 Tien Giang Investment Co., Ltd., was facing multiple difficulties and a bank that has given the firm loans is concerned over the feasibility of capital recovery.
Earlier, the State Bank of Vietnam suggested the ministry report to the prime minister on the settlement of problems related to toll collection.
To resolve the project's challenges and boost confidence for potential investors in BOT projects, especially the Eastern North-South Expressway, the ministry called on the Government to quickly resume toll collection.
Following the instructions of the prime minister, the leaders of the ministry held meetings with Tien Giang Province to reach an agreement on the resumption of toll collection at Cai Lay.
The ministry also asked the investor to carry out repair and maintenance activities on its road sections. So far, the work has been completed to ensure safety.
With regard to exemptions and reductions in toll fees, the ministry approved the proposal of the provincial government and the investor to slash toll fees for various kinds of vehicles.
For example, vehicles with fewer than 12 seats, trucks weighing less than two tons and commuter buses will be given a fee reduction to VND15,000 from the previous VND35,000 per trip.
According to the ministry, fees at Cai Lay Tollgate will be the lowest compared with other stations on National Highway 1.
Also, road users in 41 communes, wards and towns near the tollgate will enjoy toll reductions and exemptions.
National Highway No.1 Tien Giang Investment built a 12-kilometer road bypassing Cai Lay Town and renovated a 26.5-kilometer section of National Highway 1, which runs through Cai Lay Town in Tien Giang, under the BOT format.
In August 2017, the investor set up a tollgate on the highway to recover roughly VND1.7 trillion in investment, but after toll collection started, drivers staged strong protests, repeatedly paralyzing the tollgate's operation.
Drivers reasoned that the investor had built the bypass, so it only had the right to collect fees from vehicles that used this road section. It was unreasonable to charge vehicles running on National Highway 1A, they argued, and the toll fee at the time was too high, almost the same as the fee for using the 40-kilometre HCMC-Trung Luong Expressway.
Following the protests, the Government ordered the suspension of the tollgate, and the Ministry of Transport presented solutions for approval.
Environmental blunder at C.P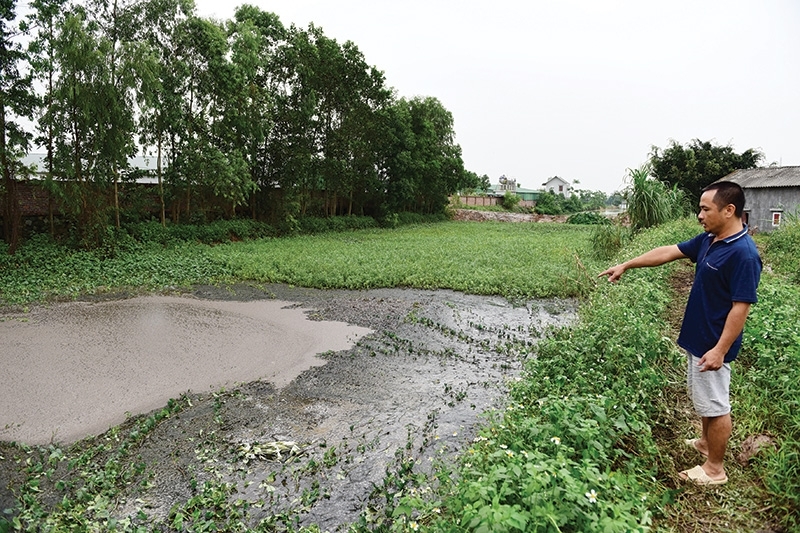 A pig farm's waste has poisoned its surroundings in Hanoi's Chuong My district
Farmers raising pigs for Thai-backed C.P. Vietnam have been destroying the environment via discharging untreated waste from their farms to the surroundings. VIR reports.
Arriving to Hanoi's Chuong My district on a rainy day last week, VIR reporters were stunned by the stench wafting form the surrounding fields and ponds. The local pig farm's high concrete walls tower over dirty, slippery mud roads, behind which the farm's stinking black wastewater is poured untreated and unfiltered into the sewers and the surrounding ponds.
Tran Xuan Xanh, a resident in Trung Hoa commune, told VIR that local residents have been suffering from the pollution for a few years now. They claim the farm's waste and pig manure is discharged directly into the sewer, from where it flows into the river untreated. The damage wrought at every point of entrance of this wastewater is clear to the naked eye.
"A couple of days ago, the rains raised the water level of the ponds and river near the farm by 30-40 centimetres, and the black water full of waste and pig manure washed into our houses, wells, and surrounding ponds, and killed a lot of fish. We fished out 40-50 kilogrammes of dead fish from the ponds every day," said another local.
The owner of the pig farm confirmed that the 2,000 pigs in his farm are bred for C.P. Vietnam Corporation, under Thailand-based C.P. Group (Charoen Pokphand) specialising in producing animal feed and farming livestock and poultry. The owner said that most of the pig manure is used to feed the fish in the adjacent ponds and cannot cause pollution.
However, by the observations of VIR's reporters, the rice field next to the pig farm is filled with grass and manure, while the water in the aquaculture ponds have turned a fetid dark grey, polluting the local environment – which is shared by hundreds or even thousands of people in Chuong My district, Hanoi.
While the pigs on the farm are raised with extreme care, enjoying fresh air as the farm has installed fans to chase away the bad odours from the outside, the fish and poultry outside have been dying and locals are getting sick. This sad state of affairs is not unique to Chuong My district, but is a problem in other areas as well.
At the end of 2018, numerous pig and poultry farms in C.P. Vietnam's outsourcing system were reported for causing environmental pollution. Particularly, a pig farm in the central province of Ha Tinh directly discharged wastewater into the environment, causing a powerful stench in the surrounding areas. Although the farm claimed to have a wastewater treatment system, its capacity seems to be far below its actual needs. As a result, the wastewater is seeping into the ground, poisoning underground water sources and affecting the health of future generations.
In a similar case also in the province, another pig farm in C.P. Vietnam's outsourcing system had to scale down operations after it was found to be discharging untreated wastewater into its surroundings.
This is not the first time that farms that raise pigs for C.P. Vietnam have discharged pig manure and wastewater into the environment. In mid-May 2016, the Vietnam Environment Administration (VEA) under the Ministry of Natural Resources and Environment issued a fine of VND194 million ($8,435) and suspended operations for three months at a farm in Tan My commune of Lac Son district in the northern province of Hoa Binh for discharging pig manure into the environment. The farm also raised pigs for C.P. Vietnam.
As reported by a local media agency, the barn of the farm was far messier than those at other large-scale livestock farms. Besides, this pig farm also lacked a wastewater treatment system and discharged the entirety of its wastewater directly into ditches, from where it found its way into the river through two sewers. The manager of the farm told the reporter that the farm had a biogas tank which had broken down in the previous year and the wastewater was spilling out ever since. However, nearby residents claimed that the pig farm continuously had been discharging wastewater this way for many years longer than the owner claimed.
Besides, when the reporter visited the farm in late May (half a month after the fine and the suspension were issued) it was still operating as usual.
The owner of the pig farm in Chuong My told VIR that C.P. Vietnam pays pig farms VND4,000 ($0.17) per kilogramme of pork meat, thus, a pig farm with 1,000 pigs, each weighing 100 kilogrammes, may earn VND400 million ($17,400) per season (every 4-5 months in general), roughly half of which is profit. However, the farms have 1,000-3,000 pigs in general, which makes this a conservative estimate. Thus, according to VIR's calculations, the VEA's $8,435 fine is rather small compared to farming households' annual profit, which makes it quite ineffective as a deterrent.
Along with the oversights in wastewater management at its contracted farmers' pig farms, C.P. Vietnam was caught up in an incident over the quality of its products and failure to comply with regulations on the culling and burial of infected pigs before the African swine fever (ASF) outbreak.
Most recently, on May 8, customer Bui Manh Tuan bought 300 grammes of pork from a convenience store, however, while cooking he found white, rice-like spots in the meat. The packaging clearly showed that the product was from C.P. Vietnam.
Nguyen Duc Khanh, a lecturer on the subject of livestock at Vietnam National University of Agriculture, told VIR that the white spots could be a sign of cysticercosis, a tissue infection caused by tapeworm eggs. It could also be a sign of abscesses caused by strong antibiotic injections, when the antibiotic cannot dissolve and is accumulated in the fat and muscle tissues.
Previously, during a fact-finding trip to Lac Son district, Hoa Binh, in mid-March, VIR heard complaints from residents about the local pig farms who claimed that some farms in Tan My commune did not comply with regulations on the culling and burial of infected pigs before the ASF outbreak, although there have been no reports of ASF disease at a farm in C.P. Vietnam's outsourcing system.
"I know that the company often hands out sick and dead pigs for free to residents in the commune instead of culling and burying them. Many of these households used the pork to cook and feed their families or process them into spring rolls and sausages for sale," a man living next to a C.P. Vietnam pig farm told VIR. "On average, about 10 pigs die every single day from various diseases."
VIR contacted C.P. Vietnam's communications division who said that C.P. Vietnam increased inspections at pig farms and isolated culled pigs from the rest of the herd.
Despite the recent issues, C.P has been good in taking advantage of Vietnam's trade potential. The company is boosting investment in the country as one of the earliest birds to sign up for a piggyback ride on Vietnam's access to the Comprehensive and Progressive Agreement for Trans-Pacific Partnership (CPTPP) countries since the pact took effect for Vietnam on January 14, 2019.
The company said it would invest more than $200 million into creating an export hub for its poultry and pork business. It is hoping to take advantage of the CPTPP which offers Vietnam advantageous trading terms with countries like Japan, Australia, Mexico, and Canada. It said it would also use Vietnam as an export hub for chicken and shrimp.
C.P has been present in Vietnam for more than 30 years and established C.P. Vietnam in 1993, which now has nine animal and aquaculture feed factories across the country. C.P. Vietnam has outsourced meat production to thousands or even tens of thousands of local farms. The company is now one of Vietnam's largest animal feed producer, with the market share of 19 per cent, according to the Ministry of Agriculture and Rural Development in 2014. The company has so far invested a total of about $1 billion in Vietnam to capitalise on the country's affordable labour costs. A Vietnamese manufacturing worker earns $227 a month on average, much lower than Thailand's $493, according to data from the Japan External Trade Organization. This is said to be the main reason behind the Thai company's choice of Vietnam to develop thousands of outsourcing pig farms. Meanwhile, the high profit figures have somehow overshadowed negative environmental impacts and disease control at C.P. Vietnam's contracted farms.