2nd Co-operative Registrars' Forum to be held in HCM City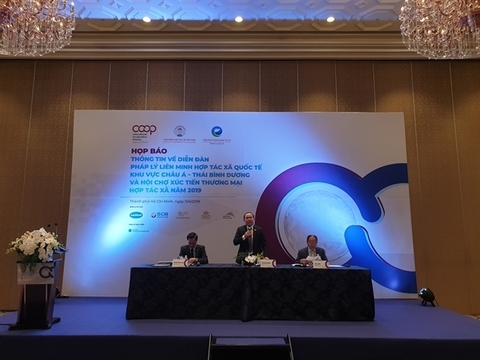 The International Cooperative Alliance - Asia and Pacific (ICA-AP), in collaboration with the Viet Nam Co-operative Alliance (VCA), will organise the 2nd Co-operative Registrars' Forum on "Creating enabling legal frameworks and policies to promote sustainable development of co-operatives in the 21st century", from April 17-19 in HCM City.
The forum will discuss trends in the 21st century and their impact on co-operatives; identify legislation and policies that affect co-operatives in relation to new and emerging areas; and exchange knowledge and best cases in the creation of an enabling environment. It will also address collaboration between government and the cooperative movement in socio-economic issues and implementation of Sustainable Development Goals.
The forum will be attended by 220 delegates from registrars, government representatives, ICA-AP member organisations, international agencies, and co-operatives from Viet Nam.
Nguyen Ngoc Bao, chairman of the Viet Nam Co-operative Alliance, will speak at the conference. During the forum, the VCA will organise the four-day Trade Promotion Fair for Cooperatives 2019 from April 17 to 20 in HCM City.
As many as 350 pavilions from many countries and territories around the world such as South Korea and Japan will showcase agro-forestry and seafood products, while the remaining pavilions will display handicrafts, and industry and service products.
The agro-forestry and seafood products on display were produced under VietGAP and GlobalGAP standards, according to Bao.
Habeco forecasts profit to drop a third to 10-year low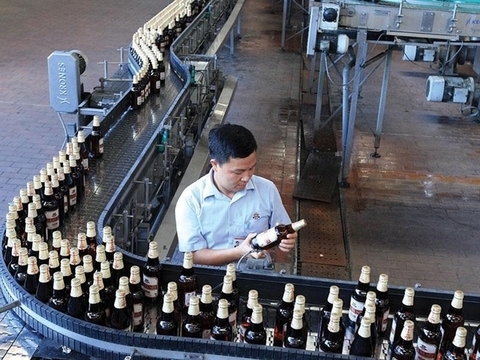 A production line at the Ha Noi Beer-Alcohol-Beverage JSC (Habeco). The company has forecast its post-tax profit in 2019 will drop to a 10-year low due to stronger market competition and lower sales volume. — Photo infonet.vn

The Ha Noi Beer-Alcohol-Beverage JSC (Habeco) has forecast its post-tax profit will fall 36 per cent year-on-year to VND310 billion (US$13.3 million) in 2019, the lowest in 10 years.
The announcement will be reported at the firm's annual shareholder.
Other topics that will be brought up at the meeting include the projection of total production, total revenue and dividend payouts.
In 2019, total production is projected at 438 million litres, including 434.5 million litres of beer and 3.6 million litres of mineral water.
Total revenue for 2019 is predicted to reach VND8.27 trillion and pre-tax profit is expected to touch VND384.5 billion.
The company will also ask shareholders to pass a 10 per cent dividend payout for 2019.
According to the company's board of directors, the beer industry has gradually approached its break-even point with annual growth rate of 5 per cent.
Habeco's sales volume in the north and central regions in 2018 fell 3 per cent year-on-year. The company has also encountered strong competition from other firms such as the Saigon Beer-Alcohol-Beverage JSC (Sabeco) and Heineken Vietnam.
In addition, increases to the special consumption tax and production costs had also hit home.
In 2019, the board of directors will keep restructuring the company and developing local retailers in the central and southern regions.
The company will strive to maintain its market share in the traditional markets in the northern and northern coastal regions.
In 2018, Habeco recorded VND484 billion in total post-tax profit, down 26.4 per cent year-on-year. It plans to pay a 8 per cent dividend for 2018.
Sabeco plans higher dividend despite declining net profit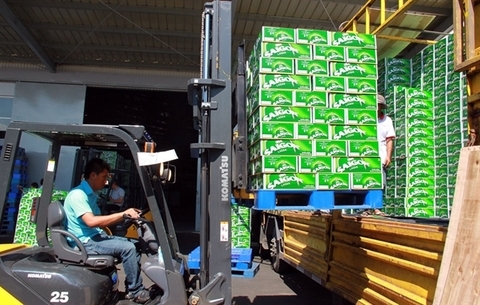 Beer is loaded for sale at the Saigon Beer-Alcohol-Beverage JSC (Sabeco) factory in Ninh Thuan Province.
Shareholders in Saigon Beer-Alcohol-Beverage Corporation (Sabeco) has approved a plan to raise its dividend payment for 2018 from 35 to 50 per cent.
The decision, announced at the annual shareholders' meeting on Friday, caught investor attention due to the fact net profit declined 11 per cent in 2018, its first drop since 2013.
Sabeco reported net revenue of VND35.95 trillion (US$1.54 billion) in 2018, up 5 per cent over 2018 and surpassing the yearly target by more than 2 per cent. However, its profit after tax dropped 11 per cent on-year to VND4.4 trillion (roughly $189 million).
Sabeco witnessed big changes to its management board last year, with a representative of Vietnam Beverage, an indirect subsidiary of Thai Beverage (ThaiBev) controlled by tycoon Charoen Sirivadhanabhakdi, joining its executive board in the second quarter.
The company paid total 35-per-cent cash dividend last year worth more than VND2.2 trillion, of which ThaiBev received VND1.2 trillion. With the higher dividend rate, expected to pay this year, Sabeco will pay an additional VND960 billion and ThaiBev will collect an extra VND515 billion.
Sabeco's undistributed profit was estimated at VND6.7 trillion after the dividend payment, but the company still faced the risk of being forced to pay tax and fines worth VND3.14 trillion from the HCM City Tax Department for violations.
Sabeco has set higher targets for 2019 with net revenue of VND38.87 trillion ($1.7 billion) and net profit of VND4.7 trillion ($202 million), up 7.5 per cent and 6.7 per cent year on-year, respectively.
The dividend rate is planned at 35 per cent.
Neo Gim Sion Bennett, Sabeco's general director, has maintained a positive outlook for Viet Nam's beer market with a growth rate of 5 per cent over the next five years.
Sabeco plans a 6-per-cent increase in output to more than 1.9 billion litres in 2019. Last year, nearly 1.8 billion litres of Sabeco's beer were consumed, up 0.3 per cent year-on-year.
The company said it would invest to raise the capacity of sales teams and distribution networks rather than applying discounts, emphasising the policy of maintaining stable prices throughout the system.
Sabeco was concentrating on the domestic market and would strengthen its brand before reaching out to the world, the company representative said at the meeting.
Regarding the intention of buying more shares in Sabeco, ThaiBev said it was satisfied with the current ownership and if more room was available, it would consider the move carefully.
Shares in Sabeco, with sticker SAB on the Ho Chi Minh Stock Exchange, are the most expensive shares nationwide, being traded at around VND244,000 ($10.48) per share.
Rising energy prices push up Q1 inflation: research institute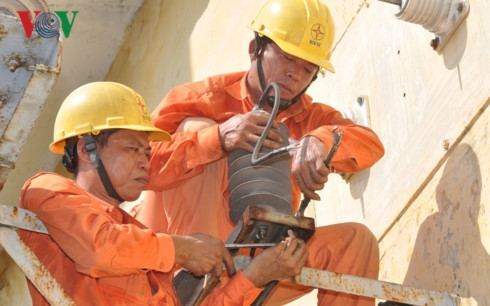 The upward inflation rate seen during the year's first quarter was driven by hikes in energy prices, the Vietnam Institute for Economic and Policy Research has claimed.

Headline inflation rates in January and February posted at 2.56 per cent and 2.64 per cent on year, respectively. In March, the ratio decreased by 0.06 per cent per annum to 2.7 per cent.
The Vietnam Institute for Economic and Policy Research (VEPR) said in a statement on April 11 that the core inflation rate during the first quarter rose by 1.83 per cent, showing stable adjustments to the monetary policy.
The national consumer price index (CPI) in the three-month period increased by 2.63 per cent, the lowest price hike seen over the past three years.
In February, the CPI rose by 0.8 per cent due to soaring demands for goods during the Tet (Lunar New Year) holidays. In particular, restaurant and catering services edged up by 1.73 per cent against January while food increased slightly by 2.13 per cent.
However, the price of many essential goods in March rose against the previous month. Transport fees went up by 2.22 per cent due to surges in petrol and oil prices from March 2 onwards. Gas prices jumped by 4.88 per cent while the costs of drugs and health services edged up 0.03 per cent.
Vietnam's economic growth in the second quarter of the year is predicted to face a number of inflation risks. Most notably, an 8.36 per cent surge in the average electricity tariff from March 20 onwards could result in a CPI rise of 3.3 per cent.
Amid unpredictable fluctuations of commodity prices throughout the world market and the country's environmental protection taxes on petrol products being enforced from January 1, the State Bank of Vietnam should keep a close watch on inflation risks in order to propose proper measures aimed at tackling risks, the VEPR said.
Suspended projects need solutions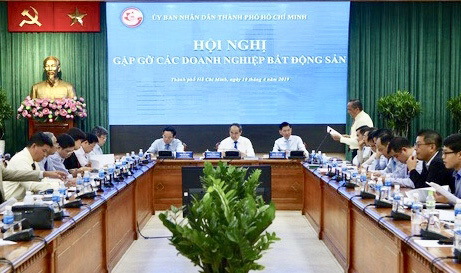 Participants at a meeting between city leaders and real estate enterprises held yesterday in HCM City.
The HCM City Real Estate Association (HoREA) on Wednesday urged the city to speed up the inspections of suspended property projects to protect real estate enterprises' legitimate rights and prevent losses.
Speaking at a meeting with city leaders, Le Hoang Chau, chairman of HoREA, asked the city to publicly list 124 of the suspended construction projects that have been allowed to resume progress. The association said the developers of the projects had not been informed about their status and need see public information.
The projects were suspended after previous inspections conducted by both city and state officials.
In addition to the 124 projects that have been allowed to resume, more than 30 other projects are still suspended and are awaiting final inspection results.
Chau asked the city's People's Committee and the Government Inspectorate to speed up the inspection of these 30 remaining projects.
HoREA also urged the city government to make a decision on the fate of about 300 public land lots that are subject to land-use recovery.
The association said the city should also classify these public land lots in different categories so that appropriate plans could be made.
For example, if the use of public land conforms to regulations, it should be released to land users, it said. If the use of public land fails to meet investment procedures or financial obligations to the State, the city could require land users to complete investment procedures and perform financial obligations.
If serious signs of violation have been found, it must be resolved seriously according to the law, the association recommended.
It also suggested that agencies should look at each case individually and take into account the history of the land use, ensure the legitimate rights and interests of businesses and people, and prevent property losses.
The city government last month informed investors that the previously suspended 124 construction projects had been permitted to continue.
HoREA noted that further extensions would cause the investors of these projects to face losses from higher costs and rising loan interest rates, while they miss out on business opportunities.
The number of stalled projects had resulted in a sharp fall in the number of houses available for sale, damaging the local real estate market, HoREA added.
Real estate enterprises in HCM City were concerned that many projects had not had their issues resolved quickly by agencies, he said.
This had led to a reduction in the housing supply and an increase in real estate prices, causing problems for low- and middle-income people who occupy a major part of the market, he said.
The longer inspection process had created problems for businesses, including higher bank loan interest, he added.
This will also create many challenges for home buyers in the form of increased selling prices and higher capital costs, according to Chau. Real estate businesses could face higher production costs and lose business opportunities, even bankruptcy, according to Chau.
The city's budget revenue for land use has also significantly reduced. Last year the budget revenue fell by 23 per cent. In the first two months of this year, it fell by 76 per cent compared to the same period last year, according to HoREA.
The meeting, attended by the secretary and chairman of the city people's committee, also proposed amendments to the Housing Law, Real Estate Business Law, Construction Law, Urban Planning Law and the Investment law, among others.
New export promotion methods urged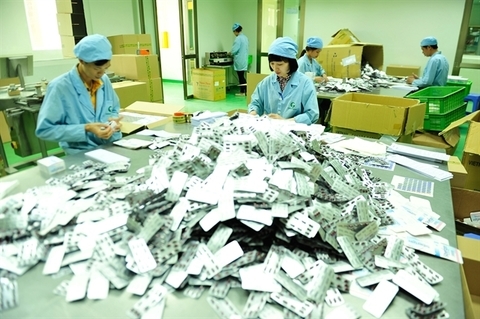 Drugs are packed by workers of the Saokim Pharma Company. There have been improvements towards reducing exports of raw materials and shipping more processed products.
Local businesses should diversify their export promotion activities to increase turnover and expand markets, heard attendants at the Viet Nam Export Promotion Forum 2019 held in Ha Noi on Friday.
Do Thang Hai, deputy minister of Industry and Trade said in the last few years, Viet Nam's goods export structure had seen positive changes towards reducing exports of raw materials and shipping more processed products.
This had helped Vietnamese goods participate in the global supply chain and attract foreign investment.
Amid international integration, Viet Nam had signed many free trade agreements, especially with big partners such as South Korea, the European Union and the Eurasian Economic Union.
The CPTPP, which took effect from the beginning of the year, had attracted foreign investors, a boon for exports.
Vu Ba Phu, Director of the Viet Nam Trade Promotion Agency, stressed the need for enterprises to improve their production capacity and the value of products to meet consumers' requirements.
Agreeing, Vo Tri Thanh, director of Institute for Brand and Competitiveness Strategy, said Viet Nam had opened its market for not only one country but with many across the world.
"Don't look at exports as just markets. In export promotion, the most basic thing is still a partner. Partners must not only export together but also implement promotion activities, creating networks and value chains. Businesses are no longer the centre in trade today but rather a public. These are fundamental changes in production and trade," Thanh said.
He said that with the FTAs ​​Viet Nam has signed, businesses must not only satisfy a series of difficulties such as rules of origin and technical standards, but also be associated with importers, seek markets and implement customer care.
"The concept of exports is no longer limited in the fact that enterprises bring goods to foreign markets. Supplying products to foreign-invested manufacturers like Samsung in Viet Nam is also exports. This is the on-site export method, which is also a way to help Vietnamese enterprises get into the global supply chain," he added.
Support services like logistics are very limited in Viet Nam. Transport services are mostly exploited by foreign firms, so if local companies could develop this service, Viet Nam will significantly increase its export turnover and growth quality, according to Thanh.
The rise of digital trade is key in export trends. In 2017, the value of digital exports reached VND97 trillion (US$4.1 billion). In 2030, the figure is forecast to reach VND652 trillion.
"Digital trade is not merely e-commerce but also a high potential area for Vietnamese enterprises to exploit in the future," he said.
Global consumption trends have also changed. Consumers are increasingly paying attention to green factors and personality in the product. This makes the market open to green manufacturing industries associated with culture and creative products. At the forum, domestic and foreign economists discussed opportunities and challenges facing Viet Nam's small- and medium-sized enterprises in global value chains.
They also shared ideas on world market trends, as well as issues Vietnamese enterprises should pay attention to when exporting.
Jonas Grunder, deputy head of the Swiss Co-operation Office under the Swiss Embassy in Viet Nam, said Vietnamese enterprises were facing a lot of challenges related to integration barriers, customs procedures and quality requirements.
They were also not adequately informed on the laws of foreign markets, he added.
CPTPP to help Viet Nam export more to Australia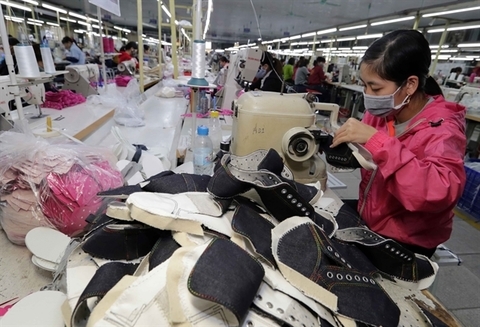 Export turnover of the footwear and leather industry reached nearly US$4 billion in the first quarter of 2019, up 15.3 per cent year on year. Vietnamese enterprises need to research the Australian market to meet customer demands.
Vietnamese enterprises need to take advantage of tariff reductions under the Comprehensive and Progressive Agreement for Trans Pacific Partnership (CPTPP) to increase exports to Australia.
The statement was made by Nguyen Thi Thu Trang, director of the WTO Integration Centre under the Viet Nam Chamber of Commerce and Industry (VCCI), at a press conference in Ha Noi on Friday, themed "Potential of Australian Market Under the CPTPP".
According to Trang, Australia is one of the 20 largest economies in the world, with outstanding potential in science and technology, mineral exploitation, high-quality services and agricultural products.
"Australia is also a market with high purchasing power and stability. Viet Nam and Australia are both members of CPTPP, which will help promote trade and expand the scale of investment and co-operation between the two sides in the future," Trang said.
Although each side had its own potential, strengths and a variety of commodities, the value of Viet Nam's exports to Australia was still modest, she said, adding that the main products shipped from Viet Nam to Australia were footwear and cashew nuts. Viet Nam could also strengthen co-operation with Australia by increasing imports, including technologies that Australia has advantages in as well as consultation services, Trang said.
When exporting to Australia, Vietnamese enterprises needed to understand the market trend, consumer tastes and regulations on food safety and origins to meet the requirements of importers, said Phung Thi Lan Phuong, head of the FTA Division of the WTO and Integration Centre of the VCCI.
"It is worth noting that Australian is one of the most fastidious importers in the world. The room for exporting Vietnamese products is still vast but not for all types of products. Consumer numbers are also smaller than other traditional export markets," Phuong said.
Vietnamese enterprises needed to study carefully to penetrate the market by focusing on agricultural products such as dragon fruit, mango and key export products such as textiles, computers, wooden furniture and telephones, she said.
Dinh Thi My Loan, chairwoman of the Viet Nam Retailers Association, told Viet Nam News that Australian importers expected their suppliers to provide products with good and stable quality on time.
"Australian buyers usually order a sample first because they want to check the products' quality and consumer tastes. If we want to sell more products to them, Vietnamese suppliers must be willing to occasionally accept smaller orders," Loan said.
To approach Australia's retail system, Vietnamese businesses needed to build long-term business strategies which focus on product introduction and branding, trust creation and relationships, Loan said.
"The quality of goods is still inadequate compared to competitors such as China, Thailand, Malaysia and Indonesia."
In order to stand firm in the Australian market, Vietnamese enterprises must regard quality as the top priority rather than focusing on quantity and price, Loan said.
Ha Nam opens e-commerce trading floor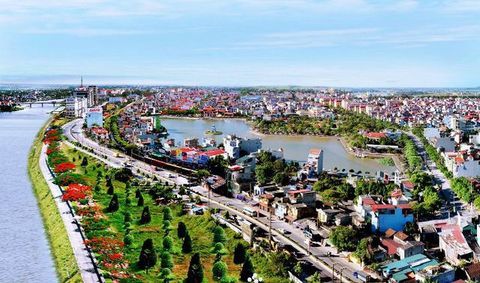 A view of Phu Ly City, Ha Nam Province. Ha Nam has launched an online trading floor for local businesses. — Photo dantri.com.vn
The industry and trade department of Ha Nam Province launched a provincial e-commerce trading floor for local businesses on Thursday.
Dinh Van An, Director of the Ha Nam Department of Industry and Trade, said the trading floor at http://www.santhuongmaihanam.com.vn will provide information about businesses and their products to create favourable conditions for trading online.
This will encourage customers to shop online instead of at traditional stores.
At the same time, this site will be a bridge connecting manufacturers, distributors and customers in trading goods and services as well as local enterprises with their partners in other provinces and cities nationwide.
Speaking at the launching ceremony, Truong Quoc Huy, Vice Chairman of Ha Nam People's Committee, said to gain success in operating the site, the Department of Industry and Trade should co-ordinate with businesses to have enough product information and quality products joining the trading floor to maintain the reputation and brand of the companies.
Vietnam, Canada intensify cooperation in operational audit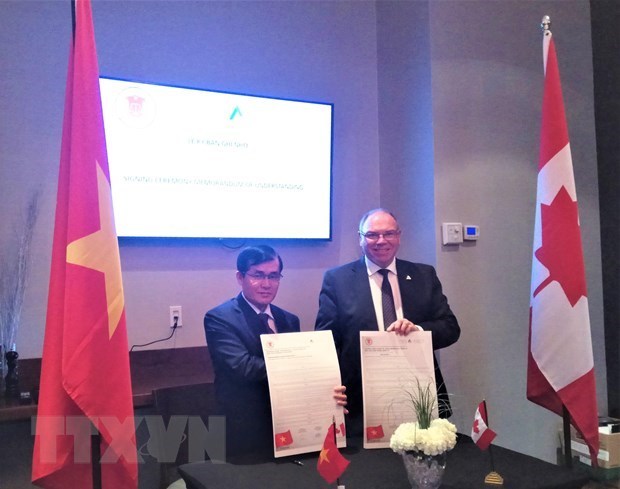 Signing ceremony of memorandum of understanding between State Audit Office of Vietnam and Canadian Audit and Accountability Foundation
The State Audit Office of Vietnam (SAV) and the Canadian Audit and Accountability Foundation (CAAF) signed a memorandum of understanding (MoU) on cooperation within the framework of a working visit to Canada from April 7-12 by a delegation from the SAV and the National Assembly's Finance-Budget Committee.
The signing marked an important milestone, affirming the fine cooperation between the SAV and the CAAF and serves as a foundation for activities of their 2018-2025 Cooperation Programme.
The MoU reaffirms both sides' commitments to implementing cooperation activities included in the programme.
Specifically, the CAAF continues helping the SAV increase its capacity of conducting operational audit activities in prioritized fields such as gender equality, the environment and the implementation of the United Nations' sustainable development goals.
The foundation will also help improve the efficiency of the SAV's information exchange and cooperation with other agencies, and increase the capacity of the NA's supervision agencies in assessing and using operational audit reports, and monitoring the implementation of audit-related recommendations.
During the visit, the delegation from the SAV and the National Assembly's Finance-Budget Committee learnt from the CAAF's experience in conducting and developing operational audit, especially the use and publicity of and dissemination on operational audit results, in order to increase the influence of outcomes of audit activities in general and operational audit in particular on the entire socio-political system.
Trade remedies to be optimised to support domestic industries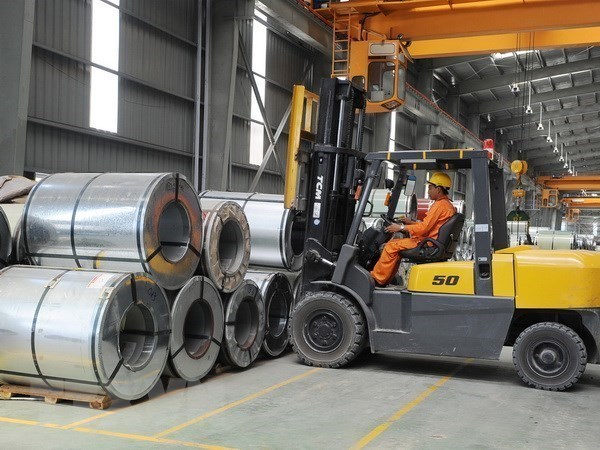 The Ministry of Industry and Trade has issued the general programme on the use of and response to trade remedies to support the development of some domestic industries
Under a recently issued programme, Vietnam is set to step up the use of and response to trade remedies to support the future development of several domestic industries.
The Ministry of Industry and Trade, which issued the general programme for the 2018-2020 period, said anti-dumping, anti-subsidy and self-protecting measures are allowed by the World Trade Organisation (WTO), free trade agreements, and other countries to create a fair competition environment to support domestic production sectors.
Amidst Vietnam's intensive integration into the regional and global economies, trade remedies are becoming an important policy tool, helping to enhance the effectiveness of economic integration into the wider world, it added.
The plan highlights that the application of trade remedies to support domestic industries' development must be based on the full awareness and proper implementation of the Party's guidelines and the State's policies for the field. At the same time, relevant agencies have to comply with all legal regulations and international commitments to which Vietnam is a party.
The programme also noted that mechanisms and policies on trade remedies need to take into account national industrial development strategies and policies, especially those on prioritised sectors, supporting industries, and small- and medium-sized enterprises.
It also specified the key tasks, including perfecting policies and regulations on trade remedies, enhancing the enforcement of legal regulations on trade remedies, improving domestic industries' capacity of using trade remedies, improving state agencies' capacity in this regard, and boosting the protection of sectors' interests in response to other countries' trade remedies.
The Trade Remedies Authority of Vietnam was assigned to coordinate the implementation of this programme.
US-ASEAN Business Council a trusted partner of Vietnam: official
The US-ASEAN Business Council (USABC) will remain a reliable partner of Vietnam, affirmed USABC President and CEO Alexander C. Feldman at his working session with Minister-Chairman of the Vietnamese Government Office Mai Tien Dung in Washington DC on April 11 (local time).
Feldman said he is interested in Vietnam's role as it will become Chair of ASEAN in 2020 and hopes to contribute to the country's success in this role.
According to him, the Vietnamese Government's policies to attract foreign investors, including those from the US, have proved effective thus far.
He appreciated the Government's efforts to solve difficulties facing enterprises, especially revising Decree No.116 on automobile imports, dealing with issues related to e-payment and energy, and creating favourable conditions for US firms to study Vietnam's investment environment.
Speaking at a roundtable discussion with leading officials from US companies such as ExxonMobil, Cheniere Energy, FedEx Express, Ford, Amazon, and Bayer, Dung shared that Vietnam is working to improve the business climate in a substantive manner.
He said he is glad to hear that many major US enterprises are keen on Vietnam's energy sector, as this issue has received special attention from the Government.
Christopher Smith – Senior Vice President of Policy, Government, and Public Affairs at Cheniere Energy – said that the energy company, primarily engaged in LNG-related businesses, has kept a close watch on Vietnam for a long time, and is interested in information related to the country's energy development strategy which focuses on clean and renewable energies.
Founder and Chairman of Energy Capital Vietnam David Lewis stated that his company will be attracting private investments for energy projects in Vietnam.
Forum seeks ways to improve trade promotion measures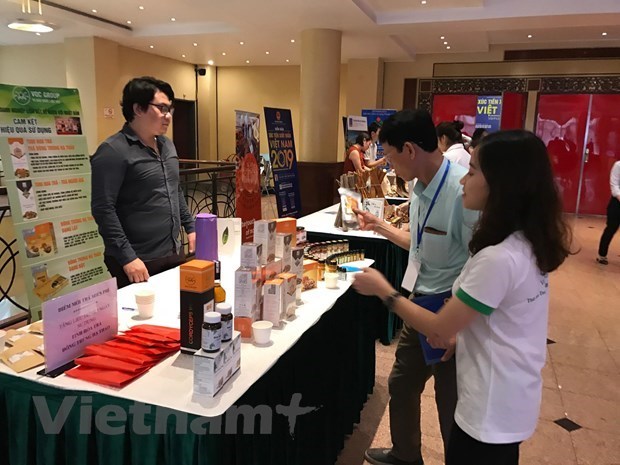 The Vietnam Trade Promotion Agency organised the Vietnam export promotion forum 2019 in Hanoi on April 12, with the aim of seeking measures to improve trade promotion and increase the efficiency of export promotion.
Addressing the event, Deputy Minister of Industry and Trade Do Thang Hai said that the forum focused discussions on new export promotion measures which are suitable to current market approach tendencies, and how to diversify trade promotion activities.
The forum created a venue for businesses, economic researchers, trade promotion organisations, and central and local management offices to exchange views, share experience, and discuss trade promotion measures to effectively boost exports.
According to the official, the structure of Vietnam's export products is changing towards reducing the export of raw materials and increasing the export of processed products.
Vu Ba Phu, Director of the Vietnam Trade Promotion Agency, stressed the need for enterprises to renovate themselves to improve their production capacity and the value of products to meet consumers' increasing requirements.
At the forum, domestic and foreign economists exchanged views on opportunities and challenges facing Vietnam's small- and medium-sized enterprises when participating in global value chains.
They also shared ideas on world market trends, as well as issues that Vietnamese enterprises should pay attention to in order to effectively implement export market development activities.
Jonas Grunder, deputy head of the Swiss Cooperation Office under the Swiss Embassy in Vietnam, said that Vietnamese enterprises are facing a lot of challenges related to integration barriers, customs procedures, and quality requirements.
Moreover, they are not adequately informed on the laws of foreign markets, he added.
Vietnamese, Japanese firms seek investment, trade partnerships

At the business networking event in Ho Chi Minh City

A business networking event was held in Ho Chi Minh City on April 12 to promote trade ties between Vietnamese and Japanese enterprises.
The event, held by the Ho Chi Minh City Union of Friendship Organisations (HUFO) in collaboration with the Vietnam-Japan Friendship Association, and the Japan-Vietnam Friendship Association of Nishinomiya city in the Japanese prefecture of Hyogo, drew the participation of representatives from some 60 Vietnamese businesses and 20 firms from Hyogo and Osaka prefectures.
Speaking at the event, President of the Vietnam-Japan Friendship Association of HCM City Nguyen Cong Tanh thanked the Japan-Vietnam Friendship Association of Nishinomiya city for its coordination to organise the programme, helping to connect enterprises from both countries and develop friendship and cooperation between HCM City and Hyogo prefecture in the fields of trade, economy and investment.
Meanwhile, Sakai Hironori, President of the Japan-Vietnam Friendship Association of Nishinomiya city, said that Japanese companies want to cooperate with Vietnamese firms not only in economy and trade but also in social and charitable activities.
Following the opening ceremony, Vietnamese and Japanese businesses joined in an exchange programme and sought partners in the fields of investment and trade, distribution of food and cosmetics, human resource supply, chemicals and fertiliser, among others.
The Japan-Vietnam Friendship Association of Nishinomiya city was established in September 2016, aiming to become a bridge to promote mutual understanding and collaboration between Nishinomiya and other localities of Hyogo prefecture and Vietnamese cities and provinces in the spheres of economy, politics, education, culture, tourism and people-to-people exchange.
Vietnam-UAE intergovernmental meeting to discuss numerous issues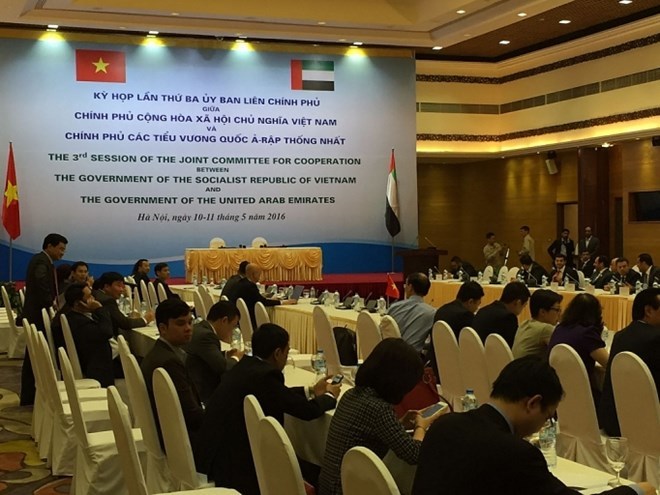 At the 3rd meeting of the Vietnam-UAE Intergovernmental Committee (Source: congthuong.vn)
Vietnamese Minister of Industry and Trade Tran Tuan Anh and United Arab Emirates (UAE) Minister of Economy Sultan Bin Saeed Al Mansoori will co-chair the upcoming fourth meeting of the Vietnam-UAE Intergovernmental Committee in Abu Dhabi on April 18.
The two ministers planned to review the implementation of content agreed in the third meeting's minutes in Hanoi in 2016, such as solving difficulties related to joint ventures and the investment cooperation of enterprises operating in the fields of oil and gas, renewable energy, metallurgy, and ship repair.
They will re-examine the negotiation and signing of cooperation agreements on customs, banking, agriculture, extradition and transfer of sentenced persons; as well as the operation of the direct flight between the two countries.
Regarding specific cooperation measures for the time ahead, the two ministers will discuss the opening of the UAE Consulate General and UAE local representative offices in Ho Chi Minh City and other major cities.
They also discuss the further facilitation of Halal certification for Vietnamese seafood products for export to the UAE, and how to encourage the two countries' enterprises to participate in each other's exhibitions and fairs.
The meeting will focus on promoting the Abu Dhabi Fund for Development to respond to the proposal to finance a transport infrastructure project in the northern mountainous province of Cao Bang of Vietnam; extending the memorandum of understanding (MoU) on the financial sector; and negotiating to add terms related to information exchange to the two countries' agreement on double taxation avoidance.
Notably, the ministers will negotiate and sign MoUs on cooperation between the State Bank of Vietnam and the UAE Central Bank, as well as cultural cooperation; in addition to negotiating the signing of an agreement to recognise the certificate of professional qualifications for sailors under the International Convention on Standards of Training, Certification, and Watchkeeping for Seafarers amended in 1978 and 1979.
They will discuss in detail measures to enhance cooperation in attracting investment and share experiences in the field of renewable energy and technologies to improve efficiency and save energy.
The ministers will also co-chair the Vietnam-UAE Business Forum later in the afternoon as part of the meeting's framework.
The forum is said to be a good chance for Vietnamese firms to directly meet and seek cooperation opportunities with UAE partners in the fields of trade, industry, banking, logistics, and infrastructure.
According to the Ministry of Industry and Trade's Department of Asian-African Markets, the UAE has a population of over 6 million people with a favorable geographical position for the transshipment of goods to countries between the Middle East, North Africa, and Central Asia.
The UAE is currently the third largest re-export centre in the world and a market with great purchasing power and high solvency, as well as great import demand for agricultural products, seafood, and processed products.
The country is the biggest importer of Vietnam in the Middle East and Africa. In 2018, two-way trade turnover hit 5.76 billion USD, of which 5.2 billion USD was Vietnamese exports.
First Chiang Mai-Da Nang flight brings 180 tourists to central region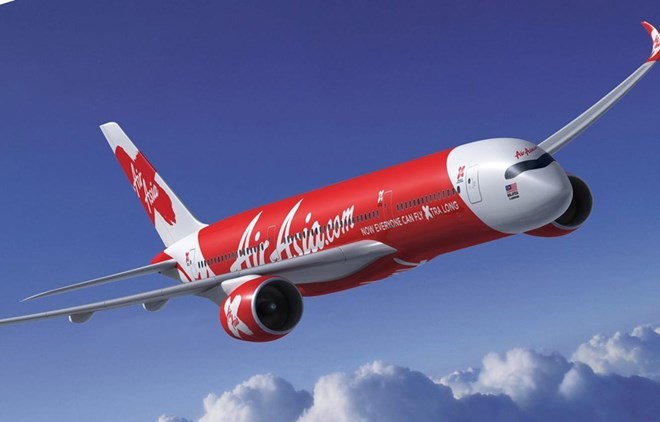 Budget carrier AirAsia's first flight connecting Thailand's Chiang Mai province and Vietnam's central coastal city of Da Nang landed at Da Nang International Airport on April 12, with 180 passengers on board.
The daily flight takes a total of one hour and 45 minutes, departing at 8 am from Chiang Mai and 10:15 am from Da Nang city.
AirAsia already has a Bangkok-Da Nang route with three flights per week, and a Da Nang-Kuala Lumpur route with two flights per week.
According to Vice Director of the Da Nang Centre for Tourism Promotion Huynh Thi Huong Lan, Thailand has become one of the city's biggest sources of tourists in recent years. During the January-March period, the city welcomed nearly 60,000 Thai visitors, up 35.7 percent from the same time last year.
The direct flight will facilitate the travel of people from both countries, she said.
Da Nang has won the heart of both domestic and foreign tourists thanks to its marvelous sandy beaches, stunning natural landscapes, as well as intriguing tourist attractions like Ba Na Hill Mountain Resort, Ngu Hanh Son, Son Tra Peninsula, Linh Ung Pagoda, and Han River, among others.
Recently, the online marketplace and hospitality service Airbnb announced a list of the world's top 10 destinations for 2018, in which Da Nang ranked fifth with bookings surging up to 255 percent.
The New York Times, which has an international readership, has included Da Nang in a list of 52 places to go in 2019. As the third-largest city of Vietnam, Da Nang has gone from a place "best known for being a gateway to the UNESCO Heritage town of Hoi An" to an attraction "with a strong foodie scene and new hotels and resorts popping up on a 5-mile-long beach strip", according to the US magazine.
Meanwhile, Chiang Mai, the largest city in Thailand's northern region, provides an excellent retreat for both couples and families who want to discover the beauty of the nature or indulge in intriguing outdoor experiences like hot air ballooning, animal sanctuaries, and Hang Dong Canyon.
Chiang Mai has risen to stardom with its standout cuisine which can easily be found from night markets to shopping malls and high-end restaurants. For those who want to experience the ancient Lanna culture of northern Thailand, they can visit Wat Phrathat Doi Suthep and Wat Sri Suphan temples.
Vietnamese banks find out car loans not low-hanging fruit as borrowers cheat
Vietnamese banks are struggling to recover overdue car loans since many customers mortgage vehicles bought using bank loans.
Dao Minh Tuan, manager of the debt recovery department at private lender Vietnam International Bank (VIB), said 50 percent of non-performing car loans are because of this.
Borrowers are supposed to get the bank's permission before pawning a car, but most don't, which makes it difficult for the bank to repossess the car, he said.
"Pawn shop owners decline to meet our staff while our customers are unreachable. As the banks do not technically own the car, we have trouble recovering the debt."
Since banks normally lend 80-100 percent of the cost of a car, getting the cars back by paying off pawnbrokers would cost too much, he said.
"The last resort would be to sue the customer, but this will take a long time and cause damage to both sides."
Banks also have to pay a commission to car dealers of 0.7-1 percent and offer competitive interest rates of 7-9 percent in the first year. All this means, in a competitive, crowded segment, banks are unable to earn much.
A banking expert who asked not to be named said: "Banks which want to maintain high credit growth often focus on increasing the amount of car loans, not quality."
Those focused on this segment are usually banks which are not competitive in other areas with higher interest rates, such as real estate, the expert said.
The auto loans segment has seen average growth of 38 percent in 2012-2016, according to data from Viet Capital Securities VCSC.
Trends, branding paramount for agricultural exports to Europe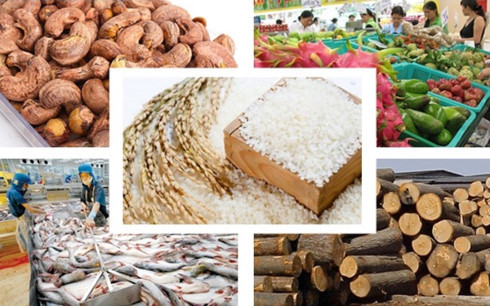 Experts have warned local producers that they must work hard, not only to create quality products, but to keep up with consumption trends and enhance their branding and marketing strategies if they desire to make their products receptive to the European market.
Europe has remained the second largest export market for Vietnamese goods, representing 18 per cent of the country's total exports in recent years.
The honey export company Minh Tam has so far proved efficient in penetrating the European market. Thanks to its non-stop and concerted efforts in seeking reliable sources of market information and branding under the country's program aimed at bolstering exports to Europe, the honey exporter has gained a foothold in the market and is enjoying an increasing export turnover, said Nguyen Thanh Tam, director of the firm.
Tam noted that his firm has even been among the top companies exporting honey to the European market.
According to Nguyen Thi Quynh Ngoc from the Vietnam Trade Promotion Agency, the popularity of Vietnam-branded agricultural products is yet to spread worldwide. Therefore, along with trade promotions, Ngoc urged local producers and exporters to work on making their farm produce stand out from those in other countries.
Additionally, she underscored the need to outline long-term business strategies, including those aimed at improving exporters' competitiveness against their overseas rivals.
Reindert Dekker, an expert from the Netherlands' Centre for the Promotion of Imports from Developing Countries, stressed that Europe is a demanding market with many strict standards set for food quality and safety.
Dekker added that in order to reach the European market, local businesses need to keep up with consumption trends within their sectors. Branding is another important factor in the European market and local firms must offer fresh products with eye-catching branding.
He emphasised the significance of meeting requirements regarding the origin and quality of goods as well as cutting-edge production processes as consumers now want to know where products are produced.
The Dutch expert reaffirmed more stringent requirements for chemical residue on exports to Europe.
Local businesses need to promptly keep pace with new market trends so as to improve their export capacity and graps opportunities. They should pay attention to creating quality products but also raise their awareness of the necessity of a good branding and marketing strategy.
In recent years, Europe has become a major trading partner of Vietnam, while the continent has remained the second largest export market for Vietnamese goods, representing 18 per cent of the country's total exports. Of note, agro-forestry-aquatic products are prefered by European consumers.
In order to deepen their market penetration, experts have called upon domestic businesses and producers to pay more attention to developing standardised material production areas that ensure the compliance of safety criteria set by the European market.