Businesses to work with universities on high-tech development of key industrial products

Enterprises should cooperate with universities and research institutes on high-tech solutions to develop the city's key industrial products, experts have said.
Nguyen Ky Phung, deputy director of the city's Department of Science and Technology, said HCM City had issued policies on key industrial products that would support research and technology development, commercialisation of research results, technology transfer, and incubation of innovation projects.
The city had also strengthened innovation activities in enterprises, focusing on linkages between businesses and research institutes.
"The aim is to develop products that meet international quality standards," he said.
More than 95 per cent of businesses are small and medium sized enterprises with limited resources, according to the official.
Experts said the government, research institutes and enterprises should work together to commercialise research results and help businesses apply high-technology to their products and services.
Large businesses must play a leading role in creating technology platforms for other businesses to follow, he said.
In addition, businesses should work with universities on developing school curricula related to these needs.
Nguyen Phuong Dong, deputy director of the Department of Industry and Trade, said that many enterprises faced challenges using high-tech because they lacked capital or highly skilled staff.
"Businesses need the support and coordination of many agencies," he said.
Tran Quoc Toan, deputy general director of Dien Quang Company, said that research at universities was often not practical and could not be commercialised.
Dien Quang Company, however, had been working with the HCM City University of Technology with the support of the Department of Science and Technology to develop an intelligent public lighting system using LEDs, he said.
During the workshop, state agencies, scientists and businesses signed six cooperation agreements on research programmes to promote the development of the city's key industrial products.
At the end of last year, the HCM City People's Committee issued a decision on the city's key industrial products and potential industrial products for the 2018-20 period.
Key industrial products include precast metal products; electrical equipment products; products made of plastic and rubber; processed food products; beverage products; electronic and IT products; and ready-made apparel.
In addition, potential industrial products include medicines, pharmaceutical chemicals and medicinal products.
The conference, held by the city's Department of Science and Technology, was attended by representatives of universities, research institutes and businesses in the city.
Can Tho calls for Canadian investment in high-tech agriculture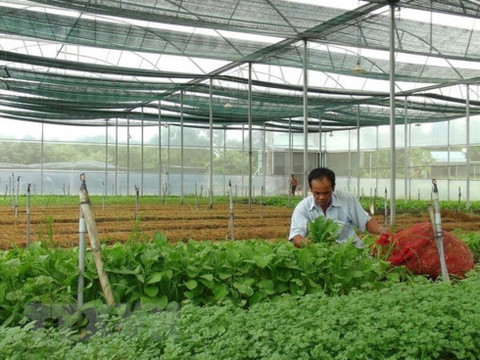 The Mekong Delta city of Can Tho expects to receive Canadian investment in high-tech agriculture so that local staples can meet stringent requirements in some foreign markets.
During a working session in Can Tho on May 13 with Canadian General Consul in HCM City Kyle Nunas, Vice Chairman of the People's Committee of the city Truong Quang Hoai Nam said the Mekong Delta region and Can Tho City in particular hold enormous potential in agricultural products, however, limitations in technologies in post-harvest, processing and packaging mean local goods have failed to enter many choosy markets.
As Canada is a strong supplier of modern machines for production and processing of agro-fishery products, Can Tho hopes to receive the General Consul's support to lure Canadian investment in the field.
"Can Tho City welcomes Canadian infrastructure projects, especially warehouses, roads and bridges, to serve local agricultural economic development," he said.
Currently, Can Tho is calling for foreign investment in a high-tech agricultural station in Vinh Thanh District's Thanh Tien Commune, a high-tech agricultural and ecotourism site in Thanh Tien Commune, infrastructure at Thot Not Industrial Park's second phase, infrastructure at O Mon Industrial Park and many other projects.
According to Kyle Nunas Vietnamese fresh fruits have good opportunities for export if advanced technologies are applied in the growing, harvesting, processing and packaging process.
According to the local Department of External Affairs, Can Tho exported US$7.7 million worth of goods to Canada, with such key staples as rice, seafood and garments. Meanwhile, it spent $1.9 million importing materials and machines from the North American country. — VNS
Strategic partners crucial to Vietnam's economy: VCCI chairman
Strategic partners play a highly important, even decisive, role in Vietnam's economic development, according to Chairman of the Vietnam Chamber of Commerce and Industry (VCCI) Vu Tien Loc.
At a seminar in Hanoi on May 14, he said Vietnam currently has 16 strategic partnerships with major global economies, which are big financial and technological hubs in the world.
These strategic partners and the US, a comprehensive partner of Vietnam, have invested nearly 230 billion USD in Vietnam, while also contributing 50 percent of the nation's total trade revenue, Loc noted.
Virginia Foote, deputy head of the American Chamber of Commerce in Vietnam (AmCham), noted the importance of Vietnam's policy on cooperation with partner countries.
She said many US businesses wish to invest in several fields like energy and transport in the country. They expect more observable improvements in both hard and soft infrastructure, along with the Government's investment and business cooperation policies.
Foote recommended that Vietnam work on its hard and soft infrastructure, develop a non-cash economy, and pay more attention to intellectual property protection. She also pointed out problems in tax collection.
At the event, Hiromitsu Sho, head of the Hanoi office of the Japan External Trade Organisation (JETRO), said that more than 3,200 businesses from Japan – an extensive strategic partner – have invested in Vietnam, with their investment value increasing year-by-year.
In Vietnam, JETRO has been working to promote bilateral business, trade, and investment partnerships and help Japanese firms participate in building the vision for developing local supporting industries. As a result, the rate of locally-made components in their products and the number of Japanese businesses in Vietnam have been growing.
He cited a JETRO survey as finding that more than 70 percent of Japanese companies plan to expand investment in Vietnam, demonstrating the country's attractiveness to Japanese firms. JETRO and Japanese firms see Vietnam as a country with a big market, low labour cost, and good living conditions for foreigners.
However, to further enhance the two countries' investment and trade, apart from labour costs and administrative procedures, the investment climate also needs to be improved with greater strength, he added.
Vietnamese, Lao businesses enhance partnership
A cooperation deal has been signed between the Vietnam Business Association for Cooperation and Investment in Laos (BACI) and the Young Entrepreneurs Association of Laos (YEAL), expected to open up more partnership chances for the countries' businesses.
At the signing ceremony in Vientiane on May 14, BACI Chairman Nguyen The Hien said Vietnamese businesses are investing over 4.1 billion USD in more than 400 projects in Laos. Enterprises of both sides are working together to bring cooperation in various fields like mining, agriculture and services on par with the countries' potential and advantages.
He underlined that bilateral cooperation outcomes in recent years have demonstrated efforts by Vietnamese and Lao businesses, governments, ministries, and sectors.
The BACI's establishment was one of the practical activities of the Vietnamese Government and business community to improve their investment's effectiveness in Laos, Hien said, noting that his association has become a true bridge for bilateral trade and investment ties.
He said the BACI-YEAL agreement will continue opening up many opportunities for investment cooperation, thus contributing to each country's development.
For his part, YEAL Chairman Khamsen Sisavong said the YEAL-BACI cooperation is important to both at present and in the future. The two associations should also make use of opportunities to coordinate more closely to help solve youth unemployment in Laos.
He asked them to jointly organise discussions on partnership in developing export products and set up a cooperation board to boost substantive ties. He also called on Vietnamese firms working in the finance-banking sector of Laos to create favourable conditions for local companies to access soft loans.
At the meeting, the countries' businesses also inked five cooperation documents.
Founded in 2010, the BACI now has 100 member companies. Meanwhile, there are more than 800 firms that are members of the YEAL, which was set up in 2002.
Vietnam steps up trade promotion in South Africa
Trade promotion activities will create more opportunities for Vietnamese products to penetrate South Africa – its largest trade partner in Africa, an official from the Vietnamese Ministry of Industry and Trade (MoIT) has said.
Nguyen Thao Hien, deputy head of the MoIT's European-American Market Department, made the remarks at a workshop that sought to put Vietnamese products on supermarket shelves in South Africa held in Johannesburg on May 14.
She led a Vietnamese trade promotion delegation, including leading food producers and processors, to South Africa from May 10-14, to introduce Vietnamese products to local consumers.
Although trade revenue between Vietnam and South Africa has increased over the years and exceeded 1 billion USD in 2018, the two countries have potential to further bilateral trade, especially in food production and processing and seafood, Hien said.
At the workshop, Vice President of the Johannesburg Chamber of Commerce and Industry Jacki Luthuli lauded the MoIT and Vietnam's Commercial Affairs Office in South Africa for their efforts in trade promotion.
Trade promotion activities will be important premises to strengthen trade ties, she said.
This is the first time Vietnam has sent a specialised trade promotion delegation to the African market in an effort to encourage Vietnamese firms to directly export their products abroad.
While in South Africa, the delegation coordinated with the Chamber of Commerce and Industry of Cape Town to hold another trade promotion workshop in the locality.
They also had a working session with representatives of Advance Cash & Carry – the largest distributor in South Africa, and displayed Vietnamese products in local supermarkets.
According to Dao Manh Duc, head of the Vietnamese Commercial Affairs Office in South Africa, South Africa remained Vietnam's largest trade partner in Africa in 2018 with export-import turnover exceeding 1 billion USD, up 11.7 percent year-on-year and making up 16 percent of total trade value between Vietnam and African nations.
To enhance trade between Vietnam and South Africa, many Vietnamese trade promotion delegations are scheduled to visit the country in the near future.
A delegation led by a representative of the MoIT will attend the 26th South African International Trade Exhibition in Johannesburg in June, and another delegation of businesses will come to the country to study its support industry in the leather and footwear sector the same month.
Statistics released by the MoIT's Asian-African Market Department show that total export-import turnover between Vietnam and 53 out of 55 African countries was estimated at 6.6 billion USD in 2018, of which export value hit some 3 billion USD, up 10 percent year-on-year.
Egypt was Vietnam's second largest trade partner in Africa, after South Africa, with trade revenue reaching 439 million USD, a rise of 36.6 percent from the previous year.
Hoa Phat exports steel cords to Malaysia for first time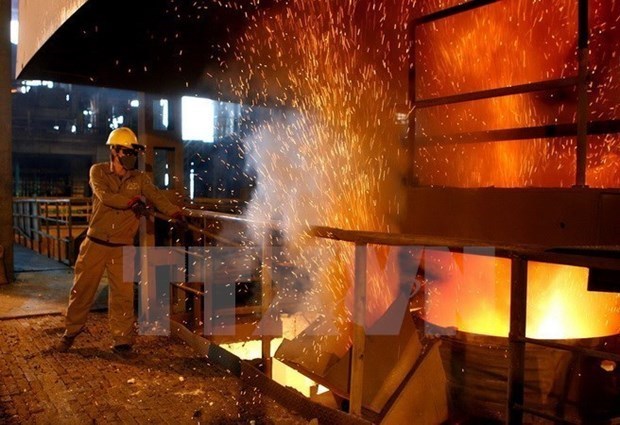 The Hoa Phat Group has exported two containers of steel cords to Malaysia for the first time after winning markets in the US, Canada, the Republic of Korea, and Laos.
Deputy Director of the Hoa Phat Equipment & Accessories Co., Ltd Vu Thi Anh Tuyet said this first batch will open up opportunities for the company to receive more orders.
Earlier, Hoa Phat mostly shipped construction steel and steel pipes to Malaysia.
Its products have been recognised by the Vietnam Certification Centre for meeting the standards of the American Society for Testing and Materials, the British Standards Institution, and the Japan Industrial Standards Committee.
Last year, steel cord exports brought the group a revenue of over 6 million USD.
Since late 2018, Hoa Phat imported production line equipment to manufacture galvanised steel cord to double its capacity.
In September 2019, the second stage of the plant will go into operation.
Quang Ninh woos investment in EZs, IPs with incentives
The northern coastal province of Quang Ninh is offering various incentives and preferential mechanisms to encourage investors to invest in economic zones (EZs), industrial parks (IPs) and border economic zones (BEZs) in the province.
At a press briefing on May 14, Vice Chairman of the provincial EZ management board Hoang Trung Kien said besides general policies, the province has issued its own investment support measures such as preferential rules on land lease and land allocation for building resettlements for those investors.
In particular, the province shares 30 percent of the land clearance costs immediately after an investor submits an investment plan. As a result, land clearance work at local IPs is going on smoothly. Some examples are the Viet Hung IP with 124 out of the total 151 ha of land already cleared, the Hai Yen IP with 85 out of 182 ha of land and the Texhong IP with 300 out of 660 ha of land cleared.
For secondary investors in IPs, the province promises support in workers' training, trade promotion, technology transfer and cost in publishing announcements on firms' establishment and product advertisements on the province's portal and the IP management board's website.
At present Quang Ninh has 11 IPs, 1 coastal EZ (Van Don) and three planned BEZs, which are located in 11 districts, towns and cities. They cover a total area of more than 368,000 ha, or 30.2 percent of the province's area.
In the first five months of this year, nearly 3 trillion VND (128.2 million USD) was poured into EZs and IPs in Quang Ninh, including 27.87 million USD of foreign investment.
Meanwhile, the three BEZs - Mong Cai, Bac Phong Sinh and Hoanh Mo-Dong Van – have attracted 95 investment projects, including 17 foreign invested ones capitalized at nearly 298 million USD. The remaining are run by domestic investors with total investment of nearly 10.2 trillion VND (430 million USD).-VNA
German machinery firms seek opportunities in Vietnam
The German Machine Tool Builders' Association (VDW) and the German Chamber of Commerce and Industry (GIC) held a seminar in Ho Chi Minh City on May 14 to discuss Germany's new inventions in machine tool manufacturing.
Leading German machinery and tool manufacturers introduced their new products and technologies, including digital solutions, to Vietnamese firms.
They expressed hope to seek opportunities to export machinery, tools, and technologies in service of Vietnam's major economic fields, such as mechanical engineering, auto manufacturing, aviation, digital technology, and medical equipment.
Chief Representative of GIC in Vietnam Marko Walde described Vietnam as a promising market for Germany on the back of its rapid economic development, the Comprehensive and Progressive Agreement for Trans-Pacific Partnership (CPTPP) and the European Union–Vietnam Free Trade Agreement (EVFTA).
Statistics showed that last year, Vietnam's import of machinery and tools from Germany surged by 215 percent.
Germany is now the most important partner of Vietnam in the EU, providing the majority of machinery and tools for the Southeast Asian country.
Vietnam Airlinessets 2019 revenue target of $4.86 billion
Vietnam Airlines on May 10 successfully organised its 2019 general shareholders' meeting (AGM) with the participation of the Commission for the Management of State Capital (CMSC), as well as representatives from the Ministry of Transport and Vietnam Airlines' shareholders.
Speaking at the meeting, Nguyen Thi Phu Ha, vice chairwoman of the Committee for State Capital Management (CMSC), said: "Vietnam Airlines (VNA), as the national airline, has made great efforts to fulfil its plan, contributing to the overall development of the domestic aviation industry. During the four years of operations as a joint stock company, VNA's production and business results were always higher than in the previous year. In 2018, VNA has also achieved its targets."
Pham Ngoc Minh, VNA chairman, said: "Although the aviation market continues to have many challenges, 2019 is an opportunity for VNA to confirm its position in the aviation market and in the business community. We will focus on implementing the tasks assigned by the AGM, ensuring safe operations, continuing the programme of reforming our aircraft fleet, and improving business administration towards sustainable growth. "
VNA shareholders discussed and voted to approve important issues such as the company's report on the business results in 2018 and main targets of production and business plan in 2019, audited financial report for 2018 and plans to distribute profit and dividend, plan to strengthen the Board of Control as well as developing the fleet in 2021-2025, the investment policy to buy 50 narrow-body aircraft in the period 2021-2025, and some other important contents.
The shareholders appreciated VNA's many achievements in 2018. Consolidated revenue was at a record, reaching VND98.95 trillion ($4.3 billion), up 1.9 per cent compared to the plan. The aviation company also achieved the largest consolidated pre-tax profit so far with VND3.3 trillion ($143.5 million), exceeding the plan by 36.8 per cent. In particular, the parent company contributed VND73.227 trillion ($3.18 billion) in revenue and VND2.418 trillion ($105.13 million) in pre-tax profit, exceeding the target set by the 2018 AGM by 23.4 per cent. The debt to equity ratio has reached 2.58, lower than at the beginning of 2018 and the set target.
In 2018, VNA successfully performed over 141,300 flights, safely transporting nearly 22 million passengers, maintaining four-star international service standards and its on-time performance (OTP), with improving labour productivity, income, and welfare for workers.
With good business and production indexes, VNA has been rising on the UPCoM and is appreciated for its high liquidity and large market capitalisation at approximately $2.6 billion.
Since May 7, 2019, VNA has completed procedures to officially list HVN shares on HSX. The listing on HSX created favourable conditions for the corporation to improve its reputation, transparency of information, increase the liquidity of stocks, and access many sources of new capital.
Previously, VNA also completed the plan to offer shares to shareholders to increase its charter capital. As a result, the company's capital value increased by VND1.9 trillion ($82.6 million), bringing its charter capital to VND14.18 trillion ($616.5 million).
VNA's efforts to improve and enhance its brand continue to be recognised by the domestic and international community through a series of prestigious awards. This is the third consecutive year that Skytrax, the international air transport rating organisation, recognises VNA as a four-star international airline. With the brand value of $416 million, according to Brand Finance, VNA also advanced one rank among the Top 10 strongest and most valuable brands in Vietnam in 2018.
With such impressive business results, VNA will pay 10 per cent dividends for 2018 in cash (equivalent to over VND1.418 trillion – $61.7 million), 2 per cent higher than in 2017. This ratio is consistent with the business results of 2018 and the regulations of the state, ensuring the balance of cash flows and financial balance for the expanded investment, production, and business activities of the corporation in 2019 and the following years.
Regarding the 2019 business and production plan approved by the AGM, VNA strives to reach the target of 24.9 million total passenger transport volume. The consolidated revenue target is more than VND111.7 trillion ($4.86 billion), in which the parent company reached over VND82.5 trillion ($3.59 billion). The consolidated pre-tax profit target is nearly VND3.4 trillion ($147.83 million), of which the parent company expects to reach nearly VND2.7 trillion ($117.4 million).
In the first quarter of 2019, VNA's business activities continued to be positive, with total consolidated revenue of nearly VND26 trillion ($1.13 billion), consolidated pre-tax profit of VND1.58 trillion ($68.7 million), reaching 45 per cent of the whole year plan. The parent company reached VND19.3 trillion ($840.52 million) in revenue, up 5.5 per cent over the same period and VND1.28 billion ($55.61 million) in pre-tax profit, up 36.6 per cent over the same period.
Nguyen Kim acquires Ladophar
Electronics retailer Nguyen Kim Trading JSC's purchase of a stake in Lamdong Pharmaceutical JSC (Ladophar) will heat up the pharmaceutical sector in Vietnam.
Nguyen Kim has published the information about the purchase of an additional 1.36 million shares at Ladophar from existing 2.6 million shares to increase the holding in Ladophar to 51.15 per cent.
The company has yet to disclose the valuation of the deal, however, previously, Nguyen Kim offered VND25,600 per share, VND6,000 lower than the listed value of Ladophar, thus the deal is estimated at VND35 billion ($1.52 million).
Ladophar is an affiliate of Nguyen Kim, which already holds 24 per cent of the drug company's charter capital. Nguyen Kim started investing in pharmaceuticals in 2014 after purchasing a 10 per cent stake in Ladophar. After that, it increased its capital in the company to 24 per cent.
Starting in 2017, Nguyen Kim proposed buying more Ladophar shares to turn it into a subsidiary, however, its previous bids for the State Capital Investment Corporation's portion of the pharmaceutical firm were unsuccessful.
In order for this latest deal to succeed, the company has repeatedly tried raising its ownership in Ladophar to above 51.14 per cent.
At the previous proposals, Nguyen Kim committed that if the deal succeeded, it would join the management of the core business lines of the pharmaceutical company, including oriental medicine production, commercial medicines, medical equipment and importing drugs.
Nguyen Kim committed that if the deal succeeded, it would join the management of the core business lines of the pharmaceutical company, including oriental medicine production, commercial medicines, medical equipment and importing drugs.
During its time as a subsidiary of Nguyen Kim, Ladophar reported bleak business results in 2018 and the first quarter of this year. Notably, in 2018 the company acquired VND435 billion ($18.9 million) in revenue, down 18 per cent on-year while its gross profit also decreased from VND76 billion ($3.3 million) to VND58 billion ($2.5 million). Meanwhile, sales expenditures soared.
This year, the company targets to earn VND460 billion ($20 million) in revenue and VND5 billion ($217,391) in pre-tax profit, however, at the end of the first quarter of this year, Ladophar reports a loss of VND2.4 billion ($104,347).
In addition to Ladophar, Nguyen Kim also poured dozens of billions of dong into FT Pharma.
According to Business Monitor International (BMI), the 2017 revenue of the Vietnamese pharmaceuticals sector was $5.2 billion (VND117.52 trillion), which it forecasts will rise to $7.7 billion (VND174.02 trillion) in 2021.
The demand for pharmaceutical products rapidly expanded as a consequence of high economic growth, rising per capita income, and a higher population. However, domestic companies satisfy only 50 per cent of the market demand, while the rest of the pharmaceuticals have to be imported.
The Vietnamese pharmaceutical market continues to turn heads across the globe and will turn up the heat in the market, which is good news for investors.
In recent years, many electronics companies have moved into the distribution of drugs, including Mobile World Group's investment in the Phuc An Khang drug chain or FPT Digital Retail Company's investment in Long Chau Pharmacy.
This promising market has many retail chains, such as Mobile World (1,065 stores), FPT (519), and Nguyen Kim (58). These technology retailers may apply their store chain management format for the pharmaceutical business, which could help them take large market shares.
Growth quality concerns over disproportionate investment in Saigon real estate
Real estate attracted the highest proportion of capital by far into Saigon Jan-Apr, raising sustainability concerns.
A recent report on the socio-economic situation of Ho Chi Minh City in the first 4 months of 2019 says real estate accounted for 32.7 percent of all domestic investment into the city, the highest proportion, followed by the sale and maintenance of motor vehicles, at 17 percent.
Investments in processing and manufacturing were so negligible that they did not merit mention in the list.
Real estate also made up the lion's share of foreign investment registered for the city in the four months, at 46.8 percent, while the tally for the processing and manufacturing sector was only 6.7 percent.
Nguyen Thanh Phong, Chairman of HCM City People's Committee, has expressed concern that capital was being overwhelmingly directed at real estate instead of production, threatening the quality and sustainability of growth.
"In order to promote sustainable growth, resources should be focused on developing processing and manufacturing. Even at the recent HCM City Investment Conference, there was no talk on manufacturing projects, it was all about real estate, and real estate ..." he observed.
Phong said the city's processing and manufacturing industry still has a lot of potential. For instance, the food industry is still in its infancy, while the city is geographically connected to major agricultural regions like southeastern Vietnam and the Mekong Delta.

He has assigned the municipal Department of Planning and Investment to coordinate with the Department of Industry and Trade to actively seek investors for these sectors.
"We can't sit and wait for them to invest in the right areas," Phong said.
HCMC recorded nearly VND271 trillion ($11.61 billion) in total domestic investment in the first four months of 2019, down 3.9 percent over the same period last year.
Of this, VND211.7 trillion ($9.07 billion) were capital registered for 13,094 newly incorporated enterprises, and VND59.3 trillion ($2.54 billion) was capital supplements in existing ones.
Tra fish exports to Japan skyrocket in four months
Tra fish exports to Japan leaped by 61.5 per cent on year to reach US$11.54 million in the first four months of the year, thus putting the Japanese market on the list of top ten importers of such product for the first time.
Soaring tra fish exports to Japan marks local firms' initial success in conquering the market as Japanese consumers allegedly prefer seafood to farm-raised fish.
Vietnam Economic Times cited statistics from the Vietnam Association of Seafood Exporters and Producers (VASEP) as showing that the country racked up US$609 million from tra fish exports in the four – month period, a year on year rise of 4.2 per cent.
China topped the list of tra fish importers with the import value of US$136.9 million, an annual rise of 3.9 per cent. It was followed by the EU with the trade turnover worth US$95 million, and the US with US$87.15 million, up 13.8 per cent.
Japan was ranked 8th among the ten biggest importers of Vietnamese tra fish with the import value reaching US$11.54 million. Most notably, the value of tra fish exports to Japan was higher than those recorded from the United Arab Emirates, Egypt, Germany, and Belgium.
The soar in tra fish exports to Japan marks local firms' initial success in conquering the market as Japanese consumers allegedly prefer seafood to farm-raised fish. It also implies a shift in consumption behavior in the demanding market.
In 2011, tra fish exports to Japan stood at US$2.56 million, equal to only 0.14 per cent of the country's total export value of such product. However, the 2018 figure has seen a 12-fold jump against 2011.
Tra fish exports currently enjoy tariff incentives from Japan. According to preferential treatment under the Economic Partnership Agreements (EPA) announced by Japan Customs, fresh and frozen catfish fillets imported from Thailand, Mexico, Chile, and the Philippines have been immune from tariffs since April, while those shipped from the ASEAN block are subject to a tariff rate of 3.5 per cent.
Indeed, tariffs levied on some aquatic products imported from Vietnam have been lifted in line with the Japan – Vietnam Economic Partnership Agreement and the ASEAN – Japan Free Trade Agreement.
More importantly, several aquatic products sent to the Japanese market are immune from tariffs according to the Comprehensive and Progressive Agreement for Trans-Pacific Partnership (CPTPP) which both Vietnam and Japan are signatories to. The CPTPP allows tra fish products to be exempt from the tariffs of 3.5 to 10.5 per cent as imposed previously.
The three pacts are expected to open up fresh opportunities for Vietnam's export of tra fish to Japan. VASEP sets high hopes for tra fish firms to penetrate more deeply into the Japanese market.
VietBuild exhibition comes to Da Nang

More than 1,000 pavilions of 300 businesses from the US, Germany, Italy, Spain, Portugal, Japan, mainland China, India, Malaysia, Taiwan, Korea and Viet Nam will display their products at the International Vietbuild Exhibition on May 15-19.
Head of the organising board, Nguyen Dinh Hung, said 129 joint-venture and foreign businesses have registered to show off their production at the annual exhibition.
Hung said the exhibition – the largest ever in Da Nang since the first in 2004 – will focus on new construction materials, solar energy technology, furniture, 'green' technology, sustainable solutions and real estate.
"It will be one of the largest construction exhibitions in Viet Nam since it debuted in 1995. Da Nang has been a top location for the event with good infrastructure and tourism services," Hung said.
"50 per cent of participating businesses will introduce smart home facilities and new construction materials at the exhibition including solar power, air filters, nano-tech cement and environmental-friendly furniture and materials."
The exhibition will host different forums and conferences on new material for smart home architecture and design, while business matching events will be held at the exhibition centre.
HCM City, Ha Noi, Da Nang and Can Tho are regular destinations for 10 events of the Vietbuild exhibition annually, attracting the participation of 100,000 pavilions from 1,000 domestic and foreign enterprises.
Da Nang, which plays an important role as a logistical centre for the coastal central region and the East-West Economic Corridor that links Laos, Thailand, Myanmar and Viet Nam, is designed as a leading ASEAN city.
Seafood processor Hung Vuong continues to sell assets amid debt burden

Seafood processor Hung Vuong Joint Stock Corporation has agreed to sell its entire stake in Hung Vuong Song Doc JSC – its latest move to liquidate assets to pay debts.
In a filing to the Ho Chi Minh Stock Exchange, management board of the company approved the selling of more than 3.2 million shares, accounting for 51 per cent in Hung Vuong Song Doc, but did not specify when the transfer would occur.
Hung Vuong has started to sell its assets since 2017 as part of debt payment rescheduling with creditor banks. Its total assets fell 36.7 per cent, from VND13.9 trillion (US$596.6 million) in September 2017 to VND8.8 trillion in March 2019.
The number of its subsidiaries and affiliates decreased from 13 by the end of 2018 to nine as of March.
The company has liquidated its real estate properties and decided to dissolve the An Lac Real Estate in which it held 76 per cent of the capital last year. It also divested its entire ownership of 54 per cent capital in Sao Ta Foods, cut its stake in Viet Thang Aquafeed from 90.36 per cent to 33.16 per cent and sold Tan Tao Cold Storage 2.
Despite the sale of assets, the company is still in financial trouble, having received disappointing results from the 14th administrative review (POR14) for antidumping duty in the US with a tax of up to $3.87 per kg (compared to zero tax in the preliminary results).
Despite net profit of VND6.7 billion in the first three months of this year, Hung Vuong is burdened with total debt of VND6.63 trillion, of which short-term debt from banks is about VND3 trillion.
The firm's equity is VND2.2 trillion and cumulative losses reached more than VND398 billion.
Ernst & Young, the firm's auditor, has emphasised the business operation of the company depends on its ability to arrange cash flow, restructure bank debts and make profits in the future.
Cash flow from operating activities of the company was negative VND107 billion in the first quarter of this year, a worsening situation compared to a positive cash flow of VND557 billion in the same period last year.
Shares of the company, code HVG on the Ho Chi Minh Stock Exchange, halved in value in a month after the POR14 result, dropping from VND8,000 per share in mid- April to VND3,700 each on Monday.
US-funded firms hoped to take lead in connecting with Vietnamese peers
Chairman of the Vietnam Chamber of Commerce and Industry (VCCI) Vu Tien Loc has said he hopes US-invested firms will pioneer in generating links between the foreign direct investment (FDI) and domestic sectors in Vietnam.
According to Loc, FDI enterprises invest in production in Vietnam, but import most of their materials and spare parts rather than purchasing from domestic firms. They use Vietnamese labourers and take advantage of the country's available resources.
Vietnam is at the threshold of new investment structure and trade development toward sustainability as well as higher quality and value added. The US is one of the top partners of Vietnam in such progress, Loc stressed.
The bilateral trade increased by 133 times from 450 million USD in 1994, when the US lifted its trade embargo against Vietnam, to more than 60 billion USD in 2018. Last year, Vietnamese exports and imports to the US were recorded at 47.52 billion USD and 12.75 billion USD, up five and eight times annually, respectively.
As of March 31, the US invested a total of 9.15 billion USD in Vietnam, ranking 11th among the foreign investors in the country. Vietnamese and US enterprises have so far worked together to launch projects in processing – manufacturing, clean energy, aviation, health and medicine.
Charles Freeman, senior vice president for Asia at the US Chamber of Commerce, said the agency has drafted a series of recommendations to boosting Vietnam – US trade based on their Trade and Investment Framework Agreement (TIFA) and other specific agreements in digital economy, customs – trade facilitation, and infrastructure, among others.
Earlier, the Vietnam-US business summit, the third of its kind, took place on May 10, attracting representatives of 250 businesses from both countries, including Exxon Mobil, Amazon, Coca-Cola, Google, Facebook, Paypal, and Visa. The event marked 25 years of bilateral trade-investment relations.
Fuel price stabilization fund proposed to be disbanded
The Vietnam Petroleum Association (VINPA) has written to the Government proposing disbanding the fuel price stabilization fund as it brings no benefits for either consumers or fuel traders.
According to VINPA, the use of the fund has left a gap between domestic and global fuel prices. Therefore, the fund disbandment will help regulate the domestic fuel price in line with global price movements and ensure the transparence of adjustments to the domestic fuel price.
Fuel traders have complained that they have to extract VND300 for every liter of fuels sold to consumers, but they are not allowed to use the amount. However, when the fund faces a deficit, fuel traders have to compensate for the deficit.
In addition, the higher the sales of E5 bio-fuel are, the less money fuel traders receive from the price stabilization fund. Meanwhile, the fund for those who do not provide E5 bio-fuel is stable.
Ba Ria-Vung Tau calls for expy project to be sped up
Ba Ria-Vung Tau Province's Department of Transport on May 13 sent a report to provincial leaders on solutions to speed up the construction of Bien Hoa-Vung Tau expressway, Tuoi Tre newspaper reported.
At a meeting between the provincial leaders and relevant departments, the department proposed three solutions: linking the HCMC-Long Thanh-Dau Giay expressway with Cai Mep-Thi Vai Port, with National Highway 55 in Ba Ria City or with Vung Tau City. The project may be developed under either the public-private partnership or build-operate-transfer formats.
Participating departments and agencies and the provincial leaders said that it was necessary to choose a solution that allows the expressway to stretch to National Highway 55 to ease rising traffic congestion faced on National Highway 51.
Further, the solution should spur the development of industrial zones in the Dat Do and Chau Duc districts in Ba Ria-Vung Tau Province and boost the tourism sector in the towns of Long Hai and Phuoc Hai and in Xuyen Moc District.
The Ministry of Transport had earlier planned to construct the Bien Hoa-Vung Tau expressway with a starting point in Bien Hoa City, but that plan has yet to be deployed. As a result, the provincial Department of Transport has suggested selecting a starting point along the HCMC-Long Thanh-Dau Giay expressway.
The Bien Hoa-Vung Tau expressway is one of Ba Ria-Vung Tau Province's key projects, featuring high regional connectivity and fostering the growth of the province's deepwater container terminal. As such, the province wants the project to pick up steam.
Ba Ria-Vung Tau Province will work diligently with Dong Nai Province to reach an agreement before proposing the prime minister and Ministry of Transport permit the province to act as the main investor for the Bien Hoa-Vung Tau expressway project.