Investor permitted to start survey for giant offshore wind power farm
UK based Enterprize Energy (EE) announced it had received a licence to conduct survey for a giant wind power farm offshore Ke Ga cape in the south central province of Binh Thuan.
At the announcement ceremony held on June 13 in Binh Thuan, EE founder and chairman Ian Hatton said the corporation will conduct survey on an area of 2,800 square kilometres about 20-50 km from the Binh Thuan shore. The wind farm, named Thanglong Wind, will cover just 25-30 percent of the surveyed area.
Based on the survey, the EE will make necessary reports in accordance with the law, with the aim of connecting the first phase of the Thanglong Wind project to the national grid at the end of 2022 or early 2023.
The first phase of the project will build 64 turbines with total capacity of 600 MW.
The following four phases, each with capacity of 600MW, will be commissioned during the period fro 2023 to 2026.
The last phase, Thanglong Wind 6 will have a capacity of 400 MW, bringing the total capacity of the project to 3,400 MW.
Total investment in the project is estimated at 11.9 billion USD, excluding the costs for connecting the farm with the national grid.
According to Hatton, the project will turn Vietnam into the leading country in Southeast Asia in developing offshore wind power.
On the occasion, EE launched the official website of the project at Thanglongwind.com.
Solutions sought for construction of aviation logistics hub in Can Tho
Authorities of the Mekong Delta city of Can Tho on June 13 held a meeting with the Vietnam Airlines Corporation to discuss the implementation of an aviation logistics hub project in the city.
At the event, Deputy General Director of Vietnam Airlines Trinh Hong Quang said the corporation had opened three logistics centres at Noi Bai, Tan Son Nhat and Da Nang international airports, but it is difficult to expand these centres due to the lack of land.
Meanwhile, the airport in Can Tho city has favourable conditions for such a centre, he said, explaining that the city is an economic hub of the Mekong Delta and located in a route linking Ho Chi Minh City and south-western localities.
[Vietnam Airlines team up with Can Tho to develop aviation logistics]
According to Quang, an aviation logistics hub in the city will contribute to logistics development in the region, reduce overloading in the Tan Son Nhat and Long Thanh airports and bolster economy and trade.
The logistic centre is envisioned to be built next to Can Tho International Airport at a cost of 82.9 million USD to meet the increasing demand of goods transportation by international and domestic airlines.
Along with the construction of the logistics centre, Quang said the corporation will open new routes from Can Tho city to other destinations in the country and abroad.
Director of the Can Tho Department of Industry and Trade Nguyen Minh Toai said the aviation logistics hub is hoped to facilitate the transport of farm produce, aquatic products and seafood of the city and the Mekong Delta.
At present, about 70-80 percent of export goods in the Mekong Delta are transported to Ho Chi Minh City or southeastern provinces for export.
Speaking at the meeting, Vice Chairman of the municipal People's Committee Truong Quang Hoai said Can Tho is ready to create favourable conditions for Vietnam Airlines to build the planned logistics hub.
Promotions help boost auto sales in May
Vietnamese automobile manufacturers and distributors had a banner month in May as the sales of car experienced a strong monthly growth of 30 percent following a line-up of promotions and discount programmes.
A total of 27,373 units were sold in May, surging 18 percent from the same time last year, the Vietnam Automobile Manufacturers' Association (VAMA) said. The sales included 19,517 passenger cars, 7,345 commercial cars, and 511 special purpose vehicles.
VAMA reported the sales of locally-assembled cars saw modest growth of 8 percent to 15,162 units while that of imported vehicles increased sharply by 75 percent to 12,211 units.
Giants such as Truong Hai Auto Corporation (Thaco), Toyota, Mitsubishi, Ford and Honda claimed the majority of market share. Domestic automaker Thaco led car sales in Vietnam with 7,540 vehicles sold in May (down 14 percent from April), followed by Toyota Motor Vietnam with 6,321 units (up 51 percent).
Meanwhile, Honda Vietnam and Ford Vietnam lost grounds to Mitsubishi, which recorded 3,088 units in car sales in the month. Ford came in 4th place with 3,000 sold vehicles, and Honda in 5th place with 2,975 cars.
During January-May, total car sales in the country reached 126,646 units, a year-on-year increase of 22 percent.
According to VAMA, price cut was a good strategy to attract buyers.
Toyota Vietnam slashed prices up to 169 million VND (7,240 USD) for its Toyota Hiace model, 40 million VND (1,713 USD) for Toyota Fortuner, and up to 80 million VND (3,427 USD) for Corolla Altis vehicle.
Thaco also raced to reduce auto prices, with CX-5 model 78 million VND (3,342 USD) cheaper than the listed price. Earlier, the firm decided to reduce the price of Mazda 3 vehicle by 50 million VND (2,142 USD).
WTO Trade Facilitation Agreement to boost exports of MSMEs
The World Trade Organisation (WTO) Trade Facilitation Agreement (TFA) will help micro, small- and medium-sized enterprises (MSMEs) further diversify exports and expand markets, as well as improve GDP growth in Vietnam, experts said at a seminar held in Ho Chi Minh City on June 13.
Representatives from APEC-member economies, including government officials, MSME policy-makers, the private sector, and MSMEs discussed the benefits of the agreement at a two-day APEC capacity-building workshop.
Nguyen Khuong Duy, a lecturer at Bocconi University in Italy, explained that trade facilitation means "simplification, harmonisation and automation of the procedures applied to international trade, particularly the requirements and formalities related to imports and exports, with a view to further expediting the movement, and the release and clearance of goods, including goods in transit."
Dr Rajan Sudesh Ratna, economic affairs officer at the UN's Economic and Social Commission for Asia and the Pacific, noted that these procedures are an important issue for the world trading system.
Nguyen Pham Nhu Ha, of the General Department of Vietnam Customs' Customs Control and Supervision Department, said MSMEs played a key role in Vietnam's economy, accounting for more than 97 per cent of the country's total enterprises.
MSMEs contribute 31 percent to the country's GDP, 33 percent to the national revenue, and generate 62 percent jobs for employees, she said. "However, MSMEs are small scale with less capital, with a lack of financial and marketing support."
Other challenges include limited access to law, regulations related to imports and exports, and lack of knowledge of procedures, including declaration, classification, valuation, rule of origin and others.
Conway Beddie, principal assistant director of Multilateral Trade Policy and Negotiation Division at the Malaysian Ministry of International Trade and Industry, said that challenges faced by MSMEs included access to finance, technology, innovation and R&D, highly skilled labour and red tape.
Beddie said the TFA would benefit MSMEs by reducing trade costs, including simplification and standardisation of customs procedures. It would also expedite movement, release and clearance of goods, and reduce red tape.
Other benefits include access to transparent information as well as opportunities to participate in the policy-making process.
Dr Mohammad Saeed, senior advisor of Trade Facilitation and Policy for Business at the International Trade Centre, said the five main types of trade costs included tariffs, standards, documentation, border costs and logistics costs.
Inefficiency-related trade costs were a particularly stringent and unpredictable problem, which applied to all products, both imports and exports, he said, adding that firms from developing countries were more affected.
Logistics costs are higher in developing countries (26 percent compared to 14 percent in more developed countries).
"MSMEs are particularly vulnerable to border inefficiencies. Regulatory burdens hit MSMEs twice as hard as larger firms," he said. "Removing supply chain barriers has a larger effect than removing tariffs."
The TFA, which took effect in 2017, seeks to expedite the movement, release and clearance of goods across borders globally.
It opens a new phase for trade facilitation reform worldwide and creates a significant boost for commerce and the multilateral trading system as a whole.
Implementation of the TFA is expected to cut members' trade costs by an average of 14.3 percent, with developing countries having the most to gain, according to a study conducted in 2015 by economists from WTO.
The TFA is also likely to reduce the time needed to import goods by over a day and a half and to export goods by almost two days, representing a reduction of 47 percent and 91 percent, respectively, over the current average.
Implementing the TFA is also expected to help new firms export for the first time.
In addition, once the TFA is fully implemented, developing countries are expected to increase the number of new products exported by as much as 20 percent, with the least developed countries likely to see an increase of up to 35 percent, according to the WTO study.
The agreement allows developing and least-developed countries to set their own timetables for implementing the TFA depending on their capacities.
A trade facilitation agreement facility was created at the request of developing and least-developed countries to help ensure they receive the assistance needed to reap the full benefits of the TFA.
Developed countries have committed to immediately implement the agreement, which sets out a broad series of trade facilitation reforms. With 12 articles, the TFA prescribes measures to improve transparency and predictability of trading across borders and to create a less discriminatory business environment.
The TFA's provisions include reduced fees and formalities connected with the import/export of goods, faster clearance procedures and enhanced conditions for freedom of transit for goods.
The agreement also contains measures for effective cooperation between customs and other authorities on customs compliance.
The workshop was organised by the Ministry of Industry and Trade, APEC Secretariat, Institute for Development Studies and HCM City International Integration Support Centre.
Former leader of major rubber business group prosecuted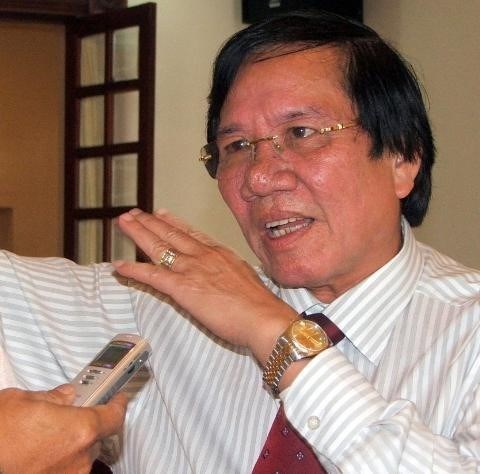 Le Quang Thung - former General Director of the Vietnam Rubber Group (VRG) (Source: Internet)
The Supreme People's Procuracy has completed the indictment to prosecute Le Quang Thung, former General Director of the Vietnam Rubber Group (VRG), for the charge of deliberately acting against the State's regulations on economic management and causing serious consequences under Article 165 of the Criminal Code 1999.
Prosecution also began against the four other defendants related to the case, including Nguyen Thanh Chau and Nguyen Van Minh – former director and chief accountant of the Dong Nai Rubber Company, and Nguyen Hong Phu and Hoang Van Son – former director and chief accountant of the Phu Rieng Rubber Company.
Under the indictment, during the 2007-2008 period, the VRG did not have a plan to establish and contribute capital to the Dong Thap seafood export and processing JSC (Dong Thap seafood company). However, Thung organized the establishment of the company, which was not the main business sector of VRG.
After the establishment, taking advantage of his position as the General Director, Thung, who was also former Chairman of the Member Council of VRG, directed leaders of many VRG's subsidiaries, including Chau and Phu, to use their companies' welfare funds to illegally contribute capital to the Dong Thap seafood company.
The two decided and directed Minh and Son to contribute 22.4 billion VND (958,451 USD), and 20.8 billion VND (nearly 890,000 USD) to the Dong Thap seafood company.
The Supreme People's Procuracy concluded that Thung's conduct violated Article 13 of the 2005 Enterprise Law, and the actions made by the five defendants violated Article 8, Clause 4 - Regulation on financial management of State-owned firms and management of State capital invested in other enterprises; and Article 3 - Regulation on decentralization of investment decision for investment projects and capital contribution to other enterprises.
IPC joint venture becomes EPC contractor of two solar farms
A joint venture between LICOGI 16 JSC and IPC International Trading Commodities JSC became the EPC contractor of two solar projects in the central province of Ninh Thuan.
On June 10, investors My Son 1 Solar Power Co., Ltd. and My Son 2 Solar Power Co., Ltd. and the joint venture signed an engineering, procurement, and construction (EPC) contract to develop the My Son 1 and My Son 2 solar power projects.
These two projects have a total investment capital of VND2.3 trillion ($100 million). The construction is expected to be implemented between June and December 31, 2019. Once these two projects come online, they will generate 170 million Kwh per year for the national grid.
LICOGI 16 aims to become Vietnam's leading company in transport projects as well as technical and industrial infrastructure. Most recently, the company became the investor and the contractor of several water and energy projects. Notably, it was selected to develop BOO Phu Ninh water plant in the central province of Quang Nam, which has a total investment capital of VND600 billion ($26.1 million) and a component of the Song Da water plant.
Regarding the renewable energy sector, in early this month, the company took the 15Mwp first phase of the Chu Ngoc solar project into operation after five months of construction. The company targets to generate 370MWp of solar power by 2020.
IPC is a large iron and steel manufacturer and real estate developer in Vietnam reporting annual revenue of VND6 trillion ($260.87 million). The company was ranked on the Vietnam Top 500 Largest Enterprises by Revenue Ranking Board (VNR 500) for ten consecutive years.
Thanks to becoming the general contractor of the My Son 1 and My Son 2 solar power projects, IPC is now the largest EPC general contractor with five general contracts, four Operation and Maintenance (O&M) contracts, and a management contract.
Besides, the group is a sub-contractor for three other solar farms, namely the 50Mwp AMI Khanh Hoa, the 30Mwp BMT project, and the 15MW Gia Lai-Chu Ngoc project.
In coming time, IPC will continue to shift business towards renewable energy, including the wind, solar, and bio-electric sectors.
Thien Long Group seeks strategic investors to enter Singapore
Thien Long Group, one of the leading Vietnamese suppliers of stationery, is looking for an overseas strategic investor to ramp up its international presence.
At its recently-held annual general shareholders' meeting, the board of directors of Thien Long Group (HSX: TLG) has secured approval to expand the company's overseas footprint by priming up investment in Singapore.
From childhood and early education to employment and beyond, stationery products touch every stage of life. Thien Long's various experiences in the field can ensure that their products are of good quality and priced competitively.
Thien Long is receptive to approaches from overseas investors. Ideal investors should have in-depth experience in the stationery industry and should be able to help the firm accelerate its outbound business activities. Thien Long also welcomes co-operationg with distribution partners from other countries in the Asia-Pacific. This move is a clear indication of Thien Long's strategy of increasing its presence at international markets.
The value of Thien Long's outbound investment is approaching $814,402, equivalent to VND18.73 billion. It also plans to form a wholly-owned subsidiary in Singapore by the early third quarter, as Thien Long's chief executive officer Nguyen Dinh Tam told the shareholders' meeting in May. This wholly-owned subsidiary is expected to bolster the group's growth prospects and improve their competitive position against other players in the field.
The subsidiary, named Flexoffice, will concentrate on wholesale, importing and exporting school and office stationery, plastic teaching aids, and processed plastic products. As many countries now focus on increasing education, the stationery market is receiving a great boost.
Tam said that the company also has an in-house legal team to ensure compliance with Singapore's investment laws and smooth operations.
Currently, Thien Long is exporting products to 61 nations and is preparing the ground works and technology for further expansion. The firm aims to increase its overseas revenue from 16 to 20-25 per cent by 2020.
In its latest financial report, Thien Long recently announced 2018 pre-tax profit of $12.8 million, which is 10 per cent higher than in 2017. The Ho Chi Minh City-based firm was originally established in 1981, and is the number one school and office stationery provider with 110 distributors and 65,000 retail sales points in Vietnam.
Multidimensional medical forum on respiratory diseases
The multidimensional medical forum has recently taken place in Hanoi and Ho Chi Minh City to discuss the strategy of "Comprehensive healthcare of respiratory diseases from prevention to treatment".
The forum is also an opportunity for top-notch experts in the field of respiratory diseases, pediatrics, microbiology clinical pharmacology, ENT, and preventive medicine to discuss the topic.
Speaking at the forum, Professor Tran Dac Phu, head of the Preventive Medicine Department at the Ministry of Health, asserted that, "In the Industry 4.0 era, the healthcare sector has made transformative steps, adapting to new medical trends in order to meet higher public expectations of healthcare quality. We have obtained remarkable progress in raising healthcare awareness among citizens, however, a majority of Vietnamese people still prefer self-diagnosis and self-treatment using Google – they would rather buy medicine without prescription and do not comply with doctors' prescriptions. To curb this problem, a tighter, more harmonious collaboration between treatment and prevention is crucial to deliver better public healthcare and health protection."
At the forum, experts shared experiences and discussed the importance of combining prevention and treatment in the comprehensive management of respiratory diseases in adults and children amidst the complexity of antibiotic resistance, the reoccurrence of several epidemics in children, and the increasing rate of chronic diseases like asthma and chronic obstructive pulmonary disease (COPD).
Experts pointed out the fact that alarming environmental pollution, unhealthy diet and lifestyle, and a lack of physical exercise are responsible for Vietnamese people's susceptibility to diseases, especially respiratory diseases. Vietnamese people tend to only visit doctors when their situation gets worse and this makes treatment more difficult.
In children, the burden of disease is substantial at age 0-2. At this age, most children are hospitalised for acute respiratory diseases. Their immature immune systems are vulnerable to bacterial attacks, which results in serious complications and even mortality.
To cope with these challenges, experts suggest that there needs to be consensus among health workers across medical fields on the proper prescription and the use of antibiotics to minimise antibiotic resistance.
The healthcare sector needs to encourage early immunisation for vaccine-preventable diseases to protect children from common and dangerous respiratory diseases like whooping cough, pneumococcal pneumonia, and other infectious diseases.
The forum is co-organised by Vietnam's medical associations and GSK – one of the world-leading science-based healthcare and pharmaceutical companies. This event also marks GSK's 25th year on its journey to accompany the development of Vietnam's healthcare sector.
Dan Millard, chief representative of GSK Vietnam, said, "We are proud to be part of the development of Vietnam's healthcare sector over the past 25 years. As a science-led global healthcare company that researches and develops pharmaceuticals and vaccines, GSK puts patients at the centre of everything we do. We understand that patients count on health professionals to use the most appropriate and advanced medicines in treatment so that their health can be improved and their life gets better."
"Working closely with our strategic partners, we exert our utmost efforts to provide optimised solutions for exsisting medical challenges, such as reducing antimicrobial resistance, expanding immunisation coverage, managing respiratory diseases, and enabling everyone to access fundamental healthcare," he said.
Profit of giant Song Da plunges after equitisation
Song Da Corporation JSC in its first year after equitisation recorded a low profit of VND22.3 billion ($969,565), equal to 11 per cent of its plan for 2018, even though owning assets of more than VND15.6 trillion ($678.26 million).
Over the years, Song Da has been a "giant" in the field of construction of power plants, transportation, industrial plants, manufacturing, and supply of construction materials, constructive equipment, and real estate.
However, according to the report on the 2018 profit distribution plan submitted to the Ministry of Construction, Ho Van Dung, head of the representative group of the state capital in Song Da, showed that the company's profit was terribly low compared to its assets.
According to the report, as of the end of 2018, Song Da had about VND15.65 trillion ($680.43 million) of state capital, while state equity capital was VND4.52 trillion ($196.52 million) and 2018 revenue was about VND2.2 trillion ($95.65 million).
However, the pre-tax profit of the whole corporation was only VND22.3 billion ($969,565), equivalent to 11 per cent of the plan set by the board at the beginning of 2018. Thus, the return on equity is only 0.06 per cent, and after-tax profit is only about 0.17 per cent of the total assets. This is a record low business result for the corporation.
According to Dung, Song Da is not allowed to re-evaluate financial investments made prior to the transformation into a joint stock company in April 2018. Therefore, the corporation made a provision of VND239 billion ($10.39 million), including VND179.9 billion ($7.82 million) of financial provision and VND59.1 billion ($2.6 million) for bad debts, affecting the business results in 2018.
The State Audit Report released earlier this year also noted that Song Da is managing and using 46 land lots with a total area of ​​more than 64.3 million sq.m, including 44 areas allocated for organising production and business activities, to be used as offices, and two land areas assigned to implement residential projects.
However, the investment in many hydropower projects in Vietnam and Laos, the slow capital recovery of build-operate-transfer (BOT) projects has pushed up the total debts of the corporation to VND10.7 trillion ($465.22 million), including about VND1.9 trillion ($82.6 million) of overdue debt.
Song Da Corporation reports pathetic IPOSong Da Corp's IPO to sell 219m sharesIn new scheme, Song Da Corp IPO to offer 220m shares
Previously, at the initial public offering (IPO) of Song Da Corporation on the Hanoi Stock Exchange, the corporation offered 219,678,000 shares (equivalent to 48.82 per cent of its charter capital) but only 801,500 shares were registered to be bought by 229 individual investors, equivalent to only 0.3 per cent.
Concerns over Sandbox - the new way to approaching the supervision on cross-border platforms
Applying Sandbox – a new approach to find supervising policies, to only the ride-hailing seems have yet to resolve all cross-border issues.
According to economist Nguyen Dinh Cung, sandbox would allow fresh sectors to operate without supervision for a certain time to reveal problems by themselves. After the trial period is over, the government will have a better grasp of the underlying issues and will be able to create better policies to resolve them.
Cung also said that this approach suits Industry 4.0 and the rise of new business segments and disruptive technologies and business models. Similarly, Facebook, Google, and Grab are seen as the new segments, and as of the current time, supervision on them in Vietnam still turns corner because no suitable supervising policies.
To resolve one part of the problems, the Ministry of Information and Communications most recently submitted Document No.1485/BTTTT-CNTT to the prime minister about the proposal of arranging platform providers like Grab, and Go-Viet into one, completely separate sector.
The document also aims to contribute ideas to the Ministry of Transport's (MoT) draft decree outlining business conditions for passenger transport, which will replace the previous Decree No.86/2014/ND-CP.
According to the MIC, business activities for traditional taxies previously depended on taxi firms themselves, authorities, and customers. However, the appearance of ride-hailing platforms has had a remarkable impact on their operation, which makes better supervision of their operations imperative.
The sandbox approach would enable the government to find suitable policies. However, the document only mentioned applying the concept to ride hailing, without touching on other cross-border platforms. Moreover, Grab's operations go far beyond ride-hailing, as they now include food delivery and e-wallets, which also need to be soon supervised to avoid the risk of tax evasion and issues related to currency security.
Over the past few years, Facebook and Google have been "forgetting" their tax obligations in Vietnam despite earning hundreds of millions from the market annually. Similarly, the supervision of cross-border payments is a sizeable issue, as the State Bank of Vietnam and the tax departments have yet to effectively extend their supervision over these businesses.
The sandbox approach, in its current form, will not be a cure-all for all ails of disruptive technologies and cross-border business operations, but it is a start. However, the unrestricted operation for the initial period poses serious vulnerabilities and it will be a crucial question of how long this time window will actually be.
Unicorns scarce in Vietnam's bustling startup scene
Vietnam's bustling startup scene has just one unicorn, defined as a privately-owned startup company worth at least $1 billion.
VNG Corporation, which specializes in digital content, online entertainment, social networking, and other IT fields, is the country's only startup worth over $1 billion.
Pham Nam Long, CEO of Abivin, a logistics startup, said one weakness of Vietnamese startups is lack of perseverance. "Vietnamese entrepreneurs often think short-term, they invest and want to see results in one or two years, while building a business can take 7-10 years."
Long said the first two years will be a very difficult period for startups, discouraging many founders and making them uncertain about continuing. Financial depletion is also a big cause of collapse.
"The success of a startup depends not only on money, but also the experience and support provided by investment funds," he told a venture investment forum in Hanoi early this week.
Vinnie Lauria, the founder of Singpore's Golden Gate Ventures, said startups must have "crazy, different" ideas to succeed.

With any startup, a "warrior spirit" to come up and run with crazy ideas is the first thing one should have, he said.
Deputy Prime Minister Vu Duc Dam told the forum that startups should not put limitations on themselves on "what is right or wrong", but come up with new, different and even crazy ideas and create conditions for those ideas to be fostered.
A report released in January by Topica Founder Institute (TFI), a startup accelerator program in Vietnam and Thailand, said Vietnamese startups received a combined $889 million through 92 investment deals in 2018.
This was three times the mount this community received in 2017 with the same number of deals, and six times that in 2016, according to TFI.
Germany helps improve Vietnam's SMEs via innovation programme
The Central Innovation Programme for Small- and Medium-sized Enterprises (SMEs), also known as ZIM, was introduced to Vietnamese and German firms and organisations at a workshop in Berlin on June 12.
The ZIM programme has been carried out within the framework of a letter of intent on scientific and technological cooperation signed in December 2012 between the Vietnamese Ministry of Science and Technology (MoST) and the German Federal Ministry for Economic Affairs and Energy. It looks to help transfer advanced technologies and improve the technical capacity of SMEs and scientific-technological organisations in Vietnam.
Tran Dong, Counsellor for Science and Technology at the Vietnamese Embassy in Germany, said the workshop was one of the three similar events held by the MoST to introduce the ZIM programme. The two previous events took place in Hanoi and Ho Chi Minh City in late May.
The Berlin workshop aimed to give instructions on the approval process, financial mechanisms and methods for supporting the connection of Vietnamese and German scientists and businesses.
He added that during the Vietnam visit last March by German Minister for Economic Affairs and Energy Peter Altmaier, Prime Minister Nguyen Xuan Phuc asked the European country to assist Vietnam to develop SMEs and some other fields, including digital technology, startups and innovation.
Meanwhile, Counsellor Dang Chung Thuy at the Vietnamese Embassy highlighted the importance of bilateral cooperation in researching, developing and commercialise technologies in the two countries' SMEs.
He noted that with a dynamic economy, the Government's efforts, the private sector's investment and human resource advantages, Vietnam is becoming a startup and innovation hub in Asia-Pacific.
Felix Richter, Coordinator for International Cooperation at AiF Projekt GmbH, said apart from Vietnam, the ZIM programme has cooperated with 25 other countries. Each year, it issues announcements to invite businesses to propose feasible projects to seek funding.
He expressed his hope that the programme will expand its sponsorship scope to attract more SMEs and foster cooperation between the two countries.
Work starts on gypsum factory using Japanese technologies
Yoshino Gypsum Vietnam Co, Ltd began construction on a gypsum factory located in Phu My 3 Specialized Industrial Park in Phu My town in the southern province of Ba Ria Vung Tau on June 13.
Speaking at the groundbreaking ceremony, Nguyen Thanh Long, vice chairman of the provincial People's Committee, expressed his belief that Yoshino Gypsum Vietnam's gypsum factory will help improve the overall production technological level and generate jobs throughout the locality.
The factory will provide gypsum products that meet Japanese standards of quality to the construction materials market and construction projects nationwide, Mr Long added.
He noted that Ba Ria Vung Tau will continue to improve its business climate and facilitate the operations and construction processes of businesses.
Sudo Eisaku, Chairman and CEO of Yoshino Gypsum Vietnam Co, Ltd, said that Yoshino Gypsum of Japan is to be the main investor of the Yoshino Gypsum Vietnam Phu My factory, which will receive investment entirely from Japan.

The project has received a total investment capital of US$50 million and the site covers an area of nearly 6.3 hectares in the Phu My 3 Specialized Industrial Park.
The project will be divided into two phases and is expected to put into operation by December 2020.
Yoshino Gypsum will apply the most advanced Japanese technologies to produce gypsum products for the Vietnamese market.
Weaknesses hinder SOE restructuring process
The restructuring of State-owned enterprises remains sluggish and may fail to fulfill many key targets set for the end of 2020 due to shortcomings in both institutions and laws, reported by the Central Institute for Economic Management (CIEM).
The total State capital in enterprises stands at VND1.4 quadrillion (US$60.2 billion), whilst contributions made by State-owned enterprises (SOEs) to the State budget and overall economic growth are on a downward trend.
SOEs still hold key industrial sectors such as power, coal, steel, and cement; but they have only created jobs for 8 per cent of the total labour force.
The country expects to complete the divestment of State capital from firms in which the state doesn't need to hold capital, improve the performance of businesses, and thoroughly handle poor-performing and loss-making SOEs by the end of 2020.
However, experts have claimed that the attraction of private capital into SOEs still falls short of expectations, whilst the restructuring of SOEs also fails to fulfill the goal of improving their operational efficiency.
"We should review the efficiency of the State economic sector and the restructuring of SOEs as well as their role and contributions to overall socio-economic development, said Nguyen Dinh Cung, head of the CIEM.
Blaming institutional and legal shortcomings for the sluggish SOE restructuring, the CIEM official said the State's ownership and management of enterprises have yet to be separated, posing practical risks of unequal treatment and unfair competition.
According to economic expert Le Xuan Ba, SOEs are considered the most crucial element of the State economic sector as well as the main force of economic growth. Despite this significance, they have performed poorly. He also noted that this old mindset should not be carried forward into the future.
Analyst Tran Tien Cuong said SOEs should only be used as a support tool alongside policies aimed at regulating the macro-economy, with their role being institutionalized and made transparent.
Cuong called up on the State to increasingly monitor and audit its capital and assets, along with stronger analysis, assessment, discovery, and warning of SOEs' problems.
Can Van Luc, chief economist of the Bank for Investment and Development of Vietnam (BIDV), said that the divestment of SOEs remains sluggish and has reached just 30 per cent of the total projected SOEs over the past decade. Luc added that concerted efforts should be raised to make in-depth analysis on restructuring formats and standardizing criteria to assess the efficiency of SOE restructuring.
Fitch Solutions, a macro research entity of Fitch Group, said in a recent report that the slow pace of SOE divestment will continue to hinder the country's fiscal revenue growth. In August 2017, the Government set a target to divest 406 SOEs by 2020, with 135 SOEs set for divestment in 2017, and 181 in 2018. However, only 13 were successfully divested in 2017 with a further 52 in 2018.
According to the Corporate Finance Department (CFD) under the Ministry of Finance, the Government has identified a further 18 SOEs to be divested during 2019 and will continue the divestment of an additional 41 SOEs from the 2018 list.
Fitch Solutions quoted comments made by Dang Quyet Tien, head of the CFD, as saying that some of the key challenges facing the SOE divestment process include poor interest from investors, the SOE's scale of business, and assets which 'require careful valuation to avoid losses for the State budget'.
Land-related issues remain another hindrance to SOE divestment as some SOEs have yet to complete their land use plans before submitting them to competent agencies.
Denim production sees potential to thrive: experts
Local producers have been able to ensure material supply for denim production, with localization rate in denim trousers reaching 55 – 60 percent, said Vice General Secretary of Vietnam Textile & Apparel Association (VITAS) Nguyen Thi Tuyet Mai.
Mai released the information at a workshop on the sidelines of the 4th Denimsandjeans.com Vietnam Show, that took place in in Ho Chi Minh City on June 12 and 13.
According to her, both domestic and foreign firms in the field have been actively investing in modern production assembly and technology. Particularly, Vietnamese companies are striving to increase their involvement in production, including design work.
Currently, the sector has formed a complete supply chain in denim fabric production as it is capable of supplying itself with fabric and yarn.
However, the number of enterprises operating in the denim industry remains modest. The proportion of denim products, meanwhile, makes up only 10 – 20 percent in the structure of Vietnam's garment-textile exports.
Vietnamese garment-textile firms are changing their production models towards meeting standards required by free trade agreements signed by the country and taking part in the global supply chain. As such, the VITAS said it is a favourable time for foreign companies to approach the Vietnamese market for machine-equipment supply and technology transfer.
Asia Division Director Jordi Juani of the Spanish finishing specialist for sustainable clothing Jeanologia stressed the importance of switching to more advanced production models, as the current denim production poses a threat to the environment.
So far this year, textile and garment export turnover is estimated at 9.43 billion USD, an increase of 9.8 percent from the same period last year.
Vietnam, China step up cooperation in trade, agriculture, logistics
Cooperation in economy, trade, agriculture and logistics between Vietnam and China was highlighted at a seminar in Chengdu, the capital city of China's Sichuan province, on June 13.
The event, hosted by the Vietnamese Embassy in China in coordination with Sichuan's authorities, brought together representatives of nearly 200 businesses along with government officials from the two countries.
In his opening remarks, Vietnamese Ambassador Dang Minh Khoi affirmed that China is one of Vietnam's most important trade and investment partners with bilateral trade reaching 147.8 billion USD in 2018, up 21.2 percent year-on-year.
He emphasized opportunities for Vietnamese enterprises and localities in Chengdu - a big economic, financial, technological and cultural centre in western China with a population of nearly 91 million, gross domestic product (GDP) at 600 billion USD and a growth rate of 8 percent in 2018.
Chengdu is the gateway to China's western region, he said, urging Sichuan province and Vietnam to further promote their bridging role in cooperation between China and the Association of Southeast Asian Nations (ASEAN) and better optimise opportunities generated by the upgrading of the ASEAN-China free trade agreement.
Sichuan's Vice Governor Li Yunze spoke highly of the cooperation outcomes across spheres, especially economy, trade and agriculture between Vietnam and China in general, and Vietnam and Sichuan province in particular.
He expressed hope for enhanced exchanges and result-oriented collaboration with Vietnamese localities in education, culture, health care and tourism.
Vietnam and Sichuan should expand their trade ties and promote their cooperation in logistics, towards forming inter-regional logistics chains, he said.
Li Yunze pledged to create favourable conditions for Vietnamese firms to operate in Sichuan, and encourage high-quality businesses from Sichuan to invest in Vietnam.
Vietnamese Deputy Minister of Agriculture and Rural Development Le Quoc Doanh introduced Vietnam's advantages and potential for high-quality agricultural production, saying the country's agro-forestry-fishery products have been exported to over 180 markets worldwide.
China is one of the major and traditional importers of Vietnamese farm produce, he said, noting that to increase the export of agro-forestry-fishery products to China, the Ministry of Agriculture and Rural Development (MARD) has instructed competent agencies and localities to focus on measures to meet quality and food safety requirements of the Chinese market.
Following the seminar, the delegation of the MARD, the Ministry of Industry and Trade, Vietnam's northern mountainous province of Thai Nguyen and Vietnamese businesses visited some economic, commercial, agricultural and logistics facilities in Sichuan.
European consumer goods and services exhibition opens in HCM City
The third European Art of Living Exhibition - EuroSphere 2019 which gathers over 50 European age-old brands in the field of food and beverage, fashion, jewelry, cosmetics, perfume, furniture, cars, education, real estate and tourism, opened in Ho Chi Minh City on June 14.
Extending on the success of previous years, the annually European consumer and consumer goods exhibition resumes its role of bridging and harmonising Western and Oriental cultures.
Particularly, for the first time, the EuroSphere 2019 expanded to service industries, assisting Vietnamese people who want to invest in Europe. This year's event offers free openings to visitors throughout the three days of the exhibition; providing opportunities for Vietnamese consumers to experience "made in EU" products, as well as meet directly with manufacturers to better understand their products and services.
Speaking at the opening ceremony, Ambassador Bruno Angelet, head of the Delegation of the European Union to Vietnam, said that EuroSphere 2019 is expected to bring the most authentic European experience for Vietnamese consumers, who are looking for quality products in their life.
According to the Ambassador, with the upcoming European Union - Vietnam Free Trade Agreement (EVFTA), the EuroSphere 2019 will become a firm premise for businesses on both sides.
EuroSphere 2019 will not only be a business bridge between European and Vietnamese businesses, but also a desirable annual destination for Vietnamese consumers.
VinFast auto manufacturing factory opened in Hai Phong
The VinFast automobile manufacturing factory of Vingroup was opened at Dinh Vu Industrial Park of northern Hai Phong city on June 14, officially beginning mass production.
This factory is the most important part of the VinFast automobile and e-scooter production complex, whose construction began on September 2, 2017.
Covering more than 500,000sq.m. of the complex's 335ha area, the plant is designed to manufacture 250,000 cars each year in the first phase, which will be raised to 500,000 in the second phase.
Workshops of the plant are connected uninterruptedly and highly automated. It is now the only factory in Vietnam able to perform the core automobile production steps, including producing the main parts of a car like chassis and engine.
Notably, VinFast set a record in the global auto industry when this factory was built in only 21 months.
Addressing the opening ceremony, Prime Minister Nguyen Xuan Phuc highly valued efforts by the factory's leaders and workers, noting that the record construction speed shows their great aspiration and enthusiasm to create a miracle in the auto industry of Vietnam and the world.
This result has not only proved that the Vietnamese people can do what the world can but also contributed to national socio-economic achievements, he said.
The PM asked VinFast to actively cooperate with other Vietnamese carmakers to together gain a firm foothold in the domestic market and soon enter regional and global markets. He also told it to guide the development of the country's supporting industries.
At the event, Vice Chairman and Director General of Vingroup Nguyen Viet Quang said during the 21-month factory construction, VinFast also completed and debuted one e-scooter and three automobile models. The Fadil will be delivered from June 17 while the first Lux A2.0 and Lux SA2.0 cars will be handed over to customers in late July.
Meanwhile, 12 other car and e-scooter models are being designed and will make debut this year and 2020.
Earlier, VinFast inaugurated an e-scooter manufacturing factory and developed three car models within only 12 months. Aside from the shortest project progress, it also received 10,000 orders one year prior to the first delivery.
VinFast has set completely new records in the world's auto industry, Quang added.