US plugs its cotton at HCM City event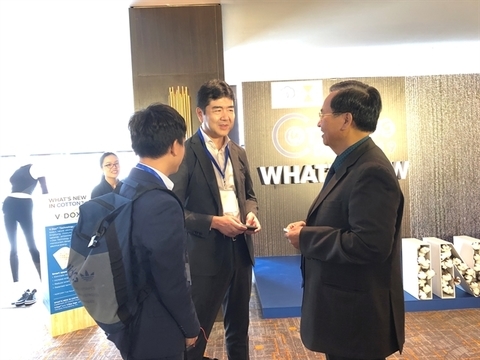 Delegates exchange information on the sidelines of US Cotton Day held in HCM City on July 12.
Viet Nam is one of the largest importers of US cotton, and the imports will continue to rise, delegates told Cotton Day organised by Cotton Council International (CCI) in collaboration with the Viet Nam Textile and Garment Association (VITAS) in HCM City on Friday.
Speaking at the event, Vu Duc Giang, VITAS chairman, said Viet Nam's garment and textile exports were worth US$32 billion last year and were expected to reach $40 billion this year.
The industry imported 67-68 per cent of its cotton requirements, with 50 per cent, or over $1 billion worth annually, coming from the US, he said.
The US produced the most sustainable cotton of any country in the world, Doyle Schniers, member of the executive committee of American Cotton Producers, claimed.
Cotton producers and industry business groups were setting new environmental targets, he added.
Wiiliam Barksdale, chairman of the American Cotton Shippers Association (ACSA), said: "In 2019-20 we expect to have a big crop and we will have virtually every type of cotton that you need for your mill or manufacturing operation.
"In order to ensure that you get the right cotton for your products, we encourage you to work with your suppliers to specify the quality characteristics that you need in your contract."
Giang said Vietnamese spinning firms greatly appreciated the quality of US cotton, but wanted the CCI and US cotton exporters to focus more on ensuring quality consistency.
Besides, the US should set up a bonded warehouse in Viet Nam to make it easier for Vietnamese firms to import its cotton, he said.
Cotton Day, with the theme 'What's New in Cotton?' was aimed at introducing to the Vietnamese textile and garment supply chain the new advances in technology available in the market.
It also sought to foster links between garment and textile companies and suppliers and experts in the cotton sector.
There was also a fashion show to introduce new collections from the Canifa and John Henry brands at the event. CCI, the export promotion arm of the National Cotton Council of America, is a non-profit organisation established in 1956 to promote US cotton around the world under its COTTON USA trademark.
RoK eyes more MICE tourists from Vietnam
The Korean Tourism Organisation (KTO) held a conference on MICE (Meeting, Incentive, Conference and Event) tourism of the Republic of Korea (RoK) in Hanoi on July 11.
Statistics showed that close to 34,000 Vietnamese visitors travelled to the RoK under MICE tours with support from the KTO in the first six months of 2019, a year-on-year surge of nearly 25 percent.
Therefore, Vietnam has been viewed as a major market in MICE tourism development of the RoK.
The event, which drew about 200 delegates, aimed to serve as a bridge for MICE service providers of the RoK and travel companies of Vietnam, thus creating new tourism products and boosting the number of MICE tourists of the two countries.
The RoK will adjust its visa policy to stimulate the growth of MICE tourism in the coming time, said the KTO.
Half a million Vietnamese tourists visited the RoK in 2018, a rise of about 41 percent over 2017.
Meanwhile, Vietnam welcomed nearly 3.5 million RoK tourists, a surge of 44.3 percent year-on-year.
In the first five months of 2019, Vietnam welcomed nearly 1.8 million visitors from the RoK, up 22.4 percent over the same period last year. The RoK has become the second biggest tourist source market of Vietnam.
Tech group CMC partners with Samsung's IT arm
Technology group CMC will sell 25 million shares to an arm of Samsung SDS, a subsidiary of the Korean tech giant Samsung Group.
CMC hopes the shares will be sold for at least 30,000 VND (1.29 USD) per share, the company would raise 750 billion VND (32.25 million USD) from the deal.
Sixty percent of the capital raised, or 450 billion VND, will be invested in CMC's member companies.
The remaining capital will be spent improving the firm's infrastructure and facilities.
The buyer could be either Samsung SDS Co Ltd or Samsung SDS Asia Pacific Pte Ltd. Both are members of Samsung SDS, which is the IT and logistics arm of the Samsung Group.
Samsung SDS will own a 25 percent stake in CMC's capital after the deal.
CMC is listed on the Ho Chi Minh Stock Exchange with the code CMG.
The company shares inched up 0.5 percent on July 11 to close at 37,400 VND per share.
CMC's shares have gained 77 percent in the last eight months, bringing the group's market value to 2.68 trillion VND as of the end of trading on July 11.
CMC and Samsung SDS started cooperating in 2016. In June 2018, the two sides agreed CMC would develop a management and operation system for more than 200 Samsung factories in Vietnam.
In late May 2019, Samsung SDS and CMC signed agreements on the provision smart factory, cloud, cyber security and blockchain solutions.
The agreement demonstrated the quality of Vietnamese technology businesses as the country strives to take full advantage of Industry 4.0.
The deal is part of CMC's effort to achieve 1 billion USD in revenue by 2023.
According to Samsung SDS Chairman and CEO Won Pyo-hong, CMC may help the Korean firm expand its business in Vietnam and Southeast Asia.
"The cooperation between CMC and Samsung SDS will offer a great value in the development of the digital economy for Vietnam and help the country reach out to the Asia-Pacific and global markets," CMC Chairman Nguyen Trung Chinh said.
In early April, CMC launched the first open ecosystem for enterprises in Vietnam to help hasten the digital transformation among local companies and government agencies, which has been a priority for the Government.
In March, CMC raised 300 billion VND from issuing corporate bonds to the Joint Stock Commercial Bank for Investment and Development of Vietnam (BIDV).
Hau Giang province targets agrotourism development
The Mekong Delta province of Hau Giang plans to focus on sustainable agricultural tourism as part of its effort to lure more tourists.
Speaking at a conference held this week in the province, Le Tien Chau, Chairman of the provincial People's Committee, said the tourism sector played a vital role in the region's socio-economic development.
Over the past five years, the province has developed key projects related to tourism infrastructure and products, and has strengthened linkages with travel firms in other provinces. It has also enhanced tourism promotional activities.
However, the region's potential for agrotourism has yet to be realised.
Nguyen Thi Ly, Deputy Director of the provincial Department of Culture, Sports and Tourism, said that agrotourism has helped reduce poverty and raise incomes of households in the province.
It has also contributed to cultural exchanges and raised awareness about environmental protection.
More and more travellers like to visit the countryside to enjoy peaceful scenery and sample fresh fruits and local specialties.
The province has special products such as Nam Roi grapefruit, Nga Bay orange, Long Tri mandarin orange and Cau Duc pineapple.
The province has also developed many tourist attractions and community-based tourism sites, she said.
However, a lack of professional skills in tourism services and unstable, small-scale tourism products are among the major challenges for agrotourism development, Ly said.
Underdeveloped tourist attractions and traffic infrastructure have also hindered tourism development, she said.
Le Minh Hoan, Secretary of the Party Committee of Dong Thap province, said: "Agrotourism should be developed in combination with community tourism. Local authorities should work with farmers to develop agrotourism. They need to fully understand tourism resources in the province and encourage farmers to ultilise the resources."
Phan Dinh Hue, Director of the Viet Circle Tourism Service Company, said the province should provide tourists with unique experiences in agricultural activities and community-based tourism products such as fishing, visits to fruit gardens and homestays.
Travel officials and households should also receive training to improve their professional skills in tourism services, Hue said.
CPTPP boosts export opportunities in Japan
With the Comprehensive and Progressive Agreement for Trans-Pacific (CPTPP) officially coming into force, Vietnamese exporters should make the most use of the opportunities it brings in Japan, one of Vietnam's leading trade partners.
Vietnam's exports to Japan have seen steady growth over the years, hitting 9.68 billion USD in the first half of 2019, up 9.1 percent from the same period last year. Key export items include textile and garment, seafood, machinery, wood products, mobile phones and electronic components.
As of the beginning of May, Japan was Vietnam's second largest investor, running 4,118 foreign direct investment projects worth 57.3 billion USD, mostly in processing and manufacturing, retail and real estate. An estimated 2,500 Japanese firms, including leading conglomerates, have operated in Vietnam, and many of them plan to expand.
The recent upswing in exports to Japan was thanks to the signing of the CPTPP, of which both Vietnam and Japan are members. Under the CPTPP, Japan agreed to eliminate duties for most Vietnamese agricultural and seafood products.
Japan immediately lifted 86 percent of tariff lines for goods from Vietnam, representing 93.6 percent of the latter country's exports after the deal went into force. After five years, Vietnam will be exempt from about 90 percent of tariff lines.
The CPTPP is hoped to bring tremendous benefits for both countries, said Deputy Minister of Industry and Trade Tran Quoc Khanh.
The trade deal will allow Japanese enterprises to enter Vietnam's growing public procurement market, which has been so far closed to foreign providers. Additionally, it would give those working in banking, insurance, construction, logistics, accounting and graphic design – areas Japan holds competitive edges – broader access to the Vietnamese market.
The CPTPP will strengthen Vietnam's role as a production base for Japanese manufacturers and in return, Vietnamese firms will also receive the same benefits when entering Japan, according to Yuri Sato, Executive Vice President of the Japan External Trade Organisation (JETRO).
Sato added that the agreement imposes strong protection requirements in terms of intellectual property rights and investment protection. For example, foreign companies now have the right to withdraw investment and require fair compensation and legal support if their assets are nationalised. These rules could encourage Japanese firms to ramp up technological exports to Vietnam.
Therefore, the CPTPP is expected to greatly facilitate the flow of trade and investment between the two nations by not only removing tariffs but also creating new business opportunities and allowing reduction of trade and investment procedures.
Shibata Eiji, Vice Chairman of Japan-based AEON Group said Vietnamese goods have great potential in the Japanese market. In 2013, Japan imported Vietnamese tra fish for the first time with a very modest number of 5 tonnes, but imports rose 20 times to 100 tonnes a mere five years later.
AEON wants to double import revenue of Vietnamese products to 500 million USD by 2020 and raise it to 1 billion USD by 2025, the vice chairman noted.
To sustainably boost exports to Japan, Vietnam, first and foremost, needs an effective marketing strategy. The two sides should also provide broader access for each other's agricultural and seafood products and effectively implement joint initiatives to improve the investment environment and promote Japanese investment in Vietnam.
Minister of Industry and Trade Tran Tuan Anh said Vietnam joining trade agreements like CPTPP will bring more export opportunities; however, the country would confront challenges, particularly growing competition from foreign rivals for agricultural and seafood products.
The minister suggested Vietnamese producers seek partnerships with Japanese firms to utilise their capital and technology, hereby gaining stronger foothold in the Japanese market and playing a greater part in regional and global supply chains.
Leather product, footwear exports likely to fetch 21.5 billion USD
Vietnam's export turnover from leather products and footwear is estimated to hit 21.5 billion USD in 2019, a year-on-year rise of 10 percent, said the Vietnam Leather, Footwear and Handbag Association (LEFASO).
The growth is attributed to growing demand for leather products and footwear in Vietnam's major export markets in the remaining months of the year.
Vietnam's footwear products have been shipped to more than 100 countries and territories worldwide, with export earnings to half of them raking in more than 1 million USD each.
Vietnam is currently the world's second largest footwear exporter and the footwear sector has greatly contributed to the country's economic development.
LEFASO's statistics illustrated that leather products and footwear export revenue stood at more than 10.33 billion USD in the first six months of 2019, including 8.53 billion from footwear and 1.8 billion USD from handbags.
The US, the European Union (EU), China, Japan and the Republic of Korea were Vietnam's main export markets in the period.
LEFASO also predicted that Vietnam's leather product and footwear production will grow by 10-11 percent in 2019.
Truong Thanh Hoai, Director of the Ministry of Industry and Trade's Heavy Industries Department, said huge opportunities have been opened up for Vietnam's leather and footwear sector by free trade agreements, such as the Comprehensive and Progressive Agreement for Trans-Pacific Partnership (CPTPP) and the EU-Vietnam Free Trade Agreement (EVFTA).
LEFASO and domestic firms need to handle current bottlenecks in the sector, notably the branding issue, he noted.-
Vietnam's economic growth likely to reach set target in 2019: VEPR
The Vietnam Institute for Economic and Policy Research (VEPR) has predicted Vietnam's economic growth would accelerate in the third quarter and then reach 7.17 percent the last quarter to hit the Government's target of 6.6 to 6.8 percent for the full year.
In a macroeconomic report presented on July 11, the VEPR said the country's economy grew at 6.71 percent in the second quarter of 2019, down from 6.79 percent in the first quarter. The institute forecast Vietnam's economic growth is likely to reach 6.96 percent in 2019.
According to the report, in the first six months of the year, social investment reached 822.9 trillion VND (35.47 billion USD), up 10.3 percent compared to the same period in 2018.
VEPR Director Nguyen Duc Thanh said that despite the expectation that the US-China trade war would stimulate the flow of capital into the country, the inflow had not really happened.
The 9.7 percent rise in FDI, compared to 8.5 percent in the same period last year, still lagged behind the investment poured into the non-state sector.
However, the FDI sector still played a crucial role in economic growth through exports.
More than 1,700 new FDI projects were licensed in the first half of 2019 with total registered capital of about 7.4 billion USD, down 37.2 percent from last year.
The manufacturing and processing sector attracted 73.4 percent of the newly registered capital.
China was still Vietnam's biggest investor with the newly registered capital of more than 1.6 billion USD, followed by the Republic of Korea, Japan and Hong Kong.
"However, without a serious selection, FDI enterprises from China may bring potential risks of outdated technologies, negative environmental impacts and working conditions," said Thanh. "This will adversely affect Vietnam's institutional reforms as it signs new-generation FTAs."
To meet the requirements and take advantage of the EVFTA (EU – Vietnam Free Trade Agreement), which was signed in late June, the report urged the Government to reassess incentives for FDI enterprises – including taxes and land rent reductions – to give them equal standing with domestic firms and ensure the quality of FDI.
Vietnam is expected to face both challenges and opportunities after joining EVFTA, which requires the country to improve labour conditions, environmental standards and intellectual property rights.
In the second quarter, some 38,000 companies were established, creating more than 330,000 new jobs.
The exchange rate of VND to USD in commercial banks fluctuated widely during the quarter and increased significantly in May.
According to finance expert Can Van Luc, the exchange is becoming more stable thanks to flexible mechanisms from the State Bank of Vietnam and strengthened foreign exchange resources. The exchange rate is only expected to fluctuate within a band of 1.5 to 2 percent from now until the end of the year.
Inflation rose to 2.65 percent, the lowest level in the last three years. However, it is predicted to increase in the near future following increases in food prices, education-related expenses and fluctuating energy prices.
Quang Ninh completes land clearance for Van Don – Mong Cai highway
The northeastern coastal province of Quang Ninh has completed land clearance for the construction of Van Don – Mong Cai highway, a local official has said.
The land will be handed over to the Van Don Infrastructure Investment and Development Limited Liability Company – the investor of the project, according to Vu Van Hop, Chief of the Office of the National Assembly delegation, the provincial People's Council and People's Committee.
The 80.2-km highway is designed with four lanes and a maximum speed of 100 kilometres per hour for vehicles, running through Van Don, Tien Yen, Dam Ha and Hai Ha districts and Mong Cai city, with total investment of over 11.1 trillion VND (477.3 million USD).
Work on the route began in April 2019, but earlier in March 2018, Quang Ninh had begun land clearance, aiming to clear nearly 527 hectares of land. A total of 326 households and 320 tombs had to be relocated to make way for the road.
The total land clearance cost was nearly 1.5 trillion VND (64.5 million USD) sourced from the province's corresponding capital.
The compensation for land clearance was implemented publicly and transparently in accordance with relevant procedures and laws, Hop said.
The Van Don – Mong Cai highway was invested under the public-private-partnership (PPP) and Build-Operate-Transfer (BOT) forms.
Once completed, it will connect with the Hai Phong-Ha Long and Ha Long-Van Don highways, creating the longest highway in Vietnam that runs from the northwestern province of Lao Cai to Mong Cai via Hanoi and northern port city of Hai Phong.
Additionally, the Van Don – Mong Cai highway will serve as an important transport gateway linking Vietnam and China and countries in the Association of Southeast Asian Nations (ASEAN), helping connect Vietnamese northern localities with ASEAN and China, thus creating a momentum to bolster regional connectivity.
It will also create a complete "backbone" with a total length of nearly 200km, making it easier for the attraction of investment to promote marine economy, socio-economic development, tourism and international trade through Mong Cai border gate.
The early completion of land clearance helped speed up the implementation of the project, which is scheduled to be put into operation in 2021.
The completion of the Van Don – Mong Cai highway is also expected to facilitate access to the Van Don international airport, which was put into operation in December 2018.
The airport is hoped to help Quang Ninh achieve its target of welcoming 15-16 million tourists, including 7 million foreigners, by 2020 and 30 million arrivals, including 15 million foreigners, by 2030. Therefore, local authorities have been offering many incentives to promote the launch of flights to the airport, the first of its kind invested by a private business in Vietnam.
The Ha Long-Hai Phong Expressway was put into service in September 2018, while the Ha Long-Van Don Expressway became operational in December the same year.
Besides transport infrastructure, Quang Ninh has also revised plans for local ports and wharves serving coal transport, thus abolishing small-scale coal wharves and storage sites along the coast of Cua Luc and Ha Long Bays as well as in Cam Pha, Dong Trieu, Uong Bi and Hoanh Bo. New specialized roads have been built for coal transport, while new modes of transport such as railway and conveyor belts are being introduced to reduce pollution.
The north-eastern province also ended the transport of cement and clinker on Ha Long Bay, and relocated residents in floating fishing villages in the bay to new homes in Ha Phong ward, Ha Long city, thus improving the environment in the bay, which was twice recognised by UNESCO as a world natural heritage site in 1994 and 2000.
Flexible policies needed to cope with economic turbulences
Competent authorities should give top priority to stabilising the macro-economy and applying flexible macro-economic policies to cope with disadvantageous developments of the regional and world economies, heard a seminar held by the Central Institute for Economic Management (CIEM) in Hanoi on July 12.
CIEM forecast Vietnam's economic growth at 6.82 percent, export expansion at 8.02 percent, and average inflation rate at 3.38 percent for the whole year 2019.
Director of the CIEM's General Research Department Nguyen Anh Duong suggested stepping up the restructuring of the economy and sectors to accelerate economic growth and improve growth quality so as to strengthen economic resilience amid the unpredicted developments of the global economy and trade.
Other experts said the Government should promote the shake-up, equitisation and divestment at state-owned enterprises (SOEs); have transparent and specific plans using capital raised from divestment; and publicise SOEs with tardy progress of equitisation, listing and divestment.
At the same time, it is necessary for competent ministries and sectors to keep a close watch, and carry out proper evaluation on the investment capital to control hot money flows, concretise orientations for foreign investment attraction, while encouraging foreign investors to promote technology transfer based on international laws, they said.
According to Duong, there are several shortcomings in the reform and policy implementation in the first half of the year. Efforts to promote international economic integration has not been well reflected in the legal frameworks like tax policies while preparations for the Comprehensive and Progressive Agreement for Trans-Pacific Partnership (CPTPP) remained tardy although the pact has already come into force.
If there is no change, like the CPTPP, we would take advantage of the EU-Vietnam Free Trade Agreement (EVFTA) slowly, he said.
CIEM said that the macro-economy in the last six months of the year could be impacted by global economic recession and increasing trade tensions. Besides, Vietnamese exports will be hampered by trade defence lawsuits and investigations to prevent tax frauds, and origin frauds, among others.
Agriculture sector struggles to recover weakening exports
The agriculture sector is struggling to boost the export of key products in the second half of the year amid dropping prices in the world market.
According to statistics of the Ministry of Agriculture and Rural Development, though the export revenue of agricultural products grew by 2.2 percent in the first six months of 2019, the turnover of main currency earners, including rice, cassava, coffee and cashew, plunged 9.2 percent.
Vietnam exported 3.39 million tonnes of rice for 1.46 million USD in the January-June period, down 2.8 percent and 19 percent, respectively. Except for the Philippines, the country's three major traditional rice importing countries such as China, Indonesia and Bangladesh all imported less in the reviewed period.
Additionally, the world's rice prices will likely go down further this year as the US Department of Agriculture forecast the global rice production in 2018 – 2019 to reach 499.1 million tonnes, 4.2 million tonnes higher than the previous year.
Exports of cassava and cassava products were estimated at 1.2 million tonnes, worth 460 million USD, a year-on-year decrease of 19 percent in volume and 15.3 percent in value, also due to the falling demand from China - Vietnam's main market.
Prices of Vietnamese cassava and cassava products averaged 386.3 USD per tonne, down 2.91 percent year on year. Cassava starch was fetched 425 USD per tonne in average, down 1.7 percent month on month and 15.2 percent year on year.
A similar trend was seen in coffee exports in the first six month. The country shipped abroad 943,000 tonnes of coffee for 1.6 billion USD, down 9.2 percent in volume and 19.9 percent in value from the same period last year. Germany and the US remained the two biggest importers of Vietnamese coffee.
It is projected that global and domestic coffee prices would slide in the short term because of oversupply in the world market.
The six-month export volume of cashew nuts amounted to 197,000 tonnes, 13.1 percent higher than a year earlier, but the value plummeted 11.3 percent year on year.
To get the export of agricultural products back on the track, the Ministry of Agriculture and Rural Development considers shifting focus to seafood and forestry products.
The Institute for Policy and Strategy for Agriculture and Rural Development (IPSARD) suggested farmers to switch areas of unproductive rice cultivation to farming other crops or aquaculture as rice exports do not have much room to grow in the global market like fruit crops or aquatic products. Many of Vietnam's major buyers are now able to produce enough rice for domestic demand and even for export in recent years.
Not only the fluctuations of the global prices have affected Vietnam's agricultural product exports but also the Comprehensive and Progressive Agreement for Trans-Pacific Partnership (CPTPP), which officially went into force. The trade deal strips 98 percent of tariffs for 11 member countries with a combined GDP of more than 13.5 trillion USD and close to 500 million consumers.
To seize opportunities the agreement would bring, Vietnamese producers must actively explore Vietnam's commitments and requirements of other member states. They should also think outside the box and take advantage of competition to create motivation for innovation and development.
In addition, Vietnamese enterprises need to seek cooperation with partners from the CPTPP member countries in order to attract new source of investment and advanced technologies, and more importantly, engage deeper in the regional and global supply chain.
EVFTA to benefit Vietnam - Czech Republic economic ties
The Czech Republic will be an important bridge for Vietnamese to enter the European market and bolster the Vietnam-EU trade, an official of the republic has said.
In an interview with the Vietnam News Agency, Vojtech Filip, Deputy Speaker of the Chamber of Deputies of the Czech Republic's Parliament, assessed results of his visit to Vietnam in June and the development of the multi-faceted cooperation between Vietnam and his country after the signing of the EU-Vietnam Free Trade Agreement (EVFTA) and the EU-Vietnam Investment Protection Agreement (EVIPA).
He reiterated that the newly-signed pacts will benefit the two countries' economic development and the implementation of bilateral agreements.
The official noted that during his meetings with Vietnamese officials, both sides agreed on the implementation of cooperation programmes, including a programme to send more Vietnamese workers, especially nurses, to the European country.
Prime Minister Nguyen Xuan Phuc also affirmed the traditional friendship and strategic relations. The two nations will promote cooperation programmes in security-defence, labour, education-training and tourism, he noted.
Filip voiced his hope that the opening of the direct air route between Hanoi and Prague in October will boost tourist arrivals of the countries.
He added that to bolster labour, tourism and economic-trade cooperation, the Czech Republic has stepped up the issuance of tourist visa and will simplify visa procedures for Vietnamese citizens.
Vietnam seeks to boost trade with American region
The Ministry of Industry and Trade held a conference in Mexico City on July 10-11 to promote external economic activities and exports to American countries.
The event gathered envoys, commercial counselors and heads of Vietnam trade offices in the region.
Participants reviewed regional economic and trade trends and their impact on Vietnam, and discussed market development measures for the 2019 – 2020 period, including studying markets and building new economic, trade and industrial cooperation frameworks.
Speaking at the event, Deputy Minister of Industry and Trade Do Thang Hai said Vietnam is giving priority to expanding all-around ties with regional countries in politics, diplomacy, economy and trade.
He added that when Vietnam joins free trade agreements with American countries such as the Comprehensive and Progressive Agreement for Trans-Pacific Partnership, the Vietnam – Chile Free Trade Agreement, and the upcoming Vietnam – Mercosur preferential trade agreement, the ministry and trade offices abroad must perform important tasks of proposing mechanisms and policies to capitalize on the deals and promoting Vietnam's entry to regional and global value chains.
Hai added that the ministry will build dynamic trade offices abroad in service of businesses.
Vietnamese Ambassador to Mexico Nguyen Hoai Duong also vowed all possible support for trade offices to fulfill their assigned tasks, contributing to reinforcing bilateral economic, trade and investment ties.
Concluding the event, Hai urged trade offices to rally resources to help the ministry meet targets assigned by the National Assembly and the Government for this year as well as assist firms in coping with trade protection measures against Vietnam's exports.
Two-way trade between Vietnam and American countries hit 58.03 billion USD last year, up 11.4 percent from 2017, 37.7 billion USD, in which Vietnam enjoyed a trade surplus. The figure rose by 23.53 percent to 35.53 billion USD in the first five months of this year, of which 26.35 billion US was exports, up 26.71 percent, while the remaining was imports, up 17.91 billion USD.
Vietnam's major currency earners included electronics, apparel, leather and footwear, seafood, machinery, animal feed while the country mostly imported equipment, production materials, cotton and several farm produce.
First solar power plant in Binh Dinh inaugurated
The Cat Hiep solar power plant was officially inaugurated in Binh Dinh's Phu Cat district on July 12, becoming the first of its kind in the south central coastal province to join the national grid.
Invested by the French-based Quadran International company and Truong Thanh group of Vietnam, the facility worth over 1.03 trillion VND (44.29 million USD) spans more than 60ha. With 150,000 panels and a capacity of 49.5MWp, it can generate between 78 and 80 million kWh per year.
During its test run from May 20 to date, Cat Hiep produced more than 7 million kWh of electricity, earning over 15 billion VND in revenue.
Chairman of the provincial People's Committee Ho Quoc Dung hoped the operation of the plant will lead to the development of similar ones across Binh Dinh.
He noted solar electricity will help enhance the capacity of the national grid, capitalize on renewable sources of energy, and add more to the provincial budget collection.
The local leader pledged to assist investors in the power sector and others in tackling hurdles and implementing their projects.
State budget revenue rises 13.2 percent in six months
About 745.4 trillion VND (32 billion USD) was collected for the State budget in the first half of 2019, equivalent to 52.8 percent of the year's target and up 13.2 percent year on year, according to the Ministry of Finance (MoF).
At a meeting to review the six-month financial and budgetary work in Hanoi on July 12, the ministry reported that the collection for the central budget hit a five-year high when it reached 51.5 percent of this year's plan.
Meanwhile, the local budget revenue reached 54.3 percent of the yearly target with 50 of the 63 provincial-level localities fulfilling over 50 percent of their plans.
The MoF has worked closely with the State Bank of Vietnam in governing the State budget, issuing Government bonds, and stepping up the cashless budget collection and spending, thereby helping to control inflation and ensure macro-economic stability, the ministry said.
Addressing the event, Deputy Prime Minister Vuong Dinh Hue pointed out that several difficulties that may hamper the State budget collection in the last half of this year have appeared.
He noted budget collection from State-owned enterprises, FDI businesses and private firms may decline compared to the last six months. The revenue in some big provinces and cities was low such as Ho Chi Minh City, which has fulfilled just over 48 percent of its budget collection target for this year.
Meanwhile, transfer pricing and untruthful tax declaration are still rampant. The disbursement of public investment capital, especially official development assistance (ODA) capital, remains sluggish as the six-month disbursed capital was equivalent to only 32.4 percent of the targeted figure, lower than that in the same period of 2018.
Hue blamed these problems partly on the Ministry of Planning and Investment, localities, as well as the MoF, asking them to accelerate the disbursement of public investment capital, particularly ODA capital, and promote the progress and quality of equitising and divesting State capital from State-owned enterprises.
The Deputy PM requested the MoF to enhance financial-budgetary discipline, address wastefulness in budget spending, and increase inspections and examinations.
The ministry and the General Department of Vietnam Customs need to augment efforts to fight the circumvention of trade remedies and origin frauds, he said, asking them to boost controlling the import of foreign products into Vietnam to fake origin to re-export them to other countries.
The MoF also needs to coordinate with the Ministry of Planning and Investment to select FDI projects that apply good technology and meet security-defence and environmental requirements, Deputy PM Hue added.
RoK's rural development group to invest in smart farming in Vietnam
The Korea Rural Community Corporation (KRC), the Republic of Korea's leading state-run group on rural development, will invest in smart agriculture in Vietnam regarding seeds that are immunised against diseases, CEO Kim In Sik said on July 12.
Kim released the information in Hanoi while being received by Deputy Prime Minister Vuong Dinh Hue who lauded the RoK's rural development experience and the role of the group.
The KRC is providing the RoK Government's non-refundable aid for five projects on fruit and animal health in Thai Binh and Hai Duong provinces and Hanoi's Dong Anh district. It has also carried out a public-private-partnership project on building a wholesale market of agro-fishery products and high-tech farming in Hanoi's Gia Lam district; another on restructuring the agricultural sector in Dong Thap province; and another on rural development planning in the Mekong Delta.
Hue said he backs collaboration between the company and Vietnamese public agencies and businesses in such projects, which he vowed to direct relevant agencies and sectors to soon begin their implementation.
The official asked the KRC to launch more projects on smart agriculture in adaptation to climate change in Vietnam and attend a conference reviewing a decade of building new-style rural areas in Vietnam.
For his part, Kim said his company's cooperation projects in Vietnam and the host Government's support will contribute to the growth of the country's rural areas and of the Vietnam – RoK trade and investment ties.
He added the KRC wants to run projects that combine landscape improvement with tourism development in Vietnam.
Work begins on new inland container depot in Binh Phuoc
The People's Committee of the southern province of Binh Phuoc on July 11 held a ground-breaking ceremony for the Hoa Lu international inland container depot in Loc Hoa commune, Loc Ninh district.
The 35.3-hectare port, part of the Hoa Lu border economic zone project, is invested by ICD Hoa Lu Co., Ltd, a joint venture of Thanh Le General Import-Export Trading Corporation, Binh Duong Building Materials and Construction Company Ltd, and Cambodia's V.G.T Export Import Transportation Co., Ltd, at the total cost of 379 billion VND (16.3 million USD). Upon completion, the port will facilitate import-export activities between Vietnam and Cambodia, Laos and Thailand.
In the first phase, which last until 2020, the port is designed to handle 200,000-500,000 containers each year. The capacity will be increased to 600,000-900,000 containers per year by 2030 in the second phase.
Built with modern technologies, the inland depot is expected to meet demands on custom clearance as well as logistics and warehouse services.
In addition, it will create jobs for local workers, thus making contributions to local socio-economic development and budget collection.
Vice Chairman of the provincial People's Committee Huynh Anh Minh said the inland depot is in line with the local authority's policy to promote industrialisation and modernization.
Dong Nai meets 2019 FDI target in just six months

The southern province of Dong Nai completed its full-year target for foreign direct investment (FDI) attraction in the first half of the year, according to the provincial Statistics Office.
During the reviewed period, the province lured US$1.02 billion in FDI, 8 per cent higher than in the same period last year, the office's latest data showed.
Of the sum, $514 million was poured into 48 newly licensed projects while the remaining $512.3 million was contributed to 512 operational projects to raise their capital.
South Korea was the province's leading foreign investor in the first half of the year with capital amounting to $100 million.
Representatives of the provincial Department of Planning and Investment said most of the projects were high-tech, environmentally friendly and suitable for the province's investment attraction policy.
So far, Dong Nai has attracted a total of 1,420 foreign-invested projects with combined capital of nearly $29.6 billion. Investors in the province have come from 43 countries and territories, led by South Korea, Taiwan and Japan.
The FDI funds have mainly been injected into support industries in the fields of electronics; garments, textiles, and footwear; and the manufacturing of machinery products.
According to the Foreign Investment Agency, Dong Nai now ranks fourth among 64 localities in term of FDI attraction.
Helmut Bode, Chief Executive Officer of German Schaeffler Group in the Asia Pacific region, told baodongnai.com.vn that the province's open investment climate, its transportation advantages and improving infrastructure were main reasons his company had decided to invest in Dong Nai.
In May, Schaeffler inaugurated its new Greenfield plant, worth 45 million euros ($51 million), in the city of Bien Hoa, deepening its investment in the locality where it started its first production more than 10 years ago. The plant, located in the Amata Industrial Zone, produces industrial bearings and components for a wide range of applications.
The plant would be expanded next year with a total investment of about $67 million, increasing its production capacity by between five and 10 times, Bode told the online newspaper.
He said Dong Nai should continue to streamline its procedure reforms and shorten the time it takes to handle documents in order to attract more foreign investors, especially those in hi-tech industries.
In the future, the province would reject any project that was likely to cause environmental pollution or use out-of-date technology, instead prioritising clean investments, said deputy head of the Dong Nai Industrial Zones Authority Mai Van Nhon.
Before granting investment licences, local authorities would consider the projects' production value, labour productivity and disbursement rate, he said.
FDI in HCM City rises
HCM City attracted $3.21 billion worth of foreign direct investment in the first half of the year, a 20 per cent increase year-on-year.
Of this $539 million went into 598 new projects, a 3.6 per cent increase.
The property sector attracted the largest amount of $221 million or 41 per cent of the total investment.
Nearly 22 per cent went into the technology sector, 19.5 per cent into wholesale and retail and repair of automobiles, motorbikes and other vehicles 5.8 per cent into manufacturing.
Around $300 million was invested in 145 existing projects, an 81.6 per cent rise.
The remaining $2.37 billion went into buying stakes in local companies, a 32.6 per cent increase.
Le Thanh Liem, deputy chairman of the city People's Committee, said several investment and trade promotion events had been held this year, which had helped attract foreign and domestic investors and improve their trust in the local investment environment.
He however noted that despite increases in the numbers of projects and the total investment the average size of foreign projects was still small, estimated around $1 million each.