Vietnamese, Czech businesses look to strengthen partnership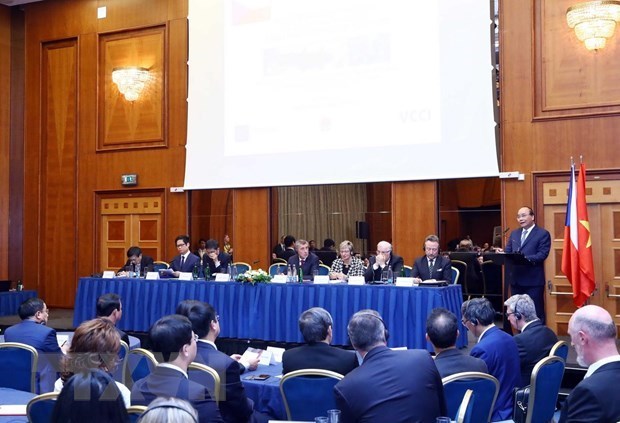 Prime Minister Nguyen Xuan Phuc addresses the Czech Republic-Vietnam Business Forum in Prague on April 17
The Czech Republic-Vietnam Business Forum was held in Prague on April 17 within the framework of Prime Minister Nguyen Xuan Phuc's ongoing visit to the European country, drawing representatives of more than 100 enterprises and investors of both sides.
Addressing the event, Jaroslav Hanak, President of the Czech Confederation of Industry and Transport, said that the country holds strengths in industry, science, and technology, and is willing to partner with Vietnam in these fields.
Czech Minister of Industry and Trade Marta Novakova highlighted the cooperation potential between the two sides in education-training, underlining the role of Vietnamese alumni who studied in the Czech Republic as bridges between the two peoples.
She lauded the position and prestige of Vietnam in the region and the world, stating that the Czech Republic supports the EU's signing of the free trade agreement with Vietnam (EVFTA) and the EU-Vietnam Investment Protection Agreement (EVIPA).
She also suggested a number cooperation areas that the Czech Republic has advantages in, such as the automobile industry and crystal production, while expressing hopes to increase exports to Vietnam.
At the event, Czech Prime Minister Andrej Babis underscored the contributions by the Vietnamese community to socio-economic development in the European country and the growth of bilateral partnership.
He expressed his delight at the expanding bilateral relationship, adding that he hopes the EVFTA will be signed before the upcoming European Council election, thus opening up more chances for EU and Czech Republic enterprises to soon increase trade and investment partnerships with Vietnam.
The Czech PM proposed that business communities of both sides strengthen import-export activities between the two countries, affirming that the two governments will create optimal conditions for the launching of a direct air route linking Hanoi and Prague in 2019.
He said that leaders of the two countries discussed the simplification of procedures for granting visas for citizens of both sides to visit each other's countries.
He stressed that Vietnam is a huge and promising market for Czech firms to invest in and operate production activities.
For his part, Prime Minister Nguyen Xuan Phuc said he hopes that after the forum, businesses of both sides will continue maintaining their connectivity and meetings to seek partnership opportunities.
He added that Vietnamese and Czech firms should further promote partnership in broader areas, pledging that the two governments will back them in the work.
Noting that Vietnam and the Czech Republic's economies are more supplementary than competitive, the Vietnamese Government leader held that the bilateral partnership will grow with greater efficiency in the future.
He said that Vietnam has political and social stability, strong tropical agriculture, and a rapidly growing processing-manufacturing sector with wide export markets, adding that the local business environment has been much improved, drawing nearly 28,000 FDI projects with a total capital of over 345 billion USD.
Vietnam ranked 77th out of the 137 countries on the global competitiveness index in 2018. In early April of 2019, S&P Global raised the country's sovereign rating to BB with a stable outlook.
So far, Vietnam has signed and implemented 12 FTAs, including the Comprehensive and Progressive Agreement for Trans-Pacific Partnership, said the PM, adding that Vietnam is working with the EU to speed up the signing and ratification of the EVFTA, which is an important foundation for the promotion of trade ties between Vietnam and the EU, including the Czech Republic.
Furthermore, Vietnam has a young workforce with a nearly-100-million-strong market, which is of great potential for investors and business from the Czech Republic to explore, he stated.
Domestic gold dips to new lows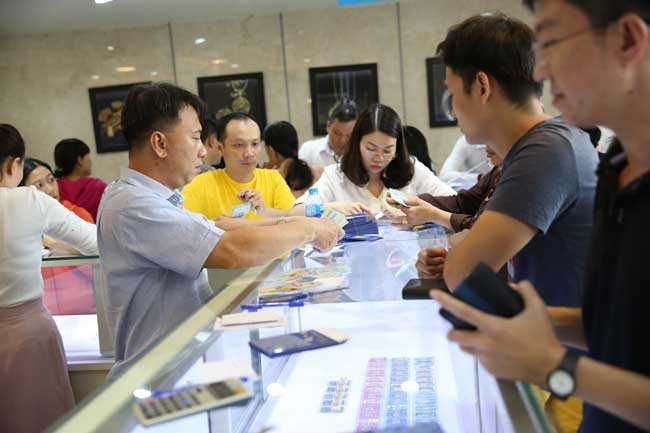 Customers buy gold at a shop in HCMC.
The domestic gold price slumped to new lows in tandem with the global downtrend today, April 17, according to Nguoi Lao Dong Online newspaper.
Saigon Jewelry Company (SJC) quoted the yellow metal at VND36.25 million per tael for buying and VND36.35 million per tael for selling, down around VND200,000 compared to Tuesday and marking the biggest loss in recent days. A tael equals 1.2 troy ounces.
In Hanoi City, Rong Thang Long bullion of Bao Tin Minh Chau Company dropped a slight VND50,000, closing at VND36.16 million for buying and VND36.61 million for selling.
Both local and global gold prices are at their record lows this year. Compared to the peak in February, the domestic gold price has lost around VND800,000 for tael.
On the world market, the precious metal fell for a fifth consecutive session, dropping US$10 against Tuesday to US$1,275 an ounce. According to market watchers, the decline resulted from the strong rises of U.S. stocks and government bond yields, making gold less attractive to investors.
Given the current dong-U.S. dollar exchange rate, the world gold price was around VND35.7 million a tael, around VND600,000 lower than the local price.
The State Bank of Vietnam today revised up the central reference rate to VND22,991, rising by VND1 against Tuesday. Local banks kept their dollar prices unchanged at VND23,150 for buying and VND23,250 for selling.
Japan's Marubeni Corp. asked to boost ties with Vietnamese firms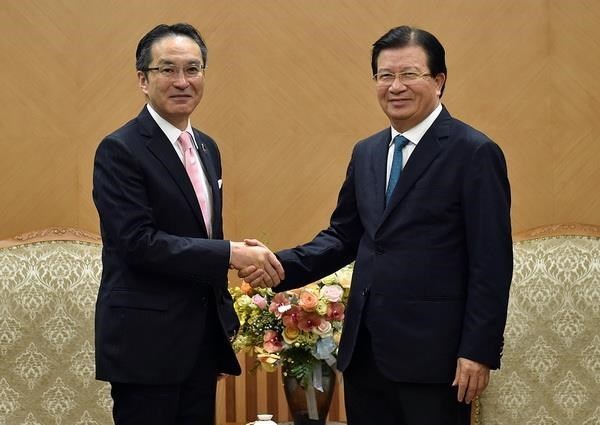 Deputy Prime Minister Trinh Dinh Dung (R) meets with CEO of Marubeni Corporation Masumi Kakinoki in Hanoi on April 16
Deputy Prime Minister Trinh Dinh Dung received CEO of Marubeni Corporation Masumi Kakinoki in Hanoi on April 16, calling on his firm and other Japanese businesses to increase cooperation with Vietnamese firms.
The deputy PM highly valued Marubeni's consideration of Vietnam as an important market in Asia, as well as its investment in the country's critical industries like export-import, energy, food processing, and garment-textiles.
He described Marubeni's development in Vietnam as an illustration of the Vietnam-Japan cooperation and friendship, which are flourishing in a substantive and comprehensive manner with high political trust.
Japan is currently a leading economic, trade, and investment partner of Vietnam, he said, elaborating that it is the top supplier of official development assistance with the capital of some 30 billion USD; the second biggest investor with 4,020 projects worth 57 billion USD; and the third largest source of foreign visitors, with some 800,000 tourists to Vietnam last year. With 38 billion USD in bilateral trade in 2018, Japan ranks fourth amongst Vietnam's trade partners.
Dung said that Vietnam attaches great importance to its economic partnership with Japan and appreciates Japanese businesses' investment expansion in various industries. They have actively contributed to local socio-economic development.
As Vietnam has signed many trade agreements with foreign partners, he called on Marubeni and other Japanese enterprises to continue increasing investment in Vietnam and cooperation with local firms. He suggested the group collaborate with Vietnamese partners to produce and distribute Vietnamese products to the Japanese and global markets.
The Vietnamese Government is determined to push ahead with streamlining administrative procedures and improving the investment climate, thereby creating better conditions for foreign investors, including those from Japan, to invest and do business successfully in the country, Deputy PM Dung affirmed.
At the meeting, Marubeni CEO Masumi Kakinoki thanked the Vietnamese Government, ministries, sectors, and localities for creating optimal conditions for his firm to operate.
He affirmed the group's intention to make long-term investments in Vietnam in various fields, including export-import, electricity generation, liquefied gas projects, running water production and business, and wastewater treatment.
Marubeni also wishes to partner with Vietnamese companies to expand its investment into many other fields, he added.
Viettel to deploy nearly 10,000 BTSs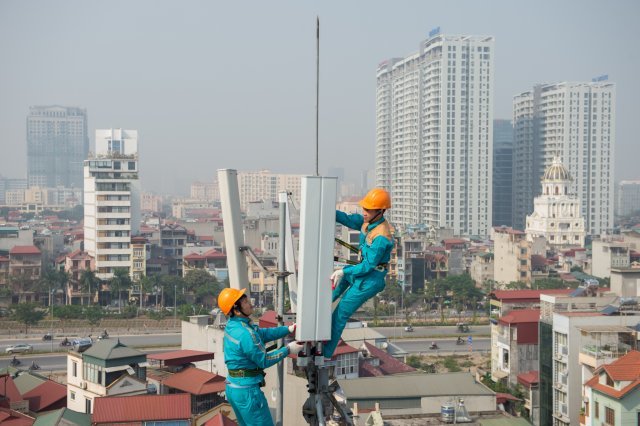 Viettel has announced plans to deploy nearly 10,000 Base Transceiver Stations (BTSs) in central areas of cities and provinces with high data demand, in order to improve 4G network quality.
The 4G BTSs are on the 2100MHz band, which has just been licensed by the Ministry of Information and Communications (MoIC) to 15 large cities and provinces with high demand for data, such as Hanoi, Ho Chi Minh City, Da Nang, Hai Phong, and Quang Ninh. Installation is expected to be completed by the middle of this year.
Viettel is also removing 2G subscribers from the 1800MHz band, taking the entire band for the 4G network. When completed, Viettel's high-speed 4G network capacity will increase 25 per cent compared to currently because it is not shared with the 2G network.
Viettel therefore becomes the only network in Vietnam deploying 4G network on both the 1800MHz and 2100MHz bands.
Many new technologies and solutions will also be implemented by Viettel to improve 4G service quality. More than 1,000 small cell broadcast stations will be installed. A series of devices dividing the coverage area is being implemented by Viettel in crowded areas such as pedestrian streets, stadiums, and festival areas.
Mr. Dao Xuan Vu, General Director of the Viettel Network Corporation, said it currently has the largest number of 4G subscribers and data consumption trends continue to increase rapidly. "In the absence of a dedicated band, these technical solutions help to improve the speed of Viettel's 4G service," he added. "When completing the upgrade plan, Viettel's 4G network capacity will increase from 25 to 50 per cent depending on the area, and users' 4G data rate will also increase by an average of 1.3-1.5 times compared to present."
Viettel currently has the largest network infrastructure in Vietnam, with nearly 130,000 BTSs. The newly-deployed 4G network is also equipped with nearly 50,000 base stations.
4G services have been officially provided in Vietnam since 2017 on the 1800MHz band together with the 2G network. After two years of supply, mobile data consumption trends have boomed, and network operators face a shortage of bandwidth, affecting overall speed.
Operators have also proposed to the MoIC that bidding for the 2600MHz band reserved for 4G services be allowed. Due to concerns about legal barriers, however, the proposal has not been implemented as yet.
MoMo e-wallet signs agreement with Da Nang
The central city of Da Nang and MoMo e-wallet have officially signed an agreement on the payment of public administrative services via e-wallet, within the framework of an announcement ceremony for the Smart City Project held on April 10.
With the signing, Da Nang becomes the first locality to implement the policy on promoting electronic payments under Resolution No. 02/NQ-CP from the government.
MoMo e-wallet will provide an electronic payment solution to collect fees for public administrative services provided by administrative agencies in Da Nang. People can pay these fees through the payment portal on the city's e-government portal (https://egov.danang.gov.vn) or use MoMo's e-wallet app to conduct payments at the one-stop-shop of the Da Nang Public Administration Center.
The two parties completed the technical connection and officially put the service into operation on April 2. They have also worked together to expand the electronic payment model for other services in Da Nang, such as apartment fees, parking fees, tuition fees, hospital fees, and payments at restaurants, hotels, and tourism facilities.
Mr. Nguyen Ba Diep, Deputy Chairman of the Online Mobile Services JSC, the provider of MoMo e-wallet, said MoMo is honored to cooperate with Da Nang to provide electronic payment solutions for people using public administrative services, implementing the government's policy on promoting non-cash payments under Resolution No. 02. "This is consistent with our direction and goal of developing Vietnamese fintech products for Vietnamese people," he added.
To mark the cooperation with Da Nang, MoMo will exempt all users from money transfer fees via e-wallet until the end of this year, and will coordinate with the Da Nang Department of Information and Communications to encourage people to adopt the habit of using non-cash payments.
Da Nang has held top position in the ICT index for the last seven years. Its online application platform provides many useful services, from online public services to applications that allow people to provide feedback to management agencies.
Established in 2007, MoMo has built an ecosystem that meets most of the essential needs of customers, with 10,000 business partners in areas such as consumer finance, insurance, money transfer, payments, entertainment, e-commerce, shopping, transportation, and catering.
With more than 100,000 payment points and a network of 8,000 agents around Vietnam, MoMo has more than 12 million customers using e-wallets and helps 3.5 million customers in remote areas, where banking and smartphone services are still unpopular, to gain access to financial services.
First Vietnam PFA 2019 set for July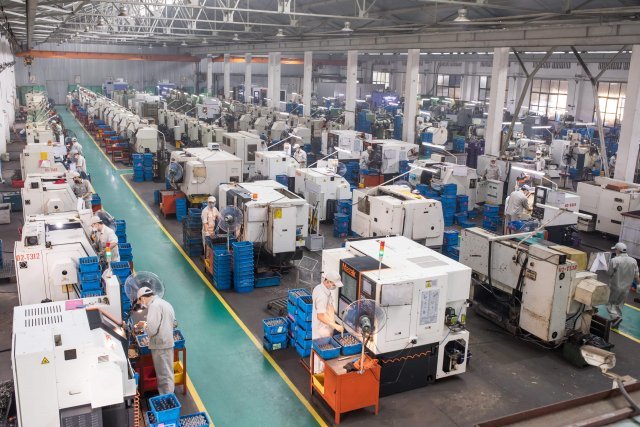 The first Vietnam International Exhibition on Processing, Packaging and Preserving Food & Agricultural Products (Vietnam PFA) 2019 will take place from July 24 to 27 at the Saigon Exhibition & Convention Center (SECC) in Ho Chi Minh City.
Vietnam PFA 2019 has received special attention from government management agencies and the business community and has had the patronage of and direct guidance from relevant ministries, with coordination among the leading management agencies at the Ministry of Industry and Trade (MoIT) and the Ministry of Agriculture and Rural Development (MARD).
"Vietnam PFA 2019 will create a favorable environment for expanding cooperation and promoting and introducing Vietnam's food and agricultural products," said Deputy Minister of Industry and Trade Do Thang Hai. "This is an opportunity for Vietnamese enterprises to expand cooperation, attract investment, cooperate in production, and apply advanced science and technology as well as modern management experience from foreign partners. It is also a venue for international enterprises to seek opportunities, build partnerships, and invest in Vietnam's agriculture sector."
Deputy Minister of Agriculture and Rural Development Tran Thanh Nam said he expects the exhibition to feature exchanges between businesses and expand markets, contributing to quality and added-value improvements in Vietnam's food and agriculture products, so they may be part of regional and global supply chains.
The Organizing Board emphasized B2B forums as a bridge to bolster promotions and create links, and a "Business Match Making" activity will also be held. Mr. Nguyen Quoc Toan, Acting Director of the Agro Processing and Market Development Authority at MARD, said the agency will cooperate with the Vietnam Industry Agency and the Vietnam Trade Promotion Agency at MoIT to create the content of specialized seminars and forums within the exhibition's framework.
Enterprises participating at the exhibition are already well prepared. Ms. Violet, Director of the Tin Dan Co., said the company will bring several suitable solutions to controlling counterfeit goods in the agricultural sector.
The Asia Refrigeration Industry JSC (Arico) expects to promote its brand among foreign partners to enhance business, exchange experience, and promote trade between Arico and enterprises from Vietnam and elsewhere.
Ms. Thuy Nhi, Director of the Dai Chinh Quang Machinery Equipment Co., said she will showcase new machinery, technologies, and products and also introduce food and agricultural products. The company is preparing machinery and equipment to introduce at the exhibition, putting technical features, functions and applications into production.
With serious investment and many coordinated activities to be held, this first Vietnam PFA 2019 expects to attract 35,000 visitors and affirm its role as the most prestigious and professional specialized event in the field of processing, packaging, and preserving food and agricultural products in Vietnam.
VEPR: 6.8% growth target feasible
Vietnam's economy recorded growth of 6.79 per cent in the first quarter of 2019; lower than in the same period last year and showing that growth momentum is easing, according to a quarterly report from the Vietnam Institute for Economic and Policy Research (VEPR) released on April 11.
In the first three months there were 28,451 newly-registered enterprises, with total capital of VND375.5 trillion ($16.1 billion), down 6.2 per cent in number but up 34.8 per cent in capital compared to the same period in 2018.
However, the first quarter saw 14,761 enterprises temporarily suspend business for a definite period, up 20.8 per cent year-on-year. There were also 15,300 enterprises waiting for dissolution and 4,100 that completed dissolution procedures, up 23.9 per cent. This reveals that Vietnamese enterprises remain quite weak and the business environment needs to be further improved.
The import and export situation also shows signs of instability. VEPR noted the trade surplus was $816 million in January, but in February a deficit of $768 million was posted and then $1.63 billion in March. Meanwhile, exports are forecast to face many difficulties due to slowing global economic growth and more trade conflicts and political instability. This will more than likely lead to continued trade deficits.
The shift in FDI inflows to Vietnam aims to take advantage of opportunities from the Comprehensive and Progressive Agreement for Trans-Pacific Partnership (CPTPP) and the EU-Vietnam Free Trade Agreement (EVFTA). Risk prevention in US - China trade tensions is another point of interest this year.
But VEPR nonetheless believes the growth target of 6.6-6.8 per cent in 2019, set by the National Assembly, is feasible.
However, in the context of US - China trade tensions, protectionism, the risks from China's economy, the uncertain future of Brexit and conflicts within the EU, and Donald Trump's unpredictable behavior makes Vietnam's economic picture in 2019 more uncertain.
In the long term, VEPR recommends that Vietnam streamline the State apparatus and cut down on regular spending. The country also needs to review preferential policies on taxation or land for FDI in order to create a more equal environment for domestic enterprises.
Aviation continues to boom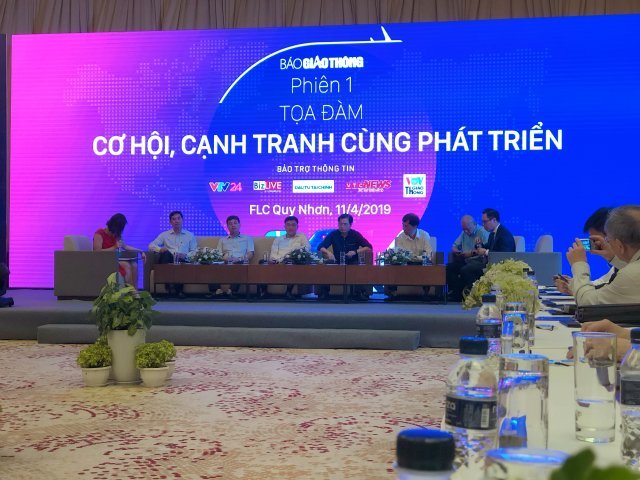 Vietnam's aviation industry has seen growth in the double digits over the last five years, the "Solutions to promoting the sustainable development of Vietnam's aviation industry" workshop held in Quy Nhon city in south-central Binh Dinh province on April 11 heard.
Networks have expanded rapidly among domestic carriers Vietnam Airlines, Vietjet Air, Jetstar, Bamboo Airways, and Vasco. Seventy-one foreign airlines and four domestic airlines connect Vietnam with 28 countries and territories.
Mr. Pham Van Hao, Deputy Director of the Civil Aviation Authority of Vietnam (CAAV), told the workshop that Vietnam's aviation industry is experiencing impressive growth. "In the past there was only Vietnam Airlines, but now many private carriers have appeared," he added. "This indicates a clear change in both quality and quantity. International organizations also rate Vietnam's aviation sector as one of the fastest-growing in the world and with huge potential."
Senior Economist Dr. Vo Tri Thanh pointed out that Vietnam is becoming a hub for connecting with the world from its efforts at integration, which promotes growth in the aviation industry.
According to Mr. Dang Tat Thang, Vice Chairman of Bamboo Airways, the participation of the private sector in aviation has given many people the opportunity to fly, and competition between Vietnamese airlines will provide major benefits to passengers. "Competition in the aviation market is not only between airlines but also between the State sector and the private sector," he added. "The State has played a role in guiding direction and policy, creating an equal environment between State and private."
Given the participation of private investors in aviation infrastructure, Mr. Lai Xuan Thanh, Chairman of the Board at Airports Corporation of Vietnam (ACV), said transport infrastructure should be strictly managed under State plans and development strategies. "The State has a policy of mobilizing social resources into aviation infrastructure and socialization must ensure harmony of interests between investors and society," he noted.
The Prime Minister has planned aviation infrastructure. By 2020, total annual capacity will stand at 104 million passengers and 308 million passengers by 2030.
Bamboo Airways signs tourism cooperation agreement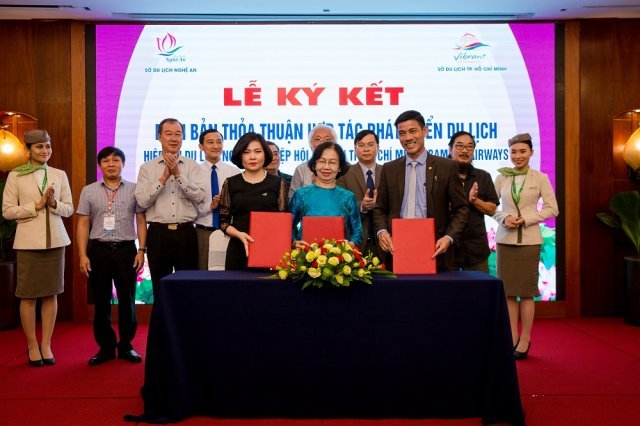 The FLC Group's Bamboo Airways signed a cooperation agreement on tourism development with the Nghe An Tourism Association and the Ho Chi Minh City Tourism Association on April 11, within the framework of an event promoting north-central Nghe An province.
Bamboo Airways will coordinate with and support the two associations in four main tasks: information exchange and sharing, cooperation in tourism product development, promoting tourism, and coordinating with the Vietnam Tourism Association.
Promoting the advantages of each party, the cooperation agreement is expected to build specific tour products under the "Tourism and discover the beauty of Nghe An" program, and fully exploit resources to maximize the comparative advantages of each locality, thereby developing the tourism market and enhancing visitor exchange between Nghe An and Ho Chi Minh City by air.
Ms. Nguyen Thi Khanh, Vice Chairwoman of the Ho Chi Minh City Tourism Association, said the cooperation agreement with Bamboo Airways is as an initial step in connecting the two tourism markets. "The association commits to working closely with Bamboo Airways to exchange information regularly about plans, the market situation, and tour products, to offer the most suitable and attractive incentive programs for customers," she said.
Ms. Vo Thi Thuy Duong, Deputy General Director of Bamboo Airways, said the goal and significance of this cooperation deal is part of Bamboo Airways' long-term vision. "We focus on exploiting niche markets and connecting emerging tourist destinations around the country, thereby aiming to strengthen regional links, promote socioeconomic development, and make tourism become a key industry in Vietnam," she said.
After beginning commercial operations in January, Bamboo Airways has identified Nghe An as one of the key markets in its operational strategy. The company is conducting four routes that connect the provincial capital Vinh with major cities and aims to increase the frequency of domestic flights from Vinh Airport to at least 20 round-trip flights per day, and open international routes from the city to initial destinations such as Thailand and Singapore.
Bamboo Airways hopes to contribute to attracting investment and strengthening regional links between Nghe An and major tourism, economic, cultural, and social centers around the country, to build Vinh in particular and Nghe An province in general into an important economic and transport hub in Vietnam and the region.
The carrier currently operates 17 domestic routes connecting major cities and tourist destinations, with its first international routes, to Japan, to start in April. In the second quarter of this year, it plans to continue to open international routes to South Korea, Singapore, Europe, Asia, Australia, and US.
To serve its international flight plans, Bamboo Airways has recently signed an agreement to purchase aircraft from Airbus, bringing its total number of Airbus A321neo aircraft to 50. This is part of the fleet development process towards standardizing aircraft lines, with the Airbus A321neo for its narrow-bodied fleet and the Boeing 787 Dreamliner for its wide-bodied fleet.
Ben Tre eyes sustainable development of marine economy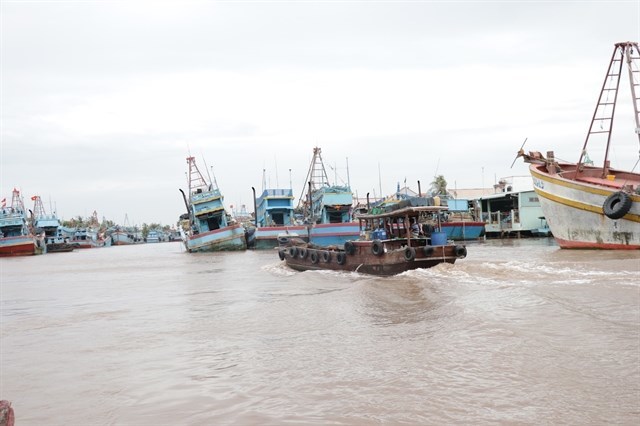 Fishing boats dock at Binh Thang fishing port in Ben Tre province's Binh Dai district
The Mekong Delta province of Ben Tre will develop its maritime economy over the next decade, focusing on fishing, tourism and renewable energy, according to the provincial People's Committee.
A plan it has drafted for the purpose envisages, by 2030, the maritime economy accounting for 30 percent of the overall provincial economy.
It will focus on aquaculture models that use advanced techniques and are biologically safe and environment-friendly.
It plans to increase the area under aquaculture to 42,000ha and annual output to 136,000 tonnes. Around 5,100ha will be farmed using advanced techniques.
All intensive farming areas raising key aquatic species will meet Vietnamese good agricultural practices (VietGAP) or other standards such as GlobalGAP and Aquaculture Stewardship Council (ASC).
The province targets annual revenues of 450 million VND (19,400 USD) per hectare from aquaculture by 2030.
It plans to set up five or six new seafood processing plants, including two to three for shrimp. It will develop a marine economic industrial park in Thanh Phu district before the end of the plan.
The province targets construction of one renewable power plant this year and linking it with the national grid. Its production of wind power will reach 1,285MW and solar power, more than 200MW by 2030.
It will develop marine tourism together with agricultural services in the three coastal districts of Binh Dai, Ba Tri and Thanh Phu districts. It plans to increase tourism revenues three fold by 2030.
Cao Van Trong, Chairman of the provincial People's Committee, said to achieve the targets more investments would be made in infrastructure to develop aquaculture areas that use advanced techniques in the three coastal districts. Models that help adapt to climate change would be expanded, he said.
The focus would be on the use of advance techniques in aquaculture, fishing and processing and preservation of seafood that have high value and demand, Trong said.
The province has 11 seafood processing plants with an annual output of 72,000 tonnes, mostly frozen tra fish, clam and shrimp.
The area under aquaculture in the province has increased rapidly in recent years, with the key items being marine shrimp, tra fish and clam.
More and more farmers and companies in the province are adopting good agricultural practice standards such as GlobalGAP and ASC standards for exports.
The province had nearly 22,000ha under black-tiger shrimp in the first quarter of this year, according to its Department of Agriculture and Rural Development.
Fishermen's catches totalled 48,569 tonnes in the first quarter, a 5.25 percent increase year-on-year.
The department attributed the increase to the upgrading of fishing boats used for offshore fishing.
The province has focused on developing offshore fishing activities, advanced fishing methods and logistic services for fishing boats at sea.
The People's Committee has ordered the Department of Industry and Trade and other relevant agencies to enable investors to quickly build the wind and solar power projects that have been licensed.
With a coastline of 65km, Ben Tre has great potential in renewable energy, marine tourism, aquaculture, and fisheries.
Viglacera to export ALC panels to Singapore
Viglacera Corporation –JSC has said it will export 50,000 cubic metres of ALC (Autoclaved Lightweight Concrete) panels worth millions of US dollars to Singapore.
To enter the Singaporean market, the ALC panels must satisfy technical requirements set by the country as well as each specific project. The contract will last for two years, starting from 2019.
Arthur Lim Kean Chuan, director of a Singaporean company, said during his field trip to Viglacera's autoclaved aerated concrete (AAC) factory in the Yen Phong industrial park, the northern province of Bac Ninh, that Viglacera products meet standards of the Singaporean market.
Viglacera is also one of the first Vietnamese businesses to ship ALC panels to Singapore.
Viglacera is the leading company in the construction material industry in Vietnam in terms of production capacity, product types, designs and quality.
The corporation contributed 20 million USD in export turnover to the construction sector annually, with its products delivered to over 40 countries worldwide.
ICM, Swiss EP to jointly host first fundraising round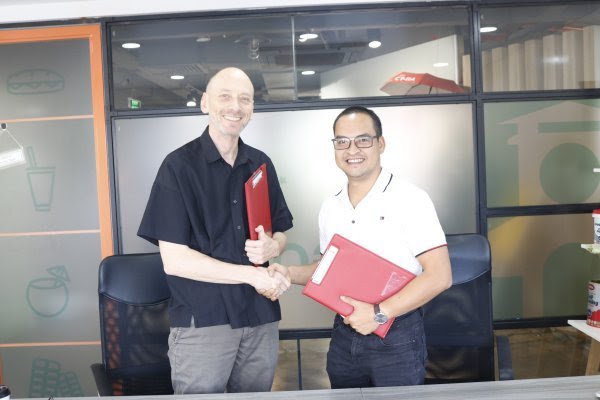 Nguyen Viet Duc (R), general director of ICM, and Hub Langstaff, director of Swiss EP Vietnam, shake hands at a signing ceremony to launch the Angels City program – PHOTO: COURTESY OF THE ORGANIZER
Innovation Capital Management JSC (ICM) and Swiss Entrepreneurship Program (Swiss EP) on April 10 announced the launch of their first fundraising round, called Angels City, scheduled for April 16, aiming to develop a startup ecosystem in Vietnam.
ICM and Swiss EP want to create a more transparent investment model through Angels City. After three years of studying the local startup market, they found that investment activities for startup projects were carried out separately, while the local market had yet to see any solutions related to mass investments.
Angels City, tapping funds from the two parties, was developed based on the available investment infrastructure of ICM. The fundraising program is expected to help investors approach and fund potential startup projects that are carefully selected by an academic board of representatives of ICM and Swiss EP.
Investors joining Angels City can work with other investors at home and abroad, particularly "lead investors" that have hands-on experience in various fields and can help participating investors minimize their investment risks and manage their investments well.
ICM and Swiss EP will co-organize training courses, enabling participating investors to prepare themselves with essential knowledge needed to become angel investors, under the guidance of experts.
Meanwhile, startup projects taking part in Angels City will be able to raise funds of up to US$100,000 and interact with angel investors, professional investment funds and the entrepreneur community.
Besides this, project owners can join training and acceleration programs co-held by ICM and Swiss EP.
Angels City is part of a cooperative agreement signed last year between ICM and Swiss EP on developing a startup ecosystem. Under the agreement, they pledged to work on incubation and acceleration programs, as well as to promote angel investment in the local startup ecosystem.
They also created conditions for angel investors to invest in startup projects in the major cities of HCMC, Hanoi, Danang and Haiphong.
Vissan concerned about shortage of live pigs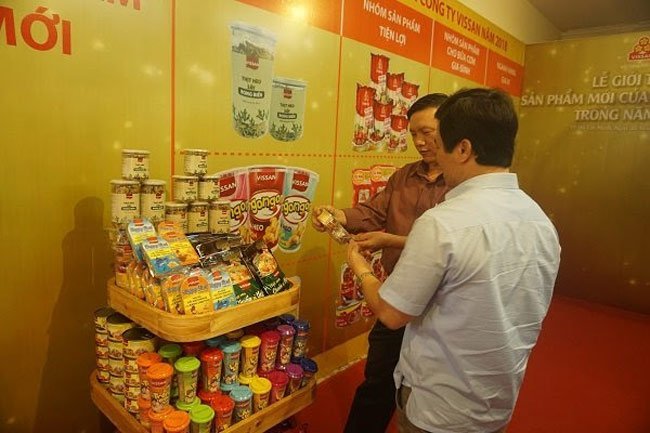 Visitors check Vissan meat products at a new product launch ceremony held by Vissan. Vissan has voiced concern over a possible shortage of live pigs due to African swine fever
Despite African swine fever being put under control in certain provinces, this year will face a possible shortage of live pigs, said Nguyen Ngoc An, general director of meat processing firm Vissan.
An told a 2019 annual shareholder meeting on April 11 that Vissan last year faced a lot of difficulties as the price of input materials rose, causing the firm to raise its product prices. The upward price adjustment resulted in a drop in sales.
"The oversupply of live pigs in 2017 pulled down live pig prices, but the second quarter of 2018 faced a shortage of live pigs as farmers did not raise new herds of pigs," An said, adding that the average buying price of live pigs in 2018 surged by 48.8% against 2017.
"Moving to 2019, because of the outbreaks of African swine fever, we are worried about an undersupply of live pigs," he noted.
As such, preparing an adequate supply of live pigs this year to serve customers is Vissan's priority.
An pointed out that the firm would continue to expand its cooperation with pig farms that meet VietGAP standards to provide high-quality products.
In addition, the firm will gradually replace pork with other products such as chicken and beef to diversify its output and offer a variety of fresh food to customers. Further, Vissan will also consider importing frozen pork to meet shoppers' demand for meat.
The firm set a total revenue target of VND4.8 trillion and pre-tax profit target of VND200 billion in 2019. The targeted figures will rise by 9% and 14%, respectively, against last year.
In 2018, Vissan saw its total revenue rising 15% year-on-year to VND4.5 trillion, reaching 97% of the 2018 plan. The firm earned pre-tax profit of VND175 billion, meeting 98% of the plan. Besides this, the consumed volumes of fresh food and processed products amounted to over 25,500 tons and 22,600 tons, respectively, An said.
Prices of staple farm produce drop sharply in Q1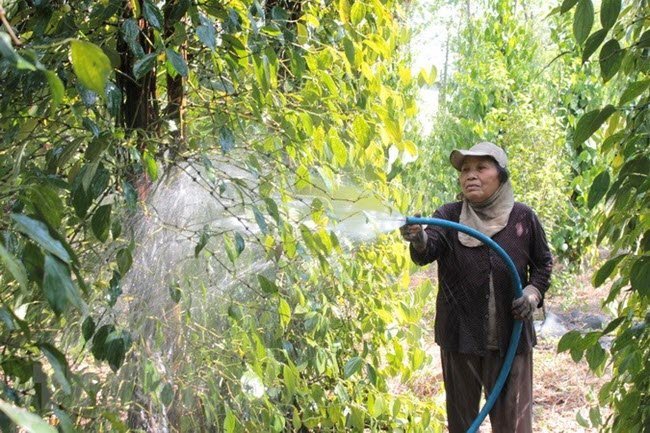 A local farmer waters pepper plants in the southern province of Binh Phuoc. The pepper export price in the first quarter of 2019 declined by 27% versus the same period last year
The export turnover of local farm produce was reported at VND8.8 billion in the first quarter of the year, down almost 3% year-on-year. The fall was attributed to the two-digit falls in export prices of four staple farm produce items -- pepper, cashew, rice and coffee -- reported Thanh Nien newspaper.
The pepper export price fell by 27%, the steepest price fall among the four products, with the value dropping 18% while the volume rose 19%.
It was followed by cashew nut, whose average export price in the given period reached over US$8,000 per ton. The cashew export price declined by 21% versus the year-ago period, with the value dipping by over 17%.
Rice came third, with an 18% decrease in export price, and was traded at US$404 per ton. The rice export value over the first three months of this year dropped by over 20%, despite a mere 3.5% dip in volume.
Also, coffee for exports now reported a 14% decrease in price. Local coffee exporters earned US$830 million in revenue in the first quarter, down nearly 24% in value and 15.3% in volume.
Other farm produce such as vegetables, cassava and shrimp products also faced a drop in export price of nearly 10%. The export turnover of vegetables and shrimp products hit over US$870 million and US$670 million, respectively.
The export of vegetables saw the strongest growth among agro-aqua-forestry products over the past three years. However, due to its heavy dependence on the Chinese market as the dominant outlet, it encountered a decline when the demand for vegetables in this market fell.
Local startups advised to pursue digital economy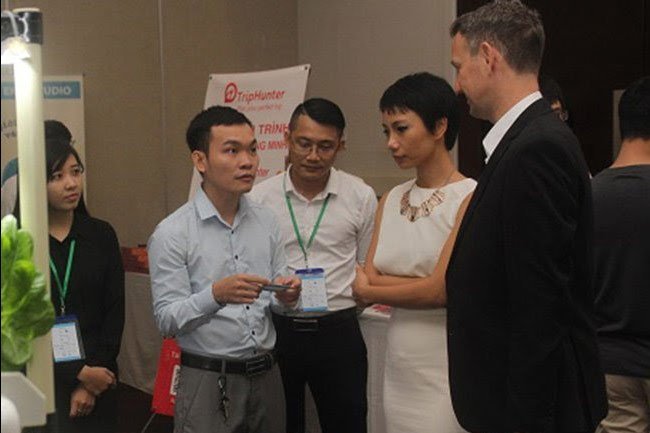 Investors speak with representatives of startups at the launch ceremony of Vietnam Startup Wheel on April 10
Startups in Vietnam should focus on perfecting their products, pursuing the digital economy and digital transformation with determination to obtain strong growth in the future, according to investors at a press conference held on April 10 in HCMC to launch Vietnam Startup Wheel.
A representative of the HCMC Young Business Association said that the competition gives startups the chance to seek investors, market products and access the market successfully.
Chyl Lee, a representative of Thailand's Kasikornbank (KBank), said that Vietnam is emerging as a startup center in the region and the world, with over 3,000 startups and a developing technology ecosystem.
This resulted from the country's readiness for digital transformation, especially fintech which is picking up steam in the local market, Lee said, adding that over the past two years, some US$130 million in foreign investment has been poured into Vietnam's fintech sector.
In addition, tech startups in Vietnam have benefited from a favorable business environment with incentives and preferential policies offered by the Government, apart from receiving large sums of domestic and foreign capital, Lee pointed out.
Aside from opening branches in Vietnam, KBank is expected to cooperate with many startups in the country to gain ground in the digitalization era.
"As such, Vietnam Startup Wheel will play an important role in connecting the bank with potential Vietnamese startups," Lee said.
Echoing this opinion, Kyounghwan Kim, vice chairman of Smilegate Investment Fund, said that Vietnam's economy has changed significantly over the past decade, with a fast growth rate in recent years. Kim stressed that Smilegate expected to contribute to the country's development, so the fund has not limited investment in Vietnamese startups.
Smilegate is considering focusing on incubation for startups in Vietnam, Kim noted.
SaigonTel to bolster investment in property sector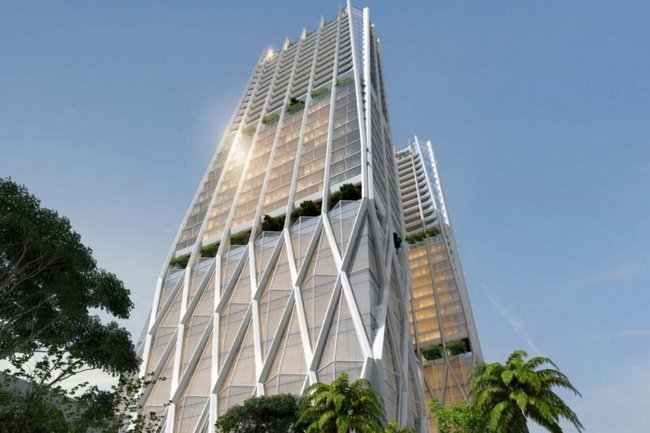 An artist's impression of a SaigonTel property project on Nguyen Tat Thanh Street in HCMC's District 4
Saigon Telecommunication and Technologies Corporation (SaigonTel), a HCMC-based telecom service provider, has announced that it will boost investment in the real estate sector, including in an upcoming luxury residential project in HCMC's District 4.
The firm announced its business and investment plans for this year at an annual general meeting to review its performance in fiscal 2018 held on April 11 in HCMC.
The residential project, worth some VND1.8 trillion, will cover over 5,300 square meters of land at 300A-B on Nguyen Tat Thanh Street. The 30-storey building complex, once completed in 2022, will feature 235 luxury apartments and a 15,000-square-meter office space for lease.
The firm is currently finalizing legal procedures and adjusting the overall design of the project to prepare for the opening in early 2020.
Also, the telecom provider will develop another 19-storey residential project, SaigonTel Central Park, in Bac Giang City this year. With total investment of VND210 billion, it will offer 187 apartments and nine shops. The firm plans to put up for sale all of the apartments and shops during the year.
The firm has a 12-storey office building project, called ICT2, in HCMC-based Quang Trung Software City. The VND200 billion project will offer a total gross floor area of 12,460 square meters.
A SaigonTel representative said the firm will leverage all resources to complete the second phase of the Dai Dong Hoan Son industrial park project, covering 95 hectares of land in the northern province of Bac Ninh. Such industrial property projects have contributed greatly to SaigonTel 's growth over the years.
Regarding its core business of telecoms, SaigonTel will launch two more services, including telecom integration and offshore software development, while developing smart buildings in its property projects.
Investment promotion conference for North-South expressway project delayed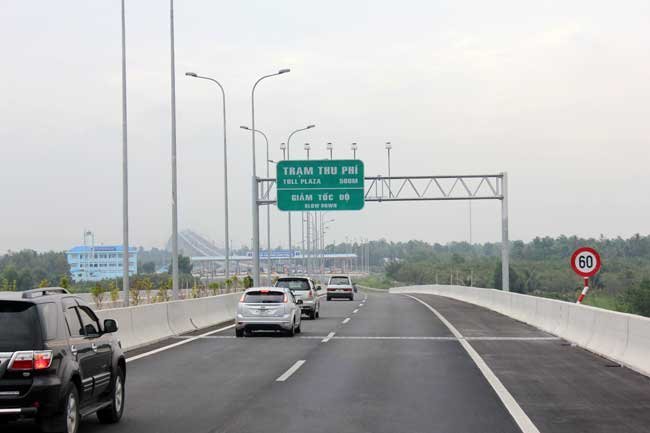 The HCMC-Long Thanh-Dau Giay expressway, part of the North-South expressway
A conference to call for investment in the eastern North-South expressway project in the 2017-2020 period will not be held on April 19 as previously planned, according to the Ministry of Transport.
On April 2, the ministry issued a plan to hold a conference to seek investment for the project, garnering the interest of many domestic and foreign enterprises.
However, in favor of making better preparations, the conference has now been postponed. The ministry will soon announce the official date for the conference on its website.
At the conference, an overview of the project and investment environment in Vietnam as well as requirements for investors will be introduced.
The National Assembly earlier approved a plan to build 654 kilometers of the North-South expressway project in the 2017-2020 period, with a total investment of over VND118.7 trillion (US$5.1 billion), of which VND55 trillion will come from the State budget and over VND63.7 trillion from the private sector.
The expressway project has 11 subprojects, with eight subprojects being managed under a public-private partnership format and the other three using State capital.
Petrol prices continue to scale up in latest review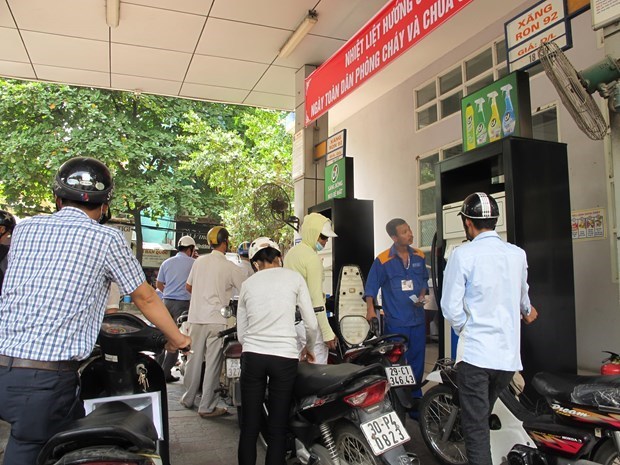 The retail prices of oil and petrol rose sharply from 3 pm on April 17 following adjustments made by the ministries of finance and industry and trade.
The two ministries review fuel prices every 15 days to adjust domestic prices in accordance with swings in the global market.
Accordingly, the retail price of bio-fuel E5 RON 92 has been raised to a maximum level of 19,703 VND (0.85 USD) per litre, up 1,115 VND (0.048 USD) per litre; while that of RON95-III was raised to the ceiling price of 21,235 VND (0.92 USD), rising 1,202 VND (0.052 USD) per litre.
Meanwhile, the ceiling prices of diesel 0.05S and kerosene edged up 297 VND (0.0127 USD) and 291 VND (0.0125 USD) per litre to 17,384 VND (0.75 USD) and 16,262 VND (0.7 USD) per litre, respectively. Mazut 180CST 3.5S will be be sold at no more than 15,617 VND (0.67 USD), up 407 VND (0.017 USD) per kg.
This is the second time since the Tet holiday that petrol prices have been strongly altered after the price stabilisation fund had to be used several times to keep prices steady.
The two ministries decided to lower subsidies from the petrol price stabilisation fund. Accordingly, subsidies for E5 RON 92 and RON95-III were cut to 1,456 VND (0.06 USD) and 743 VND (0.03 USD) per litre from 2,042 VND (0.08 USD) and 1,304 VND (0.056 USD) in the previous adjustment. The subsidy for mazut was lowered to zero from 362 VND (0.016 USD) per kg in the last adjustment.