Vietnam's trade surplus hits US$1.4 billion in Q1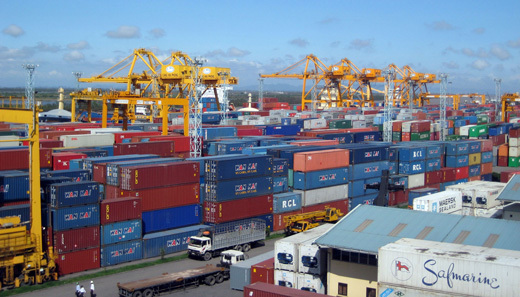 In March, Vietnam's exports reached US$23 billion, an increase of nearly US$8.9 billion against the previous month and US$700 million compared to January.
Vietnam recorded trade surplus of US$1.6 billion in March, leading to a trade surplus of over US$1.4 billion in the first quarter of 2019, down 47.5% year-on-year, according to the General Department of Vietnam Customs (GDVC).
The trade surplus figure released by GDVC is nearly triple the US$536-million trade surplus in the January – March period estimated by the General Statistics Office in late March.
In March, Vietnam's exports reached US$23 billion, an increase of nearly US$8.9 billion against the previous month or up 63.8% month-on-month, and US$700 million compared to January.
This resulted in export value of US$58.86 billion in the first quarter, up 5.3% year-on-year.
According to GDVC, Vietnam has 10 categories of goods that recorded over US$1 billion of export revenue each, of which phones and accessories remained the top staple with a value of US$12.13 billion.
Meanwhile, Vietnam imported goods worth US$21.15 billion in March, up 44.2% month-on-month, resulting in a total of US$57.44 billion in the first quarter, up 8% year-on-year.

Among 12 categories of goods with over US$1 billion in import value in the first quarter, computers, electronic devices and parts posted the highest volume of US$11.8 billion, up 13.1% year-on-year.
Car sales in Vietnam up 31% y/y in first quarter
Sales of domestically assembled cars reached 46,253 units in the January – March period, down 8% year-on-year, while imported completely-built-units (CBUs) were 31,999 units, up 234%.
The car market in Vietnam continue to go north, with 78,252 units sold in the first quarter, up 31% against the same period of last year, according to a report by Vietnam Automobile Manufacturers Association (VAMA).

Car sales number in the first quarter. Source: VAMA.
Upon breaking down, 58,882 were passenger cars, up 48% year-on-year; while 17,998 were commercial vehicles, up 1%; and 1,372 special-purpose vehicles, down 32%.
Sales of domestically assembled cars reached 46,253 units in the January – March period, down 8% year-on-year, while imported completely-built-units (CBUs) were 31,999 units, up 234%.



Car sales number in terms of domestically assembled cars and imported cars. Source: VAMA.
In March, car sales vplume reached 32,308 units, including 22,528 passenger cars, up 151% month-on-month; 8,917 commercial cars, up 170%; and 863 special-purpose vehicles, up 390%.
The sales volume of locally assembled cars in March was reported at 19,769 units, up 157% month-on-month and imported cars 12,539, up 164%.

However, the figure released by VAMA has not taken into account 6,061 units sold by Hyundai Thanh Cong, which is not a VAMA member.
In the first three months of 2019, Hyundai Thanh Cong sold a total of 16,792 units, taking the overall car sales volume in the country to 95,042 units.
Of the Vietnam's car market in the January – March period, Toyota claimed the top spot of car sales number at 18,967, followed by Hyundai with 16,792 units, Mazda 9,497, Honda 8,687 and Kia 7,489.
As of March 15, 2019, Vietnam imported 31,555 cars worth US$691 million, according to the General Department of Vietnam Customs (GDVC), posting a stark contrast of 2,953 cars imported in the first quarter of 2018 worth US$89 million.
This resulted in over 10-fold year-on-year increase in the number of cars imported during this period, and 7.7-fold increase in import value.
The low number of imported cars in the first quarter of 2018 was attributed to strict requirements stipulated in Decree No. 116, which came into force in early 2018, specifying the regulatory conditions and licenses for automobile manufacturing, assembling, importing, maintenance, and warranty businesses. Substantially, car importers are required to provide a type approval certificate.
Car importers later could fulfill this requirement to raise the number of imported cars, especially those from Thailand and Indonesia, largely because the automobile import tariff slips to 0% under the effect of the ASEAN trade in Goods Agreement (ATIGA), which came into effect in the beginning of 2018.
Vietnam's GDP growth target of 6.8% in 2019 feasible despite Q1 slowdown

Forecast growth and inflation in 2019 (yoy). Source: VEPR.
With growth rates in the agriculture, forestry, fishery and services sectors below those of in the same period of 2018, the FDI sector played a crucial role in economic expansion with its export value making up 70.9% of the country`s exports.
Vietnam's GDP growth target of 6.8% in 2019 is feasible, despite the economy showing sign of slowdown in the first quarter, reaching 6.79% year-on-year and lower than the figure of the same period last year at 7.45%, according to the Vietnam Institute for Economic and Policy Research (VEPR).

"With growth rates in the agriculture, forestry, fishery and services sectors below those of in the same period of 2018, the FDI sector played a crucial role in economic expansion with its export value of US$41.46 billion, equivalent to 70.9% of the country's exports," said VEPR's Director Nguyen Duc Thanh at the launch of its quarterly macroeconomic report on April 11.
In the January – March period, China became Vietnam's largest investor. According to Thanh, the Chinese capital inflow has created positive impacts on the domestic labor market and economic growth, at the same time posing risks to the environment and foreign labor management.
"It has come to the point that Vietnam has to revise its incentive policies for the FDI sector, which is vital to create a fair environment for all stakeholders," Thanh stressed.
With the Vietnamese economy's high level of openness, the country is much exposed to growing global uncertainties, said banking expert Nguyen Tri Hieu, adding the country's resilient capability against external shock is at moderate level.
Hieu expressed concern about Vietnam's dependence on the FDI, as the sector's exports account for 70% of the country's total export revenue.
"This would cause a major problem for Vietnam when FDI enterprises change their policy and leave for another country," Hieu stated.
Economist Pham The Anh pointed to the slow privatization pace of state-owned enterprises (SOEs) another risk to the economy.

"Difficulties in corporate valuation and lack of motivation from those SOEs in subject are main barriers to this process," Anh said.
Regarding the business activities, while the number of newly established enterprises and new job did not differ much from the figures in the fourth quarter of 2018, the number of temporarily ceased enterprises in January was unusually high at 23,082 firms, the highest during the last 10 years, added Anh.
Meanwhile, inflation in the first quarter hit 2.63% due to the sudden climb in energy prices. The growth of consumption prices along with maximizing environmental protection taxes since early 2019 required a more cautious approach from the State Bank of Vietnam to control inflation risks, Anh suggested.
For the rest of 2019, Anh considered the ongoing US – China trade friction an opportunity for Vietnam's economy.
However, in long-term, when the production supply chain shifts from China to neighboring countries, Vietnam needs to improve the institutional, business and labor environments to grasp the opportunities, Anh stated.
"The challenge for Vietnam is to move forward when the country's infrastructure is not yet ready to receive waves of production shift, while there are no economies of scale like China and India," Anh added.
Vietnam's exports predicted to pick up amid lowest growth in 10 years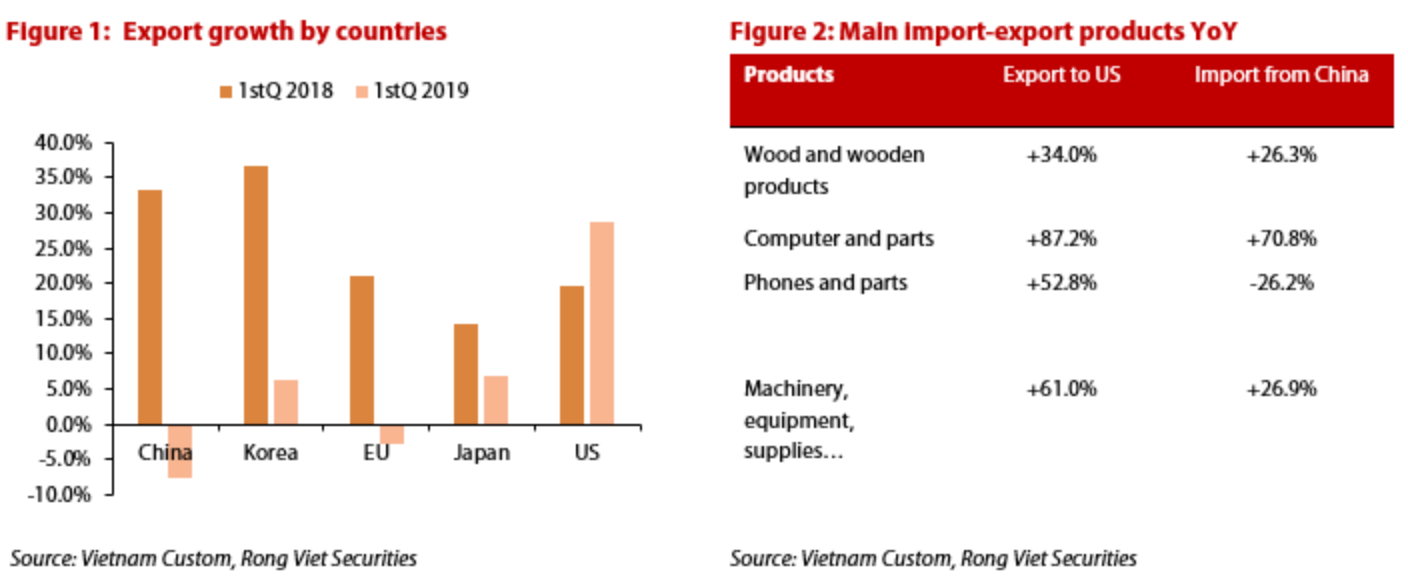 Vietnam's export growth increased 5.3% year-on-year to US$58.86 billion in the first quarter, the lowest level in 10 years, but exports are projected to pick up as advanced economies and China introduce stimulus measures, according to Viet Dragon Securities Company (VDSC).

In the January – March, period, import grew 7.9% year-on-year to US$57.44 billion, lower than in the same period of last year at 13.2% year-on-year. This resulted in a trade surplus in the first quarter of US$1.4 billion, down 47.5% year-on-year.
According to VDSC, export value to China and Europe declined and export growth to South Korea and Japan sharply decelerated. Exports to the US on the other hand increased dramatically by 28.8% year-on-year due to the US-China trade friction.
Vietnamese furniture, machinery, equipment, and phone exports to the US skyrocketed in the first quarter. As a result, Vietnam recorded a trade surplus of USD10.3 billion with the US, up 34.5% year-on-year.
At the same time, imports from China to Vietnam rose sharply. This can be partly explained by Vietnamese traders importing Chinese products to export to the US, avoiding higher tariffs, suggested VDSC.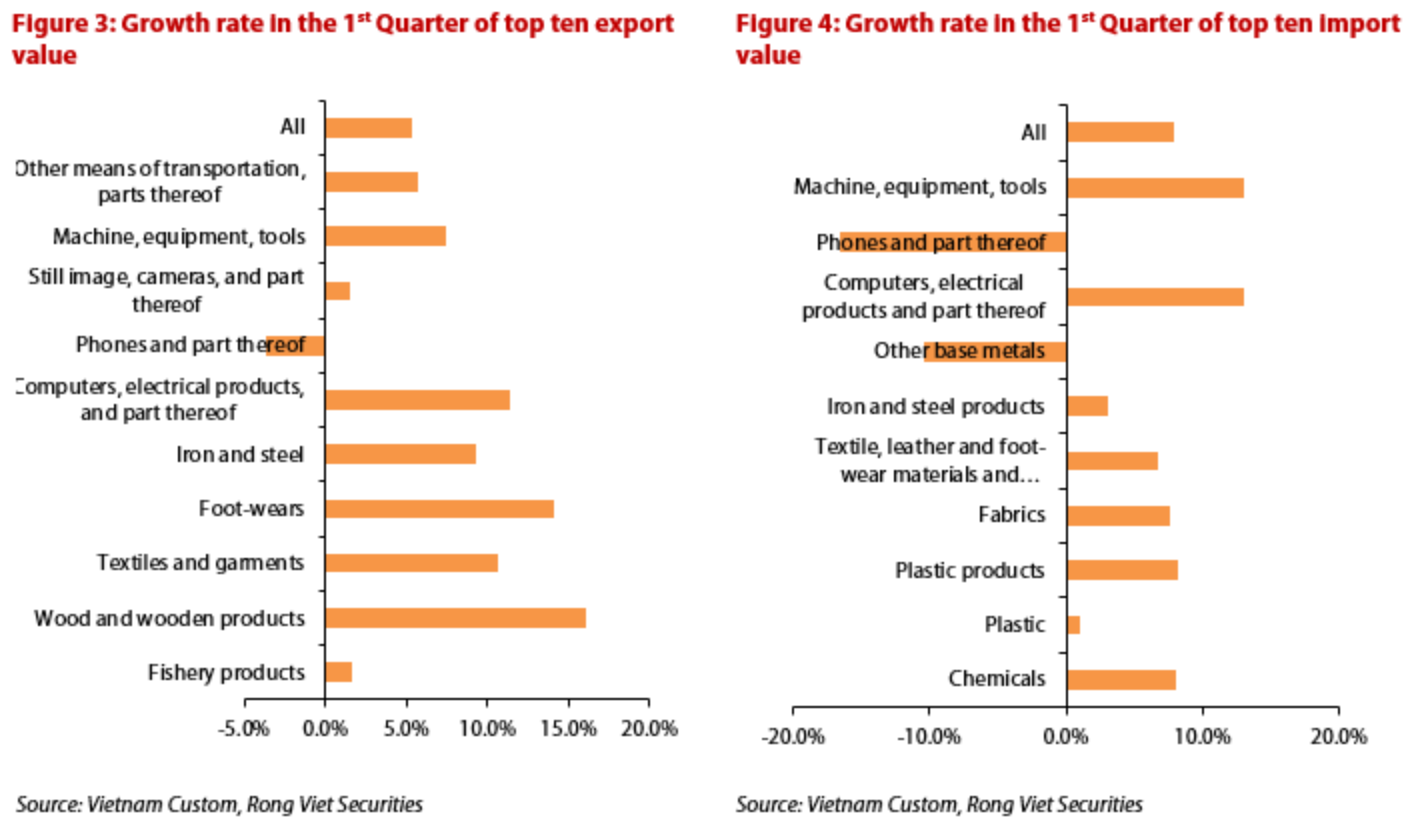 Overall, Vietnam's trade deficit with China in the first quarter reached US$8.6 billion, an increase of nearly 58.9% year-on-year.
Although phone exports to the US soared 87.2% year-on-year, exports of those same products to China plummeted in the first quarter, down 64.7% year-on-year as its smartphone market shows signs of saturation and Samsung continues to lose market share in the world's second largest economy. The total export value from this product category decreased 3.6% year-on-year in the first quarter of 2019.
Agricultural export value decreased 11% year-on-year due to price pressure on products such as rice and coffee. The export price of rice, Vietnam's main agricultural export product declined 13.4%.
FDI import growth fell sharply (4.7% year-on-year compared to 15.1% in the same period last year). Meanwhile imports by domestic enterprises rose due to an increase in crude oil imports (a 20-fold increase year-on-year) to serve Nghi Son refinery and big projects like VinFast's car factory. Vietnam imports mostly machinery and equipment (investment goods).
This is good for the economy as those products help to improve productivity as well as export, stated VDSC.
Import of consumer goods increased the most but accounted for only 8% of the total imports. Automobile imports grew 6.5-fold year-on-year given unusual low imports in the first quarter of 2018 due to regulatory hurdles. Coal imports increased 88% year-on-year due to high demand from thermal power plants; This trend will probably continue in the next quarters, VDSC predicted.
Hanoi to support enterprises to build brands for greater competitiveness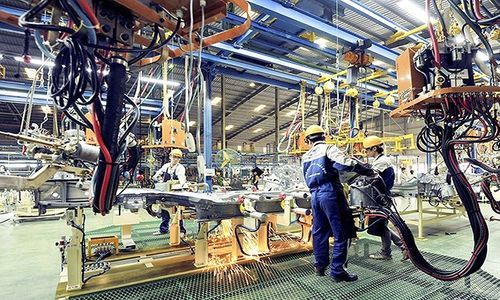 The move is in line with Hanoi's ongoing efforts aimed to help enterprises integrate globally and develop sustainably.
Hanoi would support enterprises doing businesses in the city to promote their brands for greater competitiveness in both domestic and foreign markets.
The move is in line with Hanoi's ongoing efforts aimed to help enterprises integrate globally and develop sustainably, stated the Hanoi People's Committee in a plan dated April 9 to support local enterprises to promote brands in 2019.
Following the plan, enterprises would be offered training courses on building and promoting brands.
Additionally, Hanoi would support enterprises to develop strategy for brand and product development, work with consulting firms to promote brands through marketing or advertising online and website construction, among others.
In 2018, Hanoi was named among the top 10 in Vietnam's provincial competitiveness index (PCI) ranking.
Nguyen Doan Toan, vice chairman of the Hanoi People's Committee, said Hanoi would strive to maintain its top-10 status in the future, while the result showed Hanoi's perseverance in improving its business environment.
"Hanoi's ranking has been consistently going up in six consecutive years, up 41 places from 51st in 2012 to 9th in 2018," Toan stated, adding the result has exceeded original target of being included in top 10 PCI index ranking by 2020 set by the municipal People Council.
Vu Tien Loc, chairman of the Vietnam Chamber of Commerce and Industry (VCCI) said Hanoi is on track to realize its potential as one of Vietnam's economic hubs and also in ASEAN in the future.
As of present, 100% applications for business registration can be processed online, while the processing time for administrative procedures has been reduced to within three working days, and in some cases to two days.
Starting August 2018, Hanoi has waived the cost of setting up new businesses and provided training courses for home-based businesses on start-up and corporate governance.

Notably, Hanoi claimed the top spot nationwide in terms of FDI attraction with registered capital of US$7.5 billion in 2018, accounting for 21.2% of total foreign investment nationwide. In the first quarter of 2019, the city maintained the lead with US$4.15 billion of FDI commitments, or 38.4% of total investment in the country.
Dien Quang Lamp co-operates with foreign partners to develop laboratory
Ho Chi Minh City Technology Centre for Standard, Measurement and Quality (SMEQ) has entered into a co-operation with Dien Quang Lamp in measuring and testing with light products and electric equipment to meet the increasing demand for these services.
On April 5, SMEQ and Dien Quang Lamp signed a co-operation agreement to select the laboratory of Dien Quang Lamp to implement measuring services for light products and electric equipment to certify that light products and electric equipment satisfy the standards of BoA.
Dien Quang Lamp recently signed an agreement with TUV SUD ASEAN – a global testing, certification, inspection, and training provider. Accordingly, TUV SUD ASEAN will support Dien Quang Lamp to develop its laboratory and improve cybersecurity solutions for smart homes and relevant products.
According to a representative of TUV SUD ASEAN, Vietnam has large demand fortesting and verifying products, however, almost all light and electronic products made in Vietnam are taken aboard for certification. Thus, increasing the capacity of local laboratories will help to save costs and time for enterprises.
Kitted out with modern equipment and machines imported from Europe, Dien Quang Lamp's laboratory can check almost all safety indices.
In the second quarter of this year, the company will take the Dien Quang hi-tech factory and R&D centre into operation. Located in Ho Chi Minh City, these facilities have a total investment capital of VND600 billion ($26.09 million), which will manufacture Vietnamese branded light and electronic products at international standards. ​​​​​​
Vietnam boasts many advantageous exports to Romania: Ministry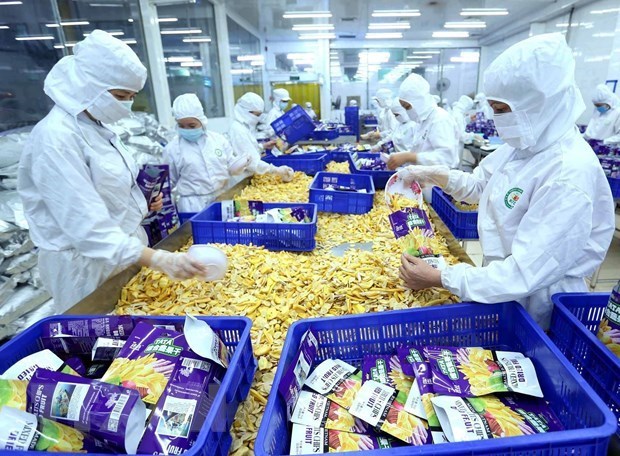 Romania is a market of great potential to Vietnam's exports like tropical fruits (fresh and canned), seafood (frozen and canned), coffee, pepper, cashew nut and pork, although the European country has a relatively developed agriculture, according to the Ministry of Industry and Trade.
Besides the above-mentioned exports, others like machinery, electric and electronic equipment, furniture, textile products, footwear, synthetic yarn, construction materials and sanitary equipment from Vietnam are also enjoying good chances as Romania has a great need for those and Vietnam can compete with other providers in terms of both prices and quality, the ministry said.
It pointed out another field Vietnam can capitalise on, namely labour, in the context that a large contingent of workers of Romany has migrated to other European Union (EU) countries. In the time to come, the European country will be short of about 1 million workhands.
The recent amendment by the Romanian parliament of regulations on the minimum wages for non-EU workers as well as the signing of the bilateral memorandum of understanding on labour in November last year will facilitate Vietnamese workers in coming to work in the market, the ministry said.
To further accelerate cooperation in the time to come, the two governments will strive to get the European Union – Vietnam Free Trade Agreement (EVFTA) signed and ratified. The two sides should also continue pushing up the exchange of high-level and ministry-level delegations to pave the way for bilateral trade, investment and labour export, ease the difficulties and remove bottlenecks for the businesses of the two sides, encourage and facilitate fact-finding tours and participation in fairs and expos in the time to come.
Sabeco plans higher dividend despite declining net profit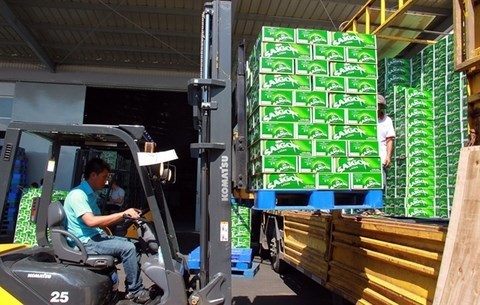 Beer is loaded for sale at the Saigon Beer-Alcohol-Beverage JSC (Sabeco) factory in Ninh Thuan Province.
Shareholders in Saigon Beer-Alcohol-Beverage Corporation (Sabeco) have approved a plan to raise its dividend payment for 2018 from 35 to 50 percent.
The decision, announced at the annual shareholders' meeting on April 12, caught investor attention due to the fact net profit declined 11 percent in 2018, its first drop since 2013.
Sabeco reported net revenue of 35.95 trillion VND (1.54 billion USD) in 2018, up 5 percent over 2018 and surpassing the yearly target by more than 2 percent. However, its profit after tax dropped 11 percent on-year to 4.4 trillion VND (roughly 189 million USD).
Sabeco witnessed big changes to its management board last year, with a representative of Vietnam Beverage, an indirect subsidiary of Thai Beverage (ThaiBev) controlled by tycoon Charoen Sirivadhanabhakdi, joining its executive board in the second quarter.
The company paid total 35-percent cash dividend last year worth more than 2.2 trillion VND, of which ThaiBev received 1.2 trillion VND. With the higher dividend rate, expected to pay this year, Sabeco will pay an additional 960 billion VND and ThaiBev will collect an extra 515 billion VND.
Sabeco's undistributed profit was estimated at 6.7 trillion VND after the dividend payment, but the company still faced the risk of being forced to pay tax and fines worth 3.14 trillion VND from the HCM City Tax Department for violations.
Sabeco has set higher targets for 2019 with net revenue of 38.87 trillion VND (1.7 billion USD) and net profit of 4.7 trillion VND (202 million USD), up 7.5 percent and 6.7 percent year on-year, respectively.
Neo Gim Sion Bennett, Sabeco's general director, has maintained a positive outlook for Vietnam's beer market with a growth rate of 5 percent over the next five years.
Sabeco plans a 6-per-cent increase in output to more than 1.9 billion litres in 2019. Last year, nearly 1.8 billion litres of Sabeco's beer were consumed, up 0.3 percent year-on-year.
The company said it will invest to raise the capacity of sales teams and distribution networks rather than applying discounts, emphasising the policy of maintaining stable prices throughout the system.
Sabeco is concentrating on the domestic market and will strengthen its brand before reaching out to the world, the company representative said at the meeting.
Regarding the intention of buying more shares in Sabeco, ThaiBev said it is satisfied with the current ownership and if more room is available, it will consider the move carefully.
Shares in Sabeco, with sticker SAB on the Ho Chi Minh Stock Exchange, are the most expensive shares nationwide, being traded at around 244,000 VND (10.48 USD) per share.
Good prospects for exports to Czech Republic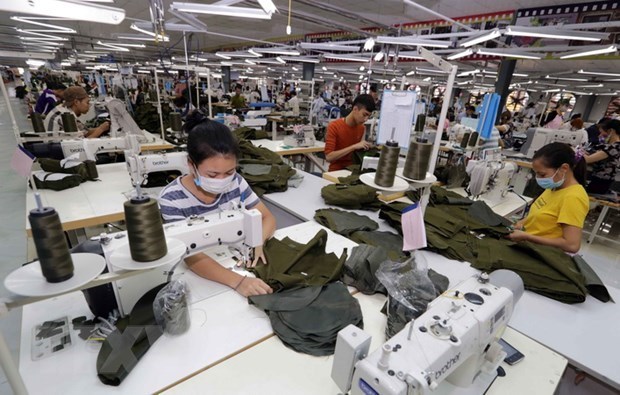 Garment and textile are among Vietnam's key exports to the Czech Republic.
Economic and trade ties between Vietnam and the Czech Republic (CZE) have made remarkable progress in recent years, with the latter becoming a major trade partner of Vietnam in Eastern Europe.
According to Ta Hoang Linh, director of the Europe-America market department under the Ministry of Industry and Trade, bilateral trade between Vietnam and CZE has been growing at 10 percent a year over several past years. The growth accelerated to about 16 percent in 2018, bringing two-way trade value to 298 million USD. Of the figure, Vietnam's exports to the CZE increased by 3.3 percent to nearly 156.5 million USD, while its imports from the CZE surged 32 percent year on year to nearly 141.6 million USD.
However, in the first quarter of 2019, two-way trade dropped by 12 percent year on year to over 64.6 million USD, due to a 27.6 percent decrease in imports from the CZE. Vietnam shipped to the CZE over 35.76 million USD worth of products in the period, up 2.4 percent, and imported over 26.87 million USD.
Nguyen Khanh Ngoc, deputy director of the Europe-America market department, said Vietnam's exports to the CZE are mainly footwear, garment, seafood, consumer goods, computers and parts, mobile phones, and some types of equipment and machinery parts.
The country's typical farm produce such as fruit, rice, tea, rubber, pepper and cashew nut still account for a small share in the Czech market, due to time-consuming import procedures, fast changes in demand and prices, Ngoc said, adding that another problem is the quality of products.
Meanwhile, Vietnam buys from the CZE various kinds of machinery and parts, electronic components, chemicals, medicine, garment accessories, glass and crystal goods, and milk and dairy products.
At the 6th meeting of the Vietnam-CZE Inter-governmental Committee in Hanoi last year, the two sides affirmed their intention to strengthen diplomatic relations and develop economic, trade and investment ties for mutual interest.
Also at the meeting, the two sides set up a working group on cooperation on mineral mining and processing and energy.
It is noteworthy that the CZE listed Vietnam among its 12 key markets in foreign trade during 2012-2020, the only ASEAN country in the list.
The CZE is pursuing a market opening policy and promoting trade liberalization and market opening, which is expected to facilitate Vietnam's export to the country.
Besides, the EU-Vietnam Free Trade Agreement, once it is approved, is sure to give a boon to Vietnam's export to the CZE.
At the same time, Vietnam's goods will face competition in the Czech market, trade officials said, recommending that Vietnamese exporters should try to enter the supply chains of big retail systems in the CZE.
Work begins on wind power plant in Bac Lieu province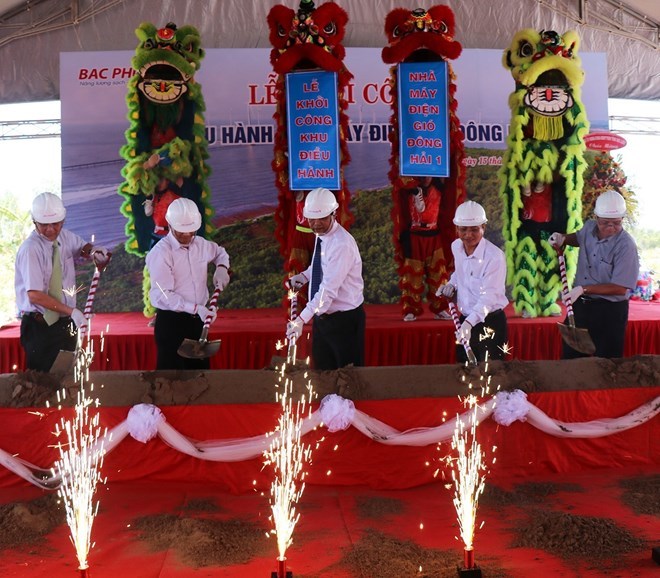 At the ground-breaking ceremony
Construction work started on the operations centre of the Dong Hai 1 wind power plant, first phase, in Long Dien commune, Dong Hai district, the Mekong Delta province of Bac Lieu, on April 15.
According to the Director of Bac Phuong Joint Stock Company- the investor of the project- Mai Trong Thinh, the construction of the operations centre, which costs 130 billion VND (5.6 million USD), will lay the foundation for the building of undersea infrastructure of the wind power plant, slated to begin in Quarter 4.
The first phase of the Dong Hai 1 wind power plant is estimated to cost nearly 2.5 trillion VND (107.8 million USD), and has a total designed capacity of 50 MW. It will cover an area of more than 935 hectares of water surface and more than 11 hectares on land.
Thinh said that the plant will have 12 wind turbines, a transformation station 22/110kV-1x63MVA, a 110kV line, an operations centre and other supporting works.
Upon completion, the plant will contribute 161.02 million kWh of electricity to the national grid each year.
Speaking at the groundbreaking ceremony, Vice Chairman of the provincial People's Committee Vuong Phuong Nam said that the project helps branch out clean energy, which is classified as one of the five economic pillars in the province.
He committed to creating favourable conditions for the investor so that the project will be put into operation soon, contributing to developing local socio-economy.
Saigon cost of living compares favorably to prominent SEA cities
Housing and food cost less in Ho Chi Minh City than Bangkok, Kuala Lumpur and Singapore, says a major real estate consultancy firm.
According to the Global Living 2019 report prepared by CBRE, the average price of a house in HCMC is around $103,000, ranking 34th among 35 cities surveyed in the report, just above Istanbul in Turkey.
The prices in Singapore, Kuala Lumpur and Bangkok were ranked 2nd, 32nd and 33rd, respectively. A house in Singapore costs $874,000 on average.
House prices in HCMC in 2018 rose 2 percent year-on-year, while that of Kuala Lumpur and Bangkok saw a 4 percent increase.
Average price of a prime residential property in HCMC, estimated at $403,000, was lower than $415,000 in Kuala Lumpur and $456,000 in Bangkok, the report said. The corresponding price in Singapore was almost triple that of Vietnam at over $1.2 million.
The report said apartments were becoming a popular housing choice for HCMC residents.
"Rapid population and employment growth is creating high demand for new housing. This is partly being met by the condominium market, which has emerged as a hugely successful concept in recent years," the report said.
It also referred to HCMC as a 'Silicon Valley of Asia".
"More than 24 incubators and 12 start-up spaces have been created, encouraging more than 800 new ventures to begin operating and attracting overseas technology companies to invest," it said.
The CBRE report said that a mid-range meal for two people in HCMC costs $17, compared to $26 in Bangkok. HCMC had the lowest food costs among all the cities listed in the report.
Ho Chi Minh City Tourism Festival posts VND120 billion in revenue
The Ho Chi Minh City Tourism Festival 2019, closed on April 14 with total sales estimated at VND120 billion (US$5.16 million), up 45% over 2018.
The four-day event featured various activities, including seminars, exchanges and offers of tours, which attracted more than 250,000 visitors, according to the municipal Department of Tourism.
As many as 40 travel enterprises participated in the festival, who showcased their products and services at 150 pavilions. Approximately 12,700 visitors bought tours at the event, up 41% over 2018. More than 70,000 promotional tours were offered for visitors during the festival.
The event also included a seminar on human resources in Vietnam's tourism, a singing festival of workers in the tourism sector, and an introduction of start-ups applying technology in tourism, among other activities.
This is the first year the Ho Chi Minh City tourism stimulation programme has been held during the festival, which offered nearly 1,300 promotional tours for customers.
At the closing ceremony, the Ho Chi Minh City Department of Tourism presented certificates of merit to enterprises that have accompanied the tourism festival for five consecutive years, including Vietnam Airlines, Ben Thanh Tourist, Saigon Tourist, and others.
Large volumes on way in Hanoi's office market
From 2019 onwards, tenants in Hanoi's office market will have even more options to consider, given the increasing volume of office supply to be introduced in both Grade A and B, according to CBRE's quarterly report released on April 10.
Approximately 138,000 sq m is expected to come on stream in Hanoi throughout 2019, 62 per cent of which is in the city's west, which continues to strengthen its position as the largest office supply hub.
Locations in the midtown and west of the city will continue to appear on the prioritized option lists of IT firms and insurance or bank branches. Meanwhile, MNCs, embassies, and financial sector companies will have new options in the CBD for expansion or relocation.
In terms of demand, on the back of strong economic fundamentals, the financial and IT / Tech sectors remain in good shape with stable demand drivers. CBRE forecast that flexible space providers will continue to be a major source of leasing demand in 2019, given the increasing need for improving space efficiency among corporate clients.
Hanoi's office market still saw relatively strong demand in the first quarter, primarily from local IT / Tech and flexible office providers as well as foreign insurance companies, with net absorption of 21,600 sq m, up 9 per cent year-on-year.
As at the end of the first quarter of 2019, total office space in Hanoi had reached approximately 1.3 million sq m, of which Grade A accounts for only one-third.
Vacancy rates in Grade A went up by 5.0 percentage points (ppts) compared to the previous quarter due to new supply, staying at 9.4 per cent, while that of Grade B went down 2.6 ppts quarter-on-quarter, reaching 9.6 per cent, the lowest level for the last three years.
Ho Chi Minh City's office market, meanwhile, only welcomed two new Grade B buildings with a total NLA of 19,800 sq m: the Thaco Building in District 2 and OneHub Saigon 1 in District 9.
Due to healthy performance in the traditional office market and limited vacancies, the head lease / sublease business has been growing in recent years, including Pax Sky, Dragon Fly, Todd's Realty, and GIC Office. These operators usually lease the entire stand-alone building (usually Grade C or basic standard office) from an independent landlord and sublease to small tenants.
Besides flexible workspace, insurance companies will count among the anchored tenants in the office market over the next three years.
According to figures from Swiss Re Institute Sigma, Vietnam is one of five countries with a low insurance penetration rate, but its insurance premium growth rate is even higher than developed countries, indicating plenty of opportunities for growth and that the country's insurance market will likely continue to develop further in the future.
From 2019 to the end of 2021, the Ho Chi Minh City office market is expected to welcome 16 new office buildings with more than 400,000 sq m NLA. The market is expected to have higher vacancy rates and slower rental growth in both Grade A and Grade B, while rents in Grade A will remain high.
Rental growth in Grade A is expected to reach 4 per cent this year and vacancies will fall to 4 per cent due to new Grade A supply only being launched at the end of the year or the beginning of 2020. Grade B asking rents are expected to decrease slightly, by 1.5 per cent, and vacancies are forecast to increase 6.9 per cent due to a large Grade B supply coming on stream this year. 
Netland opens rep office in Japan
Vietnamese developer the Netland Real Estate JSC officially opened a representative office in Tokyo, Japan, on March 28, marking the company's first step in expanding its operations to international markets. Through this office, the company expects to have the opportunity to attract foreign investment to develop its projects in Vietnam.
At the grand opening ceremony, Netland introduced 16 projects to Japanese investors that are in need of investment capital.
Japan is the leading country for FDI in Vietnam. It ranked first in 2018, with total investment of $8.59 billion, accounting for 24.2 per cent of total investment capital. Japanese investment flows into Vietnam are forecast to continue to rise higher this year.
Moreover, abundant capital flows from Japanese individual investors also tend to seek opportunities to invest in markets with development potential like Vietnam, according to Mr. Nguyen Huu Quang, Deputy General Director of Netland. In particular, the real estate sector is one of the areas that will see these strong capital inflows.
"This is an opportunity for Vietnamese enterprises, in which Netland has quickly seized opportunities by opening a representative office in Japan, pioneering exploiting the Japanese market," said Mr. Quang.
Through the office in Japan, Netland will introduce its own real estate projects to Japanese partners and individual investors. The main objective is to attract Japanese individual investors to pour capital into real estate, especially the hospitality segment in Vietnam.
In addition, Netland will also cooperate with Japanese real estate transaction centers and real estate companies to distribute property products in Japan, aiming to serve the overseas investment needs of Vietnamese people. In return, it also adopts these platforms to distribute its products to Japanese investors.
Among the 16 projects Netland introduced to Japanese investors are both completed and under-construction projects (including project development investment projects, secondary investment projects, and exclusive distribution) for Japanese investors to look into.
In December last year, Netland signed a comprehensive cooperation agreement with Japan's Meldia Group, under which all Netland's activities in Japan will be conducted via Sanei Architecture Planning, a subsidiary of the Meldia Group. In return, Sanei will seek Japanese partners to invest in Netland's projects.
Sanei's investment into Vietnam will also give priority to Netland's projects. Finally, Netland will support Sanei to work with partners in Vietnam when Netland doesn't directly join Sanei's investment.
HCMC's east to lead pipeline in 2019
There were 4,423 newly-launched units in Ho Chi Minh City in the first quarter of 2019, a decline of 54 per cent year-on-year, according to CBRE Vietnam, perhaps attributed to the government's tightening of credit in real estate as well as a more stringent process in granting approval to new projects. The pipeline in 2019, however, is still at a strong level.
Given the limited new supply, inventory was absorbed positively, evidenced through busy activities at recent sales events. There were 5,924 units sold in the first quarter of 2019, 1.3 times higher than new supply. With the emergence of some luxury projects in the first quarter, average prices stood at $1,764 per sq m, an increase of 15 per cent year-on-year.
The east, which possesses a large land bank, is a major development hotspot in Ho Chi Minh City right now, as major infrastructure projects are going eastward, such as Metro Line No. 1 and Long Thanh International Airport. The area is expected to lead the market in terms of new supply over the remainder of 2019, thanks to launches of large-scale projects. Interest in the area remains strong, especially in projects near to future metro stations.
A report released by CBRE early this year also highlighted that these infrastructure improvements have significantly changed the development landscape in Ho Chi Minh City's eastern area since 2012.
In terms of location, given the lack of land availability for residential developments and the difficulties in obtaining freehold tenure, new supply in central districts (including Districts 1 and 3) has been limited. Recent developments have tended to concentrate on neighboring areas such as Districts 2, Binh Thanh, 4 and 7. The southern area ranked first in terms of new supply in 2018 (with 53 per cent), thanks to mid-end and high-end projects in Districts 7, 8 and Binh Chanh. The eastern area accounted for 29 per cent of new supply, with the majority in District 2.
Savills: Opportunities abound in Hai Phong's industrial real estate
Vietnam's industrial real estate market possesses strong growth potential because of both supply and the expansion of the manufacturing sector, according to the latest Quarterly Market Report from Savills Vietnam. Growth in industrial real estate came in at 12.8 per cent in the first quarter of this year.
In its reports on Ho Chi Minh City and Hanoi's real estate market in the first quarter, Savills Vietnam identified ongoing industrial property projects and current transactions in the market.
The US's TTI Inc. is planning to set up a solar panel manufacturing plant and an R&D center at the Saigon Hi-Tech Park (SHTP) in Ho Chi Minh City worth $150 million, while US aircraft components manufacturer, the Universal Alloy Corporation (UAC), began construction of its $125.5 million Sunshise aerospace components factory in central Da Nang city.
In addition, South Korea's Changshin Vietnam began construction in February of its $100 million footwear factory at the Tan Phu Industrial Park in southern Dong Nai province, the largest FDI project in the province. With $200 million in investment, Vietnam's first aircraft engine parts factory, South Korean Hanwha Aero Engines, began shipping products in January.
According to Savills, industrial production rose 10.3 per cent year-on-year in the first quarter due to stronger manufacturing production and increased electricity and supply, with manufacturing output rising 12.8 per cent. Meanwhile, Vietnam's PMI was 51.2 points, the weakest since March 2016, due to silent demand and falling employment. Manufacturing output was still expanding, however, above the 50-point threshold.
"Hai Phong has become a key industrial hub thanks to its improving logistics infrastructure, abundant land supply, and strong efforts by local government," said Mr. John Campbell, Senior Consultant, Industrial Services at Savills Vietnam.
Most of Hai Phong's industrial parks (IPs) are in the Dinh Vu - Cat Hai Economic Zone, one of 15 economic zones in Vietnam. According to Article 16 in Decree No. 218/2013/ND-CP, new investment projects in economic zones receive a tax exemption for four years and a reduction of 50 per cent on tax payable for the next nine years. This is highly advantageous compared to other IPs. In addition, local authorities have made greater efforts to create the best conditions possible for investors by reducing delays in site clearance and investment licensing.
Hai Phong has prioritized public-private partnership (PPP) developments in infrastructure at industrial zones, economic zones, and seaports, port logistics services, and commercial infrastructure. As at the first quarter of this year, Hai Phong had 32 seaports, including four international seaports, of which one is a deep-water port: Tan Vu - Lach Huyen. The government has approved over $268 million to finance eleven key road infrastructure projects carried out in 2019 and 2020.
Two IP's were launched in Hai Phong at the beginning of 2018. Key land supply set to accommodate expected interest include Deep C Phase 2 and 3 as well as the Nam Dinh Vu Industrial Park. Future supply includes the Trang Cat Industrial Park, with infrastructure set to finish at the end of this year, and Nam Cau Kien Industrial Park Phase 2 in July 2019.
According to industrial cluster development planning to 2020 and vision to 2025, Hai Phong will have 12 new industrial clusters by 2020, raising the total land area to 1,080 ha, while achieving an occupancy rate of 70 per cent. By 2025, it is expected to increase to a total land scale of 1,377 ha and an occupancy rate of 80 - 90 per cent. Furthermore, according to the Foreign Investment Agency, Hai Phong attracted $3 billion in registered FDI in 2018, ranking it third nationwide.
Doosan Vina receives AEO certificate
Doosan Heavy Industries Vietnam (Doosan Vina) announced on April 12 that it has become the first company in the central province of Quang Ngai to receive the Authorized Economic Operator (AEO) certificate from the General Department of Vietnam Customs.
With this certificate, Doosan Vina is entitled to many customs priorities, such as significantly reduced customs lead time, cost savings due to exemptions from inspections, and lower storage charges.
Also, Doosan Vina will also promote its corporate image as a professional exporter to partners, suppliers and commercial banks in order to gain easier access to capital.
To achieve this certificate, the company has continuously complied with legal requirements, such as full compliance with customs and tax requirements; e-customs; e-tax; transparency of export-import payments; internal control systems; compliance with accounts and audits; and achieving yearly export-import turnovers.
The certificate came into effect on March 20, 2019 and will be reviewed for renewal every three years.
Doosan Vina is a high tech industrial complex in the Dung Quat Economic Zone of the province, employing 2,000 Vietnamese. Its products include boilers for thermal power plants, desalination plants, material handling systems, such as cranes, modularization and structural steel for refineries, buildings and infrastructure developments.
To date, the company has exported US$2.4 billion worth of products.