2nd Co-operative Registrars' Forum opens in HCM City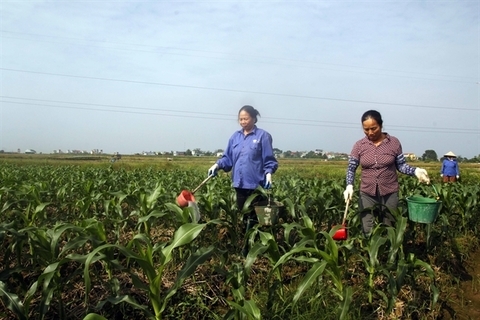 Wokers of the Nhan Ly Co-operative in the northern province of Vinh Phuc water corn plants.
The 2nd Co-operative Registrars' Forum on "Creating enabling legal frameworks and policies to promote sustainable development of co-operatives in the 21st century", which opened on Wednesday in HCM City, discussed trends in the 21st century and their impact on co-operatives, and legislation and policies that affect co-operatives in relation to new and emerging areas.
At the three-day forum, experts are exchanging knowledge and best cases in creation of an enabling environment, and discussing collaboration between government and the cooperative movement in addressing current socio-economic issues and working towards implementation of Sustainable Development Goals, Li Chunseng, president of The International Cooperative Alliance - Asia and Pacific (ICA-AP), said
Vuong Dinh Hue, Deputy Prime Minister, speaking at the forum, said that cooperatives play an important role in the country's economic development. With strong support and experience from ICA-AP, the number of successful cooperatives in Viet Nam had increased from 10 per cent in 2016 to more than 50 per cent now.
The contribution of the country's cooperatives to Gross Domestic Product (GDP) continued to increase year by year and the income of cooperative members were also 20-30 per cent higher than non-cooperative members, he said.
However, the country's cooperatives also face difficulties as Viet Nam has not yet built a legal framework to allow cooperatives to establish a business or access bank loans.
"I have visited many countries that allow cooperatives to establish a business, and the revenue of cooperative businesses are billions of dollars per year," he said.
Currently, very few cooperatives in Viet Nam can access bank loans. Many cooperatives face a lack of funds to restructure or invest in high technology.
As many as 220 delegates from registrars, government representatives, ICA-AP member organisations, international agencies, and co-operatives from Viet Nam are attending the forum.
Nguyen Ngoc Bao, chairman of the Viet Nam Co-operative Alliance (VCA), who spoke at the conference, said the VCA is holding a four-day Trade Promotion Fair for Cooperatives 2019 through Saturday this week in HCM City.
As part of the forum, 350 pavilions from many countries and territories such as South Korea and Japan are showcasing agro-forestry and seafood products, while the remaining pavilions will display handicrafts, and industry and service products at Hoa Lu Stadium on 2 Dinh Tien Hoang Street in HCM City's District 1 until Saturday.
The agro-forestry and seafood products on display are produced under VietGAP and GlobalGAP standards, Bao said.
The forum was organised by ICA-AP in collaboration with the Vietnam Co-operative Alliance (VCA).
Cargo via Vietnamese seaports hikes in Q1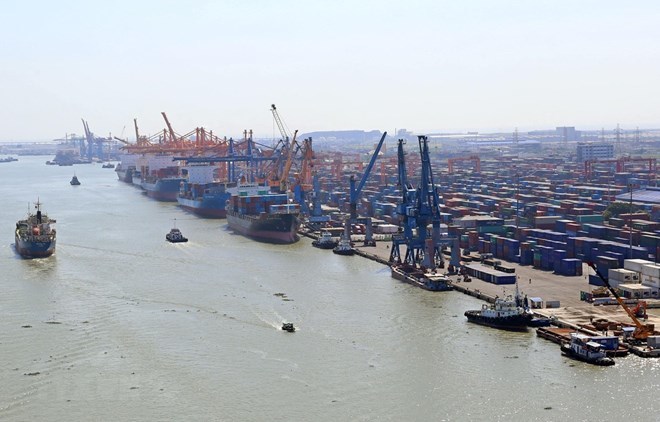 At Dinh Vu port in Hai Phong
Over 128.4 million tonnes of cargo were handled through Vietnam's seaports in the first quarter of this year, up 7 percent annually, according to the Vietnam Maritime Administration (VMA).
Of the figure, container cargos hit nearly 4.1 million TEUs.
Trinh The Cuong, head of the VMA's transportation and maritime services office attributed the high cargo volume going through the country's seaports to the increase in imports and exports.
During the period, Vietnam's exports hit 58.51 billion USD, while imports neared 58 billion USD, up 4.7 percent and 8.9 percent, respectively.
Cuong said cargo via seaports will hike in the near future as a number of major shipping firms, such as Maersk and SITC, launched new service routes in seaports in Hai Phong, Da Nang, and Cai Mep-Thi Vai.
On April 11, the Hai Phong International Container Terminal welcomed mother vessel Northern Jaguar deployed by Ocean Network Express.
With a capacity of more than 8,800 TEUs, the vessel provides direct services from the north of Vietnam to the west coast of the US and Canada. Its service will cut down freight time from Hai Phong to the US and Canada as the previous route called in at overseas transshipment hubs, reducing the journey from 25 down to 17 days, thus attracting more transit cargo, Cuong said.
Opportunity costs create heavy burden for firms: expert
Opportunity and informal costs place a financial burden on local enterprises, said Phan Duc Hieu, vice president of the Central Institute for Economic Management (CIEM), at a workshop in HCMC on Tuesday.
Held by the Ministry of Justice, the workshop was aimed at seeking solutions to reduce regulatory compliance costs.
Hieu of CIEM pointed out five different types of costs arising from regulations: administrative procedure costs, investment costs, fees and charges, opportunity costs and informal costs.
He then highlighted opportunity and informal costs, which are difficult to calculate, noting that they place a heavy burden on many local firms.
According to Hieu, business opportunity plays a vital role in enterprises' activities. However, lengthy procedures, or their delays, create the risk of missing out on business opportunities for enterprises.
Meanwhile, enterprises have paid toward capital costs, such as interest and income, pending the completion of procedures and other regulatory requirements.
He said that due to the fear of losing business opportunities and the desire to penetrate the market quickly, enterprises have no other choice but to offer items considered informal costs to officials in charge of certain procedures.
Foreign-invested enterprises in the country have also voiced concern over the slow decision-making process, which can lead to the loss of business opportunities, said Pham Ngoc Thach, deputy head of the Legal Department at the Vietnam Chamber of Commerce and Industry.
Practical and effective measures need to be adopted to cut down on the five types of costs to reduce the burden on local firms facing fierce competition, according to Hieu of CIEM.
Compared with neighboring firms in the Association of Southeast Asian Nations, such as those in Thailand, Vietnamese enterprises suffer disadvantages in terms of expenses, owing to their legal compliance, he said.
According to Hieu, when drafting regulations, State agencies should keep in mind that laws are costly since a written word can cost local businesses and other social stakeholders billions of Vietnamese dong.
He raised two questions: "Is there a cheaper way that still achieves management goals?" and "Is there a faster method of implementation that is less expensive?"
A representative of NH Quang & Associates, a local law firm engaged in legal practice and development consulting, attached great significance to the frequent review of administrative procedures and business conditions to remove unnecessary ones that cause difficulties for enterprises.
Deputy Minister of Justice Dang Hoang Oanh urged ministries, central agencies and local governments to ensure the reduction of regulatory costs for enterprises, point out arising difficulties and obstacles, and present fresh solutions to her ministry.
First Vietnamese mango export to the US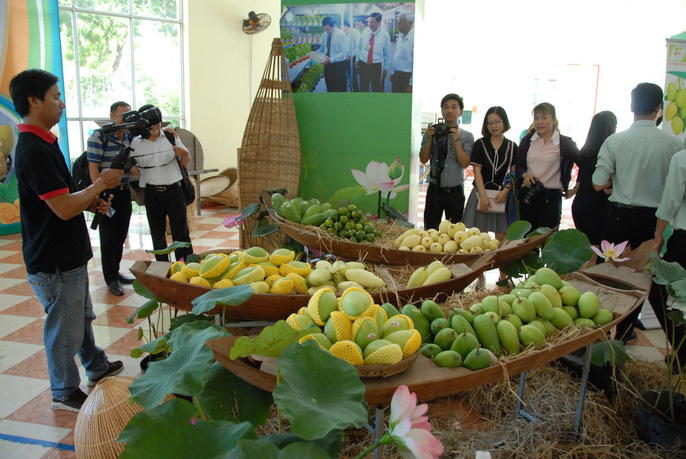 The Mekong Delta province of Dong Thap has become the first locality in Vietnam to export mangoes to the US.
Dong Thap Province and the Ministry of Agriculture and Rural Development (MARD) held a ceremony to announce the first mango exports to the US this morning, April 18.
The Mekong Delta province of Dong Thap has become the first locality in Vietnam to export mangoes to the US.
According to Nguyen Thanh Hung, vice chairman of the provincial people's committee, the province is home to 9,200 hectares of mangoes, producing 100,000 tonnes of the fruit per year, topping the Mekong Delta region.
Mangoes are among the province's five key products to be boosted for export.
Dong Thap has applied Vietnamese Good Agricultural Practices (VietGap) and Global Good Agricultural Practices (GlobalGap) in mango cultivation, which has helped to improve quality. This has also contributed to raising farmer incomes to around VND250-350 million (USD10,869-15,217) per year.
Le Quoc Danh, deputy minister of MARD, said that Vietnamese dragon fruit, longan, litchi and caimito have been exported to the US.
Vietnam exported USD4 billion value of fruits last year.
Vietnam has exported mangoes to more than 40 markets, including the EU, China, Japan, South Korea, Australia and New Zealand. However, export volumes were modest, at just 4% of the total productivity.
The Plant Protection Department under MARD said the US had finally agreed to Vietnamese mango imports following negotiations between the two sides which started many years ago.
Vietnam's national brand valued at US$235 billion
Among the world's 100 most valuable brands in 2018 recently released by Brand Finance, the "Vietnam" brand was valued at US$235 billion, up two places year-on-year to 43rd, and considered a strong brand, according to Vu Ba Phu, director of the Vietnam Trade Promotion Agency.
The better result was thanks to significant contribution from the Vietnam Value program initiated by the government to promote national brands and the country's good economic performance, Phu said at the Vietnam Brand Forum 2019 held on April 17.
According to Phu, the number of enterprises with products recognized as national brands has increased from 30 in 2008 to 97 in 2018.
To further enhance Vietnam's national brand, the Ministry of Industry and Trade (MoIT) is expected to submit to the government a national brand program, promoting local products through investment, tourism, and cultural events.
Antonino Tedesco, head of the economic and commercial section of the Italian Embassy in Hanoi, said trade promotion strategy is essential for Vietnam's economy, which relies on exports for growth.
However, as the FDI sector made up 47% of Vietnam's exports, Tedesco said the important point would be how to take advantage of trade promotion through brand value.
For example, Vietnam should have strategy to promote brand of products in close relation with that of the nation, Tedesco added.
Tedesco, nevertheless, pointed out the most challenging issue would be to maintain the result from trade promotion and brand protection, preventing the products from being faked in the market.
At this stage, it could be early to think about brand protection, but it is never too soon to think about brand building and promotion, Tedesco added.
Nguyen Dinh Cung, director of the Central Institution of Economic Management (CIEM), said behind each brand is a success story of a company.
Cung suggested the MoIT create favorable conditions for more success stories, an issue that has left much to be desired.
Boosting tra fish quality urged to match up to Chinese competition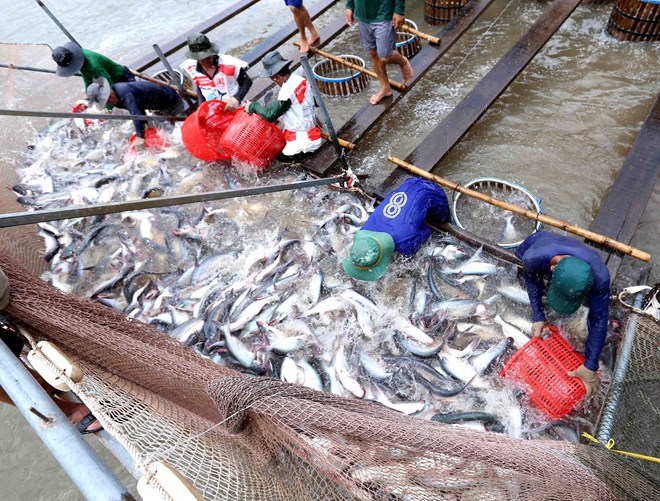 Farmers harvest tra fish in Thot Not district, the Mekong Delta city of Can Tho
Vietnam's tra fish (pangasius) industry has been urged to strongly improve its quality so as to compete with not only traditional rivals, but also its biggest tra fish importer – China.
According to the Vietnam Association of Seafood Exporters and Producers (VASEP), the domestic tra fish sector faces many rivals, including India, Indonesia, and Bangladesh – who each represents around 15-20 percent of global production.
The global production of farmed tra fish was estimated at 2.8 million tonnes in 2018, up 6 percent from the previous year, and about 45 percent of this total was sourced from Vietnam, mostly in the Mekong Delta.
As of March 2019, there were 20 tra fish processing factories in China whose production capacity had reached some 30,000 tonnes per year. This fact indicates that China is likely to become a big rival to Vietnam's tra fish industry in the near future, VASEP said.
However, insiders said the competitiveness of Vietnamese tra fish should not be assessed through only quantity, but the quality of fish fry and products is the key.
To help address this issue, a high-tech tra fish farming project covering 600 ha will be carried out in the Mekong Delta province of An Giang in the fourth quarter of this year. When operational, it is expected to supply around 200,000 tonnes of high-quality raw materials each year for processing and subsequent export.
VASEP Secretary General Truong Dinh Hoe said once the quality of Vietnamese tra fish is improved and wins the trust of consumers in demanding markets, it will also have more opportunities to be sold well on the e-commerce platform of Alibaba of China, as well as on Amazon of the US.
"Through the e-commerce website (Alibaba), Vietnam's tra fish products will have greater chances to enter this giant market," he added.
In 2018, tra fish exports brought in a record of 2.26 billion USD, rising 26.4 percent year-on-year. Vietnam has set a target revenue at 2.4 billion USD for 2019.
Vietjet Air offers 1.45 million promotional tickets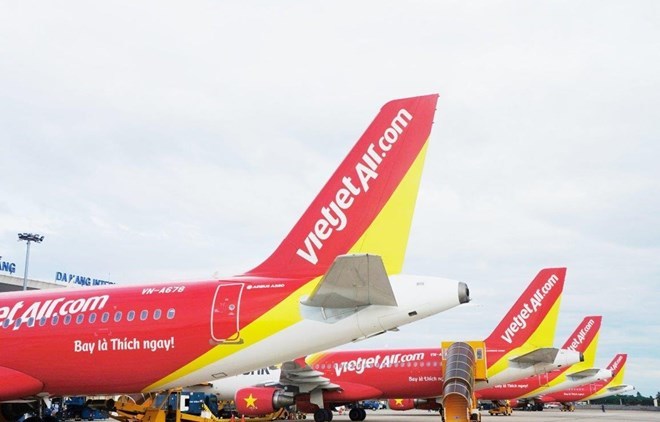 Vietjet Air is offering passengers 1.45 million super-saving tickets starting from zero dollars from April 17-19 to celebrate its newest international route from Ho Chi Minh City to Indonesia's resort island of Bali.
The discounted fares, which are available at www.vietjetair.com from noon to 2pm, are for all of Vietjet's domestic and international routes and those of ThaiVietjet – a joint venture of Vietjet and Thai airline KanAir.
The travel window for promotional tickets is from June 16 to December 31.
The new-age carrier will provide five return flights per week on the HCM City–Bali route with flight times lasting around four hours per leg. The flight departs from HCM City at 8:05am and arrives in Bali at 1:05pm (local time). The return flight takes off from Bali at 2:05pm (local time) and lands in HCM City at 5:05pm.
Earlier this month, the airline announced it had earned total revenue of 53.57 trillion VND (nearly 2.23 billion USD) and pre-tax profit of 5.81 trillion VND (250 million USD) in 2018.
Despite rising oil prices, the company's air transport revenue reached 33.78 trillion VND, up 50 percent year on year, while air transport profit before tax saw a rise of 49 percent.
Last year, Vietjet operated approximately 120,000 flights on 105 routes, covering destinations in Vietnam and Japan, Hong Kong, Singapore, the Republic of Korea, Taiwan, Thailand, Myanmar, Malaysia, Cambodia and China.
More solar panels installed in southern localities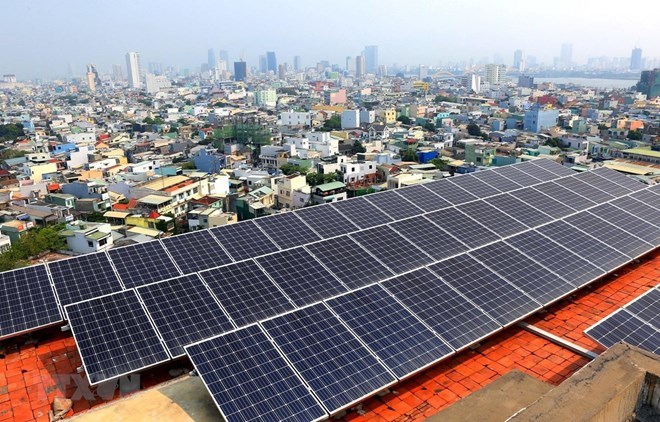 Over 1,000 clients installed solar panels with a total capacity of nearly 2.5 million kWh on rooftops in 21 southern cities and provinces as of April 15, according to the Electricity Vietnam's Southern Power Corporation (EVNSPC).
The activity is meant to realise the government's policy of encouraging and promoting the development of renewable energy.
The EVNSPC said it will install electricity meters in houses to measure extra rooftop solar power and buy it from customers who are willing to sell.
Under the Circular No.05 issued by the Ministry of Industry and Trade on March 11, the price of rooftop solar power will stand at 2,134 VND (0,09 USD) per kWh.
Those interested could call the hotline 19001006 and 19009000 or visit the website www.cskh.evnspc.vn for consultation and support.
The EVNSPC affirmed that the use of solar power will not only ease pressure on the national grid, ensure power supply for socio-economic development but also protect the environment and save costs.
According to experts, Vietnam's solar system has a potential to reach 35,000MW by 2030.
Int'l cooperation key to sustainable development of cooperative sector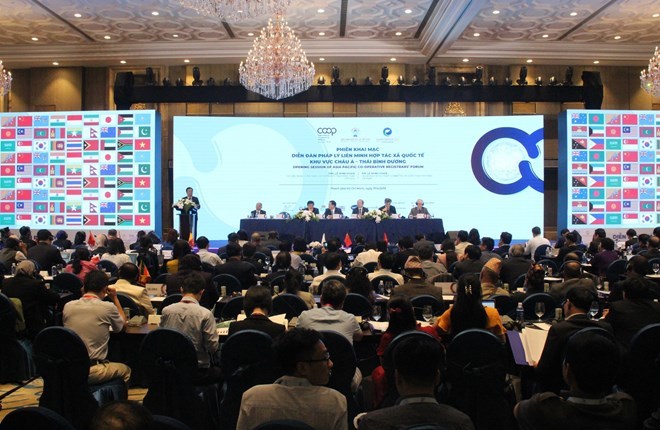 At the opening session of the 2nd Asia-Pacific Cooperative Registrars' Forum in Ho Chi Minh City on April 17
Deputy Prime Minister Vuong Dinh Hue called on cooperatives in the Asia-Pacific region to boost cooperation and connect markets to promote sustainable development of the cooperative sector.
Attending the opening session of the 2nd Asia-Pacific Cooperative Registrars' Forum in Ho Chi Minh City on April 17, Deputy PM Hue said that it is important for domestic cooperatives to form a complete value chain rather than just providing materials for agricultural sector.
As Vietnamese cooperatives are facing difficulties in switching to the new operation models due to legal challenges, including procedures to establish a business under a cooperative, and a lack of clear criteria for auditing, Vietnam should learn experience from regional countries to assure that cooperatives will contribute to the fast and sustainable development of the economy in tandem with agricultural shake-up and the building of new-style rural areas, he stressed.
Meanwhile, Chairman of the International Cooperative Alliance-Asia Pacific Li Chungsheng highlighted that an environment with effective legal framework will benefit cooperatives in the context of global economic integration towards the sustainable development of cooperatives.
According to President of the Vietnam Cooperative Alliance Nguyen Ngoc Bao, the forum, themed "Creating an Enabling Legal Framework and Policies to Promote the Sustainable Development of Cooperatives in the 21st Century," looked to deliberate on development trends and their impacts on cooperatives in the 21st century, identify legal issues influencing cooperatives in realising sustainable development goals.
Besides, the event created opportunities for Vietnamese policymakers and domestic and foreign experts to exchange experience in the creation of an enabling environment for the cooperative eco-system.
Relevant organisations would give out initiatives, recommendations, action plans and specific road map for cooperatives in the Asia-Pacific in the time ahead, he added.
During the two-day forum, the Vietnam Cooperative Alliance signed cooperation deals with several ministries, sectors, corporations, commercial banks and education establishments to mobilise resouces for the development of the cooperative sector.
Dong Thap's farmers encouraged to apply GAP standards for fruit growing 
The Mekong Delta province of Dong Thap is encouraging farmers to grow more fruits to good agricultural practice (GAP) standards to improve incomes and sustainability.
It has more than 600ha of VietGAP- and GlobalGAP-standard orchards, according to Nguyen Phuoc Thien, Deputy Director of the provincial Department of Agriculture and Rural Development.
Mango and longan account for the lion's share of these fruits. The mangoes are exported to many markets, including the Republic of Korea, Japan, Russia, Italy, and Hong Kong.
The province, the delta's largest mango producer, has more than 9,000ha under the fruit, while mango is one of its key agricultural products.
Farmers who grow mango to VietGAP standards earn 200-220 million VND (8,620-9,460 USD) per hectare per year while those who grow traditionally earn 150-160 million VND (6,450-6,890 USD), according to the department.
The province has also designated six areas with a combined area of 416ha in Cao Lanh city and Cao Lanh district to grow clean mangoes in the off-season to avoid oversupply during the main season.
It has in fact designated specific areas for specific fruits such as for longan in Chau Thanh district, pink mandarin in Lai Vung and xoan orange in Lap Vo and Lai Vung districts.
The province, which had more than 25,000ha under fruits as of 2017, plans to expand this to 30,057ha by 2025, including 11,055ha of mango, 8,460ha of various citrus fruits and 5,720ha of longan.
In 2016, the My Xuong Mango Cooperative in Cao Lanh district began selling mango trees to customers through its website, https://xoaicaolanh.com.vn, thus offering a steady income to its members and clean fruits to consumers.
The trees sold under the "My home mango tree" model, cost customers 3-5 million VND (129 – 215 USD) a year per tree depending on their previous yields. Customers can get 100 – 150kg of mangoes for a year from their tree.
In case of a poor harvest, customers still get 70 percent of the quantity guaranteed in the contract.
The mango trees sold under the model belong to three varieties: local specialties Hoa Loc and Cat Chu and Taiwanese variety xoai tuong da xanh.
The mango trees sold online meet criteria like having fruits that are consistent in size, fruiting well and meeting VietGAP standards.
When a tree is sold, its owner is responsible for tending the tree, pick ripe fruits and deliver them to the customer.
The trees sold on the website are assigned a number, and buyers can check their current status on the website.
Nguyen Van Truyen, who was one of the first members of My Xuong to take part in the model, said: "The model helps assure farmers against price declines when there is a bumper harvest since the price is set at the time of the purchase."
The cooperative's members have so far sold more than 230 mango trees to customers, earning more than 900 million VND (28,770 USD). Many of the buyers are from HCM City and Hanoi.
Vo Viet Hung, Director of the My Xuong Mango Cooperative, said: "The buyer can purchase a mango tree on the cooperative's website, and after the purchase the cooperative will take care of all the rest for the buyer."
The success of "My home mango tree" spurred the launch of "My home orange tree" last year by farmer Vo Van Nang in Cao Lanh city's Tan Thuan Dong commune.
Planted in 2012, Nang's orange orchard has more than 200 xoan orange trees which each yield 80 -100 kilogrammes of sweet and juicy fruits a year. He does not use chemical fertilisers or pesticides in his orchard.
The trees are sold on the website https://nongsancaolanh.vn with similar conditions as My Xuong.
Last year he sold 35 orange trees at a price of 4 million VND (170 USD) each for a period of a year. Fifty trees have been bought so far this year.
According to Le Nhut Truong, Chairman of the Tan Thuan Dong Commune People's Committee, Nang's model of producing clean products is an example the commune encourages its farmers to emulate.
It plans to instruct farmers to grow clean produce to meet the market demand and improve value.
Le Thanh Huy, head of the Cao Lanh City Economic Bureau, said "The 'My home orange tree' model produces clean fruits and is environment-friendly. It also helps promote the city's agricultural produce."
An Phat green subsidiary sets profit target of $219m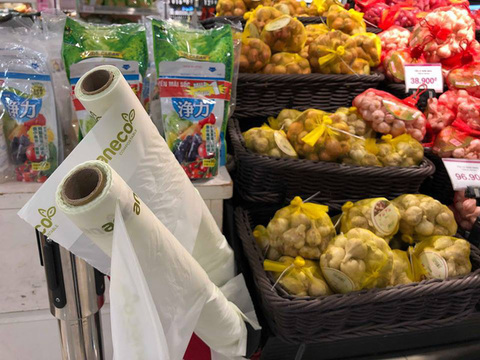 AnEco's environmentally-friendly plastic bags of An Phát Plastic & Green Environmental Joint Stock Company at BigC Thang Long supermarket. — Photo toquoc.vn

An Phat Plastic & Green Environment Joint Stock Company (AAA – a member company of An Phat Holding Group, the largest exporter of thin-film packaging in Southeast Asia – has targeted earning revenue of VND10 trillion (US$431 million) and after-tax profit of VND510 billion ($219 million) this year.
These figures would represent 125 per cent and 283 per cent year-on-year increases, respectively.
The information was released at the companys annual shareholders meeting in the northern province of Hai Duong yesterday.
Last year, the company posted a revenue of more than VND8 trillion, exceeding its target by 35 per cent. Its after-tax profit was VND180 billion, meeting 55 per cent of its target.
Pham Anh Duong, the companys chairman, said its revenue in 2018 surged due to the expansion of its production and business activities. The main contribution to the high revenue was due to increased capacity at its two packaging plants and plant that produces stone powder and plastic additive CALBEST.
Duong said its profit in 2018 was lower than that of 2017 despite the higher revenue because some important trade contracts with local partners were delayed until 2019. In addition, the firm did not increase its products prices despite higher input costs because it hoped to expand to new markets and grow its customer network.
In 2018, the company also bought Viet Hoa-Kenmark Industrial Park (IP) from a Taiwanese investor after it sat uninhabited for 10 years. The 46-hectare IP was renamed An Phat Complex. An Phat poured nearly VND800 billion into the complex, temporarily cancelling out its profits in 2018.
"An Phat has been investing to prepare for a strong growth period both in revenue and profit in 2019," Duong said.
The board of directors proposed deducting 75 per cent of profit in 2018 to compensate for previous production expansion loans. They also asked shareholders if they could not pay dividends in 2018.
The shareholders meeting also approved a plan to issue 8.5 million shares under the Employee Stock Ownership Plan (ESOP) programme at a price of VND10,000. VND85 billion from ESOP issuance will be added to its working capital.
Shareholders also approved allowing An Phat Holdings Group to increase its ownership at AAA to a maximum of 51 per cent by issuing shares or buying shares from existing shareholders, without going through a public bid.
It would continue to invest in completing the An Phat Complex to reach an occupation rate of 40 per cent this year. It plans to build an environmentally friendly plastic and packaging factory in the US.
It plans to pay dividends of between 10 and 20 per cent in 2019 in cash.
The chairman said the company targeted making fully biodegradable plastic bags, polyethylene (PE) bags and other environmentally friendly plastic products a big portion of its revenue and profit.
"Currently there are not many businesses making this product line," he said. "Most of them are small scale and not yet large. Production of fully biodegradable plastic bags accounts for 10 per cent of An Phat's structure but will increase when we expand our production in the domestic market."
However, he said that to develop the products to replace traditional nylon bags, it would take many steps. These include improving technology to reduce costs and changing consumer awareness.
"This is our decision to match the worlds general trend, which is to use green eco-friendly products," he said. "This is also a concern and highly recommended by the Government for use in Vietnamese consumer channels to limit the problem of plastic waste pollution".
The company also decided to rename to AnPhat Bio Plastics Joint Stock Company to suit the trend with the aim of bringing sustainable value to customers and investors.
Central province's Q1 investment surpasses yearly target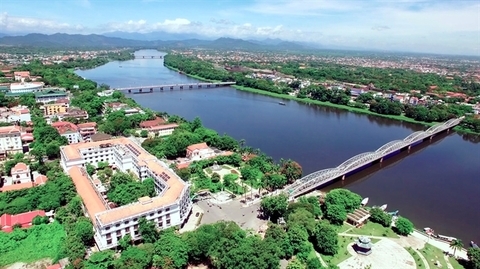 A view of the city of Hue in the central province of Thua Thien Hue. — Photo baodautu.vn
The central province of Thua Thien Hue granted approval in principle for seven projects with a total investment capital of more than VND13 trillion (US$558 million) in the first quarter of this year.
The period's investment result far exceeded the yearly target of VND10 trillion ($430 million) set earlier by the provincial People's Committee, a report from the province's Department of Planning and Investment revealed.
The projects included a hotel, villas and a resort complex, developed by Tam Giang General Entertainment JSC at the cost of VND4.16 trillion; a VND3.33 trillion auto manufacturing and assembly complex invested by Kim Long Nam JSC and a TDH Bien Hai Duong Hue JSC–funded ecological tourism project valued at VND2.1 trillion.
Despite the positive performance, the province will continue investment promotion with a focus on hi-tech farming projects and facilitate the implementation of approved projects in the latter months of this year, according to the department.
The department's director Nguyen Dai Vui told baodautu.vn his department had petitioned the committee to add many hi-tech farming projects to the province's list of projects calling for investment in 2019.
This quarter, the committee was expected to grant in principle approval to some such projects, Vui said.
Beside the agricultural sector, the province will also give top priority to tourism, real estate, industrial and economic infrastructure, non-tariff areas, manufacturing industry, health care, education – training, the support industry for textile and garment manufacturing and others in value chains in Southeast Asia and the Asia-Pacific region.
It will also prioritise investors with major brands, prestigious partners, domestic and foreign investment funds and successful domestic enterprises.
Further attention will also be paid to calling for investment from traditional markets such as South Korea, Singapore, Thailand, Japan, Hong Kong (China), the US and Europe. Efforts will be made to reach out to investors from countries benefiting from Viet Nam's entry to bilateral and multilateral free trade agreements, and investors in China who are impacted by the US-China trade war.
"One Commune, One Product" programme seeks global linkages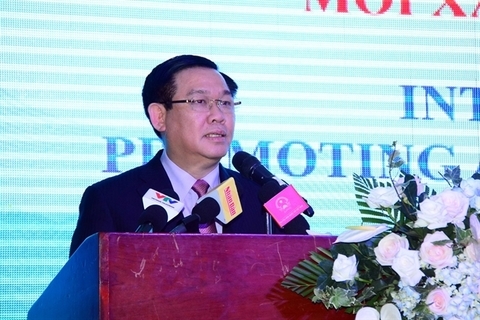 Deputy Prime Minister Vuong Dinh Hue speaks at the Global OCOP Network Connection Forum held on Wednesday in HCM City.
Deputy Prime Minister Vuong Dinh Hue has asked agencies to enhance linkages between cities and provinces nationwide and other countries to form a global network for the One Commune, One Product (OCOP) programme.
Hue said the OCOP programme would help restructure the rural economy, reduce migration of rural labourers to cities, and protect the environment, as well as maintain social stability in rural areas.
Speaking at the Global OCOP Network Connection Forum held on Wednesday in HCM City, Hue noted that the programme improves the quality of Vietnamese agricultural products and services, and enhances trademarks and the value of local products both nationally and globally.
"Thanks to the programme, many quality products with great designs made in rural areas are distributed in prestigious local and foreign stores, supermarkets and supermarket chains," he said.
"The programme has improved the new rural area development model, especially the livelihood criterion that is part of the model," he noted.
Tran Thanh Nam, Deputy Minister of Agricultural and Rural Development (MARD), said that 42 of 63 provinces and major cities have approved implementation of OCOP projects.
The programme's objectives in the 2018-20 period include improving agricultural and non-agricultural products and services in each locality, creating a value chain with the involvement of the private and public sectors.
Developing agricultural tourism is also one of the important measures, he said.
Viet Nam has 6,010 registered agricultural enterprises, co-operatives and production households, with 4,823 "strong" (those with a competitive advantage) agricultural products, he added.
Groups of goods and services defined in the programme include food (fresh and processed farm produce); beverages (alcoholic and non-alcoholic drinking); medicinal herbs (products made from herbal plants); fabric and textiles (products made from cotton and yarn); souvenirs, furniture, and decorations (products made from wood, fiber, rattan, metal and ceramics); and rural tourism services and sales (services for sightseeing, tourism, study and research).
The programme is implemented at an estimated cost of VND45 trillion (US$1.94 billion).
Capital comes from many sources such as SMEs, cooperatives, and production households, as well as loans from credit institutions, investment funds, SMEs development funds, and funding from international organisations.
To date, 43 countries have approved the OCOP programme, 20 of which have joined the network.
The one-day forum was chaired by MARD in co-ordination with Viet Nam Handicraft Export Association (Vietcraft), "One Village, One Product" (OVOP) International Co-operation Committee (Japan), and the OCOP Global Network Connection.
The forum aims to strengthen co-operation between the countries in implementing OVOP or OCOP programmes, as well as promoting the OVOP or OCOP movement in the world and Viet Nam.
Int'l fair 2019
As part of the forum, the International OCOP Fair 2019 opened on Wednesday in the city's Sai Gon Exhibition and Convention Centre.
The fair, which runs through April 20, features more than 700 booths of businesses from more than 40 provinces and cities across the country.
The fair also attracted participation of businesses from 15 countries and territories, including Japan, the Netherlands, India, Laos, Cambodia, Thailand, China, Kenya, Senegal, Afghanistan, Madagascar, Botswana, Australia, Nepal and Russia.
This year's fair is expected to attract more than 1,600 international visitors from 47 countries and territories, including those from the US, Europe, Japan, Australia, among others.
Speaking at the opening ceremony, Nguyen Minh Tien, chief of the Central New Rural Coordination Office, said the fair aims to promote made-in-Viet Nam handicraft and new designs from Vietnamese handicraft villages to local and international buyers.
It will also promote trade connections between Vietnamese localities and foreign partners, he said.
The handicraft industry is one of the most important sectors contributing to the country's total exports, according to Tien.
Last year, the industry's export turnover reached more than US$2 billion, generating income and employment for nearly 1.5 million workers in rural areas, he said.
The event is organised by the MARD in collaboration with the Vietcraft, and Japan's "One Village One Product" programme.
Last year, the country exported agricultural products worth $43 billion and they are expected to reach $45 billion this year.
Land prices in outlying suburbs rising
Investors in Hanoi's real estate market primarily sought land plots of 30 to 60 sq m in the first three months of 2019, according to a quarterly report from batdongsan.com.vn released on April 10.
Land prices in some districts outside of Hanoi's center increased slightly as a result. Prices in Dong Anh district have risen steadily over the last five years and have grown about 61 per cent in the last two years. The local real estate market is certainly changing in Dong Anh and other districts such as Hoai Duc, Thanh Tri, and Gia Lam.
Land prices in Dong Anh, South and North Tu Liem districts, and Hoai Duc and Long Bien districts have increased significantly since the Lunar New Year in early February.
According to batdongsan.com.vn, the average land price in Long Bien in the first quarter was about VND39 million ($1,680) per sq m, up 4 per cent year-on-year, while it rose 7 per cent in Ha Dong, to about VND34 million ($1,460) per sq m. The land price in Dong Anh is currently about VND16 million ($690) per sq m, increasing 6 per cent year-on-year.
In Ho Chi Minh City, meanwhile, land prices in Districts 9, Binh Chanh and Thu Duc have risen slightly since the Tet holiday. District 9 is a prime location and part of urban area 4.0 planning, with many universities, industrial parks, and new urban areas.
Land in Cu Chi district is also a focal point, with batdongsan.com.vn's figures showing that prices have doubled in the last five years. Homebuyers are most interested in property with prices of VND4-6 million ($175-$260) per sq m and areas of 50-100 sq m. Localities of most interest are the districts of Tan Phu Trung, Tan Thach Dong, and Binh My.
According to Mr. Nguyen Quoc Anh, Deputy General Director of batdongsan.com.vn, its online data covers 80 per cent of all housing market information. "This helps State agencies in ensuring management and transparency in the real estate market and helps organizations and investors to verify, consult, and make the right decisions," he said.
Batdongsan.com.vn's report was collected from more than 20 to 30 million messages per day. It uses artificial intelligence (AI) and machine learning in the process of collecting and analyzing big data, combining data validation methods and market surveys.
The website currently has more than 4 million users with 70 million views per month, giving it the largest amount of online data on Vietnam's real estate sector.
Criteo partners with Tugo & 5 Asia-Pacific airlines
Alliance of technology provider, travel operator, and airlines to give Vietnam's premium travel sector a major digital boost.
Criteo S.A., the advertising platform for the open internet, has announced a partnership with Tugo, one of Vietnam's leading travel startups, and five major national airlines in the region, to create a seamless purchase experience for premium tour programs and meet the growing demand for premium tours. The airlines are Vietnam Airlines, Air China, Singapore Airlines, Brunei Airlines, and Qatar Airways.
As part of the one-year partnership, Criteo will provide retargeting solutions that enable Tugo to reach its target customers and promote premium tours with flights from partner airlines. Through the partnership, Tugo aims to position itself as a premium tour operator that provides customers with high-quality transportation and accommodation.
The move comes as Vietnam caters to an increasing number of international and domestic tourists, driven by a rapidly-expanding middle-class. Vietnam was crowned "Asia's Leading Destination" at the 2018 World Travel Awards.
"Over the past few years, we have been seeing stronger consumer demand for premium travel services," said Mr. Nguyen Minh Bao, Founder and CEO of Tugo. "With this partnership, we hope to provide premium travel experiences that satisfy the needs of the modern Vietnamese traveler - collaborating with major national airlines in the Asia-Pacific region for high-quality transportation."
"Our experience with Criteo has been amazing thus far, their solutions providing us with insights into our customers' travel booking preferences and readiness to purchase. We are excited to have Criteo as a partner again as we work to deliver a better travel booking experience."
Vietnam's growing digital economy is driving online travel bookings on websites and mobile apps as Vietnamese become more mobile and app-savvy. This trend was observed in Criteo's The Big App Commerce Opportunity in Vietnam study, where more than four out of five consumers prefer to purchase products and services on mobile apps compared to mobile websites.
"We encourage travel operators to join us in adopting new technologies and digital solutions to better reach and engage end-users," said Mr. Alban Villani, Managing Director, SEA-Pacific, at Criteo. "We look forward to fostering cooperation between tour operators and airlines and accelerating the growth of Vietnam's travel industry with Criteo's multiple technology solutions powered by its AI Engine to meet the needs of modern marketing, whether it is looking to achieve awareness, consideration or conversion."
Criteo is transitioning to a multi-solution technology partner, fueled by a unique data set where it sees 1.9 billion monthly active shoppers and more than $800 billion in transactions globally, powered by AI. Criteo's solutions continuously engage the customer throughout the purchasing journey by serving personalized ads based on travelers' browsing behavior.
Tech Data expands partnership with Schneider Electric IT Vietnam
Tech Data has expanded its relationship with Schneider Electric IT Vietnam, a global leader in power management and efficiency for business, to bring APC by Schneider Electric's entire range of products and power conversion solutions to Vietnam.
This latest agreement builds on the successful ongoing Vietnam partnership between Tech Data and Schneider Electric IT and encompasses edge computing, network closets, server rooms, micro data centers, small and medium data centers, and industrial power solutions.
"Power continuity and consistency are vital to any ICT installation or network," said Ms. Tran Thi Bao Tran, Country General Manager, Vietnam, at Tech Data. "APC by Schneider Electric's power solutions will be a key offering for our ecosystem of partners, enabling them to ensure their business-critical equipment and applications are fully protected."
APC by Schneider Electric's uninterruptible power supply solutions, data security, and surge protector options meet an important need in Vietnam, ensuring maximum availability and guaranteed uptime.
"Schneider Electric IT Vietnam is delighted to have Tech Data as one of our official partners in the local market," said Mr. Morgan Duarte, General Manager of Schneider Electric IT Vietnam. "Just like us, they are eager to build our powerful business partner ecosystem in Vietnam. The country is growing and with that growth is a need for the power management solutions that APC by Schneider Electric provides, to ensure that ICT infrastructure maintains continuity of supply to organizations."
Tech Data's partners will not only gain access to APC by Schneider Electric's solution stack but will also be able to create tailored solutions by combining this technology with complimentary solutions from other world-leading vendors within Tech Data's portfolio. Partners can also take advantage of a vast array of support and services to enhance their business outcomes, including dedicated sales and technical resources, demonstration and proof of concept services, demand generation programs, and education and enablement offerings.
Tech Data connects the world with the power of technology. Its end-to-end portfolio of products, services and solutions, highly specialized skills, and expertise in next-generation technologies enable channel partners to bring to market the products and solutions the world needs to connect, grow and advance. Tech Data is ranked 83rd on the Fortune 500® and has been named one of Fortune's World's Most Admired Companies for ten straight years.