Electricity system capacity exceeds 36,000 MW
Vietnam Electricity (EVN) yesterday said that power system capacity of the whole country exceeded 36,006 megawatts for the first time in history.
Whereas, the electricity consumption volume also reached a record high level of 756.9 million kWh on May 18.
As report, a long-lasting extreme scorching heat of 39- 40 degrees Celsius in the Northern and Central regions was the reason.
According to the weather forecast, the hot spell continues in the Northern and Central regions so the electricity consumption is forecast to continue being the high level.
PPP the key driver for Industry 4.0 success
Aligned to the global movement towards a digital economy, Vietnam is taking the Fourth Industrial Revolution in its stride. The big question is who should take the lead in bringing Vietnam into this new digital environment. Grant Dennis, general director at PwC Consulting Vietnam, looks at the potential solution of public-private partnerships.
In a move to help articulate the perceived impacts of Industry 4.0, as well as highlight the challenges faced by Vietnam, PwC conducted the Industry 4.0 Vietnam Survey in 2018. Overall, respondents to PwC's survey anticipate that the fast-approaching Industry 4.0 will bring significant benefits, such as higher efficiency of operations as well as improved access to customers brought on by digitisation and automation. They are positive about Industry 4.0 despite a lot of uncertainty in terms of the exact impacts.
Yet this journey brings unique challenges to Vietnam compared to its global peers, due to the different levels of market maturity. Vietnamese respondents are most concerned about a lack of digital standards, insufficient skills in the local talent, and data privacy and security.
In particular, there is a limited understanding of the specific skills, knowledge, and capabilities required to make digital integration a reality in Vietnam.
In the face of such difficulties, 64 per cent of respondents agree that businesses need to take the lead in ensuring Vietnam can succeed in Industry 4.0, with a third of participants asking for government involvement in the process. Effective partnership between the government and private sector can provide dynamic and practical solutions when addressing key challenges.
For example, government involvement may include setting up a public-private partnership framework or developing an industry-wide skills framework to provide guidance and clarity on the skills required to succeed. With input from the private sector, government can invest and develop infrastructure or offer the right tax incentives for corporate investments.
Based on PwC's experience in advising leading companies and governments all over Southeast Asia, we have defined five practical recommendations for the way forward under the overarching theme of public-private partnership.
The first is to build awareness. Awareness is the foundation that enables and empowers individuals, groups and businesses to take action. Increased awareness will have an overall positive impact on Vietnam's readiness to embrace Industry 4.0.
In this regard, industry bodies need to play a more active role in communicating Industry 4.0 to embed a more thorough understanding in the minds of the population. Industry bodies are also strategically placed to represent business sectors and industries, to liaise with relevant government bodies on the need to be prioritised.
The second need is to develop digital capability. The current and future workforce can be segregated into three categories: current workforce, new entrants into the workforce, and students. Businesses should take the lead in defining the requirements to upskill and reskill the current workforce, and provide them with continuous professional development.
For new entrants, businesses should identify the needs for the government to develop curricula to serve business needs. For younger students, the onus is on the government to ensure that the education system provides a foundation of digital education. Such education can inspire children's enthusiasm for technology from a young age. Curricula, in general, should accommodate necessary skills for new, future jobs replacing the ones that will be lost to machines and software.
Next, developing the landscape to enable the Fourth Industrial Revolution in Vietnam requires a guided infrastructure development plan. This includes a secure mobile broadband network that will deliver internet access to all industries and the society, irrespective of where they reside, and work in a consistent and stable manner.
Businesses need to determine their infrastructure requirements and communicate, while the government's role is to understand and to determine policies and regulations to encourage or manage the sustainable development of such infrastructures in Vietnam.
The fourth factor involves network security and cybersecurity. Network cybersecurity is a key fundamental requirement to build long-term digital trust. The government needs to incentivise mobile operators to accelerate their 4G and future 5G deployments nationwide, along with the Internet of Things, adhering to strict cybersecurity protocols and mechanisms that are aligned with international standards.
Finally, we should look at establishment of innovation hubs. This should be carried out at locations that may provide the best impetus for growth. Some criteria to consider include easy access to relevant skills, ease of navigating local legislation, convenient financing opportunities, and cross-support for similar industries.
With these innovation hubs, the government can incentivise (via tax breaks, lease period waiver, and government grants) local and international companies to invest across key industries. This funding into such areas as ICT, transport, manufacturing, agriculture, finance, energy, health, and education can help create innovative projects and initiatives that will manifest the jobs of the future.
This innovation hub initiative also creates an environment that is conducive to entrepreneurship in Vietnam which enables, empowers, and inspires people and companies to innovate.
Industry 4.0 revolution is more of an evolution. It won't happen overnight but will occur over time as different industries undertake digital transformation journeys at varying pace.
If Vietnam can draw upon resources from both the public and private sectors to embrace this opportunity, it has the potential to leapfrog other markets. Vietnam will be able to secure an inclusive growth trajectory as more people can benefit from skills upgrades and move to high-skill jobs, allowing Vietnam to transition from a middle income to higher income economy.
Businesses, management agencies team up to boost exports to Eastern Europe
Domestic businesses and State management agencies should work in unison in order to promote exports to the Eastern European market - a traditional market in connection with the development of export activities of various industries but makes up a small proportion of Vietnam's total export turnover.
During the recent Vietnam-Eastern Europe Trade Forum held in HCM City, representatives from several associations and businesses expressed their regret that they have been unable to expand their market shares in Eastern European. Some businesses have even been forced to give up on it entirely and turn their attention to other promising markets.
Phan Thi Thanh Xuan, vice chairwoman and general secretary of the Vietnam Leather, Footwear and Handbag Association, said the Eastern Europe market is important to the domestic leather and footwear industry as it has created favourable conditions in which the industry has enjoyed robust development so far.
A notable example of this is that during the period of outsourcing for the Russian market, Vietnam was able to acquire a lot of techniques used in leather shoes products.
Pham Xuan Hong, President of the Ho Chi Minh City Textile and Garment - Embroidery Association, attributed the development of the garment and textile to the Eastern European market.
Thirty years ago, Eastern Europe was the leading export market for the local leather and footwear industries, followed by the Western European market. Currently, Vietnam earns most of its turnover from textile and apparel exports to the US, Japan, and the EU markets while exports to the Eastern European market only account for a small proportion.
When a Free Trade Agreement (FTA) with the region was signed, several textile and apparel businesses expressed their hope that this traditional market could be revived, as it has fewer requirements than other markets.
At present, some 20 businesses have maintained contact and outsourced export goods for the market with only a small amount of orders.
Hong pointed out some of the challenges facing firms in the Eastern European market, particularly as regulations on payment currencies in these countries' monetary system do not align with that of Vietnam.
For example, when exporting goods to the Russian market, domestic enterprises cannot receive payment in Russian Rubles as they use US dollars when doing international transactions and banks are unable to open a letter of credit.
Tran Dang Chung, Chairman of Milton Company in Russia and former president of the Vietnamese Business Association in Russia, said businesses operating in the Eastern European market often run up debts for five to six months due to long procedures, which affects the operation of businesses.
Do Ha Nam, deputy chairman of the Vietnam Coffee and Cocoa Association and chairman of Intimex Group, said that the group had previously sold coffee products to the Russian market and exchanged goods back to Vietnam as a means of resolving difficulties regarding payment issues.
Mr Nam noted that many transnational countries in the Western European region have enjoyed strong sells when hawking their goods to the Eastern European market. They are willing to allow businesses in the region to owe money as they have the backing of banks which guarantee the debt.
Therefore, both regions enjoy strong business amongst each other as firms in Eastern Europe are able to owe money for a longer period of time.
However, Mr Nam advised domestic firms to improve their product quality to ensure stable growth in the market. In fact, the export of local goods to the market remains unstable due to their quality.
According to a representative from the Polish Business Association, local businesses should take advantage of more than 100,000 Vietnamese people living and working in Eastern Europe to support their operations.
Ta Hoang Linh, head of the European-American Markets Department under the Ministry of Industry and Trade, advised businesses to take a proactive approach to ensure their business operations run smoothly.
He elaborated that when businesses encounter difficulties, they should share them with the MoIT in order to seek advice on what measures to be taken to overcome these hurdles.
To support businesses to make inroads into the market, the MoIT is due to launch Vietnamese Goods Week event in Moscow this September, he added.
Nguyen Khanh Ngoc, deputy head of the European and American Market Department, had a positive outlook on the highly lucrative market, saying that trade turnover between Vietnam and the region has bounced back in recent times.
Currently Vietnam's exports to the market account for nearly 3 per cent of its overall exports. The nation earned a turnover of US$3.3 billion in 2015, US$3.7 billion in 2016, over US$5 billion in 2017, and US$6.5 billion in 2018.
Ben Tre companies seek to enter national supply chains
Enterprises from the Mekong Delta province of Ben Tre are keen to participate in supply chains all the way from production to consumption to bring goods to the distribution systems of HCM City and other provinces and cities around the country, its trade czar has said.
Le Van Khe, director of the province Department of Industry and Trade, speaking at a conference on supply-demand connections between his province and HCM City on Friday, said the participation of Ben Tre companies would also contribute to the "Vietnamese people prioritise using Vietnamese goods" campaign.
Organised by the Ben Tre People's Committee together with Sunny World Investment and Development Corporation and Vietnam Signature Corporation, the conference attracted a dozen companies from Can Tho and HCM City.
The department said the province had enabled local companies to participate in various conferences to link buyers and suppliers held in big cities like Ha Noi, HCM City, Da Nang and Can Tho.
Enterprises had benefited from them, successfully connecting with retailers in big cities and having their goods sold by giant supermarkets and malls such as Coop.Mart, Satra, Aeon Mall , Big C and Lotte, the department said.
Meanwhile, a number of products made in Ben Tre are on display at a three-day exhibition in HCM City that opened on Friday.
"Displaying, introducing specialty products of Ben Tre Province in HCM City" seeks to promote the province's speciality products, traditional craft villages, tourism, and culture.
It has 30 stalls to display goods and an area simulating traditional craft villages.
Visitors can buy food, decorative items and cosmetics made from coconut and other agricultural products both traditionally using and modern processes.
They can also observe the process of making coconut candies and crunchy Son Doc sweet rice patties, weaving products from coconut stems and leaves like baskets, brooms and decorative items by real Ben Tre artisans.
Stories about the traditional culture and people of Dong Khoi homeland are told through documents, pictures, a collection of poems by Nguyen Dinh Chieu and traditional instruments made from coconuts.
The event is on at The Garden Mall, 190 Hong Bang Street, District 5.
Land clearance for expressway should be completed soon: ministry
Officials have been told by the Ministry of Transport to finish land clearance for the ongoing Bến Lức-Long Thành Expressway project, which has been delayed because of several problems.
Nguyễn Ngọc Đông, deputy minister of Transport, said the Bến Lức-Long Thành Expressway (connecting Long An Province to Đồng Nai Province) was lagging behind schedule due to difficulties in land clearance compensation in HCM City and Đồng Nai Province.
For example, HCM City's Bình Chánh has around 26 households that have not handed over their land, some of which have been caused by unresolved disputes. These families account for 2 per cent of the affected households.
In addition, the plan for relocation of electricity pylons has not been completed.
Meanwhile, in Đồng Nai, around 116 households have not handed over their land due to compensation procedures.
Nguyễn Ngọc Đông told the Việt Nam Expressway Corporation, the project investor, to work with Đồng Nai and HCM City to push for completion of land clearance and relocation of affected households so that land can be handed over to the company in June.
According to the investor, if the city hands over the remaining land needed for the project soon, around 20 kilometres of the project (from Bến Lức to Nhà Bè District's Nguyễn Văn Tạo intersection) could open for traffic in September, while the remaining part leading to Đồng Nai could be completed in 2020.
However, if the land is not handed over in June, the project will not be finished by the end of 2020, as requested by the Ministry of Transport.
Begun in 2014, the VNĐ31 trillion (US$1.3 billion) project, which is 57.7 kilometres long, traverses Long An, HCM City and Đồng Nai. It is expected to reduce traffic congestion between the Mekong Delta and southeastern Việt Nam.
The project was originally planned to be finished in 2018, but it was delayed until 2020. Around 70 per cent has been completed.
HCMC synchronizes infrastructure for efficient operation of first metro line
A slew of pedestrian bridges spanning over Hanoi Highway will be built to connect the highway with stations of the first metro line Ben Thanh-Suoi Tien, which is schedule to come into operation next year, to provide residents' easy access to the stations, said Director of HCMC Urban Railway Management Board Bui Xuan Cuong.
These stations have been under construction above the ground on the left side of the highway in the direction from Saigon Bridge to Dong Nai Bridge.
Currently, the pedestrian bridge linking up to Suoi Tien station has been built. Those connecting with Thao Dien, An Phu, Rach Chiec, Binh Thai, Phuoc Long, Thu Duc and Saigon Hi-Tech Park stations are expected to start work this year and come into operation in 2020. The bridges' construction will comprise lean-tos and lightning system.
To promote the operation efficiency of the metro project, Mr. Bui Xuan Cuong proposed HCMC to arrange land fund along the route for construction of works linking up to stations such as approach roads and parking lots for metro commuters.
The biggest obstacle in building the pedestrian bridges is that some contiguous positions between the bridges and pavements are in front of local people's houses, forcing to adjust design to minimize negative influence to the life of residents, he added.
Besides building the bridges, the city will develop bus rapid transit system connecting with metro routes to facilitate metro commuters.
Director of HCMC Public Passenger Transport Management Center Tran Chi Trung said that when the first metro line comes into operation next year, 25 bus routes will be supplemented along the Hanoi Highway. Buses will move further in residential areas, the university village in Thu Duc district, industrial parks and hi-tech parks to pick up passengers.
Bus routes will be organized in the form of fishbone to help passengers access to metro stations. The center will arrange a bus station every 500 meters along the highway. Buses will operate within the diameter of 4.2-17.8 kilometers from the center of each station.
The first metro line is 19.7 kilometer long comprising 14 stations with 11 above the ground along the Hanoi Highway and three underground in the center of the city namely Ba Son, Saigon Opera House and Ben Thanh.
HCMC prioritizes clean agricultural products
According to orientation for supply and demand connection, Ho Chi Minh City will give priority to high quality agricultural products that ensure food safety, diversify products and bring better choices for consumers.
This information was announced at the meeting between Deputy Director of the Ho Chi Minh City Department of Industry and Trade Nguyen Huynh Trang with departments and agencies of Dak Lak province.
The meeting was held to look for solutions to improve the efficiency of goods supply and demand connection between potential enterprises, cooperatives, farmers and exporters with the city's distribution systems.
Additionally, the meeting aims to help them find out local specialty products to participate in the city's promotion programs.
Speaking at the meeting, the provincial departments and agencies said that the Central Highlands province had nearly 5,400 square kilometers of agricultural land.
Beside coffee products, the province also focused on various products such as rubber, pepper, cocoa, cashew, avocado, durian, mango and litchi, grapefruit, oranges, tangerines and honey.
However, finding the consuming destinations for agricultural products of the province is still difficult because of many reasons.
Therefore, the locality needs to focus on choosing products with stable quality, large production scale. Besides, Ho Chi Minh City will give priorities to products being processed in the province to reduce the amount of waste in Ho Chi Minh City.
HCMC Science-Technology Business Club launched
A new club specially for science-technology companies in Ho Chi Minh City (HCMC) was formally launched in yesterday conference 'Developing Science-Technology Businesses in HCMC'.
The club aims at boosting the cooperation among members and becoming a bridge between enterprises and educational institutes in order to foster scientific research and implementation.
In this conference, Mr. Nguyen Khac Thanh, Deputy Director of the HCMC Department of Science and Technology, reported that there are now 74 science-technology businesses in the city, along with several others filing for the certificate.
He stated that his department will help the commercialization of innovative products of these companies so that they can officially become a science-technology one.
The HCMC Department of Science and Technology also presented preferential policies towards this kind of business such as business tax exemption, land and water surface rent exemption, as well as preferential credit for scientific research activities, technology development and manufacturing activities.
On this occasion, the above department mentioned its special incubation program for innovative startups named Speedup, where each innovative startup project receives a financial support of VND2 billion (approx. $85,505) in the maximum period of two years.
Vietnamese mangoes continue being exported to US
After Dong Thap and Long An provinces, An Giang province in the Mekong Delta of Vietnam has exported mangoes to the US.
On May 18, the provincial People's Committee and Chanh Thu Export Import Company organized a ceremony to announce export of the first ton of Cat Hoa Loc mango from the province to the US market.
Leaders of the Plant Protection Department under the Ministry of Agriculture and Rural Development, Southern Horticultural Research Institute, An Giang province and fruit export firms, cooperatives and farmers were present at the event.
Deputy chairman of the provincial People's Committee Tran Anh Thu said it was good news and good signal for the province's fruit industry as mangoes were exported to such a big and strict market as the US. To obtain the success on that day, authorized agencies in the province had previously worked with the Plant Protection Department together with Cho Moi, Tri Ton and Tinh Bien districts, export firms and farmers to produce mangoes under safe and clean standards to meet requirements from strict markets including the US.
Mr. Nguyen Sy Lam, director of the provincial Department of Agriculture and Rural Development, said that mango farming area in An Giang approximates 9,700 hectares. Of these, 7,000 hectares have been bearing fruits with the output of 95,000 tons a year. The main crop provides 70-80 percent of output while unseasonal crop makes up 20-30 percent. The area of mango production under VietGAP quality standard is about 193 hectares with the total output of 1,900 tons a year.
In April, Dong Thap province exported the first eight tons of mango to the US. Afterwards, tens of tons of the fruit from Vinh Long province were shipped to the market.
Firms need to be cautious about exporting to China
According to the Agency of Foreign Trade under the Ministry of Industry and Trade, the Commercial Counselor of Vietnam in China recently has had tip-offs and warnings about possible risks Vietnamese enterprises might encounter when exporting to Chinese market.
Currently, export turnover to China's market has always posted strong growth. Agro-forestry-aquatic products have many advantages thanks to a preferential tariff of zero percent in accordance with the free trade agreement between the ASEAN and China.
However, in order to reduce risks, the Commercial Counselor of Vietnam in China warned Vietnamese enterprises that before doing business at this market they should seek support from trade offices, trade office branches and trade promotion agency to look for suitable and prestigious partners in China as well as verify their Chinese partners' capacity, especially the ones they found in the Internet.
All transactions with Chinese enterprises must be implemented in the form of contracts in according to normal international trade practice with terms of transactions and dispute resolution being unified and highly binding.
In the past, Vietnam mainly exported goods into China via unofficial cross border trade. Now, the Chinese Government has had changes in policy for export companies which officially export to China, including reduction in import tariffs and no gap between export by road and by sea. It also tightens control on product quality, origin and other elements relating to product quality at the border gates.
Therefore, firms should actively study import regulations of China on the products that they plan to export. At the same time, they should improve product quality and model and update regulations on product quality and consumers' taste of each place.
New tech to revolutionise the hospitality industry
Ariyana SmartCondotel Nha Trang, in collaboration with L'Alya Ninh Van Bay Resort, successfully held the Smart Hotel Seminar themed "New tech to revolutionise the hospitality industry," within the framework of the series of events to celebrate the National Tourism Year and Nha Trang-Khanh Beach Festival 2019.
The Smart Hotel Seminar was organised at Ariyana SmartCondotel Nha Trang, touching upon a definite trend among today's service industry: continuing to evolve, incorporate, and need more technology to be successful, as technology innovations are transforming every industry and job role.
Here, experts from leading technology companies LG Electronics and HP Enterprise as well as top hotel management company PHD Hospitality shared their perspective on the impact of technology on the hospitality industry in Vietnam, especially in hotel management and data, customer experiences, as well as smart infrastructure system.
According to senior manager of LG Electronics Huyn Jun Choi, LG RMS is providing leading smart technologies such as automatic bedroom equipment control, AI voice control, and smart TVs and telephones. These are the solutions for a smart, up-to-date hotel and resort, promising to bring unique and novel experiences to tourists.
Seizing this trend, Ariyana SmartCondotel Nha Trang is the first project in Nha Trang to pioneer the smart-home technology system provided by LG Electronics, offering smart facilities and impressive experience for domestic and international guests coming to Nha Trang.
Le Van Nghia, general director of Nhat Minh Travel and the investor of Ariyana SmartCondotel Nha Trang, said that after one year of operation, applying smart technology and professional services has contributed to increasing the hotel's attractiveness and posting incredible performance in its business, with more than 90 per cent of accommodations occupied.
With that success, Phu Long Real Estate has drawn up a smart-hotel development strategy not only for Ariyana SmartCondotel Nha Trang but also for other hotels and resorts such as L'Alya Ninh Van Bay Resort (phase 2), Holiday Inn Saigon Airport Hotel, and My Dinh luxury condotel complex.
During Nha Trang-Khanh Hoa Beach Festival held on May 11-14, Phu Long Real Estate also introduced brand-new, unique accommodation projects that wake up the hidden beauty of Vietnam's coastal pearls like Nha Trang, Cam Ranh, Danang, and Phu Quoc.
Lam Dong students practice high-tech agriculture
A number of localities have incorporated high-tech agriculture into school training programs, as a new and practical approach and long-term investment.
At the center of Da Lat City, there is a high-tech garden for vegetables and flowers, where every day students of the Lam Dong Ethnic Boarding School practice what they have learned about crop plants and farming.
Located at the Lam Dong Ethnic Boarding School and covering an area of more than 500 m2, the glasshouse garden are equipped with fertilizer irrigation and an automatic watering system. Another plot of land near the flower garden is equipped with a hydroponic system for safe vegetable cultivation.
The garden is where teachers and students to practice farming like real farmers and their earnings from farming will be donated to the school's Study Encouragement Fund.
Teacher Nong Van Hung, Secretary of the school's Youth Union, said teachers instruct students while the students take responsibility for the 6,400 USD garden ranging from seeding to fertilizer preparation, the watering timer, and fertilization.
After a season of cultivating flowers and vegetables, the students' knowledge on farming has improved greatly. Most of them know how to read the level of humidity to determine which diseases the plants are susceptible to, and take measures against the pests.
Hung underscored the importance of teaching the students to love farming and apply high-tech techniques, noting the benefits of these practices for the ethnic minority people in the future.
"We will use part of the money earned from selling vegetables and flowers to finance the Youth Union's activities. The school's Study Encouragement Fund will help buy materials, learning aids, and gifts for disadvantaged pupils in remote areas," said Hung.

12th grader Da Gat Phuong said thanks to caring for the garden, she has gained more knowledge on how to grow vegetables and flowers in a modern way. She is now able to adjust the amount of water and fertilizer suitable for each development stage of the crops.
"Thanks to the program, we have learned techniques to soften the soil, and how to use various types of fertilizers and understand the steps to best develop vegetables. We can also apply the techniques we learn at school to help our parents," Phuong said.
Since the onset of the program, the students have become very familiar with all phases of cultivating vegetables or flowers.
Ya Duyet, a student of class 12A, said apart from the knowledge provided by teachers, he himself often searches for more information from books and the Internet to find the best way to look after the garden.
According to Duyet, "Since the model was launched, we are more hard-working and less distracted, while our team work skills have improved. We have worked more harmoniously and efficiently."
Pham Thi Hong, the school's principal, said the money from the harvested vegetables and flowers is used for school programs and contributes to the Study Encouragement Fund.
Solutions to develop Vietnam's southern key economic region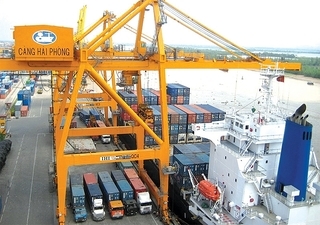 Ảnh:
The Southern Key Economic Region includes Ho Chi Minh City and Dong Nai, Binh Duong, Ba Ria-Vung Tau, Binh Phuoc, Tay Ninh, Long An, and Tien Giang province. The region consistently leads Vietnam in economic development.
Mobilizing resources for its development creates an impetus for national growth and international integration, heard a recent conference in Dong Nai province.
The Southern Key Economic Region leads the nation in economic development, contributing more than 45% of the GDP last year.
But Nguyen Thanh Phong, Chairman of the People's Committee of HCMC, says the legal foundation, the regional coordination mechanism, the shared database, and the technical and social infrastructure have not yet met all socio-economic development needs.
Mr. Phong said, "In the long term, the government should improve the legal system and issue a decree developing economic region. In the short term, we hope the government will assign the Steering Committee for the Key Economic Regions to proactively work with ministries, sectors, and provincial administrations to strengthen coordination to efficiently implement inter-region cooperation programs."

Chairman of the Dong Nai Provincial People's Committee Dinh Quoc Thai urged the government to speed up implementation of the Long Thanh International Airport project, improve the region's transportation infrastructure, and create a mechanism to boost the development of Key Economic Regions.
Tran Dinh Thien, former Director of the Vietnam Institute of Economics, said, "Private businesses have a lot of experience in creating local connectivity. At the recent Vietnam Private Economic Forum, the Prime Minister touched upon ways to encourage the private economic sector to participate in infrastructure construction projects like airports and highways to relieve the financial burden on the state budget. We must prioritize the creation of institutions for private businesses, economic groups, and regional connectivity."
Prime Minister Nguyen Xuan Phuc promised to issue a decree on the development of the Southern Key Economic Region. He said, "The Southern Key Economic Region should continue to drive the Vietnamese economy. To that end, we need a shared effort to develop it. In other works, we need to strengthen link between provinces and cities in the region."
Prime Minister Phuc stressed the need to design a regional coordination mechanism which is unbound by or divided by administrative borders to avoid duplicated production that could lead to needless competition.
Tech catalogue for power generation and storage launched
The Technology Catalogue for Power Generation and Storage 2019, an outcome of the Vietnam-Danish Energy Partnership Program, was launched in Hanoi on May 16, according to the Embassy of Denmark in Vietnam.
The catalogue is a joint product of the Electricity and Renewable Energy Authority under the Ministry of Industry and Trade and the Danish Energy Agency.
Being a solid foundation for enlightened policy development, the catalogue provides up-to-date data on performance and costs to enable generic comparisons of technologies in the energy system, through which relevant policies to achieve the government's long-term target can be analyzed.
The technologies described in this catalogue are both mature and emerging ones that could improve significantly over the coming decades.
The catalogue also contributes to forming a concerted knowledge base for the discussion on system costs and energy modelling results by ensuring transparent public access to essential energy data for long-term power system modelling and analysis of the entire energy system of Vietnam.
Speaking at the launching ceremony, the Embassy's Trade Counsellor Bo Monsted described the technology catalogue as an essential part of the Vietnam-Danish Energy Partnership Program, working towards producing the next Energy Outlook Report for Vietnam and illustrating cost-efficient pathways for a green transition of its energy system towards 2050.
HCMC proposes raising annual loan caps
Authorities of HCMC have written to the prime minister asking him to consider and present their proposal on raising annual loan caps to the National Assembly (NA) for approval.
The city suggested the NA stipulate the total permissible amount of loans and acceptable overspending for the city based on its demand for capital and capacity to pay debts, ensuring that total outstanding loans do not exceed 90% of the city's collected budget.
The city's ongoing projects are in need of over VND13.2 trillion in on-lending loans from foreign donors this year, but the loan cap on on-lending loans assigned by the central Government to the city is a mere VND5.49 trillion.
As the total loans taken out in a year must not exceed the regulated cap, the city will have difficulty allocating loan caps to each investment project.
Also, if a project requires a sum of capital that exceeds the city's available budget to speed up the disbursement process, the city will not disburse the capital.
For instance, due to the speedy disbursement process of the Metro Line No.1 project, the city had to spend from the municipal budget to pay contractors.
In early 2019, the city's total outstanding loans stood at VND18.3 trillion, with loans for the issuance of bonds accounting for VND14 trillion and on-lending loans making up the remaining.
The city ensured the cap on outstanding loans does not exceed 90% of its collected budget, but it can only take out loans within the loan caps and overspending rates approved annually by the NA.
Meanwhile, the city has taken out on-lending loans for 13 projects with total outstanding loans exceeding VND4.3 trillion. Also, it is in negotiations with the World Bank to take loans worth an estimated VND5.1 trillion.
The city currently works with ministries and central State agencies on obtaining on-lending loans for the Metro Line No.1 and No.2 projects, with an on-lending percentage of 100%.
HCMC pledges to remove obstacles for makers of key products
The HCMC Department of Industry and Trade will regularly hold meetings with enterprises manufacturing key products in the city to help them resolve difficulties, stated Pham Thanh Kien, director of the department.
Kien made the pledge at a meeting on May 16 with leaders of Minh Hung Plastics JSC, a private firm producing household plastic products and plastic pipes, both key products of HCMC. The event was part of a slew of fieldtrips the department leadership has conducted since early this year at HCMC-based enterprises manufacturing key products so as to help them surmount difficulties.
Nguyen Thi Tuyet, general director of Minh Hung Plastics JSC, noted that her company is now having difficulty accessing bank loans, training human resources, securing land for new plants, and developing its brand.
Specifically, the company is in dire need of capital to import equipment from Europe. However, its land was appraised at a low value, so banks only offer it small loans.
In addition, the competition among firms in the plastics sector is strong, while the water and electricity prices have increased, adding to the company's problems, Tuyet added.
The company expected to be prioritized in providing plastic products to projects in the city so that its products can compete with those of international rivals.
Securing land for a new plant is another hurdle.
Tuyet said her company wanted to have land in Cu Chi District to manufacture HDPE plastic pipes with a diameter of two to 2.6 meters to supply Saigon Water Corporation, as it has gained a contract to manufacture such pipes for a project to convey water from Dau Tieng Lake in Tay Ninh Province to the Thu Duc water plant.
She explained that transporting bulky cargo from the company's existing plant to the customer's designated venue has proved difficult, and as such, a plant in Cu Chi near the construction site of Saigon Water Corporation would be of great assistance. Therefore, the company asked the Department of Industry and Trade and other relevant agencies to help it secure a land lot in Cu Chi District and access preferential loans so that it can produce the pipes there.
The company also suggested the city support it in training managers and in participating in the city's brand promotion programs.
In response, Kien remarked that plastics products are one of 71 key products of the city, which are subject to multiple incentives in terms of land, capital, technology, workforce training and brand promotion.
Enterprises manufacturing key products will be offered preferential loans for seven years to develop factories and new technologies.
Kien claimed the city will help enterprises take out bank loans for production expansion. This year, the department will help these firms introduce their products in South Korea, Thailand and Australia.
He advised enterprises to expand their operations in centralized industrial parks, where infrastructure has been developed. Further, the city has offered land at low rent to manufacturers of key products.