Vietnam encourages private participation in key projects
The National Assembly (NA) Economic Committee said that the government should encourage private participation in the country's key projects and renovate more for startup.
The committee made the statement at the seventh session of the 14th National Assembly (NA) in Hanoi yesterday. It also said that the government needs to trim administrative procedures as well as strictly
impose punishment on violations in all fields especially in public investment, construction and traffic.
After NA Chairwoman Nguyen Thi Kim Ngan spoke at the opening ceremony, on behalf of the government, Standing Deputy Prime Minister Truong Hoa Binh reported the government's assessment of socio- economic situation and state budget in 2018, the implementation of socio-economic growth plan and state budget in early 2019.
The private sector drives economic growth of the socialist-oriented market economy, helping to form large corporations with strong competitive ability, said Mr. Binh.
He affirmed that thanks to the entire machinery of state, enterprise community and people in the country's effort, the socio-economy in the fourth quarter has seen significant changes bringing fruitful results in all fields in 2018, the important transitional year to complete the goals of the five-year economic and cultural development plan from 2016 to 2020.
According to his report, socioeconomic performance in 2018 had hit all 12 targets assigned by the NA, including the nation's gross domestic product growth rate, which exceeded the NA target of 6.7 percent
to hit 7.08 percent. Vietnam's GDP per capita last year was US$2,590.
Regarding results achieved in the first months of 2019, the macro-economy continues to stabilize and inflation is under the government's control. Vietnam recorded a year-on-year rise of 2.71 percent in
consumer price index (CPI) in the first four months of this year, lowest in the past three years.
The rate of exchange and the foreign exchange market were still stable while the government's e foreign exchange reserves set highest record. The country's GDP in the first quarter reached 6.79 percent and exports in first four months earned $78.8 billion, a year-on-year rise of 5.8 percent. The country posted a trade surplus of some $711 million.
Additionally, the government also tackled long-delayed projects and tighten collection from land, mineral and water as well as prevent environmental incident. Vietnamese government is determined not to trade environmental health for economic growth.
The government said that in the future, the world's and the Asia's economy might face risks and increased crisis especially trade war between large countries leading to policy adjustment and fluctuation in financial and monetary markets and fierce competition.
Vietnam is a developing country with weak competition; therefore, this year is very significant for the mission. The government called for participation of the entire machinery of politics to promote strength of all walks of people and firm community in achieving goals and mission of 2019 aiming to complete the five-year plan (2016 – 2020).
Seven major missions ought to be done in the next time including fortifying macro-economy, keeping balance of the country's economy and promote growth, restructuring the country's economy attached with growth models, improve productivity effectively for increased competition.
In addition, the government will take heed of developing culture and residents' living condition and beefing up management on the country's natural resources to protect environment and fight disasters as well as adapt to climate change.
Vietnam will accelerate administrative reform and increase inspection to deal with complaints and accusation as well as fight corruption and push up information to residents.
Chairman of the NA's Economic Committee Vu Hong Thanh said increase in in petrol, power, and medical services impacted to inflation and production growth; therefore, deputies proposed the government reviewing the transparency of electricity bill and its impact on CPI and socio-economic aspects.
Mr. Thanh proposed intensified prediction of risks and measures to avoid crisis in 2019.
Moreover, deputies at the session of the 14th National Assembly proposed harsh penalties on child sexual abuse and tackle criminal gangs to keep society's security.
Cashew exports to China surge in April, but overall figures poor
Viet Nam's cashew exports to China in April went up by a whopping 54 per cent to US$31.4 million, the Ministry of Industry and Trade said citing customs data.
Significant increases were also seen in exports to other markets such as Germany (65.7 per cent), Thailand (17.4 per cent) and Italy (21.6 per cent).
But shipments to the US, the biggest market, fell by 30.6 per cent to $88.5 million.
Overall cashew exports were worth $271.2 million, up 8.4 per cent from March but down 12.6 per cent from 12 months earlier.
The decline in export value despite an increase in shipments was caused by a fall in prices.
The average export price was down 2.9 per cent from March and 21.2 per cent from last April to $7,601 per tonne, the lowest rate since February 2016.
Hanoi set to host banking expo

The 2019 Banking Vietnam to be held on May 30 in Ha Noi will display new technological advancements and applications in the financial-banking sector.
It is an annual event organised by the State Bank of Viet Nam (SBV) and the International Data Group (IDG) that focuses on comprehensive financial solutions for the development of a non-cash economy.
New products and services that improve access to banking services and provide additional utility will be showcased.
It will feature 30 booths set up by banks, technology firms and payment services providers.
There will also be discussions between bank leaders, finance-banking experts and technology specialists on developing IT-based financial-banking services.
According to the SBV, a comprehensive banking-finance sector is important to Viet Nam's sustainable socio-economic development by improving access to financial-banking services and developing
microfinance.
Members of the Central Economic Committee, the National Assembly's Economic Committee, the National Financial Supervision Commission, SBV, ministries, and banking-financial experts and professionals
will also attend the event.
Fisheries exports forecast to pick up after listless first quarter


Fisheries exports could increase by 8 per cent this quarter, according to the Vietnam Association of Seafood Exporters and Producers (VASEP).
The association said the increase could be achieved if shipments of items like marine fishes, tuna and octopus see strong growth and those of tra fish remain steady.
Exports barely grew in the first quarter, rising by a mere 1 per cent to US$1.8 billion, due to a downward trend in shrimp exports that has persisted since last year.
Shrimp exports in January-March fell by 17 per cent amid falling prices, high stockpiles and fierce competition in the global market.
Tra fish exports also saw lower growth during the quarter of 8 per cent compared to 37 per cent in the previous quarter. But shipments of several other items such as tuna (19 per cent), squid and octopus (12
per cent) and other fish (22 per cent) saw strong increases.
In terms of markets for the country's seafood, the US dropped to third place behind Japan and the EU due to a reduction in its imports of shrimp and tra fish.
High anti-dumping tariffs and competition will continue to affect Viet Nam's exports of shrimp and tra fish to this market in the months ahead.
But VASEP hopes an upcoming seafood fair each in the US and Europe will help stimulate demand.
Brazil envoy calls for tapping bilateral trade potential

There is great potential to expand and diversify trade between Viet Nam and Brazil, and the two governments should enable that potential to be tapped into, the Brazilian ambassador to Viet Nam has said.
At a Viet Nam-Brazil business seminar held in Ha Noi last Friday, Fernando Apparicio da Silva said the countries had made great strides in diplomatic relations in the last 30 years.
Their leaders had held regular meetings and discussions to strengthen bilateral ties.
Last year bilateral trade had topped US$4.4 billion, making Brazil Viet Nam's 21st largest partner.
To expand and diversify trade and capitalise on the huge potential, the two sides could open up to new products.
Brazil's agricultural sector was highly competitive and seeking new markets.
The country could also supplying products to the aviation and defence industries.
Deputy Foreign Minister Bui Thanh Son said bilateral ties dated back to a long time before the two countries officially established diplomatic ties in 1989, and their relations had been developing consistently.
Trade had surged 58-fold since 2004 to $4.4 billion last year, making Brazil Viet Nam's top trade partner in Latin America.
The two countries' businesses actively sought and grasped investment and market expansion opportunities in areas in which both were strong like agriculture, aquaculture, manufacturing, and bio-energy.
Agriculture offered particular potential for co-operation and the countries' products were complementary.
Viet Nam and Brazil had co-ordinated closely and supported each other at international organisations and multilateral forums.
Processing and manufacturing firms expect to perform better in Q2
Up to 89.4 per cent of enterprises in the processing and manufacturing industry expect to perform better in the second quarter of 2019, according to the General Statistics Office (GSO).
Meanwhile, 10.6 per cent said production and business are going to be more difficult.
The predictions are based on a survey conducted by the GSO of more than 6,500 processing and manufacturing firms in 63 cities and provinces nationwide.
About 91.3 per cent of foreign direct investment (FDI) enterprises in the processing and manufacturing industry were optimistic that their business situation in the second quarter would be better and more
stable than in the first.
Around 88.8 per cent of non-State businesses and 86.8 per cent of State-owned enterprises also expressed optimism.
The GSO reported that 55.7 per cent of enterprises expected production output to increase in the second quarter while 10.3 per cent of them predicted it would decrease compared to the first quarter.
Production output was expected be highest in the FDI sector, followed by non-State firms and then State-owned enterprises.
About 51 per cent of the enterprises estimated they would receive more orders in the second quarter, while 9.6 per cent said they would receive fewer.
The office pointed out the labour force tends to increase in the second quarter compared to the first quarter, when 22.3 per cent of businesses forecast number of workers would increase. About 7.8 per cent forecast the number would decrease.
It also said several factors affect business and production activities, including the competitiveness of local goods, low domestic demand and financial difficulties.
The competitiveness of domestic goods is still the most influential factor in production and business activities. Up to 59 per cent of the businesses said competition affects production and business activities.
About 45 per cent of the businesses believed domestic demand was low while 31.5 per cent of enterprises said they faced financial difficulties.
Meanwhile, 31 per cent of the enterprises said they could not recruit workers to meet their requirements, affecting their ability to develop their production and business.
Twenty-eight per cent of the enterprises said interest rates were high and 24 per cent faced shortages of raw materials and fuel that affected production. Around 22 per cent of the enterprises had outdated
technology and equipment.
Viet Nam coffee exports plummet on global headwinds
Viet Nam's coffee exports have fallen in both volume and value terms this year, according to the Ministry of Agriculture and Rural Development.
It exported 629,000 tonnes worth US$1.1 billion in the first four months, a year-on-year decrease of 13.4 per cent in volume and 22.5 per cent in value.
The trend is forecast to continue this month, the ministry said.
Nguyen Quoc Toan, director of the ministry's Agro Processing and Market Development Authority, said global prices fell further this month to around US$1,295 per tonne on average from $1,679 in April.
Abundant supply and low demand, as well as the effect of the escalation of the US-China trade war on many markets have pulled prices down.
In the domestic market, prices have fallen to below VND30,000 ($1.29) per kilogramme last week, the lowest level in the last 10 years.
According to the Viet Nam Coffee and Cocoa Association, exporters have been facing fierce competition from other major exporting countries.
Exports to traditional markets such as the US and Germany dropped respectively by 19.8 per cent and 13 per cent in the first four months of the year, Nguyen Viet Vinh, the association's general secretary,
said.
Vietnamese exports faced great competition from Brazil and Colombia in these two markets, he said.
Exports to other markets such as Japan, Algeria, South Koea, France and India had also fallen significantly, he said.
Minister of Agriculture and Rural Development Nguyen Xuan Cuong said Viet Nam is the world's second largest coffee producer, but since its prices greatly depended on global prices the domestic industry
was unstable.
Around 90 per cent of exports were raw coffee, making it difficult for local exporters to build brands for their products, he said.
In addition, the sector's weakness in all areas from the production to trading was one of the main reasons the country was unable to influence global coffee prices, he said.
To overcome this, the coffee industry needed to change its production methods with increased use of technology to ensure quality, he added.
According to the association, with importing countries increasing technical barriers for coffee products, ensuring quality has become imperative.
In addition to planting new high-quality strains to replace old and stunted coffee, the main coffee growing localities should enhance the use of technology in all stages from planting and harvesting to drying,
preserving and processing, it said.
Cuong said: "New free trade agreements such as the EU-Viet Nam FTA and the Comprehensive and Progressive Agreement for Trans-Pacific Partnership (CPTPP) will open opportunities for Vietnamese
firms to boost exports thanks to lower import tariffs, especially on processed coffee products.
"Therefore, Vietnamese enterprises need to seize this opportunity."
He also urged them to focus on improving quality, diversifying and increasing exports of high-value processed products.
The coffee industry has carried out a restructuring programme to improve its competitiveness by improving productivity, quality and value.
Cuong said the sector would not expand the area under coffee until 2030, but focus on improving value addition, productivity and linkages in the value chain.
The programme envisages having more than 80 per cent of raw coffee processed industrially and 30- 40 per cent processed intensively and branded by 2030.
PM gives green light to construction of Hoa Binh-Moc Chau expressway
Prime Minister Nguyen Xuan Phuc has approved an investment project for the construction of the Hoa Binh-Moc Chau expressway under the public-private partnership (PPP) model.
The highway is estimated to be about 85 km long, of which some 49 km running through Hoa Binh province and the remaining through Van Ho and Moc Chau districts of Son La province.
The road system will link two tourism hubs of the northwestern region. It is also expected to ease congestion on National Highway No.6 through Hoa Binh and Son La, while contributing to the overall socio-economic development of the two provinces.
Built at a total cost of over 22.29 trillion VND (952.05 million USD), the road will allow vehicles to travel at 60-80 km per hour.
The northwestern region consists of 12 mountainous and midland localities, including Yen Bai, Lao Cai, Dien Bien, Lai Chau, Son La, Ha Giang, and Hoa Binh.
It is the most disadvantaged area compared with other regions and has the highest rate of poor households. The biggest challenges for the region includes poor transport infrastructure and a lack of basic foundations for the development of railway and air travel. Given the current situation, the development of road transport infrastructure was considered the most suitable option.
First solar power plant in Binh Dinh joins national grid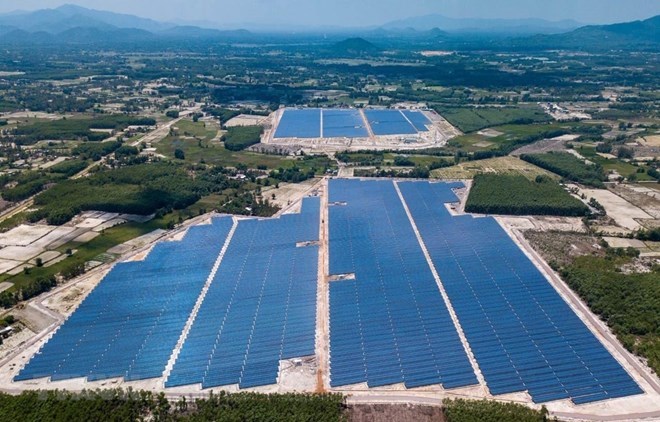 The Cat Hiep solar power plant
Cat Hiep solar power plant has become the first of its kind in the central province of Binh Dinh to join the national grid on May 20.
The 49.5 MWp plant, spanning 60.1 ha in Cat Hiep commune, Phu Cat district, is connected to the grid at the 110 kV Phu Cat power station via a 5.5 km wire system.
The entire project was built at a cost of 1.1 trillion VND (47.3 million USD), invested mainly by France-based Quadran International and Vietnam's Truong Thanh Group.
The plant is scheduled to begin its commercial operation on June 6, producing between 78,000 and 80,000 MWh of electricity for the grid on an annual basis.
Vinaconex seals cooperation deal with foreign partner
The Vietnam Construction and Import-Export JSC (Vinaconex) and Hyundai Engineering & Construction Co. Ltd (Hyundai E&C), a subsidiary of the RoK-based Hyundai Motor, signed a memorandum of understanding on project development in Hanoi on May 20.
The two sides said they will engage in specific joint activities to realise the mutually beneficial collaboration.
Executive Vice President of Hyundai E&C Vincent Seo Sang Hoon said it is his company's first cooperation deal sealed with a Vietnamese subcontractor. Currently, the company has signed collaboration pacts with about 5,000 subcontractors in other countries.
Vinaconex Chairman Dao Ngoc Thanh noted that the foreign partner wants to not only team up with Vinaconex in Vietnam but also be able to reach foreign markets together.
According to Thanh, the two companies will introduce potential projects to each other and jointly study the feasibility of their cooperation for a project.
Vinaconex owns and manages about 3.2 million sq.m of land in Vietnam, covering its 16 construction projects. Of the total land area, the company is renting some 3 million sq.m of land to construct seven projects.
Established in 1947, Hyundai E&C was listed among the world top 25 construction firms by the US magazine Engineering News-Record. It has so far set up representative offices in over 16 countries, including Vietnam.
In Vietnam, Hyundai E&C has participated in a number of projects, such as the Mong Duong 1 thermo power plant in Quang Ninh province, Bitexco Financial Tower in Ho Chi Minh City, and Song Gia Golf Resort in Hai Phong City.
Prime Minister issues Directive on sustainable development
Prime Minister Nguyen Xuan Phuc signed Directive No. 13/CT-TTg on sustainable development on May 20, asserting that sustainable development is a consistent policy of the Party and State of Vietnam.
The Government issued Vietnam Agenda 21 in 2004, the sustainable development strategy for 2011-2020 in 2012, and the national action plan implementing Agenda 2030 for sustainable development with 17 goals and 115 specific targets covering economics, social affairs, and the environment from now to 2030.
The viewpoint on sustainable development has been mainstreamed in the 2011-2020 socio-economic development strategy and the 2011-2015 and 2016-2020 socio-economic development plans, the Directive said.
The country has attained sustainable development achievements in the economic, social and environmental domains, however, many state offices, businesses and people failed to have a sufficient and comprehensive awareness of sustainable development, and socio-economic policies favored fast economic growth and social stability while paying inadequate attention to the sustainability of natural resources use and environmental protection, it noted.
To fix these limitations and facilitate the successful implementation of the country's sustainable development towards 2030, the PM asked the Ministry of Planning and Investment to host the coordination between ministries, sectors, localities and stakeholders to implement efficiently tasks mentioned in the national action plan implementing Agenda 2030.
He directed ministries, sectors and the People's Committee of provinces and centrally-run cities to make the implementation of sustainable development goals as part of their socio-economic development plans while promptly launching support policies for disadvantaged people, ethnic minorities, social policy beneficiaries, and other vulnerable people.
The National Council on Sustainable Development and Competitiveness Enhancement is asked to consult the Government and the PM the building and implementation of policies, strategies, plans, programmes, tasks and solutions to carry out productively the national action plan implementing Agenda 2030.
The PM asked the Vietnam Fatherland Front Central Committee and mass organizations to improve their supervision over the execution of sustainable development goals, focusing on policies and mechanisms to be implemented in ministries, sectors and localities along with encouraging the involvement and contributions of local and foreign organizations, development partners, business community and people in the effort.
The Vietnam Chamber of Commerce and Industry and the Vietnam Business Council for Sustainable Development (VBCSD) are required to continue promoting their role in directing and assisting businesses in achieving sustainable development, and consulting the Government solutions to addressing challenges in the public-private partnership (PPP) to get the business community involved in realizing the country's sustainable development goals.
Vietnam-Russia economic, trade relations continue to thrive
Vietnam-Russia economic and trade relations have been growing continuously over the past years, according to the Ministry of Industry and Trade (MoIT).
Vietnam and Russia established a strategic partnership in 2001 and upgraded it to the level of comprehensive strategic partnership in 2012.
Bilateral trade enjoyed a strong surge as the Eurasian Economic Union (EAEU)-Vietnam Free Trade Agreement (FTA) took effect in October 2016. The effective implementation of the FTA is expected to help the two nations realise the target of 10 billion USD in two-way trade in the coming time.
In 2018, the Vietnam-Russia trade value hit 4.57 billion USD, a year-on-year jump of 28.63 percent, said Ta Hoang Linh, Director of the MoIT's European-American Market Department.
Vietnam's export turnover to Russia exceeded 2.44 billion USD, a rise of 12.81 percent against the same period last year, while Vietnam imported goods worth 2.1 billion USD from the European nation in the year, up 53.38 percent.
In the first four months of 2019, Vietnam-Russia trade revenues reached 1.52 billion USD, rising 5.92 percent compared to the same period last year.
Russia currently accounts for more than 90 percent of EAEU-Vietnam trade revenues. Vietnam's major export items to Russia included electronic products, garment-textiles, footwear, aquatic products and coffee, among others.
According to the Vietnam Textile & Apparel Association, Russia is a promising market for Vietnamese garment-textile exporters. However, Vietnamese firms should conduct thorough market research to determine potential and demands of their partners, and frequently be in touch to maintain connections.
They are also advised to prepare business methods that are suitable in the modern context and work to ensure product quality and improvements, as well as brand building and trademark registration in the market.
At present, Russia ranks 24th among 129 countries and territories investing in Vietnam with 123 projects with total registered capital of over 932 million USD, mainly focusing on oil and gas, and energy industries.
Vietnam has run more than 20 projects in Russia with total capital of nearly 3 billion USD, notably TH Group's dairy farms with registered capital of 2.7 billion USD.
Banking event highlights financial inclusion in Vietnam
The topic on how to apply digital technologies to promote financial inclusion in Vietnam will be discussed at the Banking Vietnam Conference and Expo 2019 (Banking Vietnam), which will take place in Hanoi on May 30.
Deputy Director of the State Bank of Vietnam (SBV)'s Banking Strategy Institute Nguyen Thi Hoa said at a press conference on May 20 that the event is organised under the theme of "Financial inclusion in the rising movement of cashless economy" and will be the 21st of its kind.
Banking Vietnam 2019 will consist of a series of workshops and a technology expo. Hosted by SBV Deputy Governor Nguyen Kim Anh, the main session which will focus on challenges in carrying out financial inclusion in Vietnam, expansion of financial services towards a cashless economy, international experience in cashless payment, and application of a digital identity system.
The first session, on "Risk management in financial service supply towards financial inclusion and cashless economy", will feature IT application in risk management when implementing financial inclusion in Vietnam.
Measures to develop e-payment, diversify financial services to enhance access for local people and businesses, and consolidate the development of micro-financial institutes, among others, will be tabled at the second session.
The technology expo for banks and financial institutions is expected to welcome over 400 delegates and more than 20 expo booths presenting innovative solutions in the field. The expo will gather leading technology corporations, showcasing state-of-the-art products and solutions, such as core technology, digital identity systems, credit risk management strategies, and artificial intelligence (AI).
Banking Vietnam, an annual technology banking event, is held by the SBV in collaboration with the International Data Group to introduce the latest achievements in IT application to create new banking services and products.
Enterprises optimistic about production, business in Q2
Nearly 90 percent of enterprises operating in processing and manufacturing predict that their production and business would be better or remain stable in the second quarter of 2019, according to the General Statistics Office (GSO).
Almost 54.6 percent of them forecast a better working quarter, and 34.8 percent forecast their operations will be stable.
Meanwhile, 10.6 percent of businesses say they will face more difficulties than in the first quarter of this year.
The GSO said that the survey questioned 6,500 businesses operating in the processing and manufacturing sector across 63 provinces and cities.
The FDI sector reported the highest rate of enterprises which are optimistic about their business and production situation with 91.3 percent, followed by the non-state sector, and the state sector, with 88.8 percent and 86.8 percent, respectively.
In terms of production volume, 55.7 percent of enterprises forecast increases in the second quarter of 2019, while 10.3 percent predicted decreases.
Half of enterprises say that they will see rises in the number of new orders, while 9.6 percent predict decreases.
The GSO also pointed to several factors affecting business and production activities, including domestic competitiveness, low domestic market demand, and financial difficulties.
Risk of money laundering in Vietnam at "average high" level
The risk of money laundering in Vietnam is at "average high" level, and that of terrorist financing at "low" level, according to a recent report released by the State Bank of Vietnam (SBV).
According to the SBV's report on national risk assessment on money laundering and terrorist financing in 2012-2017 period, the risk of money laundering was seen in different sectors in the economy like banking, real estate and securities.
Particularly, the risk of money laundering in the banking sector was at a "high" level as it accounted for almost 90 percent of suspicious transactions.
Though not all the crime money was put into the money laundering process, the results showed that compared to other sectors in the economy, there was high possibility that the criminals used the banking sector to legalise their illegal money.
To hide the illegal money earned, criminals tended to use the banking accounts under other people's names to receive and send the illegal money, the report said.
The real estate sector is considered an attractive channel for money laundering as it can absorb huge money amounts, with transactions carried out by cash or banking transfer and not through property trading floors, making it difficult for competent authorities to identify the source of the money.
Criminals often asked their relatives to buy and then transfer real estate.
Meanwhile, money laundering risk in the insurance sector is classified as "average low", and that in securities and casino at "average", and accounting, auditing, law and people credit fund at "low".
Earlier, Deputy Prime Minister Vuong Dinh Hue recently signed a decision to issue an action plan to handle money laundering and terrorist financing for 2019-2020.
The action plan is also expected to meet international standards on prevention of money laundering and terrorist financing while serving the multi-lateral evaluation of the Asia-Pacific Group on Money Laundering (APG) and terrorism financing prevention.-
State Treasury raises nearly VND88 trillion via G-bond auction
The Hanoi Stock Exchange has recently mobilized VND2.4 trillion worth of government bonds via auction, increasing total mobilized capital by the State Treasury since the beginning of this year to nearly VND87.93 trillion.
Of which, a total VND3 trillion worth of G-bonds was offered, including 5-year bonds worth VND500 billion, 10-year bonds and 15-year bonds each valued at VND1 trillion and 30-year bonds worth VND500 billion.
However, only VND2.4 trillion was mobilized. Of which, the 10-year bonds raised VND1 trillion with annual interest rate of 4.72 percent. The 15-years bonds were purchased with total value of VND1 trillion and an interest rate of 5.06 percent per annum. The 30-year bonds mobilized VND400 billion with annual interest rate of 5.88 percent.
Agreement on building production chain of poultry meat for export
An agreement on building a production chain of poultry meat for export was signed by the Department of Department of Animal Health, the Department of Agriculture and Rural Development in the south province of Binh Phuoc, the Department of Animal Health in the sixth section and CP Company Vietnam.
According to the agreement, from now to 2022, these agencies will cooperate to build a supply chain of poultry meat for export as per the standard of the World Organization for Animal Health (OIE), an intergovernmental organization coordinating, supporting and promoting animal disease control.
They will raise safe animal to boost products' value aiming to serve domestic demand and export.
Electricity system capacity exceeds 36,000 MW
Vietnam Electricity (EVN) yesterday said that power system capacity of the whole country exceeded 36,006 megawatts for the first time in history.
Whereas, the electricity consumption volume also reached a record high level of 756.9 million kWh on May 18.
As report, a long-lasting extreme scorching heat of 39- 40 degrees Celsius in the Northern and Central regions was the reason.
According to the weather forecast, the hot spell continues in the Northern and Central regions so the electricity consumption is forecast to continue being the high level.
Truong Thanh Furniture to acquire ceramics firm
Truong Thanh Furniture Corporation (HoSE: TTF) would acquire Thien Thanh Sanitaryware JSC tomorrow to avoid the risk of cumulative losses outpacing charter capital, cafef.vn reported.
After the merger, Truong Thanh Furniture will take over the business activities of Thien Thanh Sanitaryware JSC.
The acquisition was approved at the formers extraordinary shareholder meeting in late October 2018. At another extraordinary shareholder meeting the following month, shareholders in Truong Thanh approved a plan to issue 96.6 million shares to swap for Thien Thanh shares at a rate of 8.21 to 1.
The deal will increase the furniture firms charter capital to VND3.15 trillion (US$135.4 million) and the amount of shares issued for swapping will account for 46.6 per cent of the firms total.
The post-acquisition firm targets VND253 billion in revenue for 2019 and VND12.8 billion in post-tax profit.
Truong Thanh Furniture in 2018 recorded VND1.03 trillion in total revenue and a loss of VND344 billion. In 2017, the company earned VND276 billion in profit.
Ha Giang beef accredited
The northern mountainous province of Ha Giang held a ceremony on Saturday to announce the geographical indication (GI) for its beef products.
The GI for Ha Giang beef covers beef produced in six districts – Dong Van, Meo Vac, Yen Minh, Quan Ba, Hoang Su Phi and Xin Man.
The certificate from the National Office of Intellectual Property of Viet Nam opens up huge opportunities for local farmers, protect their legitimate rights while creating the added value for the province's beef products in the domestic and international markets, according to the provincial Department of Agriculture and Rural Development.
Speaking at the event, vice chairman of the provincial People's Committee Nguyen Minh Tien emphasised the importance of managing and advertising the geographical indication of the provinces beef.
Son Kim, Watami to cooperate on restaurant development
Son Kim Group has announced a partnership with Watami Company to set up a restaurant chain and build a food processing plant to serve the local market and exports.
The deal allows the local property developer and its Japanese partner to jointly develop the Kyo Watami Grill & Sushi restaurant chain, which will serve Japanese foods to its target customers: families and middle-class connoisseurs.
Moreover, a food processing plant will be built at the Cat Lai Industrial Zone in HCMC's District 2. When in place, its products will be exported to Watami Company's restaurants in Japan and provided to the Kyo Watami Grill & Sushi restaurant chain and GS25 convenience stores, which Son Kim runs through a joint venture with GS Group from South Korea.
Nguyen Hoang Tuan, chairman of Son Kim Group, said at a press briefing in HCMC on May 18 that Son Kim will play a greater role in the joint venture.
For the Kyo Watami Grill & Sushi restaurant chain, Son Kim will hold an 85% stake, playing an active role in management and investment. Meanwhile, in the food processing plant, Son Kim will hold a 50% stake, while the Japanese partner will hold the other 50%.
Tuan refused to reveal the total investment amount for the deal.
Tuan said the food processing plant is considered the foundation for the restaurant chain because Son Kim plans to open several restaurant chains in the years to come.
With the opening of the Kyo Watami Grill & Sushi restaurant chain, other restaurant brands from Watami Company, which has developed 17 brands, may follow, Tuan said, adding that Son Kim and Watami will probably study introducing a new model of restaurant for the Vietnamese market.
Tuan said that with its advantages as a property developer, Son Kim has 250 locations available for restaurant development. The company also has a strong relationship with some trade centers where it can support its joint venture partners in doing business in the retail and food and beverage sectors.
Huy Nguyen, chief executive officer of Watami Vietnam Company, said that the joint venture plans to develop at least 30 restaurants in major cities such as HCMC, Hanoi and Danang within the next 5-10 years. The first restaurant will debut in HCMC in June.
Watami Company has 35 years of experience in the food and beverage sector. The group has 17 brands with 480 restaurants in Japan, Singapore, the Philippines and Cambodia.
SCG showcases SCG Super Cement at Vietbuild 2019
Following the successful launch of SCG Super Cement with SCG Nano Tech in central Quang Binh province, SCG last week showcased the innovative, premium-quality product at Vietbuild Da Nang 2019 for the first time.
Customers were able to explore SCG's wide range of solutions for comfortable living with customized style that allow them to create sustainable living spaces for their family.
"With over 105 years of experience in construction and building materials and over 27 years of operations in Vietnam, SCG understands the need among Vietnamese families over the generations for better living," said Mr. Nopporn Keeratibunharn, General Director of SCG Cement - Building Materials in Vietnam. "Nowadays, SCG is recognized as the leading regional brand for cement and cement-based materials such as cement, concrete, roofing, ceiling, walling, and flooring."
"Understanding the needs and expectations of people in the central region for a better living space, SCG is delighted to take part in Vietbuild this year to introduce our latest cement invention, 'SCG Super Cement with SCG Nano Tech', a breakthrough product that enhances durability and strength. Customers can also find comprehensive solutions for sustainable living spaces, to optimize comfortable living and add style customization for their home with our wide range of products and services."
Under the concept "Passion for Better Living", SCG's exhibition facilitates the customer experiences by offering the look and feel of cement decoration style. SCG would like to emphasize the application of products as an integrated package for the house, from the foundation to the entire structure, from the exterior to the interior. The SCG booth demonstrated the use of SCG Super Cement with other product solutions, for all types of homes, from traditional to modern.
SCG Super Cement with SCG Nano Tech, a newly-launched cement brand in Vietnam, is a multi-purpose cement for a variety of applications, from foundations and structure to house decoration. This is the only cement in the market that employs SCG Nano Tech - an exclusive technology that develops particles of cement on the nano scale range to create extremely tight bonding.
The tight bond between the cement particles and the full reaction of cement particles once mixed reduces pores in the concrete making process, creating a dense, strong, and sticky concrete. These qualities prevent serious problems from water absorption, leaking, and cracking, providing exceptional strength and durability.
The durability solution for foundations and structure can meet customers' requirements for durable and strong shelters. SCG introduces SCG Super Cement with SCG Nano Tech that to protect your home at the outset from potential risks caused by weather or external factors. SCG Marine concrete helps prolong the lifetime of any construction and protects the foundations and structure from salty seashore climates.
ACA Investments announces new plans in Vietnam
ACA Investments is close to raising $70 million in funds for Vietnam's real estate market, Mr. Hiroyuki Ono, Partner at ACA Investments, told VET, and he plans to deploy the capital by early July. "CBD residential and commercial assets are of interest to us as we consider co-investing with our partner SonKim Land and Japanese property developers," he said. "We are also looking into industrial assets such as warehouses."
ACA Investments is one of the best-performing fund managers in Asia, with a head office in Singapore and extensive experience in investing in projects throughout the Asia-Pacific region. It was established in 2008 and focuses on growing companies in specific industries as well as investment-related services, such as mergers and acquisitions advisory.
Vietnam investments include the Viet Thanh Technology Corporation (March 2014), the Cat Dong Trading and Service JSC (March 2015), the BBM Investment JSC (August 2016), and the SonKim Land Corporation (January 2017). In April 2018, ACA Investments announced it will pour $100 million into the retail and logistics sectors.
"We prefer to invest in companies that have a shareholder management team that understands what it is like to receive institutional funds and how to deal with the new shareholder," Mr. Ono said: "A lack of senior managers make it difficult to execute the strategy and action plans discussed at Board of Director (BoD) meetings."
He added that investment opportunities in retail chains and the consumer-related service industry remain attractive in the years ahead.