Passenger transport in northern airports ups 10.5 percent in 4 months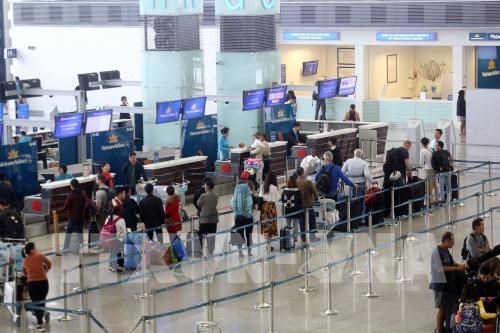 At Noi Bai Airport
More than 11.27 million people travelled by air through Vietnam's northern airports in the first four months of 2019, an increase of 10.54 percent year-on-year, said the Northern Airports Authority.
Nearly 73,960 flights departed or arrived at airports in the period, with the on-time performance index standing at 78.57 percent.
Meanwhile, about 6,150 flights were delayed and 155 others were cancelled.
From March 19 to April 18 this year, five domestic airlines reported 4,232 delayed or cancelled flights nationwide, accounting for 15.9 percent of the total.
According to the Civil Aviation Administration of Vietnam, Vietnam Airlines, Vietjet Air, Jetstar Pacific, Bamboo Airways and Vietnam Air Services Company (VASCO) together operated a total of 26,553 flights in the period.
A total 68 foreign airlines from 25 countries and territories across the five continents operate regular international flights to Vietnam. They, together with three Vietnamese airlines – Vietnam Airlines, Vietjet Air and Jetstar Pacific – offer 130 regular international routes and charter flights.
On the domestic market, Vietnam Airlines, Vietjet Air, Jetstar Pacific and Vietnam Airlines' affiliate Vasco are running 48 routes connecting Hanoi, Da Nang and Ho Chi Minh City with 18 smaller airports.
Saigon Autotech & Accessories show returns for 15th edition
The 15th Saigon International Autotech & Accessories Show (Saigon Autotech & Accessories 2019) opened at the Saigon Exhibition and Convention Centre on May 23.
More than 200 enterprises from China, Japan, Malaysia, the Republic of Korea, Thailand, the US, and Vietnam, among others, are displaying their latest products at the four-day event.
The show is attended by leading autotech brands like Vietnam Motors and Agricultural Machinery Corporation (VEAM) who have brought their tank trucks and agricultural machines, as well as Tech Internation displaying tyre products, Power Centric showcasing smart batteries, and Palfinger Asia introducing its crane vehicle services.
According to Phan The Anh, deputy head of the Ministry of Industry and Trade's Agency for Southern Affairs, Vietnam has implemented a wide range of policies to back the development of the supporting industry. While the supporting industry for automobile and motorbike segment has been shaped up, the country is still only able to produce simple spare parts.
To that end, the show is organised with a view to creating an impetus for the supporting industry, he said.
A series of specialised seminars are scheduled at the event, including those on domestically-made cars as an opportunity for the supporting industry, electric vehicles as perfect integration into smart urban infrastructure, and application of intelligent technologies into services for vehicle users.
In particular, the business matching event will offer opportunities for domestic and foreign businesses to set up partnerships and promote export activities.
Vietnam Airlines to open Hanoi-Dong Hoi route in June
National flag carrier Vietnam Airlines will open a direct route between Hanoi's Noi Bai International Airport and Dong Hoi Airport in the central province of Quang Binh on June 1.
The route will have seven flights per week. Flights will take off daily at 6am from Hanoi and 7:40am from Dong Hoi, with A321 aircraft at a 4-star international standard.
On this occasion, Vietnam Airlines will offer discounts for passengers on the new route between Hanoi and Dong Hoi, with a one-way airfare of 399,000 VND (17 USD) for economy and 1.8 million VND (76.8 USD) for business, excluding other fees and taxes.
In April, the carrier increased the frequency of its route between Dong Hoi and the southern largest economic hub of Ho Chi Minh City from four to seven flights per week.
Jetstar Pacific and Vietnam Air Service Company (VASCO), also provide daily flights on HCM City-Dong Hoi and Hanoi-Dong Hoi routes, respectively.
Hanoi to host 16th Vietnam AutoExpo in June
The International Exhibition on Automobile, Transportation and Supporting Industries (Vietnam AutoExpo 2019) will return Hanoi for its 16th edition, from June 12 to 15, at the Vietnam National Convention Centre.
The 2019 event is expected to attract 35,000 visitors.
Vietnam AutoExpo is a prestigious annual event of the auto industry in Vietnam that is jointly held by the Ministry of Industry and Trade's Institute for Industry Policy and Strategy, the Vietnamese Society of Automotive Engineers and C.I.S Vietnam Advertising and Exhibition Joint Stock Company.
It aims to provide a venue for participating businesses to roll out their products, seek potential customers and trade partners, and promote market stimulation.
This year's event will feature the latest products and technologies of more than 100 renowned businesses in auto and supporting industries from Vietnam and foreign countries, such as the US, China, Russia, Japan and the Republic of Korea.
Among the car and motorbike brands, prominent names include Veam Motors, Gaz Group, KC Motors, Daewoo, Faw, Dongfeng, Hyundai, Ducati, Harley-Davidson, Triumph, and Dunlop.
Seminars and dialogues introducing the demand, potential and development strategies of Vietnam's automobile industry will also be held under the framework of the expo.
The 2019 event is expected to attract 35,000 visitors.
Vietnam, US look to expand win-win cooperation
A seminar to promote exchange and cooperation among sectors, enterprises, and organisations of Vietnam and the US was held in Hanoi on May 23 by the Vietnam-US Society under the Vietnam Union of Friendship Organisations (VUFO).
Addressing the event, former Deputy Foreign Minister and Ambassador Nguyen Tam Chien said that bilateral relations have developed into a comprehensive partnership and the two countries will celebrate 25 years of normalised diplomatic relations in 2020.
Chien, who is also Chairman of the Society, affirmed that the seminar's organisation is a new effort from the two sides towards promoting win-win cooperation in the channel of people-to-people exchange.
Along with friendship exchange activities to foster mutual understanding and trust between the two sides, the enhancement of such kind of cooperation in all fields is more necessary than ever, he stressed.
The Vietnamese State and Government are creating more favourable conditions for these relations, while further bolstering effective cooperation with the US side, the official added.
He expressed his hope that the seminar will help raise awareness amongst both peoples of the importance of efforts to expand bilateral cooperation in specific fields, saying that the two sides should explore each other's advantages to speed up exchange and cooperation in economic, trade, investment, culture, and education projects, as well as other spheres.
While sharing the US's cooperation objectives with Vietnam, James Bagert, vice counsellor of economics at the US Embassy in Vietnam, said the US government wants to support Vietnam to create a safe and peaceful environment with a fair trade system.
He hoped Vietnam would become a reliable partner of the US in the region, and underlined the role played by the two countries' enterprises to help bolster bilateral trade ties.
Annual two-way trade between Vietnam and the US hit 60 billion USD. US firms are providing many job and education opportunities for Vietnam. Investment flows and technologies from the US have supported Vietnam in building sustainable energy systems.
Bagert asserted that the US Embassy in Vietnam would continue to assist Vietnamese firms in seeking suitable development partners in the US.
Participants focused their discussion on measures to strengthen cooperation between the two countries' enterprises.
Enterprises supported with info on RCEP
The Ministry of Industry and Trade and the Vietnam Chamber of Commerce and Industry jointly held a workshop in Hanoi on May 23 to inform enterprises on the Regional Comprehensive Economic Partnership (RCEP).
Nguyen Thi Thu Trang from the WTO Centre said that many businesses are pinning high hopes on the RCEP as it will create a giant market accounting for 50 percent of the global population. Moreover, China and India, who are partners in the deal, account for 30 percent of the global GDP and 28 percent of the world's total trade volume.
In addition, the majority of consumers from RCEP countries – excluding those from Japan, Australia, and New Zealand – do not have so high standards, while their demand for strong Vietnamese products such as farm produce and processed food is quite high, Trang said.
Pham Tuan Anh from the Ministry of Finance, who is a member of the negotiation team, said that there are big expectations on the agreement, including import-export opportunities, as tariff incentives will be improved, customs-related procedures harmonised, and non-tariff barriers controlled.
According to Anh, markets for several services such as logistics and telecommunications will be opened up.
Negotiations on the RCEP between the Association of Southeast Asian Nations (ASEAN) and its partners of China, Japan, the Republic of Korea, India, Australia and New Zealand began in 2013 and are in the final stage. Once completed, the agreement will create a large free trade region covering Vietnam's various big export partners.
Israeli companies study investment opportunities in Vietnam
Close to 30 leading Israeli companies joined a roundtable conference on business and investment opportunities in Vietnam, which took place in Tel Aviv on May 22.
In her opening speech, Sabine Segal, Deputy Director General for International Business Affairs at the Israel Export Institute, said the conference, an initiative of the Vietnamese Embassy and trade office, helps Israeli firms study the Vietnamese market and its opportunities.
Highlighting the growth of the two countries' economic-trade-investment cooperation, she said extensive potential for bilateral multifaceted collaboration should be capitalised on.
She unveiled that many Israeli companies operating in the high-tech sector are interested in running businesses and forming partnerships in Vietnam.
Vietnamese Ambassador to Israel Do Minh Hung delivered an overview on Vietnam's economic development and integration, as well as foreign investment attraction.
He pointed to cooperation pillars of the two countries, including trade, agriculture, tourism, investment and science-technology.
Vietnamese trade counsellor at the embassy Le Thai Hoa gave a presentation on business climate in the Southeast Asian nation.
Hoa also introduced a number of legal frameworks for Vietnam – Israel ties, Israeli investment in Vietnam, as well as the current situation and prospects of trade ties between the two countries.
He encouraged Israeli firms to seize business, investment, and collaboration opportunities offered by the Vietnamese market, which could be a gateway for them to reach a wider market of the ASEAN Economic Community.
Participating companies raised questions on engagements with Vietnamese partners in the fields of investment, science-technology, and information-telecommunication.
At the end of the conference, a number of firms booked appointments with the embassy and trade office for further discussion.
Leaders of the Israel Export Institute said they will continue coordinating with the Vietnamese Embassy and trade office to organise similar activities focusing on topics of common interest shared between Vietnamese and Israeli firms.
US grants 1.4 million USD for gas-to-power development in southern Vietnam
Vietnam Electricity (EVN) and the US Trade and Development Agency (USTDA) on May 22 finalised a grant agreement on technical assistance for a liquefied natural gas (LNG) terminal and gas-to-power project in southern Vietnam.
The USTDA will provide a non-refundable grant worth more than 1.4 million USD to the project.
Speaking at the event, US Ambassador to Vietnam Daniel Kritenbrink said one of the top priorities of the US Government is to support its partner countries, including Vietnam, to realise energy security targets.
EVN Chairman Duong Quang Thanh said the technical support project is hoped to provide general assessments on the market of LNG power generation.
It is also hoped to evaluate potential locations for the construction of a LNG-fueled power complex, and produce a feasibility study of the selected location in southern Vietnam, he said.
Thanh voiced his expectation that the project will help Vietnam's power sector address difficulties and challenges in the face of the risk of power shortage in the southern region in the coming time, as well as contribute to ensuring national energy security.
According to the National Electricity Development Plan approved by the Government, the national power installation capacity would reach 130,000MW in 2030 compared to 47,000MW as currently. To realise the target, Vietnam is advised to seek new power supply and ensure fuel supply for power plants.
The country's LNG import demand is estimated to stand between 1-4 billion cu.m per year in the 2021-2025 period, and rise to 6-10 billion cu.m per year in the 2026-2035, mainly for power generation.
The EVN Chairman spoke highly of US experience in the development of LNG-fueled power for EVN, saying there is potential for future cooperation between Vietnam and the US in this field.
In the past 10 years, EVN has received technical assistance on information technology, wind power research and development, and most recently on deploying advanced energy storage technologies from the USDTA.
The USTDA has arranged the exchange of delegations to explore technological capacity and cooperation potential in smart power network development and LNG usage in Vietnam.
Prime Minister asks Vietnam Airlines to better services
The national flag carrier Vietnam Airlines should work to ensure safe and competitive services while operating flights to Russia as traveling between Vietnam and Russia is now more important than ever before when they are working to promote their comprehensive strategic partnership, particularly in trade and investment, said Prime Minister Nguyen Xuan Phuc.
Attending a ceremony held on May 23 by Vietnam Airlines to mark the 15th anniversary of its direct flight between the two nations, PM Phuc said that with a modern fleet, high-quality services as well as well-trained pilots, Vietnam Airlines has been a prestigious airline in Vietnam and the whole world.
Speaking highly of the carrier's role as an ambassador to enhance the friendship and nudge Vietnamese people and land closer to the Eastern European country, PM Phuc asked Vietnam Airlines to continue shaping up its sustainable development plan and oragnising cultural activities during the Vietnam Year in Russia and the Russia Year in Vietnam towards the 70th celebration of the diplomatic relations.
He wished that competent authorities of Russia will create favourable conditions for Vietnam Airlines so that it can provide quality services for the passengers, especially departure time, apron and aviation procedures.
Vietnam Airlines open its first flight to Russia on July, 1993 with transit point in the United Arab Emirates' Dubai.
Eleven years later, the carrier operated direct service to Russia with Boeing 777- the most modern plane at that time, helping increasing the number of passengers transported by 10 times.
Vietnam Airlines has used wide-body 787-9 Dreamliners on the route to improve service quality and flight experience of its customers since 2018.
The carriers' flights have become an important bridge to promote connections as well as open comprehensive cooperation opportunities in economy, science, education, culture-tourism between Vietnam and Russia.
According to Chairman of Vietnam Airlines Board of Management Pham Ngoc Minh, the carrier's extensive global network and collaboration with many reputed airlines in the world allow its passengers to travel to Asia and Europe via Russia easily.
Particularly, Vietnam Airlines will move its operations in Moscow from Domodedovo Airport to Sheremetyevo Airport from July 2, 2019. The effort aims to increase connectivity among flights to destinations in Russia and Europe through the codeshare of Vietnam Airlines and Russia's flagship carrier Aeroflot.
When switching to Sheremetyevo, Vietnam Airlines will change the timetable of flights between Hanoi and Moscow to make them more convenient for passengers. Specifically, the flights will take off at 1:10 in Hanoi and 14:40 in Moscow.
Russia has been among top 10 of tourist sources of Vietnam. In 2018, more than 600,000 Russians travelled to Vietnam, making their country the sixth largest source market of visitors to the Southeast Asian country. The Vietnam National Administration of Tourism forecast that the number will reach 1 million in 2020.
Earlier, PM Phuc received Kaspersky Lab CEO Kaspersky Evgeny Valentinovick, during which PM Phuc stressed that Vietnam wants cooperation in cyber security and hopes Kaspersky will help the Vietnamese Government in the field, especially the prevention of virus and malicious code in state-owned agencies' computer systems.
The Vietnamese Government always facilitate conditions for Russian enterprises and Kaspersky in particular to operate their business in Vietnam, he stressed.
The Kaspersky Lab CEO, for his part, said that the firm will help Vietnam with solutions to ensuring cyber security, and will pen specific roadmap and duplicate the model in the country.
Son La's agricultural products promoted in Hanoi
A week for the promotion of plums and other agricultural products from the northern mountainous province of Son La is taking place at the Exhibition Fair, Economic Transaction and Commercial Area in Hanoi.
Speaking at the launching ceremony, Deputy Director of the Son La Planning and Investment Department Vu Duc Thuan said the province is home to more than 8,700ha of plum cultivation areas that are currently in their harvest season, with an expected output of 50,700 tonnes this year.
Son La's plums have been appreciated for their quality for many years thanks to their characteristic taste, Thuan said.
This event aims to boost demand and create a stable consumption market for plums and agricultural products of Son La in Hanoi and the northern region, he added.
Thuan said that as part of the Government's policy of agricultural restructuring, the province had shifted to concentrated goods production, improving farming efficiency and building concentrated material zones for the province's most advantageous fruits and vegetables to serve the processing industry and for both domestic and export markets.
The province is also calling for investment from economic groups and enterprises to work with local co-operatives in agricultural processing factories, bringing organic and safe products to supermarkets, trade centres and export markets.
Thuan said the province expected to earn more than 150 million USD from the export of agricultural products this year, up 30 percent year on year. The main export products would be 5,000 tonnes of mango, 8,100 tonnes of longan, 2,000 tonnes of passion fruits and 300 tonnes of dragon fruits.
Nguyen Quoc Toan, acting Director of the Ministry of Agriculture and Rural Development's Agricultural Product Processing and Market Development Department, said Son La province, especially Moc Chau district, had done well to make its production associated with each market.
The province has identified key products to set up production processes, build brands and boost exports, Toan said, adding that this is also the locality where many large enterprises invest in agricultural development.
He said the department would work with the province in trade promotion and market development. Businesses, cooperatives and farmers need to continue to innovate and approach markets, he said.
The activities will run until May 26 at No 489 Hoang Quoc Viet street, Cau Giay district, Hanoi.
Vietnam's exports to Thailand shoot up
Vietnam's export earnings from Thailand, a competitive market in the region, has increased sharply in recent years, with an annual average turnover of 4-5 billion USD.
The Ministry of Industry and Trade said that Vietnam exported 5.5 billion USD worth of products to the neighbouring country in 2018, a year-on-year surge of 14.79 percent.
Vietnam's shipments to Thailand brought home 1.39 billion USD in the first quarter of 2019, up 5.9 percent from the same time last year.
According to Thailand's Central Group, besides seafood, vegetables, cashew nuts, coffee and pepper, Vietnamese fresh fruits have gained a foothold in the Thai market. Particularly, avocados, sweet potatoes and star apples boast huge potential to enter the market.
Many Vietnamese industrial products like phones and spare parts, computers, electronic products and spare parts, and garments and textiles have been sold well in the country.
Experts said that as made-in-Vietnam products only account for a small proportion of Thai imports, local businesses should study the Thai market carefully, and suggested the Ministry of Industry and Trade to negotiate with Thai authorities on reducing or partly removing trade protective measures.
They recommended exporters to enhance cooperation with the Vietnamese people community in Thailand, many of whom are owning supermarkets and convenience stores in the country. The move will make Vietnamese products become more popular among Thai people.
In addition, Vietnamese products will have more chances to put up for sale in Thai supermarket chains as many Thai retailers are increasing their presence in Vietnam.
Vietnam prepares to prop up currency, ready to sell greenback
Vietnam's central bank has said it is ready to sell dollars to shore up the dong if needed.
Pham Thanh Ha, head of the State Bank of Vietnam's monetary policy department, said: "The dong has weakened in recent days because of concerns over new developments in the U.S.-China trade negotiations."
The dong has weakened 0.9 percent this year and has fallen nearly 2.8 percent from a year earlier, according to provider of financial markets data and infrastructure Refinitiv Eikon, formerly the Financial & Risk business of Thomson Reuters.
The decline of the Chinese yuan since late April has had a strong impact on market sentiment, putting pressure on the dollar-dong exchange rate, Ha said.
The yuan fell to its weakest level since December on Friday, and sources said China's central bank will use monetary policy tools to stop yuan weakening past the key 7-per-dollar level in the near-term, according to Reuters.
The central bank kept the dollar-dong reference rate unchanged at VND23,066 on Wednesday, after the Vietnamese currency weakened by VND15 the previous day.

In a report last week Bao Viet Securities had said the volatility in the foreign exchange market was the result of escalating trade war between the U.S. and China.
"The SBV will continue to slightly depreciate the dong to accommodate sudden changes in the global market."
It also predicted the USD/VND exchange rate to fluctuate within a range of 2 percent this year, a band authorities have allowed in previous years.
TPBank to buy back 24 million treasury shares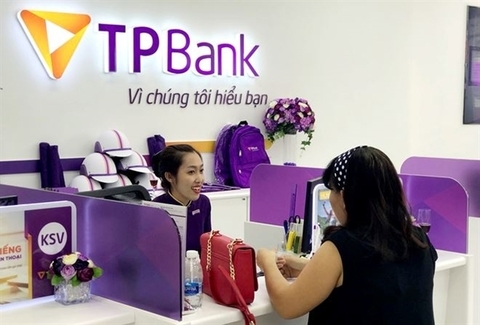 Tien Phong Joint Stock Commercial Bank (TPBank) has announced it will buy back 24 million treasury shares
Transactions are expected to start on June 10 after the bank gets approval from the State Securities Commission.
TPBank is holding nearly 5.55 million treasury shares.
The bank has charter capital of VND8.56 trillion (US$368.3 million).
In 2019 and 2020, TPBank plans to raise its charter capital to VND10 trillion by selling 100 million private shares, equal to 11.67 per cent of the current charter capital.
The bank will also spend the remainder of its 2018 profit to increase charter capital.
TPBank lists nearly 856.6 million shares on the Ho Chi Minh Stock Exchange with the code TPB.
The bank shares dropped 1.3 per cent to VND23,600 per share on Thursday morning.
TPBank shares have gained 11.7 per cent in the last two trading weeks.
Deputy PM wants to increase value of Vietnamese brands
Deputy Prime Minister Vuong Dinh Hue has asked the Ministry of Industry and Trade and relevant departments to join hands to increase the value of Vietnamese brands to make inroads into international markets.
He made the request at a conference on Tuesday in Ha Noi to review the 10 years of the campaign 'Vietnamese people prioritise using Vietnamese goods'.
The Deputy PM told the ministry to improve the efficiency of its steering committee for the campaign while strengthening co-ordination with other ministries and localities for domestic market development.
He said market management forces must strictly handle goods smuggling and infringements of intellectual property rights.
Focus should also be placed on building trademarks for Vietnamese goods and services, speeding up administrative reform, and supporting businesses to bring their products to urban areas, industrial and export processing zones, the Deputy PM noted.
Encouraging local enterprises to improve the quality of their products to sharpen competitiveness is also important, he said.
Ten years after the campaign's launch, many Vietnamese goods have won domestic customers' trust. That has helped increase spending on made-in-Viet Nam goods and improve the production and distribution capacities of all economic sectors, Deputy Minister of Industry and Trade Do Thang Hai said at the event.
The rate of Vietnamese goods remains high in the domestic market from 80 per cent to 90 per cent in the modern distribution network and from 60 per cent at traditional retail channels, Hai cited reports from local departments of industry and trade as saying.
Some key industries such as garment-textile, footwear, automobile manufacturing, milk processing, yarn and dyeing have increased the rate of localisation and application of science-technology, he said.
These positive performances have contributed to stabilising the macro economy and reducing the trade deficit, according to Hai.
During the event, the ministry also granted certificates of merit to firms for their contributions to the campaign over past 10 years.
On the sidelines of the conference, a two-day exhibition on the campaign was also held with the participation of car firm Vinfast, Viet Nam National Petroleum Group (Petrolimex), Viet Nam National Coal – Mineral Industries Holding Corporation (Vinacomin) and Viet Nam National Textile and Garment Group (Vinatex).
Vietnamese brands to go on show
An exhibition to introduce Vietnamese branded products across 40 pavilions in Ly Thai To flower garden in Ha Noi's downtown will be held on Saturday, the Voice of Vietnam reports.
Hosted by the municipal Department of Industry and Trade, the two-day expo aims to mark a decade of the campaign.
The event will showcase industrial and agricultural products such as handicrafts, garments and textiles, consumer goods, household utensils, and tourism products, its organisers said at a press conference on Tuesday.
Nguyen Anh Tuan, vice chairman of Viet Nam Fatherland Front, said over the past 10 years, the campaign has helped raise consumers' awareness of purchasing Vietnamese goods, facilitate the development of Vietnamese businesses and contributed to the city's development.
He noted that the city plans to accelerate the development of infrastructure to help businesses introduce their goods to both urban and rural areas, removing hurdles for businesses and boosting industrial and trade development within the city.
VN, Malaysia check out trade, investment prospects

Trade between Viet Nam and Malaysia has increased dramatically in recent years but they still have great untapped potential, a seminar heard in HCM City on Wednesday (May 22).
Speaking at Gateway into the Malaysia Market through Selangor International Business Summit 2019 organised by Invest Selangor Berhad and the Investment and Trade Promotion Centre of HCM City (ITPC), Faizal Izany Mastor, trade commissioner of the Malaysia External Trade Development Corporation, said the two countries target US$15 billion worth of trade by 2020.
It was $11.5 billion last year.
His country is the eighth largest investor in Viet Nam with nearly $12.5 billion in 586 projects, Mastor said.
Nguyen Tuan, ITPC deputy director, said: "Many Malaysian enterprises have come to HCM City to seek business opportunities in the last 12 months."
The seminar would help local businesses get the latest market information and learn about opportunities and challenges in the Malaysian market, especially halal market, he said.
Mastor said: "Viet Nam has strength in agriculture and aquaculture. I think there are very huge areas of opportunity for Vietnamese companies to export to Malaysia."
To successfully promote their products in his country, he said Vietnamese companies should "understand the culture and preferences of Malaysian people".
"In addition to that, Vietnamese companies also need to be equipped with certification for products. By having all this, I believe Vietnamese companies can easily penetrate Malaysia."
Dato' Teng Chang Khim, Selangor State Executive Councillor for Investment, Industry and Commerce and Small and Medium Enterprises, said there is a lot of co-operation opportunities between Vietnamese and Malaysian SMEs.
"Viet Nam is a very important manufacturing country while Malaysia is very strong in services and trading. Therefore, we can co-operate, with Malaysia introducing and marketing products from Viet Nam.
"Malaysia also has strength in logistics. For example, we have the second largest seaport in Southeast Asia after Singapore, and the cost is much cheaper in Malaysia than in Singapore. This is a field in which we can work with Vietnamese manufacturers so that our infrastructure can be fully utilised by the business community in Viet Nam."
It is very important for products from Southeast Asia to be shipped outside ASEAN, he said.
He also called on Vietnamese SMEs to participate in the Selangor International Expo and Selangor International Business Summit to be held in October in Kuala Lumpur to get more information about the Malaysian and Southeast Asian markets.
The expo, which focuses on food and beverages, would be a good platform for Vietnamese enterprises to "showcase their food and beverages to the world", he said.
The summit is not only a gateway to the Malaysian market but also a springboard to the broader ASEAN market which has over 600 million consumers and more than 200 of the world's largest companies, he said.
It is expected to have 850 booths from 40 countries and receive 30,000 visitors, he added.
The seminar also touched on the halal certification requirement in Muslim countries.
Zukarnine Shah Zainal Abidin, representative of Halal International Selangor, said by 2030 the global halal market is expected to be between $7.7 trillion and $30.6 trillion.
"Halal certification is becoming more relevant in today's market mainly because people are more aware of the halal concept.
The certification is becoming essential to expand market reach, he said.
More road proposed to connect habours in Lạch Huyện Port
The Hải Phòng Port Joint Stock Company has called on the Việt Nam National Shipping Lines and local authorities to build a road inside Lạch Huyện Port in Hải Phòng City to improve connectivity.
The chairman of the company, Phùng Xuân Hà, told baogiaothong.vn on Tuesday that two out of four docks in Lạch Huyện Port have been operational since May last year and a road has been built to facilitate transport of goods.
He said construction of the remaining two docks is expected to be finished in the second quarter of 2021, and they could handle ships of up to 100,000 DTW.
"It is necessary to build a road to access the docks as soon as they start operation."
It would cost around VNĐ1 trillion (US$42.8 million), he added.
The Hà Nội-Hải Phòng expressway, the Tân Vũ-Lạch Huyện road and the city ring road and the Đình Vũ Bridge are some of the infrastructure works put in place to facilitate cargo transport to the port.
Investment to tourism along Lang Co beach nears $3 billion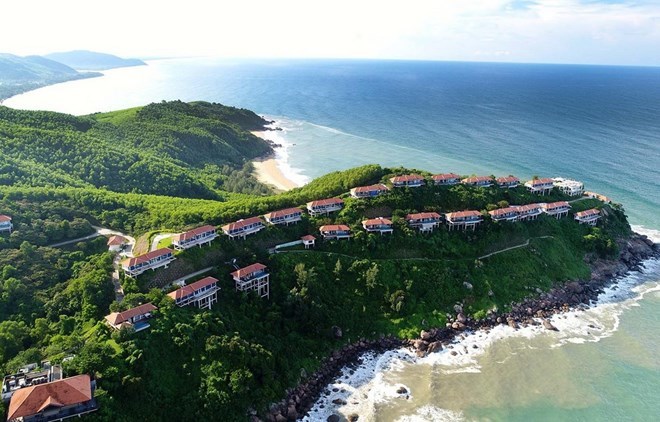 Laguna Lang Co resort
The Chan May-Lang Co Economic Zone in the central province of Thua Thien-Hue has so far attracted 21 tourism projects totaling more than 67 trillion VND (2.86 billion USD).
In the first five months of this year, the zone attracted eight investment projects, including four foreign-invested ones with a total registered capital of over 60 million USD.
Since Lang Co was voted one of the world's most beautiful bays by WorldBays Club in June 2009, it has become a popular destination for holiday-makers. The number of the tourists to the beach makes up 16 percent of the total to Thua Thien-Hue.
Endowed with more than 10km of beach with white sand, it lies on the "Central Heritage Road" with four famous world heritage sites, including Phong Nha – Ke Bang National Park in Quang Binh province, the ancient imperial city of Hue, Hoi An Ancient Town and My Son Sanctuary in Quang Nam province.
Local authorities have paid attention to developing various tourism products, including leisure travel, ecology tourism, golf tours, sport travel and MICE (meetings, incentives, conferences and exhibitions) tourism.
Vietnamese, Belarusian banking trade unions to share experience
Deputy Governor of the State Bank of Vietnam (SBV) Dao Minh Tu, who is also head of the trade union of Vietnamese banks, met with a trade union delegation of Belarus's finance-banking sector in Hanoi on May 22.
Tu said he hopes the delegation's visit will help enhance relations between the two banking systems, as well as between their trade unions.
This is also a chance for them to share trade union experience, and the trade union of Vietnamese banks hope to learn from its Belarusian counterpart's experience in caring for employees and performing trade unions' role in relation to specialised agencies, he noted.
For his part, head of the Belarusian trade union of banking and financial workers Alexandre Likhtarovitch said the two countries share many similarities in trade union activities due to similar historical and cultural features.
He also pointed out the need to improve the capacity and working attitude of trade union workers.
On this occasion, he presented an insignia of the Belarusian President to Tu.
As part of their visit, the Belarusian delegation also had a working session with the trade union of the State Bank of Vietnam.
An Giang hosts international trade fair
The 13th Tinh Bien-An Giang international trade fair opened in the Mekong Delta province of An Giang on May 22.
Lasting through May 28, the fair features 350 stalls of 150 enterprises from 13 provinces and cities in the Mekong Delta, those from Ho Chi Minh City, the Central Highlands Lam Dong and Dak Lak provinces, and the southern provinces of Binh Duong, Binh Phuoc and Tay Ninh; along with 20 booths of Cambodian enterprises.
The stalls are showcasing a wide range of products like agricultural and aquatic products, household products, handicrafts and specialities.
The event has been held annually in An Giang over the last 13 years, contributing to introducing Vietnamese goods and promoting exports to ASEAN nations, especially Cambodia. It is also a highlight in diplomatic and economic ties, and trade cooperation between An Giang and Takeo and Kandal provinces of Cambodia.
An Giang shares a border with Cambodia and is a crucial gateway for Vietnam to expand cooperation and trade promotion in Mekong sub-region countries.
Nguyen Hong Quang, Vice Director of the provincial trade and investment promotion centre,said the fair has contributed to promoting border economic development, making it easy for Vietnamese goods to access the Cambodian market.
The fair also offers a good chance for Vietnamese and Cambodian enterprises to meet and share experience, thus establishing partnership and expanding business and investment cooperation, Quang added.
Hanoi, Son La team up in supplying agricultural products
Hanoi has strengthened regional connectivity and links with localities nationwide, especially Son La province, to develop an agricultural supply chain to meet the demand for farm produce of the 10-million strong city.
The northern mountainous area is among 21 provinces across the country becoming part of an agro-forestry-fishery supply chain with Hanoi.
From May 17-21, Hanoi worked with Son La to organise a week of Son La's safe mango and farm produce 2019 at Big C Thang Long supermarket.
Son La has potential in safe farm produce. Last year, the province provided the domestic market more than 18,000 tonnes of agriculture products. In the 2019 crop, Son La's mango production reached 35,500 tonnes, including 7,300 tonnes qualified for export.
Vu Duc Thuan, Vice Director of the provincial Department of Planning and Investment said mango quality in the locality has increased thanks to farmers' efforts to use technology.
A representative from Central Group Vietnam said 60 kinds of agricultural products of Son La have been sold in 17 Big C supermarkets in the north, with growth of 20 times in volume, or even 80 times in some products like cabbage.
In 2019, the supermarket plans to sell about 1,000 tonnes of Son La mango, said the representative.
Le Thi Viet Nga, Vice Director of the Domestic Market Department under the Ministry of Industry and Trade said Son La's mango and 16 other kinds of agricultural products are eligible for promotion in the one commune-one product programme in 2019-2020.
Rural market offers good opportunities for retail
Vietnam's retail market will continue to grow strongly this year, with lots of opportunities to develop modern retail systems in rural areas, according to Phan Lan Chi, deputy director of supermarket chain Lan Chi Mart.
The Nielsen market research company reported the demand for consumer products has continued to increase sharply in Vietnamese rural areas with purchasing power of more than 20 billion USD per year.
Many businesses have shifted investment to building supermarket chains and convenience stores in rural residential areas.
Vingroup, for example, has opened more than 1,500 Vinmart+ convenience stores across 30 cities and provinces since March 2017.
In the northern region, Lan Chi Mart has expanded its distribution system in rural areas with 25 supermarkets in suburban areas of Hanoi and some provinces.
After 11 years of investing in supermarkets and Hapromart convenience stores, the retail network of Hanoi Trade Corporation (Hapro) has reached Thai Binh, Quang Ninh and Thanh Hoa provinces, in addition to Hanoi.
Residents in Hanoi's suburban areas such as Thuong Tin, Dan Phuong, Hoai Duc, Phuc Tho, Thanh Oai and Chuong My districts have said the presence of Lan Chi Mart, Vinmart and Hapromart has enabled them to buy various kinds of high quality products.
Director of the Northern Region Nielsen Vietnam Dang Thuy Ha said apart from ensuring the quality of products, an important factor to attract rural customers is reasonable prices.
To develop the market in suburban areas, the Hanoi Department of Industry and trade has mobilised enterprises to organise about 200 mobile sales trips to remote districts, communes and industrial parks.