Full steam ahead for expressway work
International bidding for the eastern cluster of the North-South Expressway officially opens this month, with many new supporting policies available to push the interests of investors.
At last week's largest-ever conference to urge private funding across eight sections of the key national project under the public-private partnership (PPP) model, Deputy Minister of Transport Nguyen Nhat said, "The bidding will last until March 2020. We encourage domestic and foreign investors to join these sections, with committed favourable conditions for interested investors."
The eastern cluster of the North-South expressway, costing VND118.7 trillion ($5.16 billion), covers 11 sections. These include three state-invested sections connecting Hanoi and Ho Chi Minh City via key economic zones, industrial parks, border gates, and seaports. The state is contributing around VND55 trillion ($2.39 billion) for the venture.
About 300 representatives from the National Assembly, agencies, cities, and provinces related to the venture attended the conference. Besides, domestic businesses and foreign investors from South Korea, Japan, China, Spain, the UK, France, and Singapore also took part, discussing issues such as exchange rates, site clearance, guarantee mechanisms, revenue guarantees, and technology solutions.
According to the Ministry of Transport, unlike other PPP projects in the sector, there are some advantages and supporting policies for financiers in the expressway scheme.
Nhat said that the country takes responsibility for project site clearance and commits to hand over cleared land to those who join the eight PPP sections. In regards to government guarantees, at present the country is yet to guarantee minimum revenues, which is proving to be a thorny issue.
A guarantee of minimum revenue was applied in South Korea in the past, but has since been put to a halt.
"We are working on the draft law on PPP, in which government guarantees are lined up for discussion," said a representative from the Ministry of Planning and Investment (MPI).
The draft law on PPP will be available on the MPI's website in the upcoming days, and will seek comments from the business community. Investors are being encouraged to apply new environmentally friendly technology solutions in construction cost reductions, in order to gain profit and increase operational efficiency.
Govt proposes maintaining fuel price stabilization fund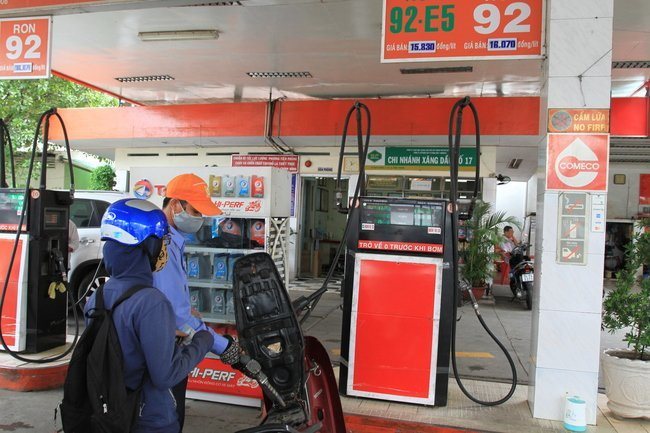 A woman waits for her motorcycle to be refilled at a gas station in HCMC in this file photo. The Government has proposed maintaining the fuel price stabilization fund.
The Government has proposed maintaining the fuel price stabilization fund as it has helped local fuel prices stay at a lower growth rate than global prices.
According to a report on fuel price management, sent by the Government to the National Assembly, local fuel prices have risen by 17.2%-27.1% since early this year, lower than the global rates of 30.6%-46.2%.
After nine adjustments, the fuel price was revised upward four times by a total of VND4,416 per liter and downward once by VND515 per liter, and was kept stable in four adjustments.
Earlier, the Vietnam Petroleum Association had proposed disbanding the fuel price stabilization fund as it brings no benefits to either consumers or fuel traders.
According to the association, the use of the fund has left a gap between domestic and global fuel prices. Therefore, the fund's disbandment will help set the domestic fuel price aligned with global price movements.
However, the Government argued that fuels are among products and services listed in the price stabilization program in line with the 2013 Pricing Law. Therefore, they are under the management of the State.
In addition, if the fuel price stabilization fund is disbanded, the Government will have no tool to regulate the fuel price to safeguard the interests of consumers, enterprises and the State.
Got It launches first on-demand Expert Service Cloud for analytics
Got It, an on-demand expert platform and artificial intelligence (AI) innovator, launched Querychat for cloud data warehouses, starting with Google BigQuery, on May 22.
The first on-demand Expert Service Cloud for analytics, Querychat creates a scalable and elastic pool of vetted analytics experts to add business intelligence (BI) team capacity with usage-based pricing, and automatically delivers deep learning training data into a natural language processing (NLP) AI system.
"Analytics tools and cloud data warehouses are extremely sophisticated products," said Mr. Peter Relan, Chairman and CEO of Got It. "We help users get ten times more value from these products by empowering them to collaborate with our Querychat analytics experts anytime, just as we do for Microsoft Excel and Google Sheets users with Excelchat. Our on-demand platform with an analytics Expert Service Cloud now also gives line-of-business users and BI teams access to vetted analytics experts within 30 seconds for a 20-minute chat messaging workflow to help them create the right query or dashboard."
He added that BI teams can now scale easily to handle unlimited requests, via a low-cost, usage-based pricing model. "Plus, we are solving the single biggest problem in machine learning: quickly getting the training data needed to build and train a company schema-specific AI model," he said.
Got It takes advantage of the advanced, full-sentence NLP in Google BERT, which is already pre-trained on a massive English corpus of 3.5 billion words. Leveraging BERT transfer learning for NLP and the data exhaust from user-expert chat conversations to train Got It's deep learning AI model, Querychat breaks the constraints of keyword search-based, auto-complete Q&A available today.
Either from the Querychat TrueNLP AI or an on-demand Querychat expert, BI teams using columnar data warehouses in the cloud now have a way to guarantee answers to questions instantly, empowering marketing, operations, business, and product managers to ask ad-hoc questions in plain English sentences.
By only providing access to the data warehouse schema and not relinquishing control of or access to the data, companies are able to ensure data privacy while avoiding the long installation and configuration time issues of existing solutions. BI teams also get a workflow to verify Querychat results.
Currently, Querychat supports Google BigQuery cloud data warehouses carrying Google Analytics and Salesforce CRM data. Got It plans to extend Querychat support to the Azure Cloud Data Warehouse and other environments in 2019.
Delivering product usage and engagement help for software products rather than traditional technical support, Got It has built the world's largest on-demand expert service cloud with over 10,000 vetted, trusted experts from more than 79 countries and territories and hosted millions of chat messaging sessions already on the Got It Platform for products like Microsoft Excel, Google Sheets, and columnar data warehouses.
Spun out from Mr. Relan's YouWeb incubator and backed by the Capricorn Investment Group and Kinzon Capital, Got It is headquartered in Silicon Valley with an R&D group in Vietnam.
Luxstay raises $4.5mn in Bridge round
Vietnamese home-sharing platform Luxstay has announced the completion of a Bridge fund-raising round with the participation of two new investors from South Korea - GS Home Shopping (GS Shop) and Bon Angels - worth $4.5 million.
This is one of the largest early stage funding rounds for a Vietnamese tech startup. Receiving capital from well-known international investors is an important step for Luxstay to fulfill its ambitions as well as expand its scope to other regions in the future.
Prior to this round, Luxstay had raised a total of some $6 million from CyberAgent Ventures, Genesia Ventures, and Nextrans, and two Vietnamese venture capital firms - ESP Capital and Founders Capital.
Luxstay is continuing to work with financial investors and strategic partners to deploy the next fund-raising round of Series A capital calls with a scale of $15-20 million. This is expected to be completed this year.
Launched in 2017, Luxstay focuses on developing domestic users and integrating with local partners in countries and territories with many tourists visiting Vietnam, such as South Korea and Japan. This also differentiates Luxstay from Airbnb, which is a global platform that does not have a focus on the Vietnamese market.
Luxstay is recording rapid growth, aiming at annual turnover of over $300 million by 2023 and a market share of about 30 per cent.
After Grab's victory over Uber in Southeast Asia, many analysts said that Luxstay has a lot of potential to dominate the market in the most dynamic and developing region in the world.
Under the GS Corporation, one of the largest multidisciplinary investment groups in South Korea, GS Shop is currently the leading company in the country in the field of home shopping. It has also made its first steps into Vietnam, with the appearance of GS25.
Meanwhile, Bon Angels is known as a successful venture capital fund accompanying a series of famous South Korean startups like Woowa Brothers, Daily Hotels, and My Real Trip.
JLL: Smart townships finding favor
Smart townships are gaining significant popularity that has directly led to a series of changes in Vietnam's property market, according to a JLL report released on May 24.
The report noted that smart townships launched by developers have achieved high sale rates. Since the first launch in 2016, Hanoi's property market has welcomed more than 10,000 smart units with sale rates of approximately 70 per cent on average.
As a pioneer of this revolution, local property developer the Sunshine Group has built a series of smart homes and smart living ecosystems by applying integrated smart technology into their products. This features the Sunshine Cab App, similar to the Grab system, for residents, the Smart Home App, and Sunshine Mart, which offers cashless payments through the Sunshine Online service. The overall aim is to provide home-owners with an intelligent and high-tech urban complex that focuses on transportation, shopping, and relaxation services.
Meanwhile, Vingroup upgraded their 280-ha project in the west of Hanoi into a dynamic smart township called Vinhomes Smart City in early April. The project uses artificial intelligence (AI) technology with facial recognition features and a single command center to provide a full suite of information services for occupants, from air quality monitoring to environmental pollution warnings.
According to the report, Ho Chi Minh City and Hanoi have among the youngest, most tech-savvy populations globally. The country's population is young, with 70 per cent of people being below the age of 35, with a 98.5 per cent literacy rate among those aged 15 to 35. Developers of new residential projects are leveraging this trend and building smart townships to attract young buyers.
In the time to come, projects such as BRG Smart City in Hanoi, Ecopark Smart City in northern Hung Yen province, Dragon Smart City in Da Nang, and Thu Thiem Eco Smart City in Ho Chi Minh City are expected to provide a range of new technological features such as smart landscape planning with advanced IT infrastructure to build a smart and eco-friendly neighborhood where residents can enjoy integrated services within a walkable distance.
However, JLL also noted while technology could be a good option for investors and individual buyers, the latter should be aware that different developers are providing different technology solutions to varying degrees. Furthermore, technology that is not pragmatic and does not enhance efficiency or livability for users may not take off.
It concluded that the adoption of new technology platforms generates new and more easily-accessible market data, which is key for overall real estate transparency in Vietnam.
KOICA to boost ODA in ASEAN
The Korea International Cooperation Agency (KOICA) has said it will more than double the official development assistance (ODA) fund for six ASEAN members in 2023 to respond to the South Korean Government's foreign policy towards the region.
The declaration was made at the "Announcement ceremony of the plan to implement official development assistance (ODA) capital under KOICA's New South policy" held on May 17 in Hue.
Attending the ceremony were Mrs. Lee Mi Kyung, Chairman of KOICA, and national directors of KOICA representative offices in the ASEAN countries of Vietnam, Laos, Myanmar, Cambodia, Indonesia, the Philippines, and East Timor. KOICA has been developing plans to implement ODA projects that respond to the New South policy and will cement the plan through several meetings to be held after the announcement ceremony.
On behalf of the national directors of KOICA offices in ASEAN countries, Mr. Kim Jin Oh, National Director of the KOICA Vietnam Office, presented a speech on "Messages and visions of ODA implementation under South Korea's New South policy", one of the ODA implementation plans to contribute to the country's strategy of building a common community in the future between South Korea and ASEAN countries based on human values, peace, prosperity, and global environmental protection.
KOICA will make efforts to help ASEAN countries achieve the UN's Millennium Development Goals by increasing the size of ODA programs in ASEAN by 20 per cent each year, while promoting integration and the efficiency of ODA programs through coordination with domestic and foreign partners.
Specifically, KOICA will increase ODA funds for Laos, Myanmar, Vietnam, Cambodia, Indonesia, and the Philippines from 87 billion won to 180.4 billion won (about $151 million) by 2023. The plan is in line with the orientation of KOICA in implementing ODA programs for these countries, including support for education, rural development, information communications technology (ICT), urban development, and transportation.
It is also in line with the common vision of ASEAN countries and the South Korean Government's strategy of building a common community in the future between South Korea and ASEAN. At the same time, it is in line with the Millennium Development Goals, which aim to end poverty, fight inequality and injustice, and deal with climate change.
"KOICA will contribute efforts to effectively implement the New South policy to effectively support ODA and realize the building of a friendly community between South Korea and ASEAN countries in the future," Mrs. Lee Mi Kyung said.
KPMG accompanies Vietnamese SMEs in Economy 4.0
KPMG NEXT, one of the CSR programmes of KPMG in Vietnam, aims to support small- and medium-sized enterprises (SMEs) in developing and taking their business to the next level, not only in the region but also in the world.
Accounting for 97 per cent of all businesses operating in Vietnam, SMEs play an important role in the Vietnamese economy as they make up about 45 per cent of the GDP and 31 per cent of the total revenue.
However, the sector is facing many barriers and challenges, especially in the current context of Economy 4.0.
Explaining this issue, Lam Thi Ngoc Hao, partner cum head of Private Business at KPMG in Vietnam, highlighted that most local SMEs are having difficulties in maintaining their growth rate after the first steps of development, which leads to the reduction of enterprises' competitiveness.
In addition, in today's business environment, the evolution of Industry 4.0 has clearly showed that digitalisation is rapidly disrupting traditional business models.
According to Nguyen Quang Phuc, director, head of Enterprise Services at KPMG in Vietnam, it is imperative for all Vietnamese businesses, small or big, to embark on the digital journey.
Understanding the situation, KPMG NEXT was designed to support SMEs in the process of developing and taking their business to the next level not only in the region but also in the world.
Based on practical needs and KPMG's 25 years of experience in Vietnam, KPMG NEXT provides an overview of difficulties and challenges on the path of sustainable business development that SMEs may encounter and how they need to prepare to cope with those barriers.
Over the past three years, KPMG NEXT has attracted more than 100 Vietnamese entrepreneurs from different regions and various sectors to join the programme.
This year, to take participants "To the next level", KPMG NEXT 2019 continues to bring practical topics to SMEs who are looking to fast-track their growth and sustainable development.
As Economy 4.0 has become an indispensable trend in the sustainable development of businesses, KPMG NEXT 2019 will equip SMEs with the essential knowledge to seize opportunities and create a leap in the competition by applying new technologies to its business operations.
KPMG NEXT 2019 has started to receive registrations from May 22 to June 10, 2019.
Egroup teams up with South Korean partner Minischool
In a bid to create a modern education ecosystem in Vietnam and gradually break into promising regional markets, privately-held education firm Egroup has just inked an agreement to acquire a 15 per cent stake in Minischool in South Korea.
The South Korean firm, Minischool, is specialised in establishing modern education platforms that allow unlimited connections between qualified lecturers and learners around the globe.
The deal is expected to promote the training of English, mathematics, and logical thinking not only to high-paying learners (one-on-one study sessions), but also to regular classes.
This is the first outbound investment venture of Egroup and it allows the company to take part in Minischool's Board of Management.
Egroup chairman Nguyen Ngoc Thuy shared that Minischool's field of investment and human resources were the top factors in the company's decision for partnership.
Minischool's leaders, especially founder Uk Neo Jung who used to be the tech leader of Kakao Corporation – the owner of South Korea's leading messaging app Kakao Talk – have a good tech mindset, a thorough knowledge of what customers want, and share Egroup's aspiration to bring users the best experience and create modern education platforms.
This explains why Egroup has chosen to accompany Minischool's journey on product development, while simultaneously promoting products to other Southeast Asian and several European markets.
The Minischool programme's eminent advantage is the combination of online and offline formats, allowing learners to interact with lecturers through innovative cartoon games, creating an intriguing learning environment to promote interaction, creative thinking, and confidence in studying.
In the first stage, the aim is to support children from 4 to 12 years to playfully approach the English language and knowledge at an early age.
Egroup chairman Nguyen Ngoc Thuy said that if a country had many people who are masters of knowledge and good at English, they could provide the fundament to boost individual and business values as well as make positive contributions to society's development.
Through the co-operation deal, Egroup and Minischool will jointly build up and develop technology platforms on training that are best suited to Vietnamese learners and the two companies' target markets.
Egroup's managing director Vu My Lan shared that albeit Industry 4.0 and disruptive technology are the buzzwords these days in Vietnam, domestic firms are mostly at the study phase of new technologies or are importing products and services to Vietnam to learn about them.
Through the co-operation deal, Egroup and Minischool will jointly build up and develop technology platforms on training that are best suited to Vietnamese learners and the two companies' target markets.
Egroup is serving a wide portfolio of more than 70,000 learners at its Apax English centre, an important platform to promote their new products in the market.
Since 2016 when Egroup began a strategic co-operation with Chung Dahm, the largest English training group in South Korea, the group has developed co-operative ties with leading education and technology groups in the country, such as SK Telecom, Visang, or Rohoboth.
Yearning to create a state-of-the art education ecosystem leveraging modern technologies and the achievements the company posted in recent years, Egroup has been put on the radar of quite a few major Korean players.
In the upcoming week, the company is slated to sign a co-operative deal with tech giant Samsung Group, striving to better serve the customers and significantly broaden the development space for both sides in the near future.
Egroup owns a 70 per cent stake in Apax Holdings Investment JSC (IBC), a Vietnamese listed company.
KVision launches hackathon to co-innovate with Vietnamese startups
The event targets startups with products or ideas to tackle finance and business challenges facing the Vietnamese and ASEAN economies. Bringing together KBank's expertise in regional banking, $245 million of funding from KVision, local know-how of VIISA, and innovative ideas from local startups, the aim is to drive synergies that will spur cutting-edge solutions that create value and drive growth in Vietnam and the wider region.
Kasikorn Vision (KVision), an investment holding company under Kasikornbank Pcl. in Thailand (KBank), has joined hands with Vietnam Innovative Startup Accelerator (VIISA), a leading accelerator in Vietnam, and UP Co-Working Space, to hold a three-day hackathon on June 28-30, 2019.
Chat Luangarpa, first senior vice president of KBank, said that Vietnam has emerged as one of the ASEAN's most vibrant startup markets. Vietnam is now one of the most active VC markets in the region, and with a fast-growing economy, a pool of youthful tech talent, and strong government support, it has all the key ingredients for rapid innovation growth. Not only that, the country's young, change-oriented consumer market makes Vietnam a perfect place for startups to thrive.
KVision, aiming to drive innovative growth in the region, sees the potential for Vietnamese startups to not only grow in the local market but also capture opportunities across the ASEAN. Supported by KBank's presence in the region, the hackathon is aimed at equipping Vietnamese startups with the right tools to bring them to the next level of growth in the regional stage.
The programme will bring seasoned mentors from the local and global startup community, including Akamai, Sendo, and other leading accelerators, as well as business veterans such as UniBrands. Through a series of mentoring and sharing sessions, startups will receive real-world advice, hands-on supervision, and invaluable networking to help them step up their game in all aspects.
From design thinking to pitching, the end goal is to inspire and drive startups to come up with real solutions to materialise their business, and form real connections to make their business happen. On top of that, startups with potential will have the opportunity to gain financial backing from investors from Vietnam and overseas, as well as fast-track entry to a range of other startup programmes.
At the heart of this programme lies the idea of co-innovation. Duc Tran, CEO of VIISA, said that the time for partnerships is now. Gone is the time when brick-and-mortar corporations and startups could simply view each other as competitors; partnerships between the two can bring a synergy effect and combination of different strengths to accelerate growth, allowing startups to scale in a time of increasing competition while also allowing corporations to transform in the digital age.
Chat Luangarpa added that this is now also one of KBank's key strategies. The establishment of KVision in Vietnam as well as other countries with outstanding technology sectors, including China, Israel, and Indonesia, is in order to scout innovative startups to co-launch new services in the region's underserved and quickly evolving markets.
KVision looks to play an active role in linking startup ecosystems in the ASEAN. Earlier this month, KVision signed a co-operation agreement with the Vietnamese government's Business Startup Support Centre (BSSC) to support Thai startups' entry into the Vietnamese market.
KBank first entered Vietnam through the launch of its Hanoi and Ho Chi Minh City representative offices in 2015. To continue its focus on Vietnam, KBank plans to upgrade its Ho Chi Minh City representative office to its first branch in Vietnam, once the license is granted. Alongside setting up physical branches, KBank also looks to bring in digital solutions, including partnerships with startups to address financial service gaps and to drive disruption in the region.
KVision will hold the three-day "KVision x VIISA Hackathon: Building Co-Innovation" hackathon at UP Co-Working Space, Ho Chi Minh City, June 28-30, 2019. The programme is opened to both startups with business ideas and those with existing products. Prizes include $2,000 for the ideation track winner, $5,000 for the acceleration track winner, as well as fast track guarantees to various startup programmes and perks from hackathon partners.
For more information on qualifications and application methods, visit kvisionhack2019.devpost.com. Applications will be open until June 15, 2019.
YouTube terminates Yeah1 business relationship indefinitely
YouTube has terminated its content services hosting agreement (CSHA) with Vietnamese digital media giant Yeah1 Group and its subsidiaries indefinitely.
An announcement by Yeah1 Group (stock code: YEG) on the Ho Chi Minh City Stock Exchange (HoSE) Thursday said YouTube has released all media channels related to Yeah1 and its subsidiaries from CHSAs starting May 22.
A CHSA is the license for a partner media company, in this case Yeah1, to earn from third-party businesses that run ads on channels on the video streaming platform.
"Yeah1's multi-channel network (MCN) rights will also be stopped indefinitely. The restoration of these rights may be reviewed in the future," YouTube informed Yeah1, adding that they will not limit "discussion opportunities" in the future.
Prior to this announcement, Yeah1 had been YouTube's third largest MCN partner in the world, with 6.9 billion monthly views, according to Bloomberg.
Youtube had announced the move on March 4 after Thailand's SpringMe. Ltd., in which the Vietnamese company owns almost 17 percent, was involved in an incident that violated YouTube's policies.

In a circular sent to shareholders, Yeah1 said it will cooperate with YouTube and its partners to facilitate the transition. It will continue to maintain other business lines and strategic partnerships, and focus on producing, managing, and generating revenue from content on other online platforms.
YEG stocks Thursday morning dropped by 7 percent to VND100,500 ($4.29) in reaction to the news, with 30,000 unmatched sell orders at the end of the morning session.
Founded in 2006, Yeah1 is Vietnam's largest MCN ecosystem, operating TV channels, movie studios, YouTube networks, and digital news. It was also the first media company to go public, listing on HOSE last June.
FPT continues to report solid performance
FPT Corporation has reported a 22.6 per cent year-on-year increase in profit before tax and 19.4 per cent increase in revenues in the first four months of the year.
They were respectively VND1.34 trillion (US$57.4 million) and VND7.79 trillion ($333.29 million).
The profit after tax (PAT) and PAT attributable to parent company's shareholders were VND1.1 trillion and VND887 billion, up 21.2 per cent and 22.3 per cent over a year.
Earnings per share were up 21.7 per cent annually at VND1,446.
A key growth driver, the technology sector recorded revenues and profit before tax of VND4.18 trillion and VND536 billion, up 22 per cent and 45.3 per cent.
The software outsourcing segment had revenues of VND3.13 trillion, up 38.1 per cent. Its profit before tax was VND469 billion, up 39.6 per cent.
The telecom segment's revenues and profit before tax were VND3.18 trillion and VND504 billion, up 17.6 per cent and 10.8 per cent.
Overseas revenues were over VND3.3 trillion, up 35.7 per cent and profit before tax was VND513 billion, up 33.8 per cent.
Programme on sustainable enterprises kicks off

A programme that evaluates and identifies sustainable enterprises in Viet Nam 2019 was launched on Tuesday in Ha Noi by the Viet Nam Chamber of Commerce and Industry (VCCI) and Viet Nam Business Council for Sustainable Development (VBCSD).
The programme, now in its fourth year, promotes business breakthroughs that meet the sustainable development goals of the country, according to VCCI.
It also aims to strengthen exchange and cooperation in sustainable development among businesses, and raise awareness about the importance and benefits of this kind of development.
Nguyen Quang Vinh, VCCI general secretary and VBCSD vice chairman, said the 2019 version of the corporate sustainable index (CSI) includes additional content, making it a useful handbook for all corporate managers and investors.
The index offers new companies basic suggestions on how to develop a sustainable development strategy, as well as evaluation criteria for companies that are already implementing sustainable development, he said.
The CSI also provides a reliable and complete report on the potential of businesses for investors.
This year, the number of criteria in the index has been reduced from 131 to 98, of which 90 per cent are legal compliance criteria.
The reduction has made the index more scientific, with more updated international rules and domestic regulations, suited for many purposes, Vinh said.
Participation in this prestigious national programme will help local businesses improve their competitiveness. Investors and reputable international partners are especially interested in these kinds of companies, because they prefer suppliers that have adopted a sustainable development strategy.
The programme is receiving applications until August 31. A ceremony to announce the sustainable enterprises in 2019 will be held in Ha Noi in November.
Dairy industry to boost exports
Vinamilk imports cows from New Zealand to serve its milk production for local consumption and exports.

Viet Nam's dairy makers are accessing more opportunities to increase exports, but companies need to enhance their competitiveness in foreign markets and develop a concentrated production scale.
The export value of dairy products and fresh milk reached US$48.6 million in the first three months of the year, with the main export markets in Iraq, Hong Kong, mainland China, Afghanistan, the Philippines and other countries, including UAE, Laos, Myanmar and Japan.
Exports are expected to grow strongly this year as domestic enterprises are targeting expansion of their overseas markets.
Two of Viet Nam's dairy giants, Vinamilk and TH True Milk, have been expanding investment in other countries.
Vinamilk has invested in fresh milk and dairy product and processing in the US, New Zealand, Cambodia, Poland, Laos and Myanmar.
This year Vinamilk invested in its first factory in Myanmar to meet the increasing demand for milk and milk products there.
Milk consumption in Myanmar, which has a population of 55 million, is 10 litres per head per year, very low compared to other markets in the region, such as Thailand with 36 litres and Malaysia with 53 litres.
TH True Milk recently invested in a US$2.7 billion project to raise cows and process milk in Russia.
Exports of milk and dairy products are also expected to increase sharply in the future after the Protocol on exports of Vietnamese milk and dairy products to China, a market of 1.4 billion, was inked on April 26
According to the Food and Agriculture Organisation's 2018 global dairy market report, China produced 25.6 million tonnes of milk, down 1.1 per cent from 2017. In order to meet domestic consumption of milk and dairy products, the country annually imports 14.6 million tonnes of milk.
Nguyen Quoc Toan, acting director of the Ministry of Agriculture and Rural Development's Agro Processing and Market Development Agency, told local media at a recent conference in Ha Noi that there was great potential for exporting milk and dairy products to China.
However, Toan said that Vietnamese exporters faced challenges because milk from Australia and New Zealand has occupied a large market share in the Chinese market. "Vietnamese milk exports to China are promising but they will face competition from these two giants."
"To expand Viet Nam's export market in the coming time, businesses in particular and the dairy industry in general should prioritise the modernisation of milk and dairy product processing technology that meets the requirements of China in the spirit of the Protocol signed recently," Toan said. "At the same time, product development should meet the demand of other potential markets such as Indonesia, Malaysia, the Philippines and Singapore."
The chairman of TH Group, Ngo Minh Hai, told diendandoanhnghiep.vn that the door for milk and dairy product exports to the Chinese market has initially opened, but not all businesses in Viet Nam's dairy industry would be able to enter.
"China has technical barriers that force us to overcome. Companies must ensure two important requirements, including maintaining quality and product standards, and ensuring origin," Hai said.
The deputy head of MARD's Department of Livestock Production, Tong Xuan Chinh, said the Ministry of Industry and Trade should improve planning and supervision of the construction of milk processing plants, which must match the volume of local cattle herds and the consumption market.
Chinh said MARD would create a new policy to support the development of dairy farming and milk processing in the 2020-30 period, promoting the industry as well as the export of milk and dairy products.
"The policy will be submitted to the Prime Minister for approval," he added.
Chinh said that links between cow breeders and milk exporters should be tightened. Fresh milk from breeders has to be sold to businesses as soon as possible because breeders lack preservation facilities. If they sell milk to the market, it is only a small amount.
Dairy enterprises need to reorganise the production of dairy cows in a closed chain, controlling disease safety and food safety.
At the same time, modernisation of facilities, raw milk purchasing centres, and modern milk factories must be established to meet the export demand of many markets, he added.
Viet Nam and US boost comprehensive co-operation

Bilateral relations between Viet Nam and the US had developed into a comprehensive partnership ahead of the two countries celebrating 25 years since the normalisation of diplomatic relations (1995-2020), said President of the Viet Nam-US Association Nguyen Tam Chien.
Chien was speaking at a meeting in Ha Noi on Thursday that aimed to promote exchange and co-operation among sectors, enterprises and organisations from both countries.
Chien, who is a former deputy foreign minister, said the seminar was expected to raise awareness of the importance of efforts to expand bilateral co-operation.
"The two sides should explore each other's advantages to speed up exchange and co-operation in economic, trade, investment, culture and education projects, as well as other spheres," Thang said.
"Our efforts in any industry, whether it be business or human resource training, information technology or marine aquaculture, or exploiting new resources to jointly address humanitarian issues left from the war... are all aimed at mutual benefits," Thang added.
Vice counselor of the economic section at the US Embassy in Viet Nam, James Bagert, said the US Government expected to help Viet Nam to create a safe and peaceful environment with a fair trade system.
He expressed his hope for Viet Nam to become a reliable partner of the US in the region, and for the two sides to reach common goals to bolster bilateral trade ties.
To achieve those goals, enterprises were seen as the foundation for co-operation development between the two sides.
Annual two-way trade between Viet Nam and the US has hit US$60 billion through investment and business co-operation between hundreds of enterprises, of which US firms are providing many job and education opportunities for Viet Nam.
Bagert said Viet Nam's economic growth was about 7 per cent per year, and the demand for energy was increasing. The US investment flows and technologies had supported Viet Nam in building sustainable energy systems.
He said the US Embassy would continue to assist Vietnamese firms in seeking suitable partners in the US.
At the seminar, participants also focused on the difficulties and advantages facing businesses, and offered solutions to strengthen co-operation between the two countries' enterprises.
VN Design Association shakes hand with foreign partners

Vietnam Design Association recently signed a memorandum of understanding (MoU) with three foreign partners to support the development of creative design in Viet Nam.
The association said the three partners include the International Federation of Interior Architects/Designers (IFI), Asia Pacific Space Designers Association (APSDA) and Society of Interior Designers Singapore (SIDS).
Under the MoU, the association and its partners will co-operate to improve the quality of designs, and develop research and training activities.
The signing ceremony was organised in connection with the first Vietnamese Interior Design Festival which took place in HCM City. The event's main aim was to develop and nurture Vietnamese design and creativity through community-connecting activities.
With the theme of "Creative Aspirations - The Source of Creativity", the festival was organised to lay the foundation for the annual development of future events. At the event, 10 international design associations participated in the international design conference.
In addition, many authors and excellent projects in Viet Nam were also honoured at the national-scale Vietnam Interior Design Award - Vmark 2019.
The award is not only an opportunity to promote the contribution of Vietnamese creative interior designers in the context of international integration, but also a special opportunity for leading businesses to promote products from the most experienced and established experts and judges in the industry.
This was the first time the International Interior Design Conference took place in Viet Nam, with presentations from 20 international speakers from 10 countries, with a commitment to continue to support the development of creative design in Viet Nam.