French bank named financial adviser for Ke Ga wind power project
French bank Société Générale has been chosen to be the financial adviser for the initial phase of the Ke Ga offshore wind power project – the world's biggest project of its kind at present.
An agreement on this effect was recently inked between the UK's Enterprize Energy – the project's investor – and Société Générale.
The Ke Ga offshore wind power project is planned to cover 2,000sq.km. of water surface about 20 – 50km from the coast of the south central province of Binh Thuan. It is expected to have total capacity of 3,400MW.
Founder and Chairman of Enterprize Energy Itan Hatton said to help accelerate the provision of low-cost energy from offshore wind power for Vietnam, his firm has invited Société Générale to act as the strategic adviser right from the initial stage of the project.
Allan Baker, Global Head of Power Advisory & Project Finance at Société Générale, said the Ke Ga project is critical to the energy structure transfer in Vietnam, and it will help turn the country into an important offshore wind power hub in the region.
In this project, the Vietnam-Russia oil and gas joint venture (Vietsovpetro) and the Vietnam-based Petroleum Equipment Assembly & Metal Structure JSC (PVC-MS) have been selected to design and manufacture offshore facilities.
Meanwhile, Mitsubishi Vestas Offshore Wind, a joint venture of Vetas Wind System A/S and Mitsubishi Heavy Industries Ltd., will supply wind turbines.
PM urges firms to grasp opportunities arising from technology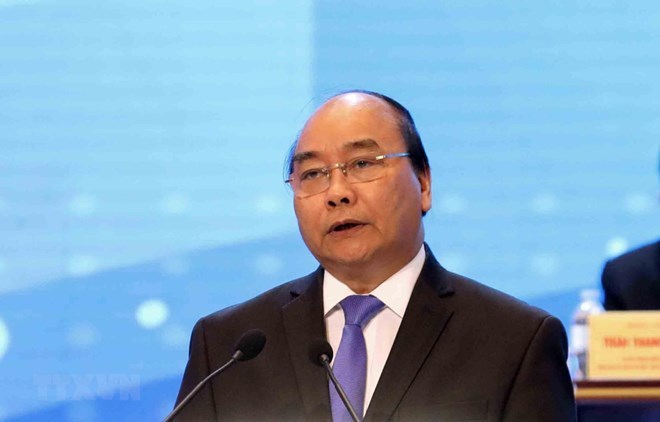 Prime Minister Nguyen Xuan Phuc at the event
Prime Minister Nguyen Xuan Phuc urged firms to promptly grasp opportunities brought about by modern technology and markets in his address to the plenary session of the Vietnam Private Economic Forum 2019 held in Hanoi on May 2.
He said making tireless efforts to seek new technologies, markets, materials while renewing operations and management is an important virtue of an entrepreneur, adding that integrity, along with patriotism, social responsibility and business ethnics are also needed
The Vietnamese economy could be strong only when its firms become competitive globally, he said.
The PM described the private sector as one of the important driving forces of the economy, as the sector contributes nearly 42 percent of the national GDP, 30 percent of the State budget and employs nearly 85 percent of the workforce nationwide.
Citing the role of the private sector in countries successful in economic reform, PM Phuc requested that agencies and administrations at all levels should try to further promote the sector's role in Vietnam.
He highlighted two groups of issues that need to be addressed promptly, one of which is how to help domestic enterprises, most of which have small scale, compete on the global market and millions of individual business households to shift to the company models to benefit themselves and society.
The second is how to create breakthroughs in removing the obstacles in the business environment such as the lack of mechanisms and policies for new business models, digital and sharing economy, manufacturing industry and organic agriculture.
In his dialogue with enterprises on the occasion, the PM underlined the key words for the development of the private sector, which are "creating equality," giving them "protection", "encouragement" and "opportunities."
The PM vowed to create favourable conditions, the space, resources and opportunities for the private sector.
According to him, the government will build legal mechanisms, human resources, infrastructure and market to facilitate start-ups, especially in information and communications technology, multimedia and artificial intelligence, as well as issuing better incentives to attract angel investors.
Further attention will be paid to smart telecom infrastructure, including 5G network, cashless payment, and other technical infrastructure, he said.
The PM informed that the government had approved a national support project for start-up ecological system and innovation till 2025, including establishing national start-up centres. It is due to adopt a national digital transformation project this year in support of start-ups.
Vietnam Medi-Pharm expo to return Hanoi on May 8-11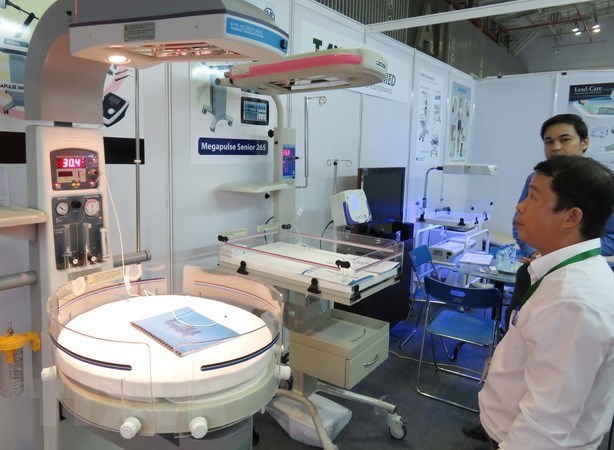 The Vietnam International Medical and Pharmaceutical Exhibition (Vietnam Medi-Pharm 2019) will return in Hanoi in its 26th edition from May 8-11.
At a press conference held in Hanoi on May 2, Head of the Ministry of Health's Department of Communications, Emulation and Reward Nguyen Dinh Anh said that the event, held by the Vietnam Medical Products Import-Export JSC in collaboration with the Vietnam Advertisement and Fair Exhibition JSC, will draw the participation of 450 companies from Belgium, China, the Czech Republic, Germany, Japan, the Republic of Korea, the US, and Vietnam, among others.
On the display at 550 booths will be pharmaceutical products, food supplements, pharmaceutical processing, manufacturing and packaging equipment, lab equipment, and healthcare services.
Besides, various events will be held within the framework of the exhibition, including a national scientific conference on preventive medicine and a workshop on immunotherapy and stem cells for the treatment of cancer and diabetes.
There will be consultancy on medical law, pharmaceutical market, community healthcare and epidemics prevention.
The organising board said that the Vietnam Medi-Pharmfirst has enhanced trade promotion among countries as well as created opportunities for participants to introduce their products, promote experience exchange, expand market as well as boost connection and technology transfer to improve production efficiency.
Meeting looks into amendments to Labour Code 2012
Deputy Prime Minister Vuong Dinh Hue and leaders of National Assembly Committee for Social Affairs, ministries and agencies discussed amendments to the 2012 Labour Code during a meeting in Hanoi on May 2.
In accordance with Resolution No.57/2018/QH14, the legislature will look into the draft amended law at its seventh session and approve it during the eighth session.
Participants highlighted the need to amend the Labour Code in the context that Vietnam has joined a number of regional and global free trade agreements with commitments to abiding by basic principles and rights of workers in line with the International Labour Organisation (ILO) Declaration on Fundamental Principles and Rights at Work.
Additionally, the existing Labour Code is yet to fully reflect the Constitution's regulations on human rights, basic rights and interests of citizens.
Deputy Minister of Labour, Invalids and Social Affairs Doan Mau Diep said the ministry is revising the draft revised law to collect public feedback.
Accordingly, the Ministry of Labour, Invalids and Social Affairs (MoLISA) suggested increasing extra working time framework from 300 hours to 400 hours per year, retirement age to 62 for men and 60 for women from January 1, 2021, regulating representative organisations of workers at the grassroots level to ensure abiding by international practices.
It proposed maintaining five-day Lunar New Year holiday inclusive or exclusive of weekend, adding a one-day holiday for Day of Martyrs and Invalids (July 27) to pay tribute to war heroes, and changing working time from 8:30am to 5:30pm, including one-hour lunch break.
The Deputy PM asked the MoLISA to collect opinions on the new draft law's contents from ministries, agencies, the Vietnam Chamber of Commerce and Industry, especially workers, experts and scientists.
Chairwoman of the NA Committee for Social Affairs Nguyen Thuy Anh said the committee will convene a meeting to examine the bill early this month.
Over 12.5 trillion VND worth of G-bonds raised in April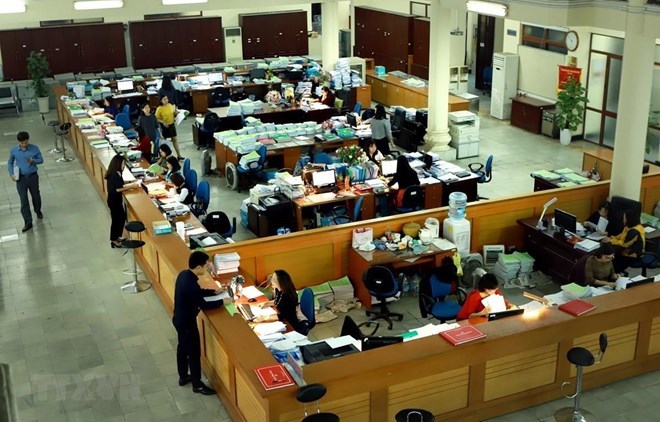 The State Treasury of Vietnam raised over 12.5 trillion VND (543 million USD) worth of government bonds (G-bond) during 16 auctions at the Hanoi Stock Exchange in April, down 11.9 percent from the previous month.
During the month, only 67.9 percent of G-bonds put out for auction were sold.
Bind-winning annual interest rates for 7-year, 10-year, 15-year, 20-year and 30-year bonds were 4.05 percent, 4.72 percent, 5.06 percent, 5.69-5.7 percent, and 5.8 percent, respectively.
On the secondary G-bond market, the total volume of G-bonds sold by the outright method in April reached over 7 million, worth 77.2 trillion VND, down 6.9 percent in value month-on-month.
Meanwhile, the trading volume through repurchase agreements (repos) surpassed 979 million, equivalent to more than 98.4 trillion VND, down 16.6 percent in value from March.
Foreign investors made outright purchases worth more than 3.3 trillion VND and outright sales worth over 3.2 trillion VND in April.
New eco tourism site opens in Mekong Delta
The Sala eco-tourism complex has been opened in the Mekong Delta's Vinh Long province as a new green destination and new highlight on the tourist map of Vinh Long in particular and the Mekong Delta in general.
About 25 km from the center of Vinh Long city, the eco-tourism complex sits on an area of about 20 ha among coconut groves and fruit orchards in My Thanh commune, Tam Binh district.
With investment of more than VND40 billion ($1.7 million), it boasts two main parks: Sala Farm and Sala Amazing.
On 5 ha, Sala Farm features fields, fish ponds, vegetable gardens, livestock farms, and outdoor folk games. Here visitors can experience being a farmer for a day, performing local people's tasks such as ploughing, catching fish, planting vegetables, and feeding some of the animals, making it interesting for children and international visitors.
Meanwhile, Sala Amazing is totally different, with a modern space of pools and lakes for swimming, boat racing, and team building activities. It also has a golf course on the lake, providing a new experience for golf enthusiasts.
There is also an exhibition house displaying traditional agricultural tools for farm work, fruit orchards, a picnic area, and typical dishes from the Mekong Delta prepared from fresh ingredients, ideal for families, colleagues, and groups of friends to relax on the weekend.
Capable of catering to hundreds of people, the complex also has a green space for events and parties.
The Sala eco-tourism complex is built upon the idea of green tourism with experiential activities, according to Mr. Dang Xuan Nam, Director of the Sala Viet Co.. Based on the advantages of the local tourism industry, with popular destinations such as the Cai Ngang relic area and the Professor Tran Dai Nghia memorial area, Sala is expected to contribute to the diversity of the province's tourism attractions and provide experiential tourism associated with the local cultural identity of the Mekong Delta, attracting more domestic and international tourists.
Visitors flock to tourist destinations during national holidays 
The capital city of Hanoi welcomed over 440,000 tourists during the five-day holidays which lasted from April 27 to celebrate Reunification Day (April 30) and May Day.
The figure represented a year-on-year rise of 12.4 percent, with the number of foreign holidaymakers up 17.9 percent to exceed 91,200, according to the municipal Department of Tourism.
The department said the city earned some 754 billion VND (32.4 million USD) from tourism services during the holidays, up 36.9 percent from the same period last year.
Of note, foreign visitors came from 160 countries and territories, mainly the Republic of Korea, China, Japan, Taiwan , France, Australia, the UK, the US, Germany and Malaysia.
To ensure safety for tourists, the department has deployed staff to inspect major destinations in the city.
Meanwhile, Vung Tau city in the central coastal province of Ba Ria-Vung Tau served over 350,000 tourists during the first four days of the holidays.
The management board of tourist sites in Vung Tau has worked with competent forces to ensure security and order, as well as hygiene in local tourist destinations.
Mai Ngoc Thuan, Secretary of the municipal Party Committee, said the city has mobilised about 500 public servants to work round the clock in the areas attractive to holidaymakers.
Apart from beaches, local restaurants along coastal streets like Thuy Van, Ha Long, Quang Trung and Tran Phu also served crowds of tourists.
According to Nguyen Xuan Dung, director of the management board of the Con Dao national tourist site, as of April 30, the island district of Con Dao welcomed around 12,000 vacationers, doubling the number recorded in the same period last year.
Con Dao has about 82 accommodation establishments with 1,600 rooms which can serve about 3,600 visitors.
During the holidays, the south central coastal province of Phu Yen attracted 42,165 tourists, up 20 percent year-on-year, including some 580 foreigners, the provincial Department of Culture, Sports and Tourism reported.
The department has coordinated with localities and travel companies to organise various activities on this occasion such as culinary festivals at major hotels, a kite-flying festival and a street music festival.
Petrol prices up nearly 1,000 VND per litre
The Ministry of Industry and Trade and Finance Ministry revised up petrol prices on May 2, marking the third time they had made price adjustments after using the price stabilisation fund.
Accordingly, retail price of bio-fuel E5 RON 92 will rise by 985 VND per litre to below 20,688 VND (0.89 USD) while that of diesel will hike by 311 VND per litre to a maximum level of 17,695 VND.
The ceiling prices of kerosene and mazut were capped at 16,625 VND and 16,002 VND per kg, respectively.
Two weeks before May 2, world petrol prices also went up from 2.2 percent to 3.22 percent.
The ministries decided to keep the fund's expenditure for existing petrol products unchanged.
Experts suggest unchaining medium-, long-term capital
Experts made proposals to unchain medium- and long-term capital for the private economic sector so as to boost national socio-economic development when attending a seminar held as part of the Vietnam Private Sector Economic Forum in Hanoi on May 2.
Deputy head of the Party Central Committee's Economic Commission Nguyen Huu Nghia said that at present, the private economic sector enjoys more favourable and fairer access to different sources of capital.
However, the financial and banking system has yet to meet socio-economic development demand. Therefore, private enterprises still face difficulties in approaching medium- and long-term loans, Nghia stated.
According to him, the banking system is currently the most important supplier of capital in the economy.
Hence, to foster rapid and sustainable socio-economic development, it is important to further develop financial markets and create more favourable conditions for private businesses to gain access to loans, he stressed.
Deputy Governor of the State Bank of Vietnam (SBV) Dao Minh Tu underlined the necessity to develop the stock market to reduce the economy's dependence on bank credit, especially those of the medium and long terms.
Tu also said that the central bank will manage monetary policies in a proactive and flexible manner, increase the credit quality, and facilitate the private sector's mobilization of capital from the stock market.
Deputy Finance Minister Tran Xuan Ha stated that to continue developing the capital market and unchain medium- and long-term capital, the Finance Ministry will propose the promulgation of the amended Law on Securities and the revised Law on Insurance Business to the National Assembly to complete the legal framework for the market development.
The ministry will step up the restructuring of the stock and insurance markets as well as State-owned enterprises, while prioritising the development of the derivatives market, he added.
Projects to revive fishery resources in central provinces launched
The Prime Minister has instructed authorities of the central provinces of Ha Tinh, Quang Binh, Quang Tri and Thua Thien-Hue to carry out fishery projects using compensation from the Taiwanese-invested Hung Nghiep Formosa Ha Tinh Steel Corporation.
The projects are expected to improve logistics and services for fishermen along the coastline of those provinces to revive and develop aquatic resources. They also seek to restore aquatic ecosystem and fishery resources in the coastal areas of the provinces in a bid to recover the coral reef ecosystem.
Decision 476/QD-TTg dated May 1, 2019, stated that the projects will focus on the building of fishing ports and berths, along with the dredging of channels and supporting facilities for production.
The projects will be launched with the compensation paid by Formosa, which will be handed over to the provinces.
Total investment for construction projects to improve fishery logistics services will not be higher than 400 billion VND (17.17 million USD) in each province.
Meanwhile, budget for two projects to restore aquatic ecosystem and resources in Quang Binh and Thua Thien-Hue will stand at less than 340 billion VND.
The projects will be carried out until the end of December 2020.
The Ministry of Planning and Investment and the Ministry of Agriculture and Rural Development are asked to keep a close watch on the projects' implementation and promptly handle difficulties of the localities, as well as provide technical support.
On April 6, 2016, mass fish deaths were first reported when a large number of fish were washed ashore in Ha Tinh province. The phenomenon also occurred in neighbouring Quang Binh, Quang Tri and Thua Thien-Hue provinces.
About 70 tonnes of dead fish were found in the four provinces. This environmental incident caused serious losses in the maritime ecosystem and seafood resources, affecting production, business and lives of around 510,000 people of 130,000 households in 730 villages of 146 communes and towns of 22 coastal districts of the four provinces.
In late June 2016, Formosa admitted responsibility for the environmental incident and pledged to compensate 500 million USD (11.5 trillion VND) for affected people.
Vice President attends business woman talkshow
Vice President Dang Thi Ngoc Thinh attended a business woman talkshow in Hanoi on May 2 as part of the Vietnam Private Sector Economic Forum.
She said women make up about 48 percent of the labour force in Vietnam. In the business sector, around 25 percent of women are chief executive officers (CEOs) or members of the board of directors.
Vietnam is integrating extensively and intensively into the regional and global economy with its participation in new-generation free trade agreements (FTAs), she said.
Businesses in general and female-owned ones in particular are facing various challenges, especially fiercer competition, she added.
In that context, the women-owned enterprises need to implement effectively the Party and State's policies on socio-economic development and international integration, the leader said.
She suggested applying advanced science-technology to increase labour productivity and create more international-standard products and services, while seeking to involve more deeply in the global value chain.
The Vice President affirmed that the Party and State always prioritise ensuring gender equality, enabling women to do business, and encouraging them to join socio-political organisations.
At the talkshows, participants discussed challenges and difficulties that women encounter in the economy and proposed measures to raise their role and position in the business community.
Hai Duong lures 365 million USD in FDI in four months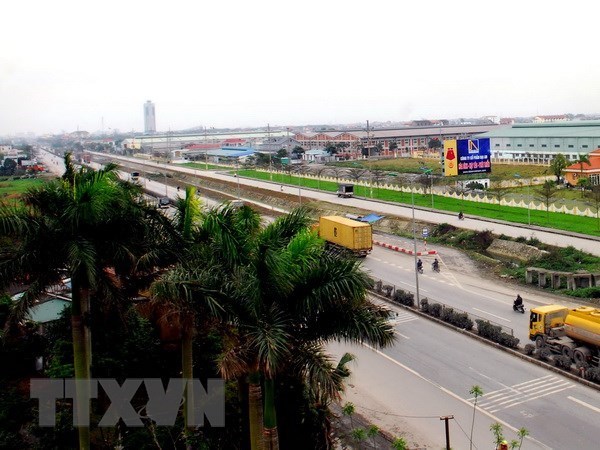 The northern province of Hai Duong attracted over 365 million USD of foreign direct investment (FDI) in the first four months of this year, up 26.2 percent year-on-year, according to local authorities.
The locality granted new investment licenses to 33 FDI projects with a total registered capital of 296.2 million USD, mainly in industrial parks (IPs). It also allowed 10 others to add 68.8 million USD in capital, including six in IPs.
In recent years, local authorities have devised many measures to lure more foreign investment, focusing on enhancing promotion activities, supporting, and facilitating existing projects.
The locality has built detailed planning of IPs and industrial clusters, while accelerating administrative reform and strictly monitoring investment activities, towards facilitating investors' operation.
Attention has also been paid to diversifying and improving the quality of business support services, especially those to provide market and labour information, and advice related to legal and administrative procedures.
Secretary of the provincial Party Committee Nguyen Manh Hien has asked the local authorities at all levels to work closely to support enterprises through meetings, conferences.
Hai Duong is now home to 428 foreign-invested projects with a total investment capital of over 8 billion USD. Total disbursement of FDI project hits 4.8 billion USD. The FDI projects create jobs to over 191,000 direct labourers.
Firms need to be proactive in CPTPP: official
The proactiveness of businesses in the implementation of the Comprehensive and Progressive Agreement for Trans-Pacific Partnership (CPTPP) is essential to determine their success or failure, Deputy Minister of Industry and Trade Tran Quoc Khanh said.
At a symposium in Hanoi on May 2 as part of the Vietnam Private Sector Economic Forum 2019, Khanh underlined self-reform as the biggest challenge to enterprises, saying they should be aware of competitiveness in the market economy.
The State will accompany businesses in this field, he affirmed, adding that if favourable, the CPTPP will create more conditions for Vietnam to attract investment and boost exports.
The strong investment of major groups in Vietnam has turned the Southeast Asian country into their new production market, he noted.
Chairman of the Vietnam Chamber of Commerce and Industry (VCCI) Vu Tien Loc said Vietnam has experienced the first three months of implementing the deal.
CPTPP opens up great opportunities for 700,000 businesses and hundreds of thousands of household businesses in Vietnam, he said.
The trade pact will help Vietnam be exempted from 65 percent of tariffs from member countries, he added.
He also pointed to challenges such as technical and food safety barriers.
At the event, participants discussed measures to optimise opportunities from CPTPP for some key export sectors of Vietnam such as garment-textile and footwear, promote competitiveness and public-private cooperation.
Nearly 300 representatives from ministries and departments as well as domestic and international organisations, associations, institutions and businesses participated in the symposium.
The CPTPP was signed by 11 member states, namely Australia, Brunei, Canada, Chile, Japan, Malaysia, Mexico, New Zealand, Peru, Singapore, and Vietnam in March 2018.
It officially came into force in December 2018 in Mexico, Japan, Singapore, New Zealand, Canada and Australia, the first six countries ratifying the pact.
The CPTPP took effect in Vietnam from January 14, 2019.
This is one of the most comprehensive trade deals ever concluded and strips 98 percent of tariffs for the 11 countries with a combined GDP of more than 13.8 trillion USD and close to 500 million consumers.
CPTPP member states form a giant market with 500 million consumers, accounting for 15 percent of the global trade turnover.
TikTok, Facebook take on Youtube for eyeballs in Vietnam
While YouTube has an overwhelming market share of video ads in Vietnam, Facebook and TikTok are trying to get a piece of the action.
A survey last year found 87 percent of respondents saying they use the YouTube platform. In 2017 a representative of the platform said out of four Vietnamese using smartphones, three use YouTube on their device.
While YouTube has been criticized for being unable or unwilling to act on internal alarms flagging toxic content for fear of throttling engagement, in Vietnam, other names such as Facebook and TikTok are trying to capture viewers with new strategies.
According to global marketing agency We Are Social, in 2018 Facebook had over 58 million users in Vietnam. In late 2017 it launched a video-based sub-platform called Facebook Watch.
For almost half a year Facebook has also been hosting an online, real-time trivia game (Confetti) for several nights a week in which participants could win actual money.
A participant's chance to win increases if they share the game on social media, and a few days ago it promised more rewards if 300,000 people are online and playing at the same time.
The youngest of the three, Chinese video app TikTok has also just launched fully in Vietnam after a year's trial. Unlike YouTube and Facebook, who have made no moves to set up a subsidiary in Vietnam, TikTok established a representative office in HCMC last December.
It had 12 million regular users per month in Vietnam as of the end of March 2019. It has more than 1,000 official content creators, artists, influencers and content producers.
"One of our top priorities this year is to make sure users can find all kinds of content on the platform, whether it's entertainment, learning or inspirational trends," Nguyen Lam Thanh, policy director of TikTok Vietnam, said.
Thanh said he wants to triple the number of official content creators to 3,000 by the end of this year.
The platform is still in its ad-free phase, and the company has assured there are no plans for ads any time soon. Last December Diep Que Anh, director of communications for TikTok Vietnam, said they are waiting for the market to mature.
But the app has revealed major ambitions by announcing partnerships with other media firms such as state-owned VTV, VTVCab (cable TV), the Ho Chi Minh City Tourism Promotion Center, and the Da Nang Department of Tourism.
Given the recent moves by major media streaming platforms to capture more engagement and impressive growth in the sector, digital advertising looks to be the future.
A recent report by French marketing agency Criteo said while TV and print media are the two top channels in Vietnam in terms of advertising spending, online advertising has been growing at the fastest rate.
Criteo predicted that, by 2022, 89 percent of the total marketing budget in the country would be used for online advertising, especially given the fact 34 percent of smartphone users would have two or more connected devices by then.
In 2017 the Authority of Broadcasting and Electronic Information estimated that Google and Facebook accounted for 80 percent of the online advertising market share in Vietnam.
Speaking to VnExpress, the head of a major online business, who asked not to be named, said this ratio has probably not changed much now.
Vietnam's private economic sector encouraged to be growth momentum
The Vietnam Private Economic Forum opened on May 2 in Hanoi, aiming to review the implementation of a resolution on making the private sector an important part of the socialist-oriented market economy in Vietnam over the past two years.
During the two-day event, representatives from private firms had a chance to voice their opinions and proposals to Party and Government officials.
Dr. Le Xuan Sang, Deputy Director of the Vietnam Institute of Economics, predicted brighter prospect for the private sector to thrive and contribute to national growth this year and the following years.
Nguyen Quang Huan, Vice President of the Private Business Association and President of the Halcom company stressed the need of human resource development in the advent of the Industry 4.0.
He said, "One of important solutions is that businesses should clearly identify corporate culture, its philosophy and pursue this culture, abide by the law, and work for community.
Second, profits should be shared with partners because nobody does business alone. Third, the spirit of integration should be grasped. When you join the global chains and free trade agreements, you can't stay alone."
The Vietnamese government aim to have at least 1 million private businesses, which will contribute half of national GDP by 2020 and 1.5 million private businesses contributing 55% of the GDP by 2025.
Vinamilk keeps status as top working place in Vietnam
Vinamilk continued to top the list of 100 Best Places to work in Vietnam in 2018, according to a survey carried out by Anphabe, a career network of management professionals and market research firm in Vietnam.
This is the second consecutive year Vinamilk gained the top spot, showing its ability to meet expectations in career prospects, working environment, employer branding, and talent retention.
Anphabe said that Vinamilk pays attention to five factors that contribute to improve intrinsic motivation of the labourers, including well-being, autonomy, competency, connection and meaning.
Vinamilk currently has more than 10,000 employees, working at 30 branches, farms and plants across the country, 70 percent of who have worked for the firms for more than 5 years.
The Anphabe's annual survey measures employer brand attractiveness of 678 companies in 24 industries. It attracted the participation of 75,481 experienced employees.
Following Vinamilk in the list were Vietcombank, Nestle Vietnam Ltd, Samsung Vina Electronics, Viettel Group and Coca-Cola Beverages Vietnam Ltd.
In the Best Places to Work by Industry, respected companies continue to assume top positions, including Cargill Vietnam (agriculture/feed/forestry), KPMG Vietnam (financial services), Vingroup (real estate, hospitality and retail/wholesale/trading), Abbott Laboratories S.A. (pharmaceutical/biotech), Mercedes-Benz Vietnam Ltd. (automobile/components), and TIKI (internet/e-commerce).
The category of top 50 Vietnamese Enterprises with Most Attractive Employer Brand, included DatVietVAC, TTC Land, Bao Viet Securities, SCB, Vinasoy, Saigon Foods, Biti's, Dat Xanh Group, CMC Corporation, VNPT, and Hung Thinh Corporation.