Corporate bond issuance up 220% in Q1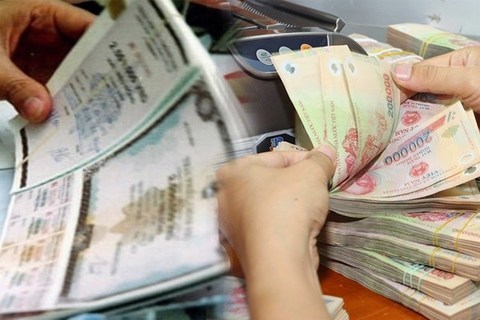 More than VND9.1 trillion (US$391 million) worth of corporate bonds were issued in the first quarter of 2019, up 222 per cent year on year.
The Refrigeration Electrical Engineering Corporation (HoSE: REE) had the highest value of corporate bond issuance with VND2.32 trillion.
REE's bonds will mature in 10 years with annual yield rate of 7 per cent.
HCM City Infrastructure Investment JSC (HoSE: CII) issued 10-year bonds worth VND1.15 trillion at an annual yield rate of 7.2 per cent.
According to the research division of SSI Securities Inc (SSI), the value of corporate bond issuance this year has increased because firms need new channels to raise capital instead of looking for bank funding.
The State Bank of Viet Nam (SBV) has recently granted a maximum 15 per cent credit growth rate a year for some commercial banks that have met Basel II standards.
Other banks that do not meet Basel II standards will have maximum credit growth rate of 10-13 per cent a year.
Meanwhile, the SBV has already asked commercial banks to lower the rate of short-term capital used for medium- and long-term lending from 45 per cent to 40 per cent, starting in 2019.
Viet Nam's corporate bond market is expected to improve in the future as more international investors are eyeing local businesses for their higher quality and performance.
Viet Nam's four month industrial production surges 9.2%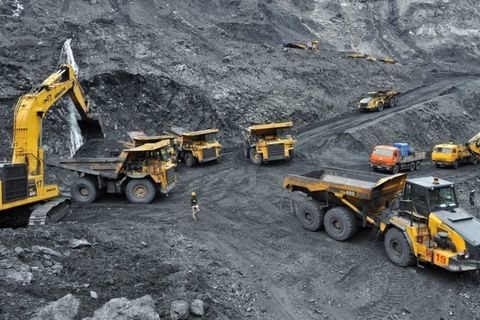 A coal extraction site of Vinacomin's Coc Sau Coal JSC, located in the northern province of Quang Ninh. The mining industry stayed flat compared to a year earlier, fueled by the 13 per cent growth in coal exploitation volume at 15.87 million tonnes. —Photo baoquangninh.com.vn
The nation's industrial production index (IIP) saw a positive year-on-year increase of 9.2 per cent in the first four months of this year, according to the General Statistics Office (GSO).
The figure was lower than the 10.7 per cent growth seen in the same period last year, but higher than increases of 7.4 per cent and 6.6 per cent in the previous two years.
In the four-month period, the manufacturing and processing industry, which accounted for nearly 80 per cent of the total industrial production, expanded by 10.9 per cent year on year and contributed 8.3 percentage points to the overall growth.
Meanwhile, electricity production and distribution increased by 9.2 per cent. Water supply and waste and wastewater treatment industry increased by 7.3 per cent and the mining industry stayed flat compared to a year earlier, fuelled by the 13 per cent growth in coal exploitation volume at 15.87 million tonnes.
Industrial products with high growth from January to April included petrol and oil (70 per cent), steel and crude iron (67 per cent), television sets (43 per cent) and liquefied gas (30 per cent).
Among localities, the central province of Thanh Hoa took the lead with a 43 per cent increase in industrial production, thanks to the operation of Nghi Son refinery.
The southern province of Tra Vinh came second with 38.3 per cent thanks to a surge in electricity output at the Duyen Hai thermal power electricity company, and the central province of Ha Tinh ranked third with 35 per cent, driven by output of Taiwanese steel maker Formosa.
As of April 1, the number of workers employed by industrial enterprises expanded by 1.4 per cent from one month ago and 2.3 per cent from one year ago.
Capital city strives for 900 firms in supporting industries by 2020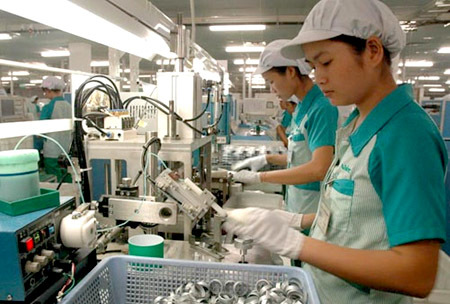 Workers inspect parts at a factory in Ha Noi. — Photo hapi.gov.vn
The capital city has set a goal of having about 900 firms in supporting industries by late 2020, according to the municipal Department of Industry and Trade.
Of them, some 400 would be eligible to have production systems and their products in line with international standards, as well as have sufficient supply capacities in global production networks from multinational corporations in Viet Nam, the department said.
Top priority should be given to fostering trade promotion, co-operating with foreign firms and encouraging them to invest in the city's supporting industries, the department's deputy director Dam Tien Thang told the Vietnam News Agency.
Local firms should innovate and seek ways to improve their competitiveness and getting access to multinational businesses in order to gain a better understanding of their partners' product requirements, according to Thang.
He added that supporting industries, which have played a crucial role in the city's industrial restructuring progress, are expected to make significant contributions to enhance competitiveness, attract investment, raise exports, as well as expand the production scale and effectiveness of industries. Thus, the city has drawn up incentives policies for those firms in the sector.
The city has thus far established a number of industrial parks specialising in supporting industries, such as Quang Minh and Bac Thang Long-Noi Bai, to attract large domestic and foreign investors.
Start-ups need more support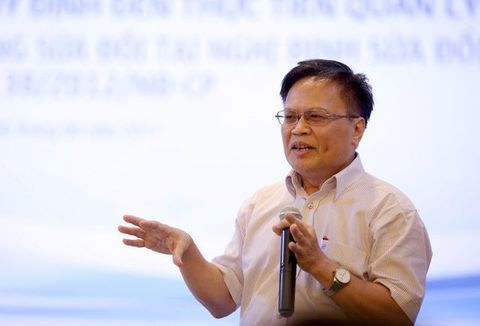 Nguyen Dinh Cung, director of the Central Institute for Economic Management (CIEM).— Photo dantri.com.vn
The start-up environment in Viet Nam still faced many difficulties, especially investment policies and issues related to divestment, loans and venture capital, making investors cautious, experts recently said.
A report on start-ups in Viet Nam implemented by the Topica Founder Institute (TFI) said the total investment capital into Vietnamese start-ups in 2018 reached US$899 million, triple that of the previous year.
In addition, Viet Nam received 92 investment deals into start-ups in 2018 which was equal to that of 2017 and double that of 2016.
The six areas that attracted the highest capital were fintech with $117 million, e-commerce with $104 million, traveltech with $64 million, edtech with $54 million, logistics with $54 million and online real estate services with $47 million.
The good news was that last year, start-ups witnessed the emergence of domestic venture capital funds such as VietCapital Ventures, Startup Viet Partners and Teko Ventures. Vingroup's investment fund - Vingroup Ventures also announced an investment budget of up to $300 million.
Nguyen Hong Son, deputy chief of the Central Economics Committee, said the number and quality of start-ups had increased, reaching several thousand in number, and there were now 70 co-working spaces and 50 incubation facilities and organisations.
However, Nguyen Dinh Cung, director of the Central Institute for Economic Management (CIEM), said the country's start-up ecosystem lacked many things, starting from applying for a business registration.
"It takes six months for a small tourism business to apply for a licence, and that in itself is not straightforward. I think the Government should focus on managing these firms and encouraging their development," Cung said.
Tran Ngoc Thai Son, CEO of Tiki, said Vietnamese start-ups had faced capital shortages over the past 10 years.
The biggest difficulties for a start-up were calling for investment and providing immediate returns, whilst it was hard to make an initial public offering (IPO). Stock exchanges in Japan, South Korea, the US and China only allow companies to make IPOs that did not post profits provided they showed signs of growth.
"When investors arrive in Viet Nam, they look at market size. Viet Nam is an attractive market but not big enough, not reaching the trillion dollar level. We need to encourage companies to exit Viet Nam towards the Southeast Asia market with a scale of more than $2 trillion. However, bringing capital to invest in foreign market is a sensitive issue that the State must always balance between domestic and overseas investments," Son said.
The size of the Vietnamese market was not large enough to help start-ups accelerate. Although Viet Nam's internet economy had potential, Viet Nam market was still not in the most attractive top four in Southeast Asia, according to data from Google and Temasek.
Pham Hong Quat, director of the Department for Market Development under the Ministry of Science and Technology, said start-ups were a new business model.
New business models must create new services, products and methods. The nature of this new model was not based on cheap prices, but on intellectual property, new technology, asserting creativity and applicability of technology, he said.
The question was how to behave with new business models and what are the appropriate policies for them.
Nguyen Thien Nghia, deputy director of the Information Technology Department under the Ministry of Information and Communications, said lessons learned from other countries showed that Viet Nam could use a sandbox. It enabled a safe environment for businesses to test services or products without the risk of being sued for legally unauthorised actions.
Sharing the idea, Jerry Lim, CEO of Grab Viet Nam, said it was necessary to have a sandbox that would create space for new technology platforms and business models to demonstrate their ability to promote socio-economic development.
However, businesses participating in the sandbox needed to be selected carefully, he said.
Tra Vinh province sees vigorous trade, industrial growth
In the first four months of this year, the Mekong Delta province of Tra Vinh recorded an industrial production and trade value of over 8 trillion VND (about 346 million USD), a year-on-year growth of nearly 30 percent, according to local authorities.
Director of the provincial Department of Industry and Trade Pham Van Tam attributed the growth to Tra Vinh's efforts in implementing various solutions, mechanisms and policies in support of the enterprises.
Last year, local authorities implemented a project to support small- and medium-scaled enterprises in industrial zones and complexes, intensified the connection between banks and enterprises so as to improve access to capital, effectively conducted investment promotion activities, and developed new-style cooperatives.
Currently, the province is home to over 10,580 enterprises and business households which have poor production capacity and low competitiveness. To help them improve the situation, provincial authorities have helped them in terms of capital, technology, linkage and cooperation with domestic and foreign enterprises.
Besides, the department has also been helping enterprises to take part in trade fairs in other localities, through which many provincial enterprises have succeeded in securing contracts and orders from both inside and outside the country.
Vietnamese goods week to be held at Japanese supermarket chain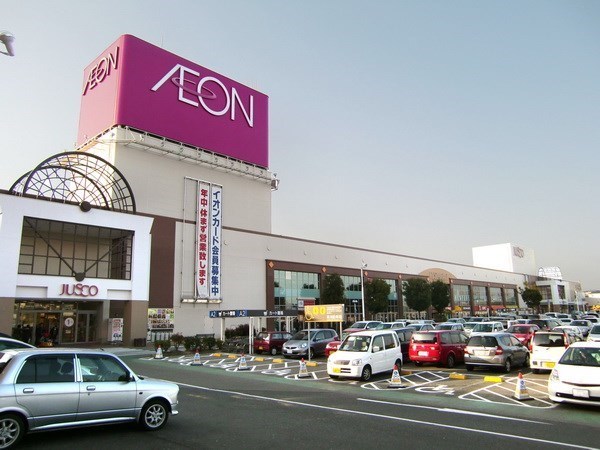 A week for Vietnamese goods this year will be held at the Aeon supermarket chain in Saitama prefecture and Kanto region in Japan from June 5-12, according to organisers.
During the week, Vietnamese goods will be spotlighted at 40 outlets in the Aeon distribution system, along with many activities such as plant tours, product assessment and consultations.
Business-to-business contacts between Vietnam and Aeon importers, introduction of Vietnamese products and capacity, popularisation of standards for imports, and agreement signing, along with food shows, tourism promotion and art performances will be held within the framework of the week.
After the week, enterprises will be facilitated to connect with Aeon so as to supply their products to the supermarket chain.
Economic growth model shift helps Dong Nai shine
From an agriculture-based province, Dong Nai province has turned itself into an industrial hub in the south thanks to its determination to persist the growth model shift to industry, according to local authorities.
With agriculture making up 57.5 percent and industry only 18.2 percent of the local economy in 1985, the figures have now become only 8 percent and 60 percent, respectively, while services make up 32 percent.
Vo Van Chanh, Vice Chairman of the Dong Nai provincial People's Committee, attributed this to the shift from extensive economic development aimed at providing jobs to workers and settle social issues in the province to the intensive growth focusing on the building of an intellectual-based economy.
Currently, the province see 32 operational industrial zones with an industrial production value 200 times higher than that in 1985, while the per capita income has risen 16-folds.
According to the provincial Department of Planning and Investment, Dong Nai now is home to over 1,900 foreign direct investment projects with a combined capital of 34.1 billion USD from 45 countries and territories, mostly from the Republic of Korea, China's Taiwan, Japan and Singapore.
The projects belong to different fields such as processing and manufacturing (84 percent of the total capital), agriculture (1.5 percent), trade and services (3.5 percent), and real estate (12 percent).
Representatives of the provincial Party Committee held that FDI projects are an important factor for the province to develop industrial zones and help push up the development of infrastructure, adding green production and selective investment attraction will be the focus for the local economy in the time to come.
In recent year, local authorities have said no to the labour-intensive projects having a risk of causing pollution, but prioritized those with high technology, intensive investment, and environment-friendly production.
Dong Nai Party Committee Secretary Nguy Phu Cuong warned of the risk of environmental pollution which often goes along with industrial production, affirming the stance that those projects with this risk will be resolutely rejected.
The development perception of pursuing economic growth at any cost has been shifted to the effective and sustainable growth, the official highlighted.
THACO inaugurates luxury car plant in Quang Nam
The Truong Hai Auto Corporation (THACO) inaugurated a plant manufacturing cars for luxury European brands and debuted the Peugeot Traveller model in the central province of Quang Nam on May 5.
Built at a total cost of 4.5 trillion VND (195.6 million USD), the plant sits on an area of 7.5ha and has a designed capacity of 20,000 units per year.
Equipped with the latest technology by PSA Group, the plant will assemble luxury European automobiles, including Peugeot, which will undergo strict inspection via a quality monitoring system connecting directly with Peugeot in France.
On the occasion, THACO introduced the Peugeot Traveller Luxury and Traveller Premium models.
The Peugeot Traveller Luxury is a seven-seater car equipped with modern technology meeting the European New Car Assessment Programme's five-starred standard. Its retail price is 1.699 billion VND (734,000 USD).
THACO General Director Pham Van Tai said the plant is expected to help popularise the Peugeot brand in Vietnam, vowing that THACO will work closely with PSA to increase the rate of locally-made components to bring the best quality Peugeot autos to the market at affordable prices.
Ford Vietnam reports 39 percent jump in sales
Sales surged by 39 percent year-on-year to 7,501 vehicles in the first quarter of this year, Ford announced on May 2.
The US automaker said its main products, pickup truck Ranger, premium large SUV Explorer and commercial van Transit remained top sellers in their respective segments.
The strong performance was capped by all-time high retail sales in March of 2,501 units, a 32 percent year-on-year increase.
"The launch of Ranger, Raptor and Everest gave our sales an additional boost heading into the year-end, and that momentum carried through into the first quarter and helped drive our overall performance," Pham Van Dung, managing director of Ford Vietnam, said.
The Ranger's sales edged up to 2,786, the recently launched new Everest accounted for sales of 1,535 units and Transit saw sales of 1,208 vehicles.
The EcoSport compact SUV delivered 43 percent higher sales of 1,077 vehicles.
Focus, equipped with a 1.5L EcoBoost engine, saw sales jump by 114 percent to 543.
The imported Explorer saw sales rise 24 percent to 350.
Vinacomin produces nearly 15 million tonnes of coal in four months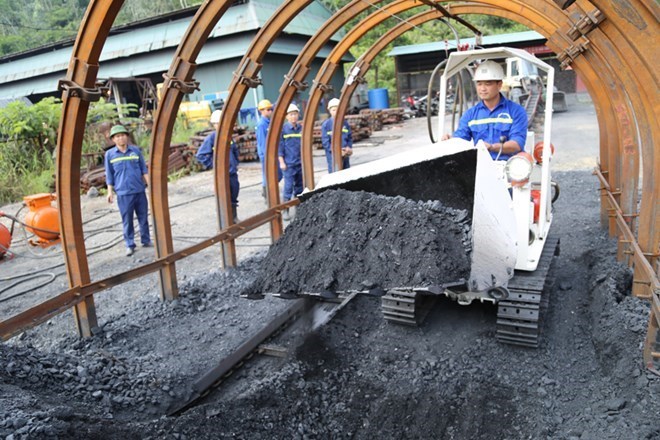 Subsidiaries of the Vietnam National Coal and Mineral Industries Group (Vinacomin) churned out a total 14.86 million tonnes of crude coal in the first four months of 2019, a year-on-year rise of 11 percent
Subsidiaries of the Vietnam National Coal and Mineral Industries Group (Vinacomin) churned out a total 14.86 million tonnes of crude coal in the first four months of 2019, a year-on-year rise of 11 percent, the group said on May 3.
It sold 14.54 million tonnes and produced more than 445,500 tonnes of aluminium in the period. The group also generated 3.55 billion kWh of electricity in the four months.
As a result, Vinacomin's aggregated revenues came to nearly 43 trillion VND (1.86 billion USD) in the four months.
In April alone, its member companies produced nearly four million tonnes of coal, reaching the amount for the second consecutive month.
In May, the company targets a coal output of between 3.8 and 4 million tonnes, as well as 116,000 tonnes of aluminium and 900 million kWh of electricity.
Vinacomin has set the goal of exploiting 40 million tonnes of coal in 2019 while consumption demand is forecast at 42 million tonnes. As much as 31.9 million tonnes will be supplied for electricity generation. The group plans to import 4 million tonnes to meet the demand.
Vinacomin's coal production output was 36.95 million tonnes last year with sales of 40.5 million tonnes.
Deputy PM requests stepping up public capital disbursement
Deputy Prime Minister Vuong Dinh Hue has asked ministries, agencies and localities to accelerate public investment disbursement in line with the Government's Resolution No.70/NQ-CP and the PM's Directive No.09/CT-TTg.
Chairing a recent meeting in Hanoi to review the four-month public capital disbursement, the Deputy PM requested stepping up preparations for projects, including choosing contractors in line with the law, ensuring progress as scheduled, among others.
Investors must closely monitor disbursement to promptly ask for the addition of capital, thus hastening projects' progress.
Ministries and localities were urged to enhance inspection and deal with violations in line with the law.
According to the Ministry of Planning and Investment, the Prime Minister has issued decisions allocating State budget capital this year to ministries, agencies and localities with a total value of over 367.3 trillion VND (15.9 billion USD), or 85.5 percent of the plan.
The Finance Ministry reported that the total public investment disbursement surpassed 68.5 trillion VND in the period from January – April 2019, or 16.45 percent of the target set by the legislature, compared to 15.83 percent recorded during the same period last year. The foreign investment disbursement reached only 2.5 percent, lower than the 6.34 percent in four months last year.
During the first four months of this year, nine ministries, agencies and localities achieved high disbursement rate of over 40 percent while 39 others disbursed below 10 percent.
Purchases dominate foreign investors' transactions on UPCoM in April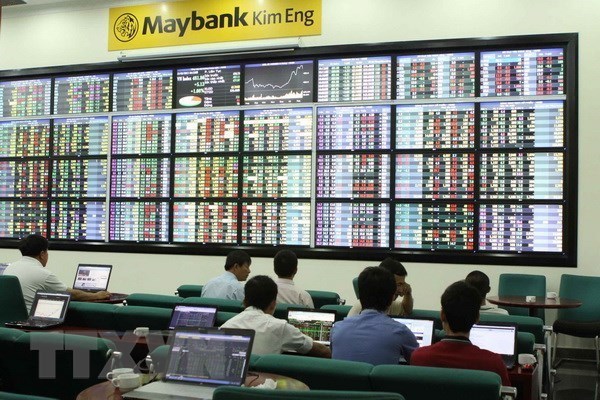 Investors trace stock price changes at the Maybank KIM ENG trading floor in HCM City
Foreign investors traded 31 million shares worth 912 billion VND (39.4 million USD) on the Unlisted Public Company Market (UPCoM) in April, with purchases dwarfing sales.
Last month, foreign investors bought more than 681 billion VND and sold over 433 billion VND worth of shares on UPCoM. The gap of 248 billion VND surged by over 10-fold from March.
Four new businesses registered to trade their shares on UPCoM in the month, namely Mobifone Service JSC, Tien Phong Securities JSC, Information and Networking Technology JSC, and Song Da Electrical Engineering JSC.
Meanwhile, the Bac Ninh Sewerage and Wastewater Treatment JSC and the Vietnam Airlines Corporation left this market.
As of April 26 – the month's last trading day, there had been 814 businesses on UPCoM with nearly 31.6 billion shares registered for trading, worth over 315 trillion VND.
The UPCoM-Index ended at 56.23 points in the last trading session of April, down 2.2 percent from the end of the previous month.
Also in that session, the market capitalisation approximated 906 trillion VND, down some 7.8 percent month on month.
Private economy - a driving force for Hanoi
The private sector is seen as a mainstay of Hanoi's economic development as the nearly 250,000 firms make up 40 percent of gross domestic product (GDP) and generate jobs for over 50 percent of the labourers in the city.
Accounting for 97.2 percent of the capital city's total enterprises, the private businesses are affirming their leading role in the nation and city's development and construction. Favourable mechanisms and policies outlined by local authorities have helped the firms stabilise and branch out their business operation.
However, Vice Chairman and General Secretary of the Hanoi Small and Medium Enterprises Association Mac Quoc Anh said that small- and medium-sized enterprises (SMEs)' performance is still constrained by many factors, comprising both internal capacity and unfriendly external factors like shortage of capital and high-quality human resources, and narrow access to technology besides poor management and marketing capacity.
Therefore, SMEs would lose their competitive edge, especially when Vietnam is integrating deeply into the global economy, with various bilateral and multilateral free trade deals having been inked with the ASEAN, the US, Japan and the EU, he said.
In a bid to make SMEs become more conducive to local economy, Hanoi will create a sound business environment, ensuring that it serves as a launching pad for the firms to further develop, while supporting them in innovation, modernising technologies, and improving labour productivity.
It is necessary for the local authority to channel efforts to narrow gap with the ASEAN-4 (Indonesia, Malaysia, the Philippines and Thailand) in terms of technology, human resources and competitive capacity.
The city is completing and implementing effective mechanisms and policies, contributing to finalising the socialist-oriented market economy in the country by 2030. Accordingly, economic growth will be promoted in tandem with sustainable development, environment protection, and climate change response.
Besides, it will continue shake-up in State-owned enterprises, targeting that most of the companies have international-standard quality management systems, and modern technologies and techniques equivalent to those of regional countries by 2030.
Tra fish industry looks to keep growth momentum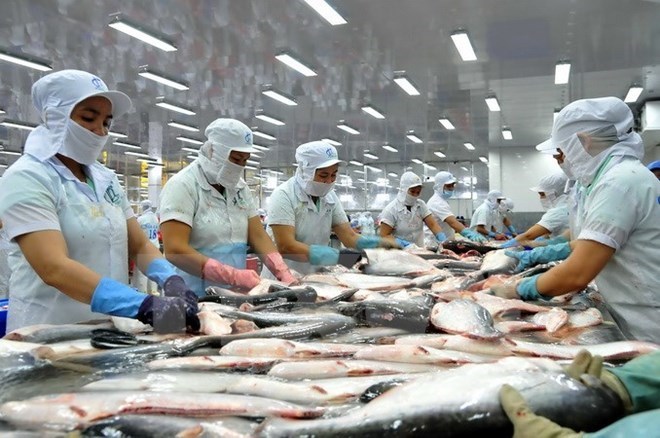 Vietnamese tra fish exporters are confident that their business will continue to thrive in the coming time despite facing anti-dumping duties and expansion of farming areas in many rival countries.
Barriers to Vietnamese tra fish in the US are likely to decrease as the Food Safety and Inspection Service (FSIS) under the United States Department of Agriculture recognised the catfish inspection system in Vietnam together with China and Thailand as equivalent to that in the US in 2018, which means Vietnam is eligible to continue tra fish shipment to the American market.
At the same time, exporters can take advantage of the US-China trade dispute to increase their market share in the US, replacing Chinese tilapia that currently accounts for 40 percent of all fish imports to the US.
The tra fish industry will also benefit a lot from the EU-Vietnam Free Trade Agreement (EVFTA). During the trip to EU from March 18 to April 8, Chairwoman of the National Assembly Nguyen Thi Kim Ngan had a meeting with Chairman of the European Parliament's Committee on International Trade Bernd Lange to discuss the future of the pact.
Bernd Lange said that the EVFTA might be signed and approved in June or July when the European Parliament completes its elections and enters a new term.
Once the deal takes effect, 90 percent of tariff lines on seafood exports to the EU will be cut to zero in three to four years from the current rate of 14 percent.
With the popularity of processed products in the US and EU markets, Vietnam has the potential to increase its profits from high-value products. The gross margin for the products is 22-25 percent, higher than the margin of 12-16 percent for frozen fillets.
According to Duong Nghia Quoc, Chairman of the Vietnam Pangasius Association, favourable weather conditions combined with advanced farming technology make it easy for Vietnam to produce white-meat tra products, which have won the taste of consumers. Meanwhile, other major tra producers like India, Bangladesh, Thailand and Indonesia produce low-value yellow-meat tra fish.
Besides, the Vietnam Association of Seafood and Exporters and Producers is studying to set up a market development fund to help local firms build brands and expand sale networks in foreign countries.
At the same time, tra fish has been recognised by the Ministry of Agriculture and Rural Development and the Ministry of Industry and Trade as national product entitled to special policies.
However, Quoc cautioned that farmers, producers, exporters and localities should tightly control farming areas, and prevent mass breeding to avoid tra fish oversupply.
Corporate bond issuance up 222 percent in Q1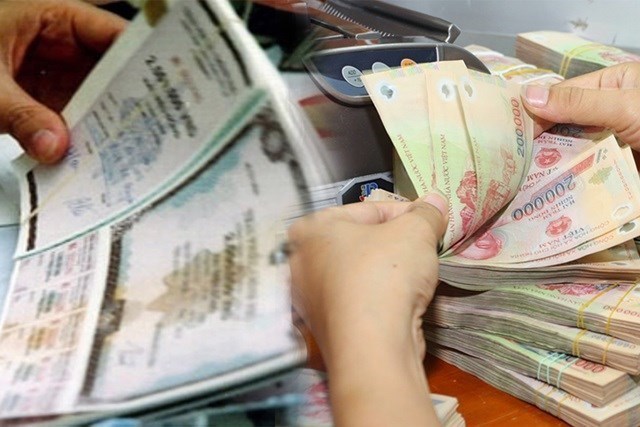 More than 9.1 trillion VND (391 million USD) worth of corporate bonds were issued in the first quarter of 2019, up 222 percent year on year.
The Refrigeration Electrical Engineering Corporation (HoSE: REE) had the highest value of corporate bond issuance with 2.32 trillion VND (100.32 million USD).
REE's bonds will mature in 10 years with annual yield rate of 7 percent.
HCM City Infrastructure Investment JSC (HoSE: CII) issued 10-year bonds worth 1.15 trillion VND (49.72 million USD) at an annual yield rate of 7.2 percent.
According to the research division of SSI Securities Inc (SSI), the value of corporate bond issuance this year has increased because firms need new channels to raise capital instead of looking for bank funding.
The State Bank of Việt Nam (SBV) has recently granted a maximum 15 percent credit growth rate a year for some commercial banks that have met Basel II standards.
Other banks that do not meet Basel II standards will have maximum credit growth rate of 10-13 percent a year.
Meanwhile, the SBV has already asked commercial banks to lower the rate of short-term capital used for medium- and long-term lending from 45 percent to 40 percent, starting in 2019.
Vietnam's corporate bond market is expected to improve in the future as more international investors are eyeing local businesses for their higher quality and performance.
HCM City to host second edition of print expo

The 2019 Viet Nam International Screen Printing & Digital Printing Technology Exhibition will come to HCM City for the second time from May 9 to 11.
Screen printing, speciality printing, digital inkjet, textile printing equipment and related products will be showcased at the exhibition, held at the Saigon Exhibition Conference Centre.
More than 500 exhibitors are expected to present state-of-the-art products and technology on an area of 8,000 metres, attracting an estimated 10,000 visitors from Viet Nam, China, India, Thailand, Malaysia, Laos, Sri Lanka and the Philippines.
The exhibition will provide a great platform for industry peers to network and take part in interactive activities and learn about top-notch technologies, methodologies and applications.
The exhibition will be organised by the Asia-Pacific Screen Printing and Graphic Imaging Association (ASGA), China Council for the Promotion of International Trade (CCPIT) Guangdong, China Screenprinting and Graphic Imaging Association (CSGIA), Hong Kong Yuezhan Group and VINEXAD Company, with support from ASGA members.
ASGA, founded in 1994, represents 11 members of Japan, South Korea, China, Thailand, Indonesia, India, Philippines, Viet Nam, Nepal, Sri Lanka and Australia.
Since 2001, ASGA has organised industrial exhibitions to promote new technologies in screen printing, speciality printing and digital printing in Asia-Pacific and to learn and exchange information with related industries and foster trade co-operation globally.
Construction of country's 1st farmers support centre begins

Lavifood Joint Stock Company has broken ground for building a farmers support centre in the Mekong Delta province of Tra Vinh's Cang Long District, the first of its kind in the country.
The Lavifarm Farmers Support Centre will consult farmers on planting crops based on market demand and zoning plans.
It will also provide them with technical solutions and support for processing and preservation of their agricultural produce.
It will offer training to enable farmers to improve their competitiveness and build brands for agricultural produce.
The nearly 17ha centre in Binh Phu Commune will have four main areas: a supermarket, areas for services and for processing and packaging, and a warehouse.
It will have the capacity to transplant one million soft-bodied plants, incubate 1.5 million seedlings and tissue culture 1.6 million seedlings a year, and package 15.6 tonnes of vegetables a day.
It also has a 10ha experimental farm that can yield a total of 250 tonnes of vegetables, tubers and fruits annually.
The centre is scheduled to open in June next year.
Lavifood also launched a software solution to support farmers called E-Farm built on an IoT and AI platform to help farmers make plans, monitor and analyse activities in their growing areas more easily and actively.
Sacombank targets 18 per cent increase in profits

Saigon Thuong Tin Commercial Joint Stock Bank (Sacombank) has set a pre-tax profit target of VND2.65 trillion (US$113.8 million) for this year, a year-on-year increase of 18 per cent
At its annual general meeting recently shareholders approved a number of targets for the year besides profit distribution plans and other important proposals.
The management reported pre-tax profit of VND2.24 trillion last year, 22.3 per cent higher than the target.
Its total assets were worth VND406.04 trillion, an increase of 10 per cent from the previous year.
Its non-performing loan ratio declined to 2.11 per cent.
It successfully implemented tech projects such as upgrading its core banking system and internet and mobile banking, setting up a customer relationship management system and loan origination system besides speeding up the Basel II risk management project as committed to the State Bank of Vietnam.
Moody's Investors Service upgraded Sacombank's outlook rating from "negative" to "stable" to reflect its stabilised solvency profile and progress in the recovery of problem assets.
At the AGM, Duong Cong Minh, the lender's chairman, said after more than two years of restructuring, Sacombank has gradually regained its position in the market, resulting in impressive growth in the first quarter.
It would continue to focus on dealing with unprofitable assets and bad debts to obtain higher growth, with 2019 being a year for stabilisation and acceleration starting in 2020, he said.
Speaking about dividends, he said the bank retained VND2.7 trillion in profits and revised its restructure plan to pay dividends early.
An Phat Plastic target profit up three times

An Phat Plastic and Green Environment JSC (AAA) plans to earn post-tax profit of VND510 billion (US$21.8 million) in 2019, 2.8 times higher than the previous year.
This year, AAA targets total revenue of VND10 trillion, an increase of 25 per cent compared to 2018.
It aims to earn pre-tax profit of VND200 billion in the second quarter of this year.
In the first quarter, the company achieved net revenue of VND2.6 trillion, two times higher than the same period last year. Gross profit was nearly VND375 billion, up by 153 per cent year-on-year.
Revenue from financial activities reached nearly VND53 billion, 7.6 times higher than last year, however, the cost of this activity also increased sharply from VND25.6 billion to nearly VND63 billion due to increasing internet costs.
Post-tax profit reached VND214 billion, four times higher than the same period of 2018.
Therefore, with the results achieved in the first quarter, AAA has achieved 26 per cent of the 2019 revenue target and 42 per cent of the profit plan.
The company attributed the increase in revenue and profit in the period to additional revenue earned from the land and factories leasing activities in An Phat Complex Industrial Park.
In Q2, AAA will continue to actively co-operate with airlines like Vietnam Airlines, Bamboo Airways and Vietjet to produce environmentally-friendly plastic products for these airlines.
Its parent company, An Phat Group, currently owns 46.62 per cent of AAA. In the coming annual general meeting (AGM), AAA will submit to shareholders the plan proposing An Phat Group raise their holding to 51 per cent.
On the stock market, AAA's price closed Friday at VND17,750. It has increased by nearly 30 per cent compared to the beginning of 2019. Capitalisation is currently VND3 trillion.
Quang Ngai Sugar JSC to issue 58.5 million dividend shares

Quang Ngai Sugar JSC (UPCoM: QNS) will issue more than 58.5 million dividend shares for 2018 at the rate of 20 per cent.
That means each shareholder will receive 20 new shares for every 100 shares they own.
The value of the deal is VND585 billion (US$25 million). The share issuance will help increase the firm's charter capital to VND3.5 trillion from VND2.9 trillion.
Quang Ngai Sugar JSC will finalise the list of beneficial shareholders on May 10.
Last year, the company earned a record-high revenue of more than VND8 trillion, boosting its post-tax profit up 20.6 per cent year on year to VND1.24 trillion.
In the first quarter of 2019, the firm reported its revenue rose 25 per cent year on year to more than VND2 trillion.
However, its post-tax profit fell 18 per cent year on year to VND155 billion due to increased expenses for advertising and higher selling cost.
The company is trading more than 292.5 million shares on the Unlisted Public Company Market (UPCoM) with code QNS.
Its shares edged down 0.2 per cent to close Friday at VND42,000 ($1.80) per share.